Commemoration, Events In The Hungarian Capital
October 23rd marks the day of the Hungarian Revolution of 1956. It is a National Holiday when commemorations take place in Budapest and Hungary.
It was a revolution against the Stalinist, communist regime and Soviet oppression that was beaten down by the Russian army.
The Hungarian revolution of 1956 is one of the most significant events of the country's 20th century history.
Commemoration events start on 22nd October 2022.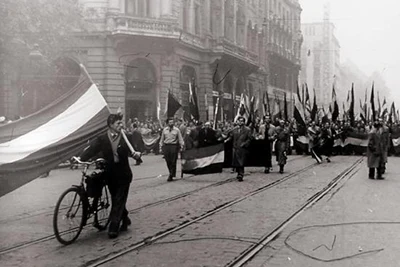 Note: October 23rd  is a public holiday in Hungary so shops, restaurants, public institutions will be closed. Most museums will be open though (the House of Terror Museum will be closed due to the memorial celebration).

Thermal baths are open according to weeknd operating hours and pricing.
Table of Contents

Table of Contents- October 23rd 1956 Hungarian Revolution
Public Transportation During The National Holiday
Public trabsport services will be operating according to
Saturday schedule on 22. October, Monday and according to
Sunday schedule on 23. October, Tuesday.
Thermal Baths' Opening Hours
Thermal baths are open according to Sunday opening hours and pricing on 23. October.
Programs & Places of Remembrance in Budapest
October 22, Sunday 2023 – University of Technology and Economics, Bem Statue
14.00: Commemoration and Memorial Ceremony at the '56 Monument at the University of Technology and Economics (Műegyetem rakpart 3-9., district XI.)
15.00: Memorial Ceremony at the University of Technology and Economics
16.00: Procession from the University to the Bem Statue – after the ceremony a procession by torchlights will startt fromt he university to the Bem Statue on Bem tér in Buda (between the Chain Bridge and the Margit Bridge on the Danube embankment)
Route of the procession: Műegyetem/University of Technology and Economics – Szent Gellért tér – Szent Gellért rkp. – Várkert rkp. – Ybl Miklós tér – Clark Ádám tér – Fő utca – Bem rkp. – Bem József tér: Bem Statue
17.00: Memorial ceremony on Bem Square
18.00: Wreath laying at the Statue of József Bem.
17.35 – 23.00: Light Painting on the facade of the Ministry of Foreign Affairs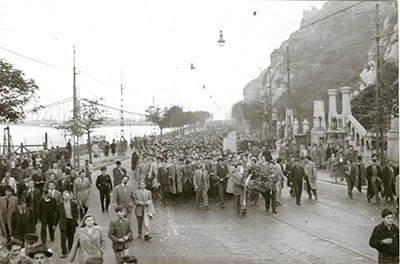 October 22 Sunday & October 23, Monday 2023 – House Of Terror Museum
Address:
Andrássy út 60., Bp, 1062: trams 4, 6 Oktogon stop, M1 underground: Vörösmarty utca station
Opening Hours on Oct 22 and Oct 23:
Entry:
Light painting on the facade of the museum between 16.00 – 23.00 on both days.
October 23/Monday, 2023 Programs
Parliament – Kossuth Square
09.00: Raising Hungary's Flag and Festive Programs at Kossuth Square
Family Programs at Kossuth Square
Between 10.00 – 18.00:
Activities for children
Heritage tram cars with exhibition
Csepel trucks
Climbing walls: " Remove the Communist Red Star" just as our grandfathers did
The Gastronomy of '56: Coffee House and Foods of the Revolution.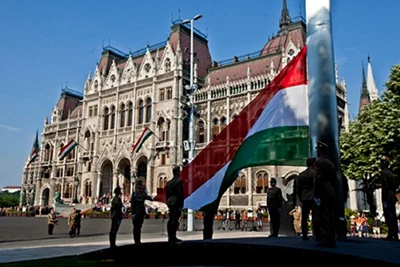 House of Terror Museum – Free Entry, 23. October
Address: Andrássy út 60., Bp, 1062: trams 4, 6 Oktogon stop, M1 underground: Vörösmarty utca station
Opening Hours on 23. Oct: 10.00 -18.00
Candle Lighting at the Wall of Heroes/House of Terror Museum
Address:
Andrássy út 60., district VI.
Free entry to the museum between 10.00 – 18.00. Candle lighting at the Wall Of Heroes All day on October 23, Monday.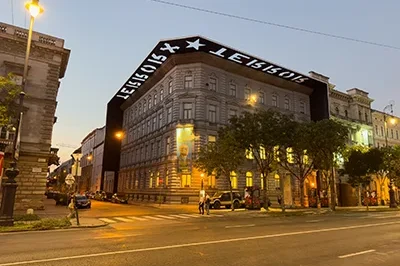 Open Day In The Parliament 23. October
Date & Time:
Everyone can visit the Hungarian Parliament free of charge.
You can view
the Grand Staircase,
Cupola Hall and the
Holy Crown (last entry is at 17.00)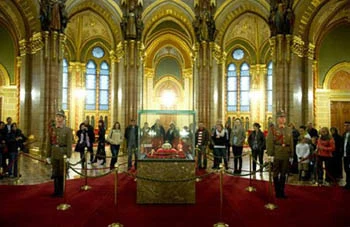 More Information: Official site of October 23. programs and memorials
Period Tram Services On Lines 4 – 6 and 47 – 49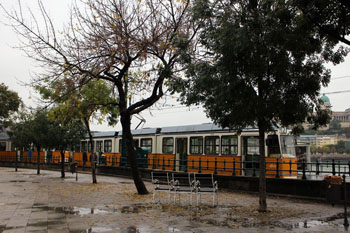 Date: between October 22. – November 04. 2022
Period trams of the 1950s will carry passengers on lines No. 4 and 6 and No. 47 and 49 between 22. Oct – 04. Nov.
Paperboys will shout the news of the era on the following days:
Oct. 22 – 23. Mon – Su: between 10.00 – 16.00
Oct 28 – 29. Sat – Sun: between 10.00 – 16.00
Nov. 04. Sat: between 10.00 – 16.00
Oct. 24 – 27. Tue – Fr: 15.00 – 18.00
Oct. 30 – 31. Mon – Tu: 15.00 – 18.00
Nov. 01 – 03. Wed – Fri: 15.00 – 18.00
Locations:
Móricz Zsigmond körtér,
Szent Gellért tér,
Kálvin tér,
Széna tér,
Jászai Mari tér,
Nyugati tér,
Blaha Lujza tér,
Corvin negyed.
October 23rd 1956 Revolution – Brief History
Following Stalin's death in 1953 the Soviet block started to weaken with riots in East Berlin and Poland in the following year.
The 20th Congress of the Russian Communist Party acknowledged Stalin's mistakes (too mild an expression to describe the dictator's deeds).
Hungary's leader Mátyás Rákosi and other party leaders were ordered to Moscow where they received a harsh criticism.
As a result Rákosi resigned in 1953 but stayed in the background. Nagy Imre became the leader of Hungary who declared a new, more liberal government program.
The program promised increased standard of living and lessened the burdens of farmers.
Imre Nagy
The review of the cases of those illegally condemned started. People felt instinctively that with Nagy Imre a positive change in the politics had begun.
The members of the previous leadership however feared their privileges and that they would be accounted for their unjust deeds.
They stood behind Rákosi who was able to convince the Russian party leaders that Imre Nagy's program endangered the state of socialist-communist system.
The Russians ordered Nagy to withdrew his government program, but he refused to cooperate.
Imre Nagy then was removed from his post and excluded from the party. András Hegedűs, one of Rákosi's henchmen became the prime minister.
More and more trials were turned out to be show trials.
Meanwhile, feeling the new winds blowing,
university students,
writers,
poets, and
people of other parts of Hungary's intellectual scenery started to come together and demand even more radical changes.
The groups they formed were the Írószövetség and the Petőfi Kör (named after the poet Sándor Petőfi, a prominent figure in the Revolution of 15th March in 1848).
In July 1956 Rákosi became cumbersome to the Russians and they discharged him.
The political leadership with Ernő Gerő – a former second in command of Rákosi – didn't want any reforms, while more and more people were demanding real changes.
The Revolution – 23. October 1956
The tension reached its peak in October 1956.
On the evening of 22nd October 1956 students of the University of Technology in Budapest had decided to demonstrate the next day and devised their demands in 16 points including
withdrawal of the Soviet troops from Hungary,
free elections,
liberty of speech and press,
abolishment of surrendering of goods,
Imre Nagy for prime minister,
removal of the Stalin statue.
Demonstrations & Fights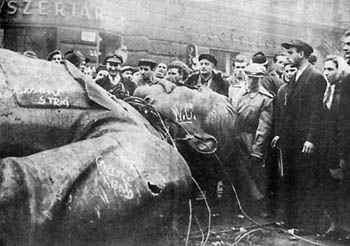 On 23rd October 1956 hundreds of thousands demonstrated on the streets.
First they went to the Petőfi statue then to the Bem statue and finally to the Parliament on Kossuth Square where they demanded Imre Nagy to deliver a speech.
After his calming speech the mass on Kossuth Square broke up. But by that time other demonstrations had started at several other parts of the city.
The Stalin statue toppled down on Heroes' Square.
The headquarters of the Hungarian Radio became the focal point of the events.
Soon the shooting had started and by night the freedom fighters seized control of the Radio building and some other important parts of Budapest.
On the eve of 23rd-24th October Imre Nagy was appointed prime minister. Russian tanks appeared on the streets of the city trying to bring down the revolution.
On 25th October 1956 on Kossuth Square the Russians started to shoot on the peacefully demonstrating people.
The demonstrators tried to seek refuge in the ministry of agriculture building but they weren't allowed in.
Around 800 died on that day in that is referred to as "Bloody Thursday".
After the massacre on Kossuth tér the revolution was unstoppable. Imre Nagy announced that a multi-party system was to replace the communist single-party dictatorship.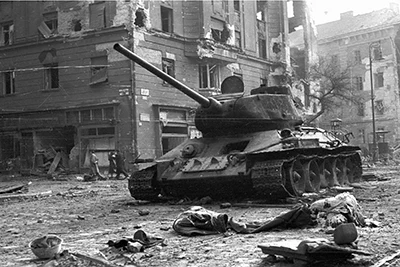 End of the 1956 Revolution – Russian Invasion
On 4th November 1956 the strongest continental army lead by the Russians attacked Budapest and Hungary.
The Russian armiy beat down the badly armed Hungarian freedom fighters and the revolution of 1956 by 11th November.
Nearly 2 000 died during the fights of 1956 most of them under 30 years of age. Many were imprisoned and executed.
Until spring of 1957 around 180 000 people left Hungary searching for a better life in the Western world.
Imre Nagy and his comrades were trapped and arrested on 22nd November. Nagy was transported to Romania.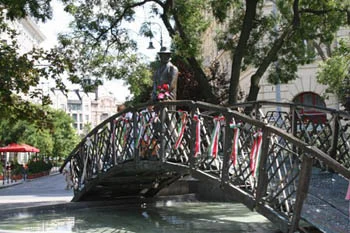 Imre Nagy,
Pál Maléter and
Miklós Gimes was executed on 16th June in 1958 and buried in the prison courtyard.
Later their bodies were moved to an unmarked grave in a faraway part of the Municipal Cemetery of Budapest (the famous No. 301 slot).
The remains were exhumated and reburied within a funeral on 16th June in 1989.
Related Pages – October 23rd 1956 Hungarian Revolution
More October Events, Things to Do in Budapest – Oktoberfest Beer Festival – CAFE Budapest Contemporary Arts Festival – Halloween Parties, Programs – November in Budapest