Updated For 2022
Here's a list of the best 4 star hotels in Budapest both in the centre and the greener parts of the city.
Some of them have been providing accommodation for tourists visiting Budapest for decades (Hotel Gellért), others were built or refurbished in recent years.
Quick Links:
The choice is wide so take your time to select one that best suits your preferences!
Read the descriptions, click on the links to read travellers' reviews, and book your room in the hotel you like the most.
4-Star Hotels in Pest City Centre
Prestige Hotel Budapest
Address: Vigyázó Ferenc utca 5., City Centre
A new, centrally located hotel in a historic townhouse close to the Danube and other top attractions.
Besides the elegant design, beautiful interior, the Costes Downtown, a fine dining restaurant, is a major draw of the hotel.
The 19th century building has been nicely redone with the facade restored to the original state.
TIP: Find out more about Prestige Hotel Budapest.
Courtyard Budapest City Center by Marriott****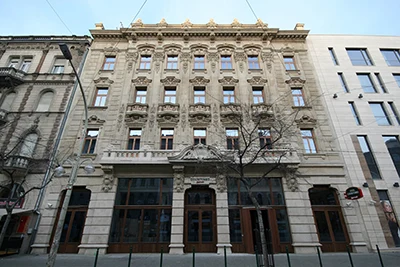 Address: József krt. 5., district VIII., trams 4-6, M2 metro-Blaha Lujza tér stop
The Courtyard by Marriott Budapest City Center near Blaha Lujza Square within a brand new shopping center (Budapest Europeum) offers :
The 6-floor hotel welcomes guests with
spacious rooms in eight categories,
high-speed internet and
the Oleo Pazzo Bistro offering Mediterranean dishes.
The top-floor rooms offer fine views of the city center, though rooms facing the street can be noisy.
Starlight Suiten Hotel ****
Ideal for Groups or Families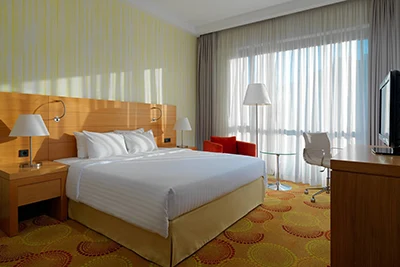 Address: Mérleg utca 6., Budapest 1051, district V.
Simple but elegant 4 star Budapest Hotel near the Chain Bridge, in a quiet street.
The Starlight Suiten Hotel offers North American style, spacious suites for less than the other nearby big hotels.
All major sights are within walking distance,.
Public transport connections are very good.
Tram No. 2 runs along the Pest side of the Danube, the M3 metro station on Deák tér is also close to the hotel.
TIP: See also our Budapest Districts guide to find out more about the neighbourhood of the above hotels.
La Prima Fashion Hotel ****
Address: Piarista utca 6., district V.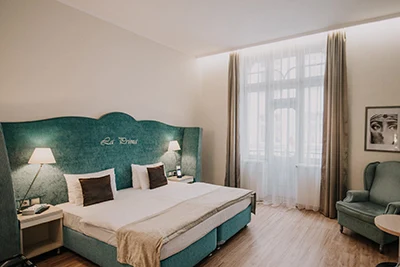 La Prima is a lovely fashion hotel in the very center of the city in a small street connecting Váci utca and the Danube riverbank.
The connecting rooms are ideal for families coming to Budapest.
There are also two rooms specifically designed for disabled people.
Rooms in the front of the building have a small balcony.
Computer and internet use are available near the reception desk and are free.
The buffet breakfast is generous.
Quiet, peaceful accommodation in downtown Budapest.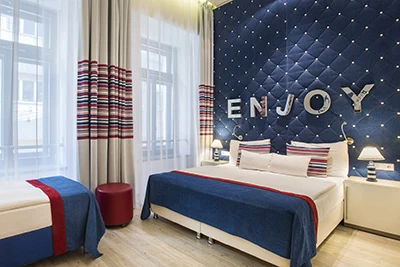 Estilo Fashion Hotel****
Address: Váci utca 83., district V.
The 6-storey design hotel with 70 rooms opened in 2011.
Located in the popular Váci shopping street in Pest, the hotel provides central accommodation with a range of landmarks and attractions in close vicinity.
4-Star Hotels in Pest – District VII – Jewish Quarter
Continental Hotel Budapest****
Address: Dohány utca 42., district VII.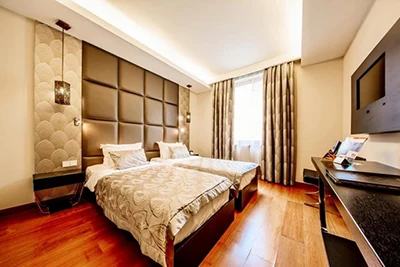 Continental Hotel Budapest offers its guests
stylish accommodation in a
renovated historic building.
The hotel is housed in the building of the former Hungária Spa in the Jewish district of Budapest.
The Central Synagouge and the Jewish Museum are just a short walk, and many other cultural sights, cafes, unique bars and pubs, restaurants abound in the neighbourhood.
The modern hotel provides a good base for exploring this part of the city that has a special ambience.
A small, well-equipped spa and fitness center, the
ARAZ restaurant
The Gallery Cafe, and
a cocktail bar ensure utmost convenience and satisfaction for the guests.
District VIII – Palace Quarter
Hotel Palazzo Zichy – in a Former Palace
Address: Lőrinc pap tér 2., district VIII., Palace Quarter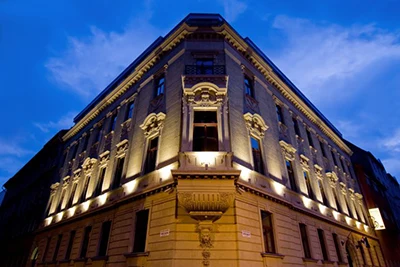 One of the best-value hotels in central Budapest, located in a hip area packed with cafes and restaurants.
If you want to see where 19th-century Hungarian noblemen lived then the Hotel Palazzo Zichy is your place to stay at in Budapest.
The former palace was turned into a modern design hotel a couple of years ago. It offers accommodation in 80 rooms.
Substantial buffet breakfast (you can make your own fresh fruit or veggie juice with the juicer),
coffee and tea in the lobby till 17.00,
convenient rooms with modern design,
close to all major sights
Public transportation connections are excellent. the M3 (blue line) metro as well as the trams 4 and 6 have a stop nearby.
District VIII – Grand Boulevard
Hotel Nemzeti Budapest- MGallery Collection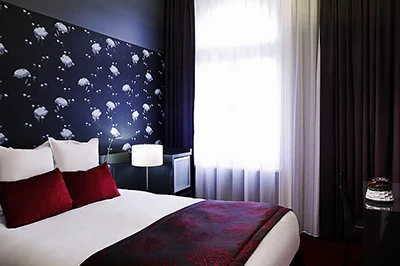 Address: József krt. 4., district VIII., M2 metro, tram 4, 6 Blaha L. tér stop
Location:
This fairly new hotel stands on Nagykörút/Grand Boulevard close to Blaha Lujza tér traffic hub.
It is not the most peaceful part of the city though it has the advantage of good transport connections and lots to do in the area.
Owned by the international Accor chain, the MGallery Budapest is one of the top establishments in its category:
a boutique hotel with character housed in a 19.-century, elegant building.
A hotel (called Rémi by the family who had ran it) operated here already in the 1896 Millennial year. By the beginning of 20. century it was one of the centres of cultural life in Budapest.
In 1929 it became the Hotel Nemzeti.
The building was renovated in 2012 preserving the exterior look and creating a dazzling eclectic interior of Art-Nouveau and modern decor.
Rooms and Suites Feature
elegant, contemporary design with free WiFi internet,
air-conditioning,
comfortable double or two single beds,
queen size beds in the suites,
spacious bathroom with bathtub and hair drier,
wheel-chair and reduced mobility access,
tea/coffee maker.
Radisson Blu Béke Hotel Budapest ****
Location: near the Nyugati Railway Station on the Grand Boulevard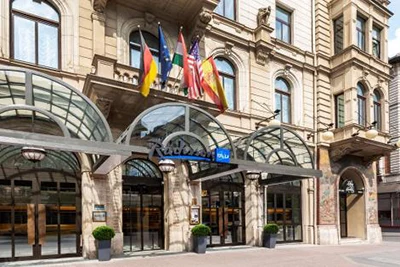 Address: 43. Teréz krt., Budapest 1067, district VI.
Website
A large, historic hotel located on the busy Grand Boulevard (Nagykörút).
Many attractions are within walking distance (Opera House, Heroes' Square, Parliament, St. Stephen's Basilica).
It's ideal for those who love shopping because on Grand Boulevard you'll find all sorts of shops, including the very popular mall, the WestEnd City Centre.
Towards the Opera you find several good, small restaurants, cafés and pubs.
Public transport accessibility is also excellent:
Two major tram lines (No. 4, and No. 6.) run along the Grand Boulevard, and the
Blue and red metro stops are also very close (red metro line: Blaha Lujza tér, blue metro line: Nyugati Railway Station).
You'll find the outside area very busy and noisy, but most of the rooms face a side street and are quiet. The hotel was opened in 1914, since then it's been renovated and modernized several times, it was last redecorated in 2005.
The hotel offers first class services within a traditional setting.
Prices: double rooms from 199 EUR
Recommended:
For those who want to stay at a traditional first class hotel in the busy city centre, love shopping and eating out, and enjoy busy nightlife.