Hotels in The Andrássy Avenue Area
Hotel Moments Budapest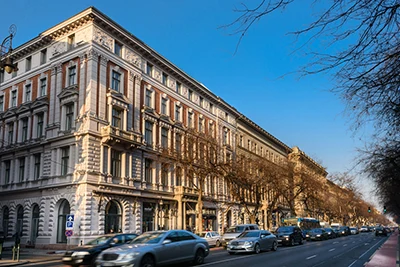 Address: Andrássy út 8., Budapest 1061, district VI.
Hotel Moments opened in March 2016 in a renewed historic mansion sitting on Andrássy Av., the elegant, boutique-lined boulevard of the city.
It's very well located within walking distance to several landmarks like
The Basilica is at just a 300 m walk from the hotel – home to organ recitals, while the square in front of it is flanked by cafes and restaurants, and hosts several festivals a year (e. g. the Advent Fair & Festival in December)
The Opera House is again just a short stroll – was built in the late 19.century and you can explore it on guided tours complete with mini opera performance.
One of Europe's oldest metro lines runs underneath the street, the yellow line, that will take you to Heroes' Square, the City Park (Városliget) and the Széchenyi Bath in it.
In the other direction you can get to Vörösmarty Square with the classic Gerbeaud Coffee House standing stately at its northern en
The building seamlessly blends modern design with the original 19th century elements.
During the renovation it received a glass rooftop while original frescos carefully restored during months of work adorn the gorgeous lobby.
The hotel's unique character is owed to
The soaring interior,
The elegant, comfortable furnishings and
the historic atmosphere of the building that completes well the contemporary design.
Rooms & Suites: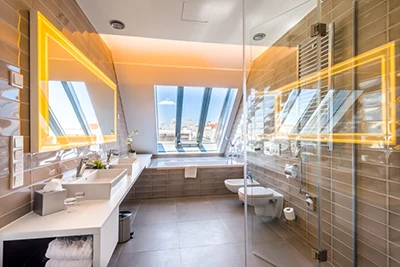 99 tastefully decorated, comfortable rooms in 3 categories await guests:
Superior rooms (21 – 26sqm/225 – 280 sqft)
Executive rooms (28 – 32 sqm/300 – 345 sqft)
3 suites: Basilika (79 sqm/850 sqft), Andrássy (33 sqm/355 sqft) and Junior Suite (43 – 45 sqm/462 – 485 sqft)
Services, amenities in the hotel:
Free tea, coffee and mineral water all day in the Lounge Bar
Fast WiFi internet
Buffet breakfast with wide selection of hot and cold dishes, drinks, seasonal fruits and veggies, bakery goods (with gluten free choices)
A small wellness area and fitness room round up the service
Bistro Fine Restaurant
Hotel Moments Budapest has a superb on-site restaurant and wine bar with creative cuisine and outstanding wine offer.
You can sample local and international wines – a selection of 100 is available – served form the state-of-the-art Enomatic wine dispenser system.
Fresh, seasonal ingredients are used.
Daily menu: business lunch of 2 courses is around 2 700 HUF.,
Light dishes,
Tapas
Delicious desserts,
Gluten and lactose free choices,
A la carte eating are all available.
Families with kids are welcome. You can enjoy your meal on the terrace in sunny weather. See the menu on the restaurant's website.
Room Rates in Hotel Moments Budapest
(buffet breakfast, Wifi, included in price):
Superior room: around 110-170 EUR/night, executive room: 140 – 190 EUR/night depending on season.
Free for children under 12 years of (in parents' room), Children between ages 13 18 pay 30 EUR/night sleeping on rollaway bed.
Pets are allowed for 15 EUR/day charge (food is not incl.)
Hotel K+K Opera ****
Simple, high quality hotel, excellent location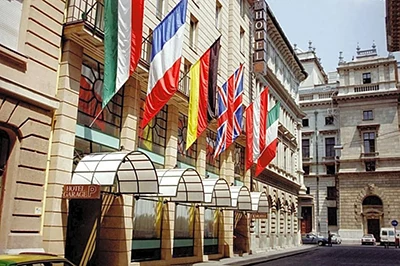 Address: Révay utca 24, Budapest 1065, district VI.
A modern, first-class hotel in downtown Budapest, right off Andrássy Avenue.
Although it's in the city centre don't expect beautiful views from your room.
I would stay in this hotel because of its excellent location.
It's next to the Hungarian State Opera House, and many other sights are within easy reach.
The Opera station of the M1 metro line is just outside the hotel.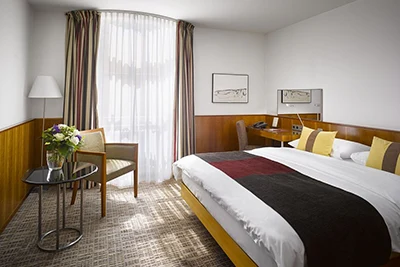 Hotel K+K Opera has a welcoming atmosphere and distinctive Austrian quality standard.
The staff is very helpful and spokes fluent English.
The hotel has a small restaurant too.
Highly recommended for those who seek a
Simple
High-quality,
No-hassle place to stay in Budapest.
4-Star Hotels Near the Airport
Leonardo Hotel ****
Excellent Transport Connections to the City Center and the Airport
Address: Tompa utca 30-34., Budapest 1094, M3 metro line Corvin negyed station
The Leonardo Hotel is in a quiet part of Ferencváros district in Pest, one of the most developing districts in Budapest.
The financial and business center is close.
Public transport connections are excellent. You can get to every major place of interests very quickly.
The M3 metro station on Ferenc körút is close,
trams No. 4 and 6 also have a stop on Ferenc körút.
Liszt Ferenc airport is easily accessible too.
It has a good restaurant and a bistro which serves light meals too. There are rooms for disabled travellers.
TIP: Read also a review of the Airport Hotel Budapest, a modern 4-star hotel near Budapest Airport.
4-Star Hotels in Buda
Lánchíd 19 Design Hotel ****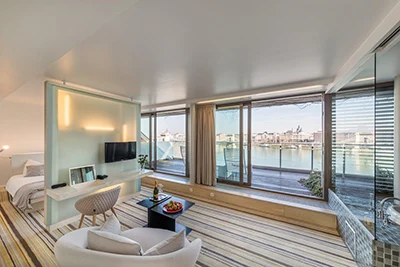 Location: Lánchíd utca 19., Buda, district I.
The nearby Chain Bridge (Lánchíd) inspired the owners when they decided on the hotel's name.
The 45-room hotel has a modern, minimalist design with a spectacular glass facade and unique lighting solutions.
All the rooms are
Air-conditioned,
With views to either the Danube or the Castle District,
Have free internet access,
Flat-screen TV-set with international channels, and
Minibar
A Cafe and Restaurant on the gallery floor opens onto a garden terrace.
The 3 conference rooms can accommodate 100 people and are perfect for meetings, workshops, trainings and conferences.
TIP: Read a more detailed review about Lánchíd 19 Boutique Hotel.
Danubius Hotel Gellért **** Temporariliy Closed Due To Reconstruction!
Wellness within Historic Setting (rooms and service are way below 4-star quality)
Address: Szt. Gellért tér 1., 1111 Budapest, district XI.
Tel: (+36 1) 889 5500, room reservation: (+36 1) 889 5501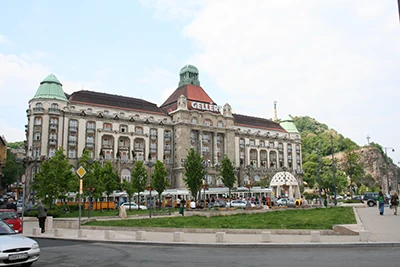 Situated at the foot of the Gellért Hill, at the Buda end of the Liberty Bridge (the second most beautiful bridge in Budapest in my opinion), the Danubius Hotel Gellért is one of Budapest's best known landmarks.
It was built after the I. World War in Art Nouveau style.
The Gellért was once a grand hotel but it failed to keep up with time.
The location and the baths are the best assets of the hotel.
Don't be fooled by the 4 stars, the hotel hasn't been rated by the Hotelstars, a strict an independent European hotel classifying system.
The hotel offers some great wellness and fitness services:
Spa and baths,
Indoor and outdoor swimming pools,
Steam bath
Massages
The famous Gellért Thermal Bath is part of this hotel complex.
The water of the bath comes from a natural thermal spring under the Gellért Hill; it's perfect for recreation and regeneration.
TIP: Guests of the hotel can use the bath once free of charge then at 50 % discount price.
Attractions Within Walking Distance:
Gellért Hill
Liberty Bridge
The Great Market Hall at the Pest end of the Liberty Bridge,
Recommended:
For those who want to stay at a once-classy, traditional hotel with superior location and surroundings, and would love to combine wellness with sightseeing. It's not for you if you prefer modern, hip decor, and 4-star quality.
Art' Otel Budapest ****
For Modern Art Lovers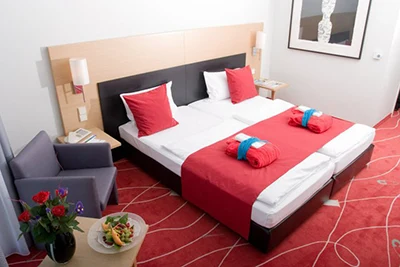 Address: Bem rakpart 16-19., Budapest 1011, district I.
This hotel is situated on the Danube bank in Buda, opposite the Parliament.
Art'otel Budapest represents modern art and design.
The Chelsea restaurant offers international cuisine, but you can have Hungarian dishes too.
All major attractions are within walking distance:
Walk across the magnificent Chain Bridge and you'll be in bustling Pest:
with the Parliament on the Pest bank of the river,
Vörösmarty tér and Váci Street in the heart of downtown Pest.
The M2 metro station at Batthyány tér is just a short walk.
District III – Óbuda
Holiday Beach Budapest ****
A Good-Value Wellness Hotel
Address: Piroska utca 3-5, Budapest 1039, district III.
A wellness and conference hotel in one of the most quiet and beautiful areas of Budapest, right at the Danube bank on Római Part (Roman Bank).
Although not the best service in the 4-star category, the location is superb.
All rooms are non-allergenic and air-conditioned.
There are rooms for physically disabled people too.
You can relax in heated relax bath. There is an outdoor swimming pool and a pool for children.
The hotel has
A bath house with a sun-terrace,
Sauna
Jacuzzi and
Tennis courts
The wellness centre offers you several opportunities to preserve your fitness and beauty.
In the fitness room professional trainers help you to design your workout program. On the beauty-farm hairdressers, beauticians and masseurs are at your service.
The hotel has four conference rooms with 80-100 seats.
In the hotel's restaurant you can taste Hungarian and international specialties.
A unique service of the hotel is its luxury yacht port. They organize exclusive yacht trips, VIP yacht programs, sightseeing and pleasure boat cruises.
Whether you come to Budapest on business or as a tourist, this hotel is a good choice for recreation after tiring meetings or sightseeing.
Hotels on Margaret Island
Ensana Thermal Margaret Island Health Spa Resort ****
One of Europe's Top Spa Hotels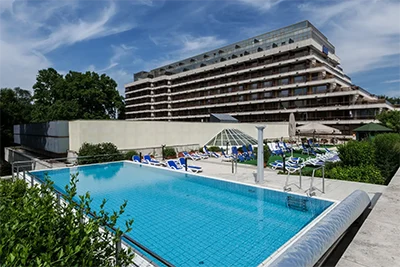 Address: Margitsziget, Budapest 1138, district XIII.
Tel: (+36 1) 889 4700, room reservation: (+36 1) 889 4752
This 4 star Budapest hotel on the idyllic Margaret Island is an ideal place to unwind.
Spa, fitness center, solarium, sauna and several wellness treatments provide for your relaxation.
Treatments are based on the island's natural thermal springs.
It's away from the noisy city center; still you'll be only minutes from downtown Budapest.
It'll take you 30 minutes to get to the city centre by walk, or you can take the regular public transport buses.
Margaret Island is very peaceful, cars are banned from here.
Danubius Health Spa Resort Helia ****
Spa & Wellness in Scandinavian Style
Address: Kárpát u. 62-64., Budapest 1133, district XIII.
Tel: (+36 1) 889 5800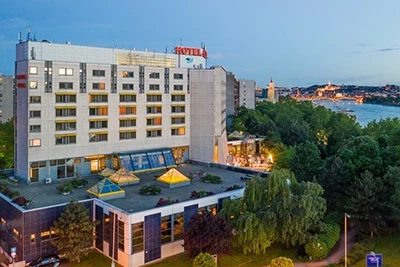 It's on the Danube bank facing the picturesque Margaret Island.
Downtown Budapest is within easy reach.
Offers a wide selection of spa and wellness services at affordable prices. The hotel is built in Scandinavian style, so there are great saunas and steam baths.
On its secluded terrace you can sunbath while enjoying the scenic view of the Buda Hills and the Danube.
The staff is very helpful and speaks foreign languages to make your stay hassle-free.
If you long for walks in natural surroundings, just walk to Margaret Island and enjoy its serenity.
The Jupiter restaurant serves international and Hungarian dishes, but you can have dietetic or vegetarian meals too.
In the evenings live piano music makes dinner romantic.
Related:
5-Star Hotels – Romantic Budapest Hotels – Designer Hotels – Downtown Hotels – Budget Hotels – Spa and Wellness Hotels