Aria Hotel Budapest – Perfect For a Romantic Stay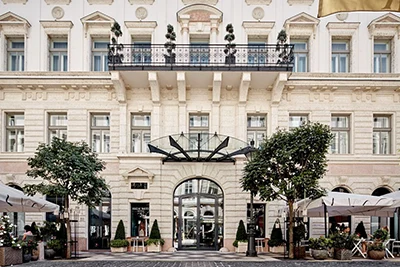 Address: Hercegprímás utca 5., district V., city centre
This new pearl of a luxury boutique hotel right next to the Basilica in the center opened in April 2015.
As the name suggests everything, from decor to room names, is centered around music: genres, composers, musicians.
The concept, according to American hotelier Henry Callan, was to create a home away from home where
You'll feel special and
Have one-of-a-kind experience within a comfortable yet luxurious setting.
Aria Hotel Has:
49 rooms and 4 special parlors – plush living rooms for meetings, family gatherings that can be booked together a room with bed to create a spacious suite – each decorated in a unique classy yet modern style.
A panoramic rooftop terrace bar where you can enjoy the exceptional city view
A first-class restaurant, called Stradivari designed around the theme of a violin: bistro-style Hungarian dishes prepared from fresh, seasonal ingredients supplied by local farmers and craft food producers.
Complimentary buffet breakfast, wine and cheese bar in the afternoon, in-room coffee machine, fast WiFi, digital music library and other ultra modern entertainment facilities are the other highlights of the hotel.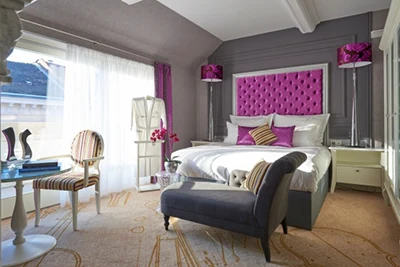 Room Prices In Aria
Price of a room for 2 adults starts from around 400 EUR that can go up to 700 EUR/night during holidays, special events and in high season.
Suites cost cc. 1 000- 1 800 EUR pernight.
Find out more about Aria Hotel Budapest!
TIP: Browse our list of Budapest hotels closest to Vörösmarty Square to conveniently explore the festive market. Includes the luxury hotels lining the river Danube in Pest as well as moderately priced options in the city centre.
Buddha Bar Hotel Budapest Klotild Palace – Closed For Good in 2019
Address: Váci utca 34., district V.
This lavish palace hotel in downtown Budapest, in the chic Váci utca opened in spring 2012.
If I were a tourist in my city I would definitely choose the Buddha Bar Hotel because it has the right combination of several things I look for in a hotel:
excellent location in the city centre in the middle of Váci utca shopping street that ends in Vörösmarty Square where the Christmas Market is held each year, also close to the Buda end of the Erzsébet Bridge where the Danube Promenade starts offering a wonderful view of the Danube and the Budapest's famous sights.
historic setting: the hotel is located in a beautifully restored palace building, the Klotild Palace.
luxurious interior design with oriental touches
high-end spa, and fine restaurant with exotic cuisine, a great cafe and bar.
Kempinski Hotel Corvinus – Downtown Location, Great For Shopping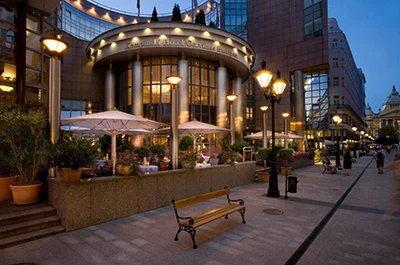 Address: Erzsébet tér 7-8., district V.
Kempinski Hotel Corvinus is a good-value 5-star downtown Budapest hotel (very close to The Ritz Carlton BP).
The large transportation hub at Deák tér (the 3 metro lines of Budapest meet there) is just a short walk from the hotel so you can easily reach any part of the city.
There are lots of things to see and do in the area which you can explore by walk:
Kempinski houses Nobu the famous Japanese Restaurant offering Japanese-South American fusion cuisine.
There two other in-house restaurants: the Bistro Jardin offering signature Hungarian and international delights, and Ristorante Giordano a first-class Mediterranean restaurant.
The lovely park, Erzsébet Square next to the hotel is a refreshing sight in the busy city center.
Rooms in Kempinski Hotel corvinus
Superior Room (28 -30 sqm), cc. 260/night, with breakfast: 280 EUR/night
Deluxe Room (30 – 32 sqm), cc. 280 EUR/night, with breakfast: 300 EUR/night
Premium Deluxe Room (32 – 35 sqm), from cc. 300 EUR/night
Grand Deluxe Room With Park View (35 – 43 sqm), from 410 EUR/night, with breakfats: 430 EUR/night
Grand Deluxe Room With View Of The Fashion Street (35 – 43 sqm), from 360 EUR/night, with breakfast: 380 EUR/night
It also offers accommodation in 4 suites.
High-speed internet is included in the room price.
Highlights From Travellers' Reviews
Nice rooms with heated floors in the bathroom
Spa center (sauna, massage treatments) where you can enjoy the view of St Stephen's Cathedral from the pool
Kempinski Terrace & Fashion Lounge – lively place for a drink or good food
Generous breakfast though it's overpriced -try to get a rate where the breakfast is included in the price
Weaknesses:
Iberostar Grand Hotel Budapest – Closed, A New Hotel Will Be Opening In 2022-23
Address: Október 6. utca 26., next to Szabadság Square
A chic luxury boutique hotel adjacent to Szabadság Square in a prime central location.
Boldly designed rooms on several levels most of them with
a fine view of the park adjacent to the hotel,
helpful, knowledgeable staff
a first rate restaurant and
a small spa are the highlights of the fairly new accommodation by the Spanish Iberostar hotel chain group.
Read more details on the Iberostar Grand Hotel.
Corinthia Hotel Budapest – Historic Grandeur In a Bustling Central Area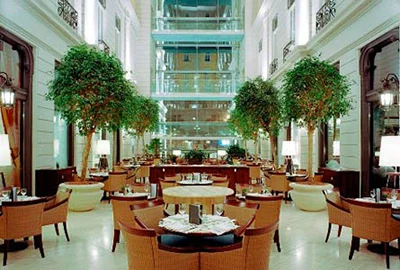 Address: Erzsébet körút 43-49., district VII.
The Corinthia Hotel is Budapest's top-rated 5-star hotel according to many travel and accommodation websites.
It has everything a city hotel can offer to its guests:
Central Location
On the busy Grand Boulevard (Nagykörút) with
Unfortunately the hotel's location is one of the cons we have to mention.
There are other 5-star hotels situated in nicer parts of the city, offering wonderful vista from the rooms (see the Four Seasons Gresham Palace or St George Residence Hotel in Buda Castle).
Highlights Of Corinthia Budapest:
Historic Building with Fabulous Architecture & Decor – I always prefer to stay in a hotel that is located in a building that has a story to tell and great architecture. Corinthia Hotel meets these criteria.
Spacious Rooms – comfortable rooms with large bathroom
Nice Indoor Spa
Fine Restaurants – 4 restaurants offering a taste of various cuisines
Courteous, Helpful Staff – language-speaking personnel is very attentive without being over the top, are ready to help you
Rooms & Suites in Corinthia Hotel Budapest
Add cc. 25 EUR/night if you want to book a room with breakfast.
Superior room (28 sqm) – cc. 192 EUR/night
Deluxe room (34 sqm) – cc. 232 EUR/night
Executive (34 sqm) – cc. 300 EUR/night
Junior suite with separate lounge area (64 (sqm) – cc. 384 EUR/night
Deluxe suite with living room and 2 bathrooms (69 sqm) – cc. 408 EUR/night
Execuitive suite with 2 bathrooms and a walk-in wardrobe (70 sqm) – cc. 530 EUR/night
Signature suite with separate kitchen and dining room (140 sqm), – cc. 1 000 EUR/night and
Presidential suite (240 sqm)
Access to the hotel's Royal Spa and WiFi internet are included in all room prices.
Travellers Reviews About the Corinthia Hotel:
The vast majority of tourists who stayed in Corinthia praise the hotel and its services.
There are some minor complaints: drinks and items from the minibar are overpriced.
Read a more detailed review of Corinthia Hotel Budapest.
Anantara New York Palace Budapest Hotel – Central Location On A Busy Boulevard, Palatial Atmosphere
Address: Erzsébet krt 9-11., (New York Palace) trams 4,6, M2 (red) metro Blaha Lujza tér station.
Website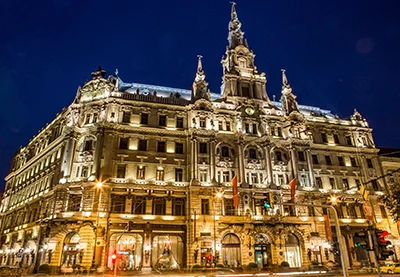 As with Corinthia Grand Hotel, the location of this impressive palace hotel is not the most favorable.
From the hotel you immediately find yourself on the crammed and noisy Grand Boulevard.
The spectacular building of the New York Palace, the refined interior, the gourmet restaurant, and the fine service offset the unfavorable location.
Similarly to the Four Seasons-Gresham, the Anantara New York Palace Budapest Hotel is housed in an artfully refurbished palace with fine architectural details.
Luxurious rooms with Illy coffee maker, marble bathroom, adjustable air-conditioning
Kind and professional staff
Superb spa with sauna, steam rooms, fitness room
Beautiful classic coffee house on the ground floor
Rooms & Suites In The New York Palace Budapest Hotel
Size of the rooms range from 30 sqm to 50 sqm., the Deluxe Terarce Room has a private balcony from where you can enjoy the view of the city.
Rooms have an Illy Coffee Maker and LED TV.
If you want something lavish book one of the 3 suites: Junior, Executive and Presidential. They all come with a Nespresso Coffee Machine, marble bathroom and offer a view of the city.
Rates in Anantara New York Palace Hotel
Standard prices without begin from cc. 220 EUR for a night in a room. If you want to have breakfast the rate goes up to cc. 260 EUR/night.
A room with balcony costs cc. 300 EUR/night. Suite prices start from around 1 000 HUF/night, without breakfast.
Travellers' Opinions
Location is not very good – lots of traffic and noise though
Pool in the spa is a bit small
Overall the New York Palace Budapest Hotel is an impressive 5-star hotel in the sometimes grey and often crowded center of the city.
Find out more about the history of New York Palace and Cafe.
Mamaison Andrássy Hotel – Exclusive Neighbourhood, Lovely Boutique Accommodation, Affordable Luxury
Address: Andrássy út 111., district VI., close to Heroes' Sqr.
Website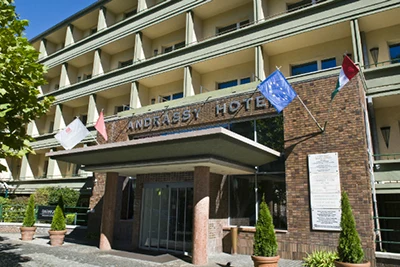 The Mamaison Andrássy Hotel is situated in an exclusive area on the elegant Andrássy Avenue.
Many cultural sights are in its neighbourhood, you can easily explore them by walk.
The most important attractions are the Opera House, Heroes' Square, Museum of Fine Arts.
The M1 metro line runs nearby, should you get tired of walking.
You'll also find some excellent restaurants, cafés and bars in the area.
The Mamaison Andrássy Hotel offers all the luxury and comfort you wish for. From spring you can relax in its small but intimate garden.
The hotel's restaurant is famous for its innovative and multicultural cuisine.
Rooms In The Hotel – Moderate Prices
Rooms are nothing special, they are typical standard hotel rooms. The Classic Room measures 25 sqm and comes with a king- or queen size bed.
Rates are however quite reasonable and they offer discounts for senior visitors and for longer stays. Price for a night here costs around 100 EUR and you will egt brekafast for additional 10 EUR.
Check out their special offers and discounts to save more on your accommodation.
What Travellers Say About The Mamaison Andrássy Budapets Hotel?
A lovely, moderately priced boutique hotel in a quiet area
Recommended for those who don't mind a bit of walking to get to the centre – public transport is easy to use and (there's a bus and metro station/M1, Yellow Line at Bajza utca which is only 170 m walk from the hotel)
Good breakfast
Kind, helful staff
Great value for money
Hilton Garden Inn City Budapest Centre – Opposite The Basilica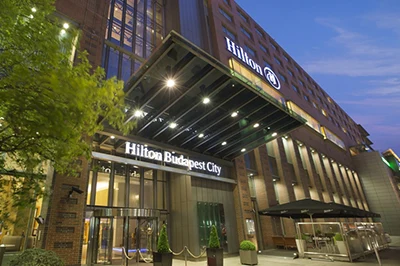 Address: Lázár utca 11-13., Budapest 1065, district VI.
The other Hilton establishment in Budapest too has a very favorable location.
The Hilton Garden Inn Budapest City Centre is in downtown but in a slightly more hectic part, right across St. Stephen's Basilica
Highlights Of The Hotel:
Excellent transport connections: M3 (blue) metro station, Nyugati (Western) Train Station, Trams 4, 6 stop
large shopping mall (WestEnd City Center) next door
the hip cafe and bar neighborhood at Liszt Ferenc Tér is a short walk from the hotel
typical Hilton-standard service
good size, comfortable rooms
attentive staff
More Hotels in Buda Castle – Historic Sights,
Baltazar Boutique Hotel Buda Castle – Romantic Stay, Great Food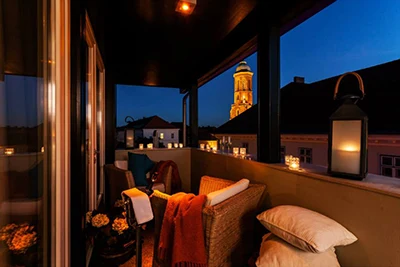 Address:Országház utca 31., district I.
A new luxury boutique hotel at a prime location, in a historic street in the northern part of the castle area.
It offers upscale lodging in individually designed rooms with kings size or twin bed that reflect a combination of classic elegance and modern style.
You can have fine bistro meal in the restaurant as well as a great choice of breakfast.
Rates In Baltazar Boutique Hotel Budapest
A double room – 26 -29 sqm in size – costs cc. 150 – 165 EUR for a night with breakfast.
Suite rates start at around 215 EUR/night
What Travellers Say About Baltazar Boutique Hotel?
Impressive hotel at a peaceful, historic, World Heritage location.
Unique, spacious rooms with cool design and artwork
Fine continental breakfast
Courteous, helpful staff
TIP: See more on Baltazar Hotel in Buda Castle.
St. George Residence All-Suite Hotel Deluxe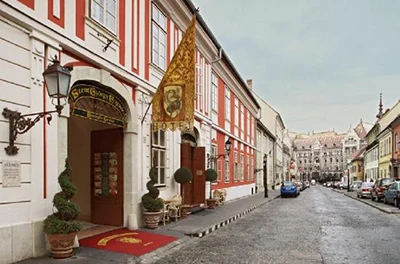 Address: Fortuna utca 4., Castle District
Location-wise of St George Residence beats the other 3 hotels described above.
The hotel is housed in a restored mansion in Buda Castle which is under the protection of the UNESCO's World Heritage program.
The historic neighbourhood exudes old-world charm perfect for a romantic getaway.
Highlights of the St George Residence Hotel
Tastefully furbished rooms (paintings, wood flooring) have antique yet modern atmosphere,
Huge bathrooms with large bathtubs and fine toiletries
Blue Bird Restaurant & Cafe is run by an Oscar prize winner chef – traditional Hungarian music during dinners
lovely inner courtyard
Rates in St. George Residence All Suites Deluxe Hotel
A standard suite – 45 – 55 sqm – costs cc. 109 EUR/night.
The St. George Residence All Suites Hotel is ideal for families, or couples spending a few days in Budapest.
The Aquincum Hotel Budapest – A Bit Far From the City Centre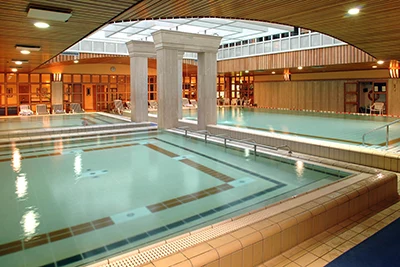 Address: Árpád fejedelem útja 94., Óbuda, district III.
Website
The Aquincum Hotel Budapest is a great place if you don't mind staying a bit out of the hustle and bustle of central Budapest.
The hotel isn't in the city centre but in Óbuda (literally Old Buda), the III. district, but there's good transportation (HÉV, tram 1) to the centre.
Margaret Island is close by if you want to go for jogging or just walk in the fresh air.
The hotel has the Ambrosia Restaurant for dining and the River Bar offering buffet breakfast and all sorts drinks.
Spa & Fitness Center
Rooms & Suites & Rates
WiFi, use of the Spa & Fitness center are included in the price.
Superior room (24 sqm) – king-size bed, costs cc. 102 EUR/night, with breakfast. 127 EUR/night
Executive room (24 sqm) – king-size bed, complimentary tea, coffee and soft drinks during your stay. Price: cc. 130 EUR/night, with breakfast: 162 EUR/night
Aquincum Suite (48 sqm) – separate living room, complimentary tea, coffee and soft drinks during your stay. Price: cc. 166 EUR/night, with breakfast: 207 EUR/night
Family Suite (96 sqm) – 2 twin beds and 1 king bed
Family Room (48 sqm) – 2 Superior Rooms connected, 2 bathrooms. Price: cc. 145 EUR/night
What Travellers Say About The Aquincum Hotel budapest?
Here are some of the comments by travellers who stayed at the Hotel Aquincum Budapest (collected from large hotel review sites e.g. Tripadvisor):
The hotel has a lovely spa with a swimming pool, two thermal pools and a Kneipp-pool as well as jacuzzi, saunas, steam bath, massage and other health treatments
Free Wi-Fi in public areas, free internet access in rooms and in the River Bar
rooms are quite spacious
Air-conditioning doesn't always work
Food and service is good in the hotel's restaurant
Staff is very helpful and polite
Related
4-Star Hotels – Romantic Budapest Hotels – Designer Hotels – Downtown Hotels – Budget Hotels – Spa and Wellness Hotels – Luxury Budapest