Christmas Festival on Fő tér (Main Square)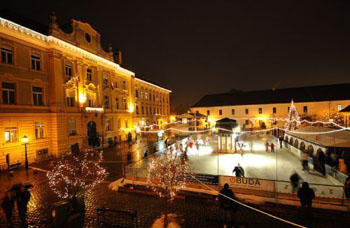 The Main Square and the neighbouring area of Óbuda hosts festive programs on the four weekends of Advent in Óbuda:
two ice rinks, and
handicrafts and gastro market offer entertainment for the whole family.
A tall Christmas tree and the life-size nativity scene, workshops, and local gastronomy create a special pre-Christmas atmosphere.
Getting to Advent in Óbuda:
tram 1 and get off at Szentlélek tér stop
M3, blue metro, get off at Árpád híd station, from there take tram 1 till Szentlélek tér stop – [highlight color="yellow"]Note:[/highlight] The M3 metro line is currently under construction, use the replacement buses and see details here.
By Suburban Railway H5 from Batthyány Square (M2 red, metro), get off at Szentlélek tér
Opening Hours – Advent in Óbuda
Christmas market opening hours: Mon – Thurs: 14.00 – 21.00, Fri – Sun: 10.00 – 22.00, on 24. December: 10.00 – 13.00
Gastro Promenade opening hours: Mon – Thurs: 14.00 – 21.00, Fri – Sun: 10.00 – 23.00,on 24. December: 10.00 – 13.00
Advent craft workshop: Sundays: 14.00 – 19.00
Animal petting (next to the nativity scene): Sundays: 15.00 – 19.00
Table of Contents – Advent in Óbuda
Ice Rink Opening Hours
This the districts welcomes lovers of this wonderful winter sport with 2 ice rinks
on Fő tér/Main Square: between 02. December 2022 – Mid-February 2020: every day: 08.00 – 22.00
Csobánka tér: between 02. December 2022 – Mid-February 2023: every day: 08.00 – 20.00
Entry is free.
Renting of skates is available: 600 HUF for adults and 400 HUF for kids. Sizes: double bladed: 22 – 26 (adjustable), single-bladed: 26 – 48.
Free training on Main Square on Saturdays at 08.00 – 10.00, on Csobánka Square on Sundays at 08.00 – 10.00
Tickets: entry is free to all programs but visitors have to purchase a mug for 500 HUF to be able to sip mulled wine or hot tea and taste the culinary delicacies. All concerts, performances and the ice rink are free.
Some of the Programs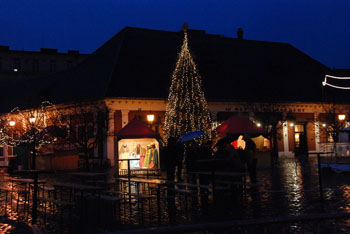 All programs are free.
The Advent in Óbuda festival welcomes visitors for the 10th time.
The Christmas market on Szentlélek tér offers a wide variety of quality merchandise.
If you look to buy something special this is the place to go:
designer jewelry,
bags and other accessories,
beautiful woven, felt and lace textiles,
rustic folk utensils (wicker baskets, pottery)
wooden toys for the little ones.
You can also prepare your own holiday decorations in the craft workshop in the Esernyős toruist information centre on Main Square/Fő tér each Sunday between 14.00-19.00.
Each Sunday at 18.00 a new candle will be lighted on the Advent wreath accompanied with singing and music.
Christmas Tree Installation
A 16-m high Christmas tree installation by the HelloWood company dominates the square. Built on 36 sqms from 40 tons of firewood taht will be be given to families in need after the festival.
A large nativity scene depicting the birth of Jesus, an animal petting area (Sundays: 15.00-19.00) are the additional attractions on the festival in Budapest's III. district.
Children Programs – Advent in Óbuda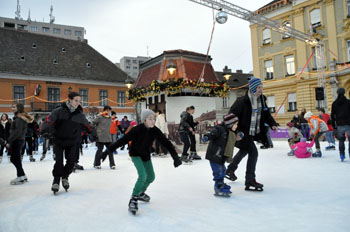 Kids will appreciate the ice rink on the main Square and they can also pet animals on Sunday afternoons next to the nativity scene.
Concerts, puppet theatre performances provide additional entertainment every weekend during Advent.
On 03. December/Sunday, 12.00 – 16.00 children can wait for the arrival of St. Nicholas/Mikulás in the Mikulás Adventure Park where lots of surprises and fun activities welcome both kids and adults:
sleigh pulling contest,
giant shoe cleaning,
a magic umbrella etc.
Smaller kids can have a ride on the antique merry-go-round.
Culinary Delights
A whole promenade will be dedicated to local food and winter drinks.
Fish and game dishes:
fishermen's soup (halászlé),
grilled and roasted trout,
wall eye, catfish,
wild boar stew,
goulash and other hearty soups cooked in cast iron kettle (bogrács),
cottage cheese pasta (túrós csúsza),
bread pizza,
Sekler (chimney) cake,
roasted chestnut and other sweet delicacies.
You can also taste and buy artisan cheeses and chocolates. No Christmas fair goes without traditional winter drinks: you can sip spicy mulled wine, hot tea, hot chocolate, pálinka (authentic Hungarian fruit distillate).
TIP: If you buy a Christmas mug on the festival you'll aid the charity project of the Hungarian Maltese Charity Service: they raise money to support those in need in the Transcarpathia region.
If you really want to see how people in Budapest are preparing for Christmas and you've had enough of the hustle and bustle of the downtown head for Óbuda!
See also official website of the event!
Related:
Christmas Market by Budapest Basilica – Advent Festival in Városháza Park – Christmas Fair & Winter Festival on Vörösmarty tér – December Events, Programs in Budapest