The Perfect Sightseeing For The Whole Family During The Day!
If you are looking for a family-friendly sightseeing program in Budapest then we highly recommend one of our early afternoon Budapest Cruise with lunch.
A spacious panorama ship will take you on a 1,5-hour excursion on the Danube allowing you to see all the notable landmarks standing in Buda and Pest.
A 3-course warm lunch served buffet style make this an even more pleasant program. If you want to skip lunch, no problem.
You can have a glass of wine or craft beer that you can sip leisurely during the 1.5-hour trip.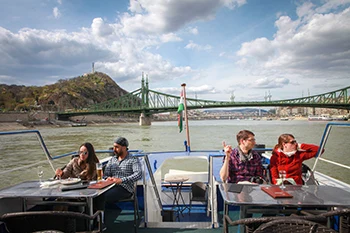 Quick Links:
Prices – Booking – Date & Time – Sights You Will See – Lunch Menu – Meeting Point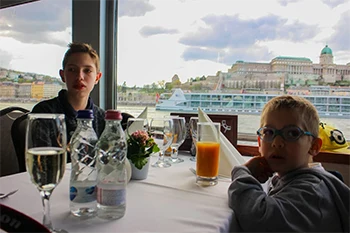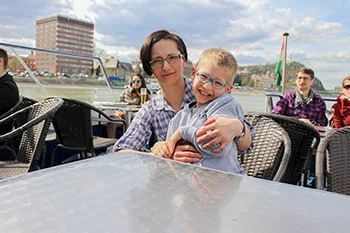 Afternoon Budapest Cruise with Lunch Date & Time:
01. May – 31. October 2023: Every Friday and Saturday at 14.00 – 15.30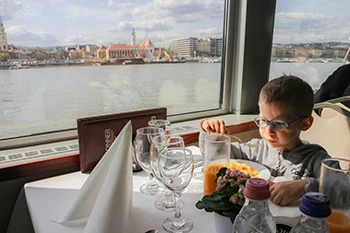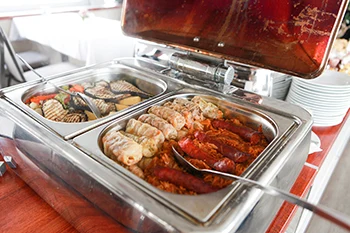 Daytime Budapest Cruise Prices – With 3-Course Buffet Lunch
Adult: 52 EUR
Student 49 EUR
Children (ages: 6-14): 35 EUR
Included Are:
Buffet lunch
Welcome drink (glass of sparkling wine/fruit juice)
Mineral water (1 bottle)
A drink of your choice (1 non-alcoholic drink)
1,5 hour boat tour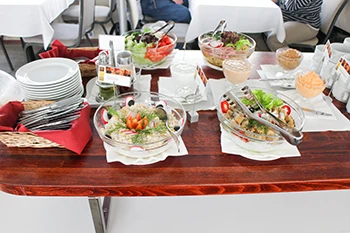 Payment: with using a Bank Card, Credit Card.
You will receive an E-ticket automatically after payment in e-mail.
Meeting Point – Next To The Chain Bridge In Pest
Akadémia Port – Dock Nr.3 – 1052 Budapest, Id. Antall József rkp. – Gróf Széchenyi Ship, at 13.30
Getting There:
The meeting point is between the Chain Bridge and the Parliament building in the Pest side. You can easily reach it from any point of Budapest both by walk and public transport.
Tram 2 has a stop at Chain Bridge and the Parliament, and M2 (red line ) metro also stops at the Parliament/Kossuth tér.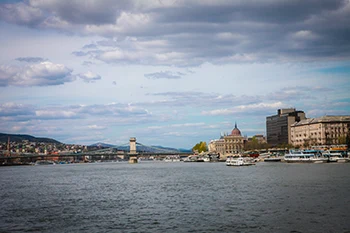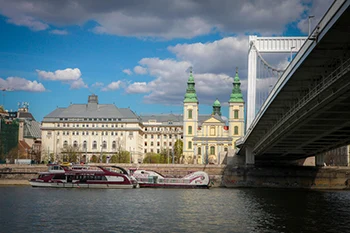 Book Your Early Afternoon Budapest Cruise
What Will You See During The Budapest Lunch Cruise?
The Danube runs majestically through the center of Budapest, creating one of the finest panoramas in Europe
The two river sides Buda and Pest offer a dazzling combination of new and old. Landmarks are dotting the embankments steep in centuries of history.
The early afternoon cruise is a perfect program to see the city during the daylight hours. Families with children will no doubt have a fantastic time since the cruise is only 1,5-hour long.
It flys by whiele you will take pictures and enjoy the warm lunch meal of 3 courses.
You Will See:
Royal Palace perched on the Castle Hill in Buda,
Gellért Hill with the Cutadel Fortress and the Statue of Liberty
Gellért Bath – a grandiose thermal bath with indorr and outdoor pools
Parliament building that dominates the Pest side right next to the
Renewed Chain Bridge – the 1st permannet bridge on the Danube built in the 19th century
We welcome you with a drink – a glass of sparkling wine or fruit juice – on on our air-conditioned or heated ship.
Then you can enjoy a buffet lunch or wine tasting/craft beer tasting.
Audio guiding tells you all about the landmarks you will pass during the tour.
Buffet Lunch Menu
Help yourself to tasty warm food from the buffet table and enjoy your meal at the comfort of your table. the menu offers a taste of Hungarian specialties, like goulash and stuffed cabbage as well as other popular dishes.
Meaning of symbols: G: gluten-free, L: lactose-free, Vn: vegan, vegetarian, V: vegetarian
Soups
Goulash soup (G, L)
Seasonal creamed vegetables soup (Vn, G, L)
Hot Main Courses
Chicken brest fillet served in gravy (G, L) with ragout (G, L)
Beef stew with Villány red wine (G, L)
Stuffed cabbage from turkey (G, L)
Oven-baked vegetables (G, V)
Vegetable couscous (L, Vn)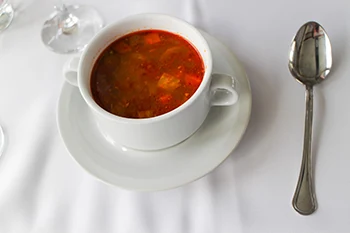 Side Dishes
Rice (G, L, Vn)
Dumplings (L, V)
Roast potatoes sprinkled with chopped parsley (G, L, Vn)
Desserts
Variation of strudel (L, Vn)
Somló sponge cake (V)
Fruit bowl
Salads
Mixed salad with pesto (L, G, Vn)
Pasta salad with yoghurt dressing (L, G, V)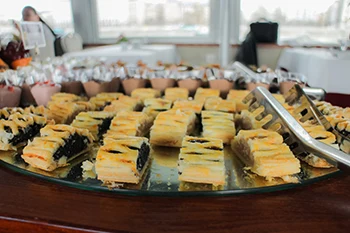 Extra side
Cucumber salad with sour cream (L, G, Vn)
More Boat Tours
Cocktail and Beer Cruise – enjoy 2 cocktails or 3 mugs of beer while touring the river Danube
Budapest Evening Cruise with Dinner – 2-hour tour with buffet dinner and live music between 19.00 – 21.00.
View our Facebook page for actualities too
Terms & Conditions
By booking the program you are agreeing to the terms and conditions.