Andrassy Avenue in Budapest District VI.
Attractions, Cafes, Restaurants
The elegant Andrassy Avenue is one of Budapest's major cultural hubs with a range of museums, exhibition halls, and examples of fine architecture.
The 2.5 km long Andrassy Avenue connects City Park (Városliget) with the city centre.
The wide thoroughfare starts at Heroes' Square (Hősök tere) and stretches almost as far as the St. Stephen's Basilica.
The octagonal square, Oktogon at Grand Boulevard (Nagykörút) divides the Andrassy road into two sections.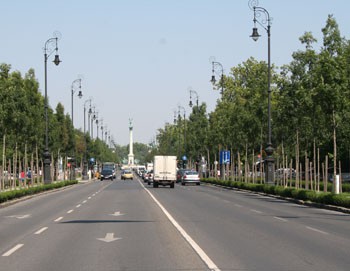 Quick Links
Sights – Pesti Broadway – Paris Department Store – Book Cafe/Lotz Hall – Liszt Ferenc Square – Jókai Square – Hotels in the Area – Restaurants, Cafes – Events, Festivals
Because of its historic and cultural values Andrassy Avenue has been a World Heritage Site since 2002.
The construction of the route started in 1872 as part of the rebirth of Pest-Buda and preparations for the Millennium celebrations in 1896. Hungary celebrated its foundation that roughly took place in AD 896.).
The avenue received its name after Count Gyula Andrassy, Hungary's prime minister between (1867-1871) who supported the building of the road along with other major reconstructions in Pest at the time.
Part of the Millennium Underground (M1 metro), the first continental metro line in Europe (built between 1894-96), runs parallel with Andrassy avenue with stations at
Heroes' Square,
Bajza utca,
Kodály körönd,
Oktogon and
the Opera.
Some of the most spectacular buildings of Budapest adore Andrassy avenue including the Hungarian State Opera House, the Liszt Ferenc Music Academy, or the Ballet Institute.
Apart from cultural buildings, elegant neo-renaissance, and neo-baroque villas, and mansions dating from the 19th century line the street.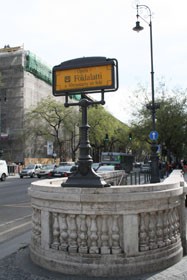 Exploring Andrassy Avenue
The avenue begins opposite St Stephen's Basilica at Bajcsy-Zsilinszky út, and the first section is runs till Oktogon, an octagonal shape large square, where the avenue crosses the Grand Boulevard.
The next section ends at Kodály körönd where the area is less loosely built-in with small palaces and villas.
From Kodály körönd till City Park (Városliget) the boulevard widens and the residential palaces tend to have gardens in the front.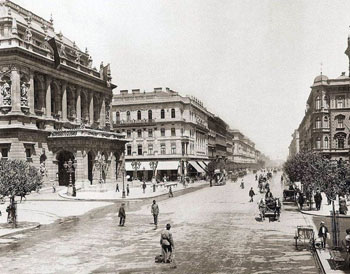 TIP: If you want to see all the sights along the road I recommend walking towards Heroes' Square and exploring the other side on the way back.
If you think the route is too long break it into two sections and do them on different days:
e.g Heroes' Square-Oktogon on one day, and
Oktogon-St Stephen's Basilica on another day.
The buildings on both sides of Andrassy road boast artful reliefs, friezes, carved columns.
Part I. Basilica – Oktogon
Starting your walk from the Bajzsy-Zsilinszky road, take a moment to observe the house at No.3 where the Postal Museum used to operated.
It moved to a nearby address: Benczúr u. 27. II. story, district VI.
A fresco by Károly Lotz decorates the ceiling in the stairway. In the Postal Museum you can also see what a 10-room bourgeois apartment looked liked in the 19th century.
The courtyard of the Krausz Palace at No. 12. has a nice fountain and scraffitos.
The stunning building is currently being refurbished and will house exclusive offices and fashion stores.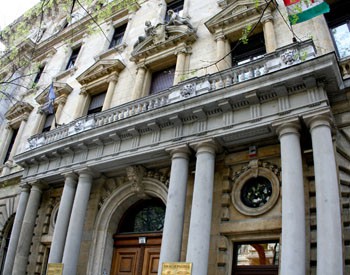 The Hungarian State Opera- Reopened In March 2022
The next attraction is the Hungarian State Opera House.
The architectural masterpiece by the famous architect, Miklós Ybl is richly decorated both from outside and inside.
Budapest's Opera House is on par with Opera Houses in Vienna or in Paris.
It has been completely renovated in recent years and reopened to the public in March 2022.
Opposite the Opera stands another magnificent building, the former Ballet Institute, also known as Drechsler palace by the coffee house that used to operated on its ground floor.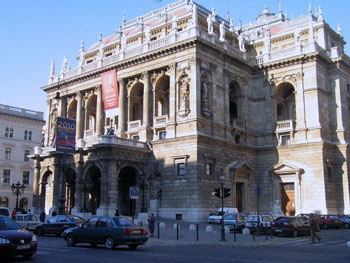 The renaissance building, designed by Ödön Lechner and Gyula Pártos, was built in 1884 and is being turned into a 5-star luxury hotel.
This part of the street is great for window shopping too because a range of high-end shops like Louis Vuitton, Ermenegildo Zegna, Gucci, Burberry, and Roberto Cavalli.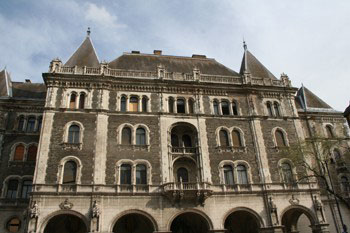 Cafe TIP on Andrassy Avenue:
The Opera Cafe on the Hajós utca side of the Opera House is a small classic cafe where you can have very good coffee made from freshly roasted, specialty coffee beans, eat a delicious cake, or sip a glass of champagne or local wines before or after a performance.
You can also dine or lunch here – the menu includes soups (the goulash is quite decent), pastas, salads and desserts.
A bit overpriced but considering the neighbourhood it's reasonable. Nice to seat on the terrace and watch life go by on the busy boulevard.
Open daily: 10.00 – 24.00. They charge 10 % service fee.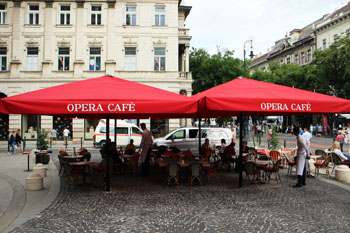 Pesti Broadway – Nagymező Utca – A Cultural Hub
The next street intersecting Andrassy Avenue () is called the Pesti Broadway (Nagymező utca officially) because it functions as the theatre quarter of Budapest.
The Budapest Operetta Theatre stages contemporary musicals as well as traditional operettas.
The Thália Theatre stands opposite the exclusive nightclub, the Moulin Rouge.
The Mikroszkóp Színpad features political cabarets and there's the
Vidám Színpad,
Kolibri Theatre,
Új Színpad and
Radnóti Theatre, to make Nagymező utca a small cultural center within the city.
TIP: See other popular cultural venues in Budapest.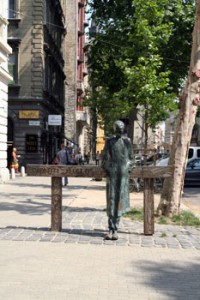 Mai Mano House – House of Hungarian Photography
Address: Nagymező utca 20., district VI.,
Opening Hours: exhibitions. Tue-Sun: 12.00 – 19.00, closed on Mondays and public holidays
Admission: full price: 1 500 HUF, students: 700 HUF, discount for Budapest Card holders
The former Arizóna club was home to the Mai Mano photographer and today it functions the House of Hungarian Photographers a place to intriguing photo exhibits.
In the book shop on the mezzanine level you can buy photo albums, books on photography as well as autographed enlargements of photographers.
It also has a lovely cafe with terrace to enjoy coffee or other drinks.
The building at No. 8 is the Ernst Museum founded by a private collector Lajos Ernst in 1912 which became one of the most significant exhibitions centers of 20th-century Hungarian fine and applied arts.
TIP: See also our guide to museums in Budapest.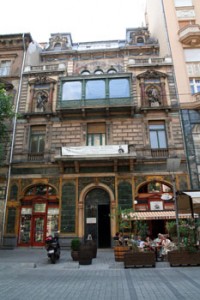 Paris Department Store (Párisi Divatház) – Turned 111 Years Old in 2022
Address: Andrassy avenue 39.
The fine Art-Nouveau building today houses the Alexandra Bookstore on the ground floor and first floor, the Book Cafe in the dazzling Lotz Hall as well as the Párisi Gallery and Art Hall.
The cafe closed down in March 2017. Reasons behind the closure are most likely the financial collapse of the Alexandra Bookstore chain that also operated the cafe.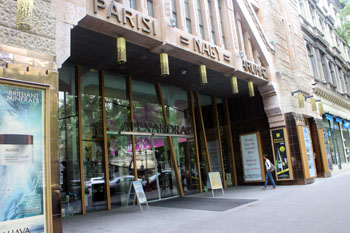 The 7-storey Paris Department Store (also known as the Divatcsarnok or Párisi Nagyáruház) opened in 1911 and stunned everyone with its:
astounding size
4-storey high marble columns
gilded staircases,
Zsolnay decorations, and
the stained glass windows by Miksa Róth – a world-renowned master of this art.
The Parisian-style store was the first of its kind in the Hungarian capital and attracted visitors from all over the world.
It had 24 well-organised departments and 500-600 employee. Each floor had its own cashier, packaging and internal telephone.
The roof terrace was open to the public too: it was turned into an ice rink in winter. The department started to decline in the I. World War.
After the II. WW it was nationalized in the the communist years and books were stored in it for many years.
After the revolution of 1956 it reopened as Divatcsarnok – a store again operating on 2 floors, but it was nowhere near as chic and stunning as its predecessor. The Divatcsarnok operated till 1999.
During a thorough renovation the building was restored to its original state and in 2009 the Hungarian bookstore chain, Alexandra moved in.
TIP: Sip a cocktail and enjoy the breathtaking panorama from the 360 Bar on top of the Parisi Department Store. They also have tatsy Mediterranean dishes on ooofer in 2022. See their website for more details.
Alexandra Book Cafe/Lotz Hall – A Hidden Gem
Opening Hours: Mon-Sun: 10.00-20.00
This classic coffee house is in the elegant Lotz Hall on the mezzanine floor.
The soaring, vaulted ceiling of the hall is decorated with frescos in gilded frames by Károly Lotz.
The monumental work depicts Budapest capital city's apotheosis.
The figure of Patronae Hungaria stands in the centre surrounded by the allegoric figures of arts, industry, commerce, wealth and fame.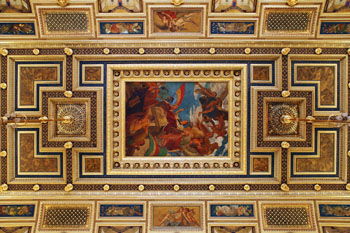 The national tricolor and the capital's red-yellow-blue flag are also important elements of the composition.
The spacious interior is furbished with comfortable chairs. Grab one of the leather armchairs if you can.
The cafe serves delicious cakes, desserts, gourmet sandwiches, coffee specialties, hot chocolate and other drinks.
Try the Bookcafe cake – dark chocolate sponge layers filled with chocolate cream and marzipan, with a dark chocolate icing. Prices are moderate despite the elegant locale.
Mellow piano music entertain guests in the afternoon. A great place to relax and take in the beauty of the hall while enjoying a rich cake.
Liszt Ferenc Tér and Jókai Tér
The large octagonal shaped square called Oktogon marks where Andrassy road intersects the Grand Boulevard (Nagykörút).
To the northeast of Oktogon the avenue ends in Heroes's Square, to the southwest the Basilica stands at the end of the busy boulevard.
Two small plazas flank the sides of Andrassy avenue close to Oktogon towards the Basilica:
Liszt Ferenc Square which is in fact a lovely side street lined with restaurants, cafes and lots of green.
There are benches to sit down and enjoy the morning sunshine after breakfast in one of the terraced cafes.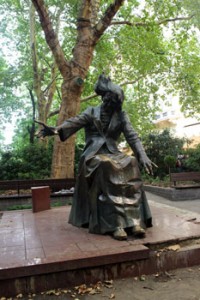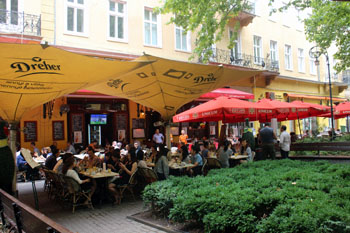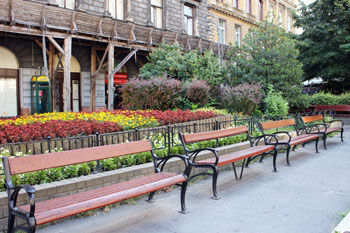 Liszt Academy Of Music (Zeneakadémia) on Andrassy Avenue
The Liszt Ferenc Academy of Music stands at the corner of Király utca built in 1907.
The halls of the beautiful building are decorated with vivid frescoes by Aladár Kriesch Kőrösfői. It was completely renovated a couple of years ago.
The academy's concert halls, especially the Grand Hall, regularly host concerts by local and international performers.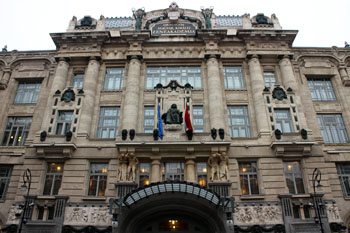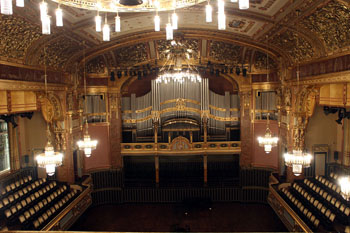 TIP: You can visit the building and learn about its history and architecture on guided tours. The 50-minute tour in English accompanied with a mini concert starts every day at 13.30. The ticket is 3 500/1 750 HUF.
Jókai tér is opposite Liszt tér on the other side of Andrassy avenue, just a few steps from Oktogon.
The plaza is named after Mór Jókai, a 19. century Hungarian novelist whose statue stands in the middle.
The small square is lined with cafes and shops on two sides.
At its end is the Kolibri Theatre (Jókai tér 11.) where children and youth plays can be seen on the stage.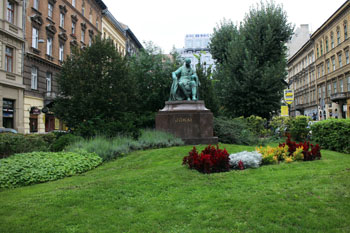 Cafe TIPS:
To the left of Jókai's statue, on the corner is a great ice cream & cake shop:
Hiszteria Cremeria (see more below at the Restaurants, Cafes).
To the right try Piccolo Cafe (Jókai tér 6.) – a tiny espresso shop with a small terrace:
coffee – espresso and cappuccino, latte are exceptionally good and
the croissants are fresh and tasty.
If you wish to have a healthier drink have a smoothie made from fresh fruits or a glass of freshly squeezed orange juice.
Sandwiches, piadina, wraps, salads, snacks are also available.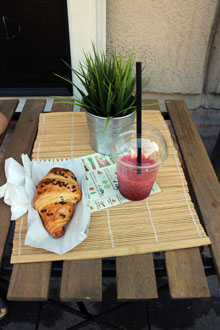 Andrassy Avenue dressed for Christmas
The boulevard looks dazzling during the festive season in December, sparkling with all the festive lights.
TIP: Find out more on Christmas in Budapest: programs, concerts, festive fairs during the winter holiday season.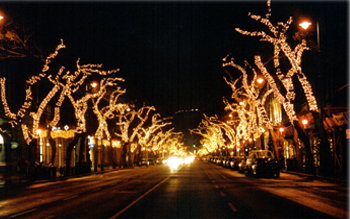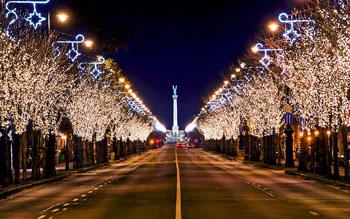 Hotels Around Andrassy Avenue
There're some great hotels between the Oktogon-Erzsébet Square parts of Andrassy Avenue.
Hotel Moments Budapest
This fairly recent 4-star accommodation at Andrassy avenue 8., close to St. Stephen's Basilica has
99 rooms in three categories,
a restaurant with lovely terrace,
business centre,
sauna,
fitness room, and
fast WiFi internet.
Mamaison Hotel Andrassy Budapest
The Mamaison Hotel Andrassy Budapets is a great-value boutique hotel near Heroes' Square with
61 rooms,
7 suites and
the La Perle Noir Restaurant.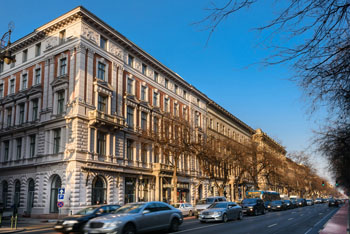 Mamaison Residence Izabella
The Mamaison Residence Izabella in Izabella utca No. 61., just off the Andrassy Av. is also a good choice if you want more space and do some cooking since all the 38 suites have a fully-equipped kitchenette.
Hotel K + K Opera
This nice 4-star hotel is one of the best in its category. It is located in a small side street just off Andrassy avenue near the Opera.
A great place if you want to stay downtown Budapest, close to all the important sights.
More Hotels In The Neighbourhood
Carat Hotel in Király utca is another good-value hotel in the neighbourhood.
The Corinthia Hotel on Grand Boulevard (Erzsébet körút 43-49.) close to Andrassy avenue is one of the best luxury hotels in Budapest.
Apartments for rent are abound along Andrassy avenue: see our guide to inexpensive apartments, and luxury apartments.
Restaurants, Cafes Along Andrassy Avenue, Part I. (Oktogon – Basilica)
The area offers lots of restaurants, both in the upscale category and cheaper eateries including fast-food places.
Bellozzo – Italian Fast Food
Address: Oktogon 1.
Opening hours: Mon-Sun: 10.00 – 23.00
This good-value Italian place right at Oktogon next to the Burger King opened in 2015.
Grilled sandwiches, scrambled eggs, pastries (sfogliatelle, mini croissant, sweet calzone) with coffee for breakfast, simple but tasty pastas and pizzas (24 cm) for lunch or dinner.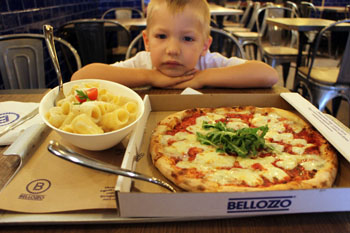 We've also tried their pizza (quattro formaggi and the salami) and the Pasta in Bianco – all was quite good at an affordable price.
If you aren't that hungry the normal portion of the pasta is enough.
The ice cream seems a bit small at first glance (a mid-size scoop in the choice of three flavours: chocolate. coffee and lemon) but it's flavourful.
It isn't served in a cone but in a cupcake paper and kept chilled until served.
We've had breakfast there several times and the kids loved the sweet pastries and the pesto chicken sandwich was also good.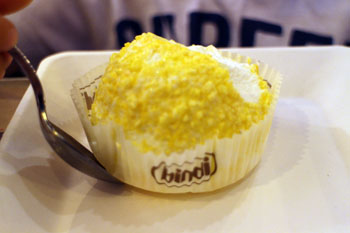 Tiramisu, ice cream and other classic Italian sweets for dessert. A spacious, no-fuss place.
Prices:
pizza (24 cm): 1 290 – 2 090 HUF,
pizza (32 cm): 1 910 – 3 090 HUF
pasta: normal: 1 430 – 2 900 HUF. grande: 1 740 – 2 440 HUF
salads: 1 950 – 2 650 HUF
sweet calzone (Nutella & mascarpone): 590 HUF, pistachio: 690 HUF
ice cream: 550 HUF (chocolate, lemon, coffee flavours)
cappuccino: 450 HUF
TIP: Hungarians love pizza and pasta so Budapest has quite a few Italian-style places that we collected on this page.
Big Fish Seafood Bistro
Address: Andrassy avenue 44., distr. VI.
Opening hours: every day 12.00 – 22.00 (exc. at Christmas & New Year)
Big Fish is one our favourite places if we wish to eat fish and chips or other no-fuss seafood made from fresh ingredients.
Inside it is balanced combination of a fish market and a cozy city bistro.
You can pick your ingredient you want your meal prepared from at the chilled counter:
crab, mussels
fish fillet (swordfish, monkfish, red tuna, salmon)
whole fish (sea bream, sea bass, mackerel, trout)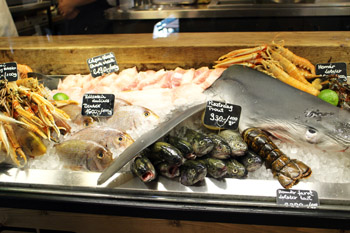 or go for fried dishes like fish and chips ( 4 200 HUF), calamari fritti (4 200 HUF) or breaded shrimp.
There's also:
fish soup (4 600 HUF), Hungarian fishermen's soup (3 600 HUF)
frutti di mare spaghetti (5 600 HUF)
mussels with white wine (5 600 HUF)
salads and
a couple of desserts
Big Fish is one of the best seafood restaurants in Budapest where everything is made from the freshest possible ingredients.
Staff is kind and professional.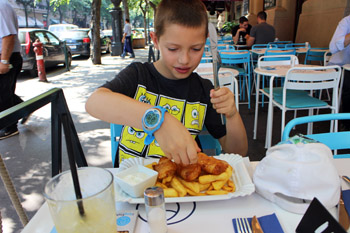 Hiszteria Cremeria – Ice Cream & Cake Shop
Address: Andrassy avenue 44.
Opening hours: Mon-Sun: 11.00 – 21.00
It's a brand new ice cream parlor and dessert shop right next to Jókai Square with a terrace facing Andrassy Av.
Hiszteria is owned and run by a family living in a small town east of Budapest.
The Ipacs family have been making ice cream and cakes for several decades – they opened their first ice cream shop in 1991 – using natural ingredients and modern technology.
The minimal order is the small portion (10 dkg/2 flavours) that is 600 HUF, the medium portion (15 dkg/3 flavours) costs 900 HUF while for the largest size (20 dkg/4 flavours) you have to pay 1 200 HUF.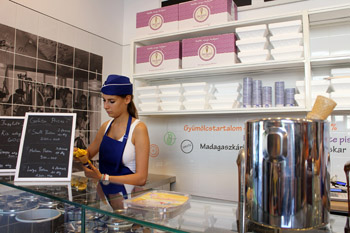 Similarly to the clean, naturalist interior the flavours available are mostly traditional with some unique ones thrown in (ricotta with caramelized fig, honeydew melon with Parma ham,sour cherry with cardamom).
The ice cream is quite good, creamy, not overly sweet and you can ask to fill melted Belgian chocolate in the slender, crunchy cone (or top it on the ice cream).
Lactose and sugar free options are available.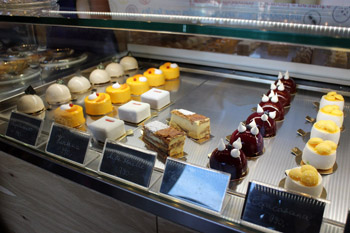 There are French-style cakes and desserts in the counter too – a piece is nearly 1 000 HUF, a bit overpriced even in this chic neighbourhood.
Moritz Eis
Address: Hajós utca 7., next to the Opera (they have another shop in Hollán Ernő utca)
Opening Hours: Mon-Thurs: 10.00-22.00, Fri: 10.00-23.00, Sat-Sun: 10.00-22.00
Moritz Eis is an international chain with shops in Serbia, Romania and Chile. Out of the 140 flavours that the brand's master confectioner came up with 13 are available at the same time with the offer changing regularly.
The lemon ice cream is perhaps the best in the city, but try also the pineapple-ruccola, Madagascar vanilla or strawberry with balsamic vinegary.
A portion (7 dkg) is 600 HUF.
TIP: See other top-quality ice cream places in Budapest!
Wine & Coffee House
Address: Andrassy avenue 15.
The Wine & Coffee House is a mecca for wine and coffee snobs.
I have to go and try yet their coffee to say a judgment, but I do hope they make good coffee unlike other establishments in Budapest daring to use the term coffee house, yet unable to make a decent espresso.
They offer a nice choice of breakfasts both menus and sweet snacks like muffins, croissants, buns, as well as sandwiches.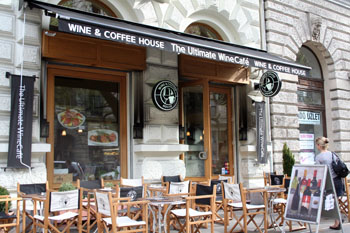 Cafe Művész
Address: Andrassy avenue 29.
Opening hours: Mon-Sat: 9.00-22.00, Sun: 10.00-22.00
Művész was once one of the classic coffee houses of Budapest and it's still a nice spot for contemplating life on Andrassy avenue.
Coffee is decent as well as the cakes but not as good as they used to be and prices are on the high side (an espresso is 590 HUF, cappuccino: 750 HUF, hot chocolate: 890 HUF, cakes 600-900 HUF/slice, a scoop of ice cream: 300 HUF)
They also have lemonade and some cocktails and light meals.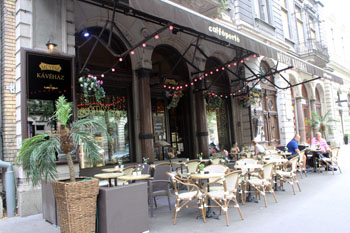 Breakfast includes egg dishes, sandwiches (cream cheese and salmon, grilled chicken, mozzarella and tomato) with as well as healthier choices (muesli, yogurt fro 880 HUF/bowl). Sandwiches are 1 350 – 1 490 HUF.
The express menu has a croissant, butter, jam, 2 dl orange juice, coffee or tea for 1 290 HUF.
The gourmet plates are usually for 2 people. For example the Hungarian specialties plate includes mangalica sausage, salami, ham, boiled egg, cheese, cottage cheese, onion, tomato, bell pepper, lettuce, scones, baguette for 1 990 HUF.
For lunch/dinner they offer goulash soup from Argentine beef for 1 850 HUF, some main dishes and salads.
Restaurants on Liszt Ferenc Square
Let's not forget about Liszt Ferenc Square, which alone is a major restaurant and cafe hub in district VI. similarly to Ráday utca in distr. IX.
Some of the places in the street: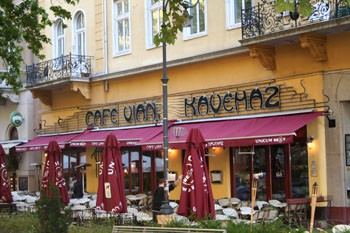 TIP: Try also Első Pesti Disznó, a Hungarian-style tapas bar at 19., Nagymező utca, a side street of Andrassy often referred to as the Pesti Broadway.
More Cafe/Restaurant TIPs near the Oktogon
Arriba Taqueria at Oktogon offers quite good Mexican fast food: taco, burrito, and quesadilla and if you're pining for American tastes try Bamba Marha Burger or TG Friday's also at Oktogon.
Callas is a trendy place next to the Opera with intimate atmosphere and an excellent rendezvous spot before or after an Opera performance.
Opera Cafe mentioned above is also a quite nice place for coffee, cake, or alight lunch or dinner.
The terrace is perfect for people-watching while sipping a cup of cafe or a glass of champagne.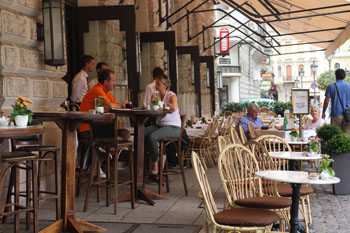 Events, Festivals on Andrássy Avenue
The boulevard is home to a couple of events each year.
The biggest one is the car-free weekend during the European Mobility Week every September.
The whole avenue is closed off from traffic during the event with lots of programs, family activities, concerts over a weekend (usually the 3rd weekend in September).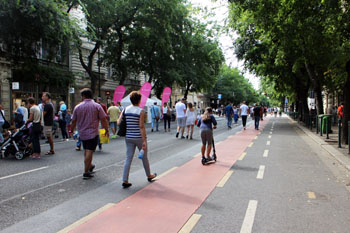 The Street Food Show is part of the event too where Budapest's best food trucks and street food bars move to the avenue for 3 days and offer gourmet fast food, craft beer, wines, coffee, sweets.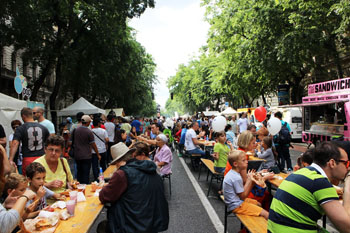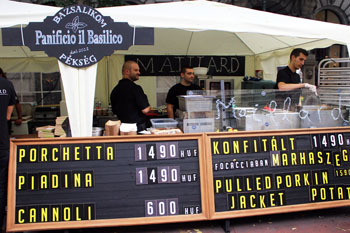 Related:
Váci Street – Vörösmarty Square – New Main Street (Új Fő Utca) – Kazinczy Street – District V.-Downtown Budapest – Buda Castle