For Lovers of Music & Luxury -Close to the Basilica
Address: Hercegprímás utca 5., district V., city centre
The 49-room new luxury boutique hotel opened in April 2015 in a small street , Hercegprímás utca, near St. Stephen's Basilica in the very centre of Budapest.
Henry Callan, who designed the famous Manhattan-based, book-themed hotels, the Library Collection, is behind this hotel project in downtown Budapest.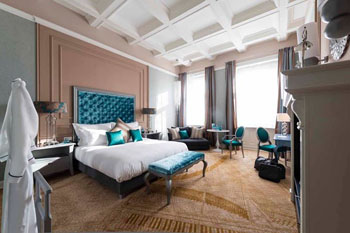 Following the success of a Prague Aria hotel, he now aims to repeat the feat in Hungary's capital.
NEW: Aria won the Best Hotel of the World title on Tripadvisor's Traveller's Choice Award in early 2017.
Callan's aim with Aria "to design a hotel for Budapest that felt like a private home with a distinctive personality and cultural experience along with the personal care for which we're known"
Table of Contents – Aria Hotel Budapest
According to travellers' who had the chance to stay at Aria, he succeeded to achieve this aim.
Entering the hotel you'll feel transported to another world from the ordinary city street.
A subtle elegance that is not intimidating at all can be experienced in every detail from the lobby to rooms, courtyard or restaurants.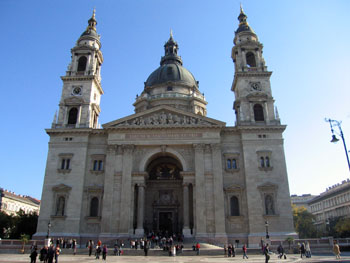 A lot of care was taken to select a professional and dedicated team of staff who'll let you feel at home in this magnificent mansion of a hotel.
Rooms in the 7-storey historic building are dedicated to famous musicians and composers.
The building's exterior has been carefully refurbished to its original 19th-century look.
Aria Hotel has a rich music and book collection that guests of the hotel can enjoy free of charge, along with a range of other services and amenities.
Why Stay At The Aria Hotel?
A new hotel with a creative theme and tasteful interior decor: uniquely designed, spacious, luxurious rooms and suites, each named after a different composer/musician.
Quality materials and finely elegant decor elements create a refined, classy atmosphere not only in the rooms but in other areas of the hotel.
Superb central location with lots to see and do in the area: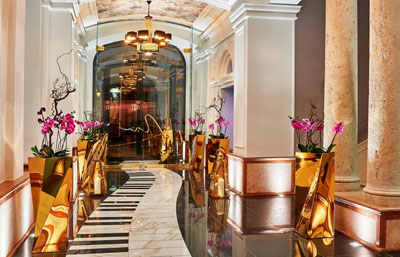 The St. Stephen Basilica with Hungary's most revered relic
The Holy Right Hand of King St. Stephen, and the tomb of the most famous Hungarian, Ferenc Puskás,
A Michelin-star restaurant just a few steps form the hotel in Sas utca: Borkonyha featuring modern Hungarian dishes in bistro style as well some excellent wines.
The Danubeis just a short walk to the east with nice vista, ideal for strolling along the stretch called Dunakorzó (Danube Promenade).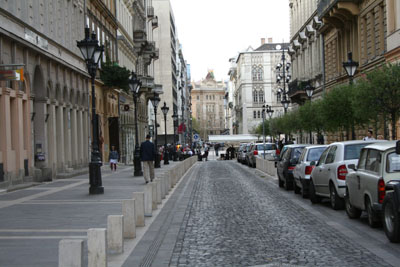 Superb spa complex with pool filled with 35 degree water, Turkish steam bath "Hammam", sauna, massages (try the Thai yoga massage), detox, and anti-aging treatments.
Delicious buffet breakfast served in the Music Garden.
The Breakfast Offer includes
Cooked and cold meals: scrambled, fried or poached eggs,
Whole wheat toast, jams, butter, cold cuts,
Cheese selection, croissants,
Mini muffins, cereals and yogurts,
Fresh fruits and veggies etc.
More Amenities in Aria
Wine and Cheese in the afternoon. local as well as international cheese selection, served with nuts, fruits and a choice of Hungarian red, white or sparkling wine.
High speed internet- free WiFi access in all parts of the hotel.
Complimentary bottle of local mineral water, Vis Vitalis from Pannonhalma, chocolates in the room.
Last but not least professional, courteous and kind staff that will help you feel speacil and at home in this new, first-class hotel.
Rates in Aria
Room rates start from 470 EUR/night: this is for a 30-36 sqm luxury room with 1 king-size bed.
Suites of course have higher per night rates. A night in the Liszt Studio Suite (45 sqm) starts from 1 000 EUR.
Rates go up in high season and at major events (Formula 1 Hungarian Race) and bank holidays (Easter, Christmas & New Year).
Rooms & Suites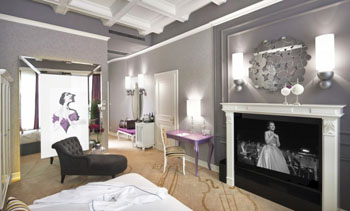 Rooms and suites in Aria are designed and decorated in various musical themes with all conveniences and modern equipment to ensure an unforgettable experience and utmost comfort for guests.
All Rooms Have
coffee/tea maker,
in-room iPad,
multimedia entertainment center,
docking station for iPod and Android,
smart TV,
hair dryer,
bathrobe and slipper,
heated towel rack,
complimentary toiletries (soap, shampoo, body lotion, tooth paste)
state-of-the-art sound system and you'll also can use
the digital music library.
Most rooms have a balcony overlooking the spectacular glass-covered inner courtyard, the Music Garden.
Some rooms come with a terrace with a view of the city.
Room Rates in Aria Hotel
Depending on season, day of the week prices in the hotel start from cc. 380 EUR(night and go up to 780 EUR on a busy holiday or event (e. g. Formula 1 Hungarian Grand Prix weekend, usualyl at the end of July).
Note: Rates don't include the tourist and city taxes.
Rooms
Luxury Room with King Bed
These are the smallest rooms measuring 30-33 sqm/325-365/sqft). They are located in the Contemporray or Jazz wings of the building and mosr rooms come with a private balcony with a pleasant view of the Music Garden.
Amenities Include
Molton Brown Bath Amenities
Nespresso Coffee and Tea Machine
In Room iPad
Touch Screen Individual Temperature Control
Complimentary In-Room Laptop Safe
Interactive Multimedia Entertainment System
Marble Fireplace Mantle with a 55″ Flat Screen
Home Theatre Sound Projector
Blu-ray CD/DVD Player
Access to Digital Music Library
Docking Station for iPhone and Android
Signature Bathrobe and Slippers
Handheld Ionic Hair Dryer
Makeup and Shaving Mirror
Bidet Toilet
Baby Crib Available on Request
Price: starts form cc. 489 EUR/night
SunRoom With City View – For A Romantic Getaway!
These rooms are ideal for 2 adluts.
The Opera SunRoom is 275 sqft large, while
the Classical Music SunRoom measures 325 sqft.
Both rooms are on the top floor offering exceptional views of Budapest. If you wish to come on a romantic getaway to our city book this room!
TIP: You may want to take a look at the hotel's special "Love In Budapest" offer which includes:

Sparkling Wine (Sauska Brut – by a local winery), fruits and rose petals on arrival
Upgrade to higher room category upon availability
Breakfast every day
Wine & Cheese between 4 and 6 upon request
Price: from cc. 468 EUR/night.
Aria Signature Room
Size: 37-39 sqm/400-425 sqft –
This is a double room with king bed and either with city or garden view, chic interior decor, large elegant bathroom with separate shower and tub, bidet toilet.
Amenities are the same as in the luxury room.
Price: from around 549 EUR/night
Grand Luxury Room – 2 Full-Size Beds, City View
Classical music provided the inspiration for the design of this room.
What's unique is that it can be connected to a Parlor turning the room into a Double Suite or by adding a room with a Grand Luxury King Bed it can function as a Family Room convenient for 6-7 peopl, including up to 3 children.
Size: 36 sqm/385 sqft, ideal for 2 adults and 1 child
Terrace Room with King Bed, City View
Size: 29 sqm/307-325 sqft + 65-80 sqm terrace
These rooms are on the 5th floor and come with a large terrace overlooking the city. A night in the terrace room begins at cc. 520 EUR.
Suites
Liszt Studio Suite
Size: 45 sqm/485 sqft
Designed and named after in honour of the famous Hungarian composer, Franz Liszt, the Liszt Suite boasts a
Sunlit,
Blue granite bathroom with a freestanding tub.
Has a king-size bed and all the other amenities listed in other rooms.
Price: A night in the Liszt Studio will cost you around 600 – 700 EUR/night.
Opera Suite
Size: 39 sqm/418 sqft, ideal for 2 adults and 2 kids
The Opera Room evokes the atmosphere of famous operas like Carmen. The bedroom has aking-size bed and there is a large parlor with sofa bed, table with 4 chairs and wet bar.
The bathroom is equiped with heated towel racks, a lavish shower stall, bidet toilet. You can enjoy a nice city view from the Opera Suite.
Price: from cc. 1 100 EUR/night
La Traviata 2-Bedroom Suite with Terrace – Ideal for Families
Size: 74 sqm/800 sqft
The La Traviata has two bedrooms, each with king size bed, a living room with sofa bed, two washrooms and a terrace. Ideal for families for 2-3 kids.
Price: cc. 1 200 – 1 400 EUR/night.
Romeo & Juliet Balcony Opera Duet Suite – Great For Families Of 2 Adults + 2 Kids
Size: 66 sqm/708 sqft
The bedroom is furnished with a king-size bed.
The big parlor opens to a spacious semi-private balcony overlooking the cute cobblestone street the hotel is situated on.
The parlor has a sofa bed on which 2 kids can sleep comfortably. The bathroom comes with a luxurious shower stall, heated towl racks, bidet toilet and Molton Brown toiletries.
Price: 1500 – 1800 EUR/night
Customize Your Suite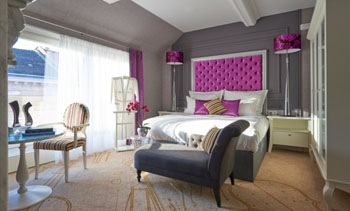 Aria has four Opera Parlors, essentially beautifully furnished living rooms without bed and bathroom, inspired by operas:
Carmen,
Salome,
Madame Butterfly, and the
La Traviata with Terrace.
These can be used for meetings or special occasions or booked together with other rooms perfect for larger groups or families.
Photos are from the Hotel's official website where you'll find a lot more details and latest offers.
Other Highlights of the Hotel
Music Garden
The dazzling glass covered courtyard is the focal point of the whole building.
The uniquely structured glass roof lets in plenty of light and allows the view of the starry night sky.
Keynote floor tiles, plush settees, lots of gold and glitz make the courtyard a place to be during your stay.
This lovely spot is where you can enjoy your breakfast between 7.00 and 11.00.
The complimentary wine & cheese reception also takes place here from 16.00 till 18.00.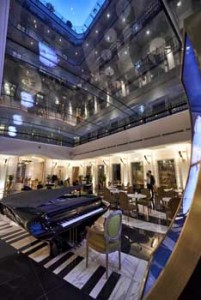 Teatro Aria
A music and entertainment room adjacent to the Music Garden where you can enjoy concert, musical, opera, or ballet pieces.
High Note SkyBar
The rooftop bar is another extraordinary element of the Aria Hotel where you can marvel at the amazing 360° panorama while sipping a cocktail.

It is comfortably furnished with chairs and settees.
You'll feel as if you can touch the tower of the Basilica.
The terrace can be covered with retractable roof so guests can come up and have a great time throughout the year.
Stradivari Restaurant
Adjacent to the lobby is the hotel's restaurant where the unique music theme is also reflected in the design.
If you wish to try the local cuisine Stradivari is an excllent palce to do so.
They offer Hungarian dishes created with modern cooking techniques an in creative ways from top-quality, fresh ingredients.
Satchmo's Bar & Library Lounge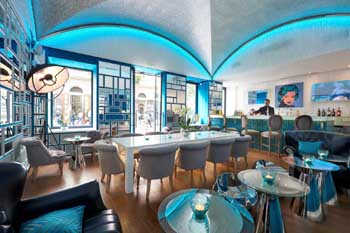 You can relax here with a glass of cocktail, coffee or cake.
Sit by the romantic fireside on a cool evening or enjoy a light meal at the terrace, or nurse a drink at the vibrant, retro-style bar.
Spa & Recreation
The Harmony Spa is a relaxing retreat after a long city tour. Soak in the heated pool, sit in the Finnish or infra sauna or indulge in a Thai yoga massage or one of the detox and anti ageing treatments.
You can also excercise your body on state-of-the-art fitness machines and free weights.
Attractions & Activities in the Neighbourhood
The riverbank and the Danube Promenade (Dunakorzó) is a few-minute stroll west of the hotel.
Walk along it to admire the World Heritage listed vista and sights:
TIP:If you aren't scared of height do go up the cupola of St. Stephen's Basilica to enjoy the fantastic panorama, it costs only 500 HUF/adult. Opening hours: 01. October-30. June: 10.00-16.30, 01. July-30. September: 10.00-18.3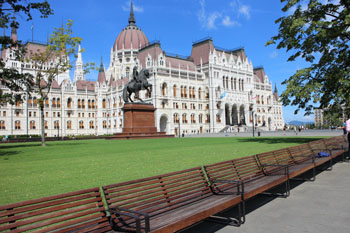 Besides the Basilica just a few steps from the hotel, you'll be also within walking distance to the Parliament on Kossuth Square and the business district of Budapest.
The square in front of the imposing building was nicely redone in 2014: it has a huge manicured lawn dotted with statues of great Hungarians.
You can do a 1-hour guided tour of the Parliament and see the nation's most revered relic: the Holy Crown of St. Stephen, founder and first king of Hungary.
Erzsébet Square south of Aria is also very near with a couple of nice terraced cafes, bars and restaurants: Akvárium, Fröccsterasz, Prosit Wine Bar, Terminal Restaurant.
Similar Hotels