Programs, Activity Recommendations
August in Budapest offers the richest selection of events, festivals and other programs in Budapest. The main event of the month is the World Athletics Championships held between August 19 – 27. in Budapest's brand-new Athletic Stadium.
St. Stephen's Day, on August 20. is the second biggest event this month, It's Hungary's grandest National Holiday that ends with an amazing fireworks show at 21.00.
Table of Contents – August in Budapest
Table of Contents
Weather In August – Hot & Sunny
August tends to be scorching hot and dry in the last month of summer.
There are heat waves with no clouds and rain in sight, so do bring your
Sunglasses,
Summer cap,
Sunscreen and
Comfy, light clothes and shoes.
Plan your program to avoid the hottest hours on the midday sun, or if you do have to be outside, take frequent rests and have a bottle of water with you.
It's not rare in August that intense storms with strong winds interrupt the hot spells making the air very humid afterwards.
Top Events, Festivals In Budapest In August
Here's a round-up of the biggest festivals taking place in the city in the last month of summer.
Chain Bridge Reopens – Picnic On August 04, 2023
The renewed Chain Bridge, a symbol of Budapest reopens to everyone on August 04, Friday. The city celebrates the big event with a picnic on the bridge.
Programs begin at 18.00/6 pm and end at midnight when a special, festive lighting will be switched on to mark the end of the two-year reconstruction project.
There will be
✅ Free ice cream, lemonade and pretzel (be there early because I'm sure these will run out in no time)
✅ Children activities (Lego, face painting, colouring)
✅ Street music with local bands
✅Light lanterns
TIP: We've been on a Street Food (Pizza/Lángos) cruise in Budapest recently and were able to see all the major bridges, including the Chain Bridge up close. Highly recommended program (I had the best lángos ever)!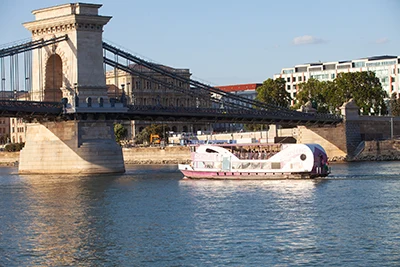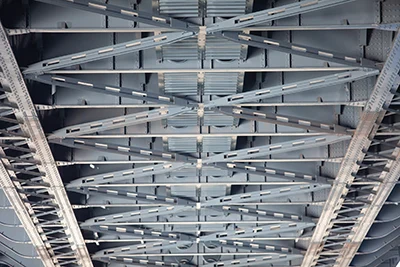 RAKPART~2023/Danube Embankment Programs
This summer, between June 17 and September 24, 2023, there will be no car traffic on the section of the lower embankment in Pest, between the Chain Bridge (Lánchíd) and Elizabeth Bridge (Erzsébet híd), specifically on Jane Haining rakpart (view on Google Map), during weekends.
RAKPART~2023 is about the community and our river, the Danube.
This stretch of the riverbank turns into vibrant public area with exciting programs ranging from
Concerts,
Movie screenings,
Yoga (every Saturday & Sunday at 08.00-09.00), to
Dancing,
Art & craft fair,
Exhibitions,
Workshops and more.
Viadukt Terasz Pub & Exhibition Centre
Drop by Viadukt Terasz, the gastro centre of the RAKPART 23 program series (Jane Haining Rakpart, Budapest, Hungary, 1052) for a cold drink!
It's located in the arcades under the tram tracks.
A popular reasturant operated here more than 100 years ago so the place oozes history.
Viadukt Terasz also hosts a colourful array of programs including exhibitions and concerts, so defineitely walk in if you happended to be strolling along the Danube Promenade.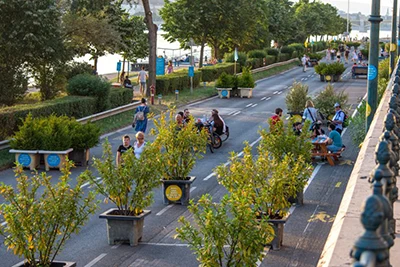 There's even a Home Office with internet where you can work from 09.00 till 17.00, and for 4 000 HUF you'll get unlimited coffee, lemonade or ice tea.
Zoo Festival, August 09-13, 2023- Family Friendly
Location/Getting There
Address: Állatkerti krt. 6-12., City Park (Városliget), XIV. district,
Getting There:
Take the M1 (yellow) metro line, get off at Széchenyi fürdő stop or
Trolley bus 72 (Állatkert stop), or Trolley bus 75, 79 ( Állatkerti út stop)
Buses 20E, 30, 30A and 105: Hősök tere stop
Opening Hours During The Festival:
August 09, day 0: 09.00 – 18.00
August 10 – 13: 09.00 – 21.30
Cashier closes 1 hour before closing time!
Tickets:
Adults: 4 500HUF
Children (2-18 years): 3 200 HUF
Student (over the age of 18 with valid student ID): 3 200 HUF
Retiree: 3 200 HUF
Family ticket (2 adults & 2 children): 13 300 HUF
Family ticket (2 adults & 1 child): 11 000 HUF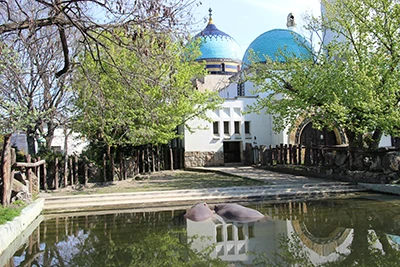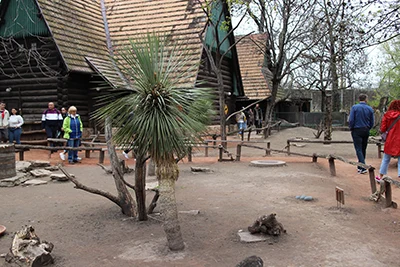 The 2nd Zoo Festival awaits visitors with a multi-day program extravaganza at the Budapest Zoo and Botanical Garden.
Day 0 of the festival is dedicated to the Zoo's birthday and Zoo Day, featuring introductory programs for visitors during regular opening hours.
From August 10th, between 9:00 AM and 10:00 PM, a true festival atmosphere awaits you. Throughout the day, there will be
Family activities,
Concerts in the afternoons, and in the evening,
Distinguished local performers will take the stage at the Main Entrance Square.
Even if you aren't interested in the festival program the Zoo is a great program for families with kids.
You can take a walk afterwards in the recently renewed City Park that offers several playgrounds, a lake where you can go for boating, and some good places to eat.
TIP: The House of Hungarian Music and the Ethnography Museum are two brand new additions to the park. Besides offering interesting exhibits and activities, both buildings are a great example of impressive and unique architecture.
WAMP Design Fair In Várkert Bazaar & Gardens, August 13
Don't miss WAMP, the local design festival that happens at least once a month on a Sunday all year round. Entry is FREE.
Venue/Getting There:
Várkert Bazár/Castle Bazaar& Renaissance Gardens
Getting There:
Why Go, What To Expect?
It's a great place to learn about the creations of young Hungarian designers and craftsmen, giving you a chance to discover Hungarian fashion and find unique gifts.
Besides viewing and shopping all things design, you can enjoy good food and drinks, relax at a workshop or jus wander around at the scenic venue.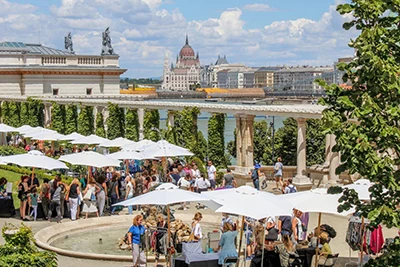 TIP: While there, take your time to explore Várkert Bazaar, the beautiful palaces that host exhibitions. See more below.
French Food Festival, August 09 -11
Location/Getting There:
Botellón Terasz, Kazinczy utca 21, Budapest 1075
Getting There:
Botellón Terasz, a small, charming food court is located in Kazinczy Street, a vibrant cultural and gastronomy spot of district VII.
Why Go/What To Expect?
They known for their monthly foodie events showcasing local and various international cuisines. In August French food will be in the focus for 3 days.
Besides fine food (oysters, cheese, delicious pastries and cakes, gourmet sandwiches) you can sip exquiste chamapgne and wines and of course no French Festival can go without music: acoustic live concerts will add to the true French joie de vivre.
The festival starts at 17.00/5pm on all thre edays and last till alte night.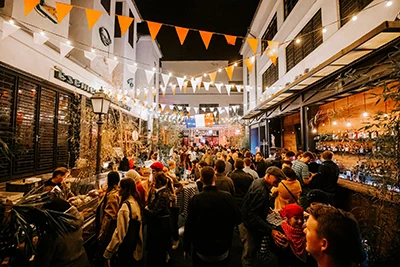 TIP: Go early because the event is highly popular both by locals and tourists.
Sziget Festival, 10 – 15. August 2023
One of Europe's most popular outdoor pop-rock music festival takes place on an island in the Danube (hence the name: Sziget which means island).
The week-long Sziget Festival on Hajógyári-sziget brings an impressive line of international and local performers each year.
Besides concerts all sorts programs and activities await visitors of all ages.
Find out more about the programs of the Sziget Festival in 2023!
Fireworks Show & Cruise With Dinner, August 20.
Date & Time: 20. August/Saturday, 19.00 – 21.00
Location: Banks of the Danube Between Petőfi Bridge & Margit Bridge
The spectacular fireworks that ends the St. Stephen's Day festivities in Budapest will be launched from ships on the Danube between Petőfi and Margaret Bridges and the Gellért Hill on August 20. at 9 pm.
Drone and light show, visual painting on the facade of the National Gallery and the Parliament enhance the whole display.
Enjoy the show is from the deck of a cruise boat, along with a splendid 3-course dinner or just drinks.
Prices: 70 EUR (drinks only) – 165 EUR (buffet dinner with unlimited drinks) (Likely To Sell Out!)
What's Included?
A cruise on the Danube,
4-course buffet dinner with live music,
Open bar with unlimited drinks, and
Watching the fireworks from one of the best possible viewing points
Book Your Place For The Fireworks Cruise, No-Risk, Free Cancellation
St. Stephen's Day Festivities, August 18 – 20., 2023
We pay honor to our first King, St. Stephen (cc. 970-980 – 1038.) who formed a stable Christian Kingdom of Hungary out of the seven nomadic tribes arriving in the Carpathian basin at the end of the IX. century.
It is also the holiday of the new bread baked from the newly harvested wheat and rye, as well as a thanksgiving for good harvest.
It is a sort of closing celebration of summer helping everyone to prepare in mind for the coming of autumn and the new school year.
The holiday ends with spectacular fireworks over the Danube and the bridges that you can enjoy from the open deck of a cruise ship.
This year the display will be even more impressive than in previous years the close to 40 000 fireworks and pyrotechnique effefcts will be launched between Margaret and Petőfi bridges on a 4.5 km long stretch from
65 pontoons,
7 barges and
two bridges: the Elizabeth and Liberty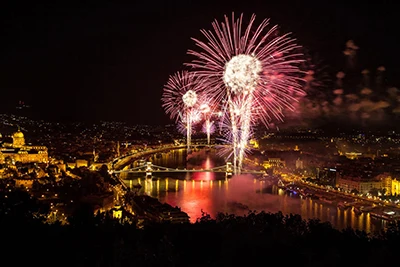 Quick TIP: If you wander around the city centre: Vörösmarty Square, Liberty Square, Szent István Square/Basilica, Vigadó Square, and the banks of the Danube you will definitely bump into a festival, concert or other program that catches your interest over the 3 days of the festivities.
Programs During The 3 Days Include:
State ceremonies on Kossuth tér in front of the Parliament building, 8.00 – 9.00
Air Show over the Danube in front of the Parliament starting at 09.00 – 09.40
Festival Of Folk Arts in Buda Castle offers craft fair, folk dance and music, children activities, food and drinsk, 18 – 20. August
Csárdafesztivál/Festival of Inns/Taverns On Vörösmarty Square, 18 – 20. August,
Street of Hungarian Flavours August 18 – 20.: Gastro promenade between Várkert Bazaar and Döbrentei Square in Buda, starts at 10.00 on 18. August. Here you can taste and buy traditional local food, Hungary's Cake and bread, as well as other bakery goods.
Food Truck Show & Concerts – Liberty Square/Szabadság tér, 18 – 20. August 2023.
Blessing of the new bread at cc. 15.00 at the Statue of St. Stephen in Buda Castle (Part of the Folk Art Festival)
Holy Mass and the procession of Saint Stephen's alleged holy right hand at St. Stephen's Basilica starting at 17.00,
An impressive fireworks show that you can watch from the Danube.
TIP: See detailed program on 18 – 20. August 2023 here!
Fireworks Cruises On The Danube, August 20
Festival of Folk Arts, Buda Castle, August 18 – 20., 2023
Admission:
Opening Hours:
10.00 – 23.00,
except on 20. August: 10.00 – 21.00 (the folk art fair is open between 10.00 – 21.00 each day)
The 4-day festival is organised each year in the courtyards of the Royal Palace on Buda Castle Hill.
An ideal program for families because the festival offers a couple of great activities for children of all ages:
Folk dance and music performances and
Craft fair
Folk art workshops,
Kids' programs: puppet show, toys and games, craft workshops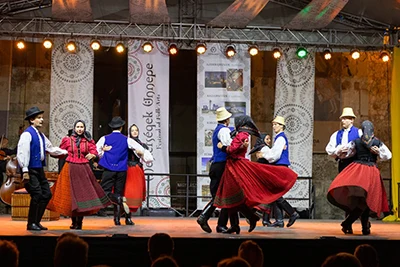 TIP: There is also a folk art market where you can buy quality products (ceramics, glass, wood, leather, and enameled artifacts).

At the Folk Pub you can chill and relax with a cool drink and tasty food while enjoying the melodies and dance performances.
Concerts, culinary delights, a harvest process round up the event that is tightly connected to St. Stephen's day on 20. August.
See detailed programs on our Folk Art Festival in Buda Castle page or visit the organiser's website.
World Athletics Championship Budapest 2023, August 19-26
The newly-built, state-of-the-art Athletic Stadium at the Pest end of Rákóczi Bridge gives home the World Champinoship in the queen of sports.
The venue is easily accessible by public transport so take the opportunity to "Witness the Wonder" as the slogan of the event suggests.
Here's our guide to the World Athletics Championships in Budapest 2023!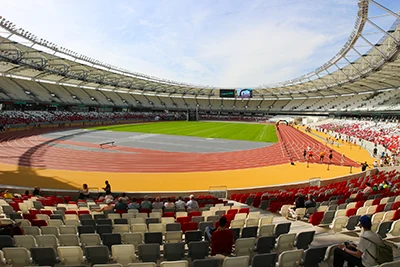 Craft Beer Festival In Óbuda, August 25-27
Location/Getting There:
Óbuda, Fő tér/Main Square (view on Google Map)
Getting There:

Trams 4, 6 to Margit híd Buda Bridgehead, then take H5 local railway (HÉV) to Szentlélek tér (3 stops, 6 min), walk cc. 250 m till Fő tér
Tram 1 also has a stop at Szentlélek tér in Óbuda, from there walk 250 m to Fő tér/Main Sqr.
The craft beer festival is a good reason for you to visit Óbuda, the III. District of Budapest.
The charming Main Square hosts the festival where you can taste the best of Hungarian carft brews along with quality street food by Food Truck Show.
Concerts in the evening ensure that you'll have a great time especially after a couple of mugs of local beer.
Entry is FREE.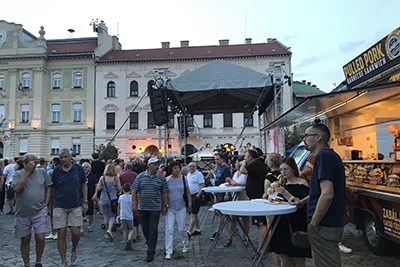 Beer Festival in Budapest's City Centre, 29. Aug – 03. Sept, 2023
Location: Szabadság tér/Liberty Sqr.
Entry:
Free, but you need to buy a festival glass to taste beers (2 799 HUF) and you pay for the beers other drinks and food
Liberty Square park will be a venue for a 6-day beer fest where you can sample the best brews of Hungary made both by large breweries and smaller craft beer makers.
It's easy to get to the park either by walk or public transport and you can include the festival in your sightseeing program since it's so close to many noteable landmarks (Basilica, the Parliament).
Besides beer there will be plenty of foof and concerts in the evenings. What more you need to have a great time?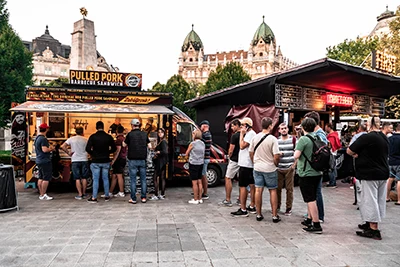 You can find more details – opening hours, program schedule – about the Beer Festival In Budapest City Centre here!
Pálinka Experience With Guiding & Tasting
TIP: Discover how Hungary's famous fruit distillate, the pálinka is made in the Pálinka Experience Museum.
We have been on this tour recently and had a terrific time. The museum is centrally located in Király utca, the old Jewish Quarter. By the way, the Salvador Dali Exhibition is just a 1 minute walk from there if you want to combine two programs for a fun afternoon!
The guide is knowledgeable, yet fun. He will tell you interesting facts about this strong, alcoholic drink, but not in an encyclopedic style.
You can choose from several tasting menus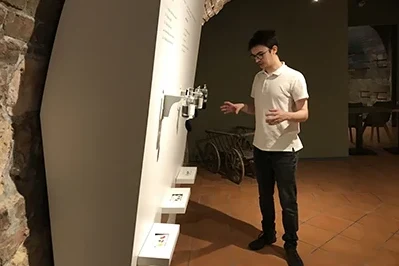 Note: The program is available with a visit to the Széchenyi Bath for a great half-day activity!

The combo ticket includes a 2 cl plum brandy sample but of course you can have more from the menu. They have a wide selection, even cocktails made with pálinka if you want a drink lighter on alcohol.
Gellért Thermal Bath – Outdoor Pools In The City Centre
The open-air pools of this magnificent, historic spa are an ideal place to relax at on a sultry August day.
There are two pools:
A larger one with wave function and a
Smaller one a level above the wave pool with some neck and back massaging jets.
You can also try the pools inside (children under 14 are not allowed to visit the thermal scetions).
TIP: If you go early enough in the morning you will avoid the crowd and the hottest hours of the day.
After splashing and sunbathing do look around inside the bath.
It boasts great turn-of-the-19th-20th century architecture with beautiful stained glass windows and mosaics.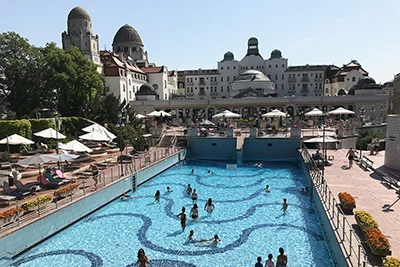 Find out more on the history of Gellért Bath and pools, services available!
Location/Address:
Kelenhegyi út 4., district XI., Buda, at the bridgehead of the Szabadság Bridge, at the foot of Gellért Hill
Getting There:
The bath is easily accessible either on foot or using public transport. It's centrally located in Buda, next to the Liberty Bridge and Gellért Hill, also must-see attractions of the city.
Trams 47, 49, (from Deák Ferenc tér metro hub in Pest), get off at Gellért tér stop, or
Trams 19, 48, 49, 56, 56A also ahve a stop at Gellért Bath
Buses 7, 133
Opening Hours:
Every day 09.00 – 19.00
Pools close at 18.45
Casheir closes at 18.00
Tickets:
Weekdays: 7 100 HUF (cc. 18 EUR, use of locker is included)
Weekends/Holidays: 7 600 HUF (cc. 19 EUR, use of locker is included)
TIP: The hot August weather is ideal for visiting other famous Budapest Baths (Széchenyi, Veli Bej), especially the outdoor pools, like the Palatinus or the only bathing spot in the Danube at the Római -part Beach in Óbuda (north Buda).
Read also our Tips on How to Beat the Heat in Budapest.
Attractions Not To Miss In August, Unique Tour Tips
Várkert Bazaar – Guided Tours
Location: Ybl Miklós tér, district I., between the Chain Bridge and Elizabeth Bridge
Getting There:
Opening hours:
Exhibitions are open Tuesday – Sunday: 10.00 – 17.00
What To Do At Várkert Bazar?
The refurbished Castle Bazaar & Royal Gardens (Várkert Bazár), historical building complex designed by Miklós Ybl, was inaugurated a few years ago
Explore the beautifully restored arcaded buildings and promenade to enjoy
A fine view of the Danube and the Pest side,
The green peacefulness of a neo-Renaissance garden on 5000 sqm,
Exhibitions on various topics
Shops,
Cafes, bistros and an
The underground event hall usually offers great program for a summer afternoon.
There's an escalator that takes you up almost to the Royal Palace (you have to walk a bit to get there).
The southern palaces regularly host exhibitions usually on Hungarian historical topic.
TIP: We've already recommended a fantastic program here in Várkert, the WAMP Design Fair on August 13, Sunday. The place hosts another awesome event, the Street Of Hungarian Flavours gastronomy festival between August 18 – 20.
Guided Tour Tip
TIP: You can visit the palaces and gardens on a 90-minute guided tour, titled Sisi and her beloved Hungary. Expert guides will tell you about the life of Sisi, Hungary's beloved queen and wife of Emperor Josef II.
During the walk you will also get a glimpse into the history of the buildings and the beautiful neo-Renaissance garden.
Price: 4 000 HUF/prs. Tours depart from the Southern Palace/Déli palota, (Ybl Miklós tér 5., distr. I.) Duration: cc. 90 minutes.
Registration is required at the (+36 ) 30 -198 5274 mobile number. Tickets can be bought at the Ticket office in the Testőrpalota/ Guards' Palace/(Ybl Miklós tér 2., distr. I.).
See more at the official website.
Summer Mini Concerts At The Parliament
Location: Kossuth Square, In front of the Parliament Building
Getting there: trams 2, 2B, 23, M2 metro (red line)
The impressive Parliament building provides a backdrop for free mini concerts on Kossuth Square every thursday starting at 17.00/5 pm.
Performances by various bands range from classical music, swing, to jazz and acoustic pop music.
Concert Dates & Time:
August 03 – Capriccio String Quartet and Nándor Götz (saxophone),
August 10 – Szabó Henrik Quartet,
August 24 – Woodwind Quartet,
August 31 – Concert of the Finance Guard Band (Magyar Pénzügyőr Zenekar.
Concerts start at 17.00/5 pm. All concerts are free.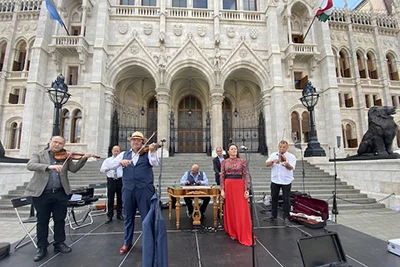 Locations & Schedule – 5 Budapest Venues
Castle Bazaar & Garden, Gloriett, Brass in Hussar Uniforms (Handel, Carpantier, Purcell), Sundays at 17.00
Buda Castle, Csikós Udvar (Csikós Courtyard), Brass in Hussar Uniforms (Handel, Carpantier, Purcell), Sundays at 18.00
Hungarian National Museum – Con Fuoco Clarinet Quartet and András Káldi Kiss opera singer, Saturdays at 11.00 and 11.30
Museum Of Fine Arts – Leggiero Saxophone Quartet, Sundays at 11.00 and 11.30.
Margaret Island, Musical Fountain (Northern tip)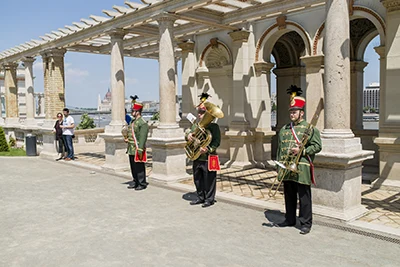 The Hungarian capital deserves to be called "The City of Music" besides other nicknames such as the "Pearl of the Danube" or the "City of Healing Waters".
This summer you can listen too mini concerts for free at various locations:
For example in Castle Bazaar at 17.00 then in Buda Castle at 18.00 on Sundays you can enjoy Brass in Hussar Uniforms (Handel, Carpantier, Purcell). Take tram 19 to get there.
Concerts last cc. 15-20 minutes and are performed by musicians of Budapest's prestigious orchestras.
More info on the free summer concerts in 2023!
Concerts in Matthias Church In August 2023, Fridays Starting at 19.00/7 pm
Indulge in an unforgettable evening of classical music in Matthias Church, renowned for its stunning architecture and rich history.
Choose from three seating categories that cater to your budget and preferences, allowing you to tailor your experience to your unique needs.
The Church of Our Lady in Buda Castle (better known as Matthias Church) gives home to wonderful classical music performances played by orchestras from around the world.
The repertoire includes classical pieces ranging from Gregorian, Baroque to spiritual music and contemporary church works.
Tickets To The Concert
Prices depend on seat category.
Category A tickets price (right behind the VIP seats): 42 EUR
Category B tickets price: 34 EUR
VIP tickets (at the best spot for the best experience): 50 EUR.
Free cancellation if something comes up and you aren't able to attend the program.
Concerts In St Stephen's Basilica
The largest church of Budapest located right in its heart has perfect acoustics for classical concerts.
Take the opportunity to listen to a 70-minute organ recital whitin the walls of this stunning neo-classical building.
Program Of The Concert:
Wolfgang Amadeus Mozart (1756-1791): Fantasie in F minor K 506
Alessandro Stradella (1639-1682): Pietà Signore
Tomaso Albinoni (1671-1751): Adagio
Liszt Ferenc (1811-1886) – Camille Saint-Saёns (1835-1921): Legend in A major (St. Francis of Assisi's Sermon to the Birds)
Giuseppe Verdi (1813-1901): Prayer of Fiesco from opera Simone Boccanegra
Johann Sebastian Bach (1685-1750): Polonaise, Minuet and Badinerie from Suite in B minor BWV 1067
Johann Sebastian Bach: Toccata and Fugue in D minor BWV 565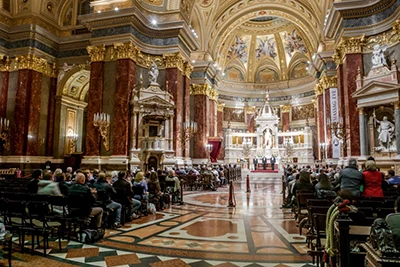 Tickets:
1st Category: row 1 to row 6: 38 EUR, students: 36 EUR
2nd Category: row 7 to row 16: 34 EUR, students: 31 EUR
3rd Category: row 17 to row 26: 29 EUR, students: 25 EUR
Museum Exhibits in August – Last Chance To See Dali's Works!
The more than 100 museums and exhibition halls of Budapest always offer some exciting exhibits.
Dali Exhibition, Till September 03
Addresss/Getting There
Tickets:
Full price: weekdays: 5 000 HUF, weekends: 6 000 HUF
Students/Seniors: weekdays: 4 500 HUF, weekends: 5 000 HUF
Child: weekdays: 4 000 HUF, weekends: 4 500 HUF
Visit the Salvador Dalí exhibition in Budapest and let the painter dazzle you!
Imagine what it would be like to explore the surreal world of the famous Spanish artist and witness how he envisioned his incredible creations!
This exhibition, featuring the largest collection ever seen in Hungary, includes over 150 masterpieces:
Salvador Dalí's graphics,
life-size sculptures, and
uniquely crafted artworks.
His bold use of materials includes glass, bronze, gold, and even diamonds. The surreal journey reaches its peak in a special VR experience that leaves a lasting impression on every visitor's memory and imagination.
It's a great program on a rainy day!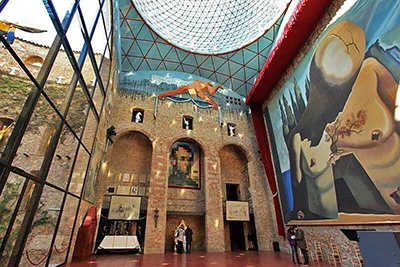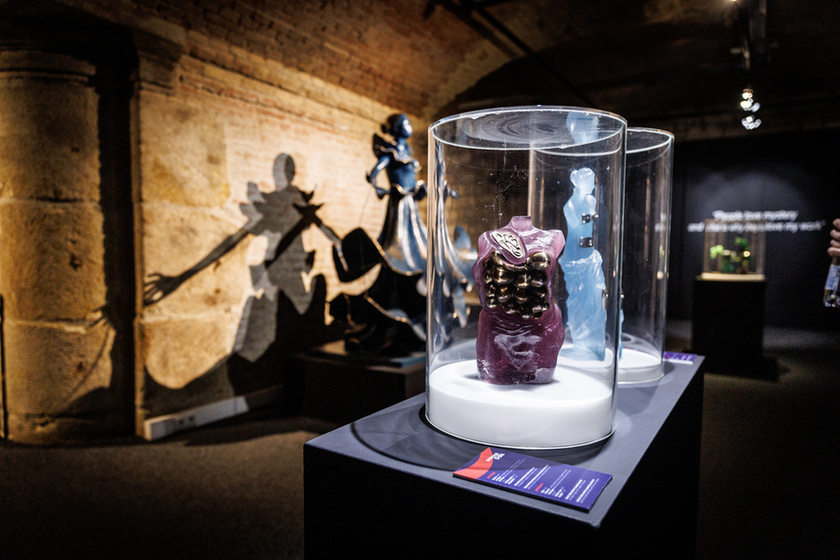 Cafe-Pub-Restaurant TIP
Budapest is chock full of restaurants, cafes bars and pubs. Here are our picks to try in August.
Budapest Baristas
Address: Múzeum krt. 15.
Open:
Mon – Fri: 07.30 – 19.00,
Sat – Sun: 09.00 – 19.00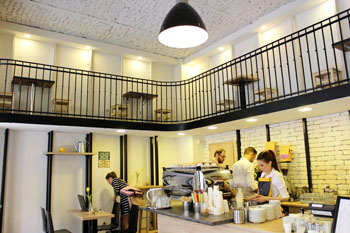 A new specialty coffee bar is behind the unoriginal name on Múzeum krt (just across the Hungarian National Museum) in a spacious, airy historic building (
The cafe – formerly antique and used books shop incorporates parts of the medieval city wall of Pest.
The road already has a new wave coffee shop, Fekete (translates to black, though they seem to focus more on milky coffee beverages) just a few blocks from Bp baristas.
Anyway, the compulsory
La Marzocco espresso machine,
Hario V60,
Chemex
AeroPress and
other gadgets for alternative ways of getting the most out of the freshly roasted beans supplied by one of Hungary's best micro-roasteries, Casino Mocca are all there on the shiny new counter.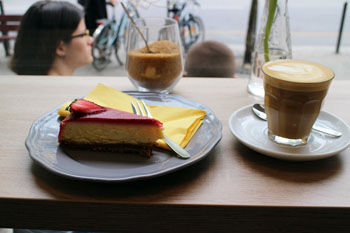 You can enjoy your choice of drink up on
the gallery, though it seemed a bit narrow when I first visited the place, or
behind the shopwindows facing the street.
Besides quality coffee, you can have muesli, fresh croissant, and cake and dessert creations ranging from brownie, strawberry cheesecake, tapioca pudding, and paleo (sugar and dairy free) goodies.
TIP: If you love third-wave coffee try also Fekete just a short walk from BP Baristas also on Múzeum körút, No. 5.
It started out as a tiny cafe with a La Marzocco machine then opened a second place in the courtyard next door where they're focusing more on filtered coffee and also serve cakes and simple, tasty food.
See other favourite cafes, espresso bars in Budapest!
Partying in Budapest August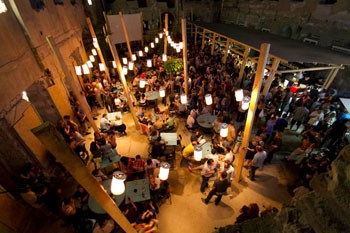 The outdoor clubs are still full of life at night. The major clubbing hot spots of the city are:
Dürer Kert
Address:
Dürer Kert is one of the most popular underground party places in Budapest in Újbuda, District XI right on the bank of the Danube.
Several dance rooms,
a garden,
great parties and
DJ nights.
It's a lively music venue where you can catch some amazing concerts and gigs, especially if you're into indie, alternative, or underground music scenes.
The atmosphere during these shows is absolutely electric, and the crowd's energy is contagious! But that's not all – Dürer Kert has even more to offer!
There are art exhibitions, film screenings, and theater performances taking place here, making it a diverse cultural space.
It has a lovely and spacious courtyard with
Cozy seating areas, bars serving
Refreshing drinks, and
Delicious street food stalls. It's the ideal spot to chill with your friends or meet new people while enjoying the lively ambiance.
Although it's a bit far from the centre, Dürer is an excellent place to have a great time on a warm August night.
Related:
Top Summer Activities – July Things To Do – Budapest in June – September Programs, Festivals – October Programs Budapest – November Things to Do