Charming Accommodation In Castle District
Updated For 2022
The Baltazar Hotel is a little boutique hotel in Buda Castle offering luxurious accommodation in creatively designed rooms.
A little-known gem at a prime location, close to all the historic sights yet in a peaceful neighbourhood.
Why Stay?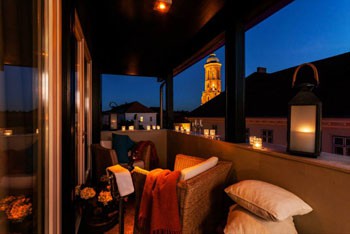 Very good value: well-sized rooms with nice bathroom and with unique design,
Amazing location
In a quiet, historic-romantic area of the city with great transport connections to the city centre
An excellent restaurant with delicious food incl. breakfast
Ideal for families
Kind, welcoming staff
Due to the small size, Baltazar has a very homey, relaxed atmosphere.
Location
Address: Országház utca 31., district I.
The hotel stands in a quieter street in the northern tip of the Castle, near Kapisztrán Square and the Magdalene Tower.
The Tower houses a photo exhibition. What's more visitors can admire a wonderful panorama from the top floor
Tickets can be bought in the Military Histoty Museum next door.
More About the Hotel
The name Baltazar comes from a cartoon animal Balthazar.
Rooms & Suites: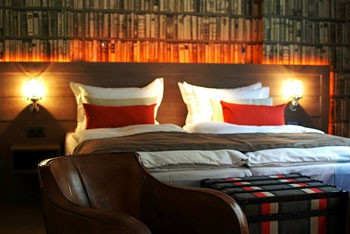 The hotel has only 11 rooms and suites each decorated and furnished in a unique way.
Double rooms measure 20-30 sqm offering convenient accommodation for two persons.
Rooms are furnished with hand-picked vintage and modern items.
Comfortable Bedding On
King size or twin beds,
With high-quality fine bedlinen and pillows.
Anti -allergic linen is available.
Bathrooms are spacious and L'Occitane cosmetics are provided. Nespresso coffee maker with complimentary capsule selection, tea, bottled filtered water every day are also included.
Smart Tech
You can enjoy the comfort of latest technology as well. Smart LCD TV, music system that connects to your smart phone, individual heating and air-conditioning, adjsutable lighting.
Deluxe Room:
Measures 26 – 29 sqm. Open floorplan of bedroom and bathroom with unique furnishing and design elements.
Price (includes breakfast): cc. 150 – 165 EUR/night.
Suites:
The 35-45 sqm option is ideal for 2 persons,
the larger one (60 sqm) can accommodate up to 5 persons.
They have a living area with kings size bed in the sleeping area and a bathtub with rain shower. Baby cot is provided free of charge.
Baltazar's premier suite offers exceptional views of Kapisztrán Square from its private terrace for an extra cost of 25 EUR/day.
Price (includes breakfast): cc. 215 – 225 EUR.
TIP: Book a room on the top floor overlooking the Magdalene Tower- remains of a medieval church.
Family Loft
This is a 60 sqm, 2-level spacious room with all the luxury you need for amemorable stay.
Price of the Family Loft (breakfast is included): cc. 315 – 325 EUR/night.
Garden Room
The size of this charming room from whre you can see the inner garden is 25 sqm.
Price (with breakfast): cc. 140 – 150 EUR/night.
Rates:
Double room: from cc. 130 EUR/night,
Suite 200 – 230 EUR /night
Family room: cc. 300 – 325 EUR.
It is a small hotel that is becoming more and more popular so early booking is highly recommended.
Note: Room rates may be higher during high season and popular events and holidays (e. g. Christmas, New Year, Easter).
Breakfast Usually Includes:
Omelette,
Bagels croque madame,
Jam,
Butter,
Freshly pressed orange juice,
A bottle of water, tea/coffee.
TIP: You can add a Lovers extension for a more romantic holiday for 30 EUR.
It includes
a bottle of champagne,
chocolate covered strawberries and
2 desserts in a choice of three restaurants (one is the hotel's own restaurant the other two are also close by).
Restaurant & Wine Bar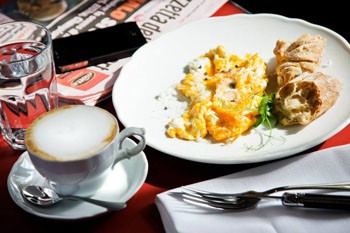 Another highlight of Baltazar is the exceptionally good restaurant with a lovely terrace.
Simple yet creative meals by one of the best chefs of Hungary, Zsolt Litauszky.
Gourmet street food: a variety of burgers and grilled dishes, including vegetarian/vegan options.
They only use top-quality, if possible, sourced ingrendients. For example the chicken comes from a Hungarian free range farm. The foie gras and duck thigh comes from a family in Békés county.
Hungarian Classics You Can Taste:
Goulash (full portion: 4 360 HUF, half-portion: 2 180 HUF,
Chicken paprikash with dumplings (3 960 HUF),
Roasted pike perch with cottage cheese ravioli (5 240 HUF)
Grilled meats, burger, steaks from the Josper grill (prices vary between: cc. 3 880 – 11 000 HUF)
Vegan "Nomeat" burger (soy patty) – 3 460 HUF
Daily specials, and
Some delicious cakes: Eszterházy cake – a classic Hungarian torte (walnut sponge layered with vanilla cream) – a slice is 1 780 HUF.
Breakfast Offer Includes:
Omelette with various toppings,
Muesli with yogurt,
Croissant with jams,
Cheese plate, and
Fresh fruits.
The wine bar offers a around 300 bottles of
Local and international wines,
Champagnes (Salmon Brut Reserve, Kreinbacher Brut Classic) and
Sparkling wines as well as
The best craft beers of Hungary (Rizmajer, Stari, Fóti breweries.)
Note: A 13% service fee is charged.
What Do Reviewers Say?
Travellers rave about Baltazar. The hotel has received 5 star ratings on major travel review sites so far:
Excellent location yet in a quite corner of the Castle with very good transport connection to downtown Budapest
Finely decorated rooms, comfortable bedding
attentive and helpful staff
Great restaurant with homemade sauces, jams, tasty grilled dishes, burgers, and scrumptious desserts, the breakfast choice is also good
The bar is also amazing with a lot of local wines and beer on tap
Ideal for a memorable romantic vacation.
Attractions Nearby, Things To Do
Buda Castle is packed with
Historic sights,
Museum (Castle Museum, Military History Museum)
Churches, and you can
Get the best panoramic views of whole Budapest from the area.
Must-See Attractions Include:
Matthias Church on Szentháromság Square
Fishermen Bastion – lookout terraces and a restaurant on the top level
Royal Palace with the History Museum and the National Gallery.
Hungarian Military History Museum (Kapisztrán tér 2-4., open: Tue-Sun: 10.00-18.00).
Magdalene Tower
Open: Tue – Sun: 10.00 -1 8.00
Tickets: adults: 800 HUF, students: 400 HUF,
Tickets are sold in the Military History next door.
A late-Gothic church from the 15. century, where you can
view a photo display about the church's and the castle's history in the downstaris hall,
admire the vista from the top floor and
listen to the unique chime of the 24 bells.
TIP: see also our tips on a self-guided walk tours of the Castle area.
The castle regularly hosts festivals with lots of exciting gastronomy, entertainment and family programs: there's an
Easter Festival,
Festival of Folk Arts,
Wine Festival
Király Bath
Address: 84., Fő utca in Buda, district II.
This fine Ottoman bath from the 16th century is just 12-15 minute walk from the hotel. See more details on the Király baths.
Similar Hotels:
Aria Budapest-New 5-Star Boutique Hotel in the City Centre – The Ritz Carlton Budapest Erzsébet Sqr. – Hilton Buda Castle – St. George Residence Luxury Hotel – Hotel Palazzo Zichy – Buddha Bar Hotel Budapest Klotild Palace – Iberostar Grand Hotel – Lánchíd 19 Hotel – More Design Hotels