All the General Info You Need to Know
The following information about Budapest covers the basic facts one should know when planning a visit to the Hungarian capital.
We try our best to include all the Budapest facts indispensable for you to enjoy your stay!
Table of Contents – Budapest Facts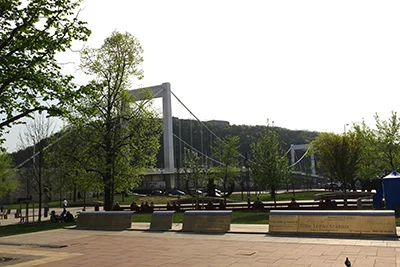 Location, Population
Where is Budapest?
It's the capital of Hungary and situated in Central Europe, embracing the two sides of the river Danube.
With nearly 1,7 million citizens it's by far the largest city in the country.
City Layout
Actually you can explore two cities in one, because Budapest is made up of Buda and Pest, with the Danube flowing between them, along a stretch of 28 kilometers.
Buda is built on a hill, on the Western bank of the river and forms the historical part of the city. Pest stands on a plain and it's more businesslike with its shops and boulevards.
You can walk between the two connected, but still very different parts of the city on magnificent bridges. The city consists of 23 districts.
You can read more about Budapest districts here.
More Practical Information:
Currency in Budapest, Hungary
Forints (Ft) = 100 Fillers (Fillers are not in use anymore)
Coins: Ft 5, 10, 20, 50, 100 200
Banknotes: Ft 500, 1000, 2000, 5000, 10000, 20000
Cost of Living
Is Budapest a cheap city?
Contrary to common belief, the Hungarian capital is not an inexpensive city, and costs and prices are going up each year.
Still our city is more affordable a tourist destination than most other Western European cities.
TIP: See also a detailed guide to Costs and Prices.
Country Code, Important Telephone Numbers
Country code: 36
Emergency call 112
Ambulance service phone 104
Police phone 107
Fire emergency phone 105
Tourist Information hotline (Monday-Friday: 8.00-20.00): (+36 1) 438 8080
Directory inquiries (Budapest and Hungary) phone 198
Directory inquiries (international) – both telephone and fax numbers, call services and prices phone 199
Electricity in Hungary
220 Volts/50Hz AC is used in Hungary. Electric appliances have standard European plug with two round shape metal poles.
Safety in Budapest
Public safety is fairly good, though just like in any other popular destination, there are some common tourist traps.
See also our page about Safety in Budapest for tips on avoiding these traps.
Climate in Budapest
Average temperature 9,0°C, 48°F
Summer season: June-August: average temperature: 21,0°C, 70°F
Winter season: December- February: average temperature: -0,9°C, 30°F
You find more information about Budapest Weather and Best Time to Visit on this page!
Tourist Information Points
Two BudapestInfo Points are located in the city center:
At Deák Ferenc tér (where the 3 metro lines meet) and at Sütő utca 2 (close to Deák Ferenc tér transport hub) in district V., downtown Budapest, Opening hours: 8.00 – 20.00 every day
At Andrássy út 47., near Liszt Ferenc tér in district VI., Opening hours: 12.00 – 20.00 every day
Heroes' Square (Hősök tere) in the building of the City Park Ice Rink (at Olof Palme sétány 5., district XIV.): Open: Sun-Thurs: 10.00-18.00, Fri-Sat: 10.00-20.00
Tourist Info Point Partners:
In the Central Market Hall: Vámház körút 1-3., district IX.: Open: Mon: 6.00-17.00, Tue-Fri: 6.00-18.00, Sat: 6.00-15.00
Eastern Railway Station (Keleti Pályaudvar): Open: every day: 7.00-19.00
Two more info points for tourists are in Liszt Ferenc Airport at:
Terminal 2A: opening hours: 8.00 – 22 every day
Terminal 2B: 10.00 – 20.00 every day
Tourist Information hotline: (+36 1) 438 8080
Related:
Why Visit Budapest? – Public Holidays in Hungary – Budapest City Card – Season by Season – Our Facebook page