Our Favourite Cafes in Pest and Buda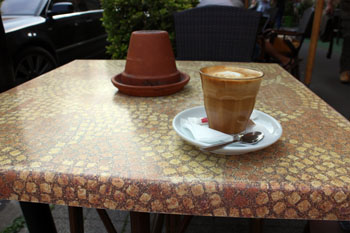 Browse our list our favorite coffee places that make decent espresso and other coffee drinks, tea, offer tasty food, delicious pastries and have pleasant ambience. Get to know best Budapest cafes.
The city has many cafes, including classical coffee houses/cake shops (New York Cafe, Ruszwurm, Gerbeaud, August) that first started business in the 19th century, and managed to retain their old world charm in the 21st century.
On the other hand, the cafe scene has undergone a profound change in recent years with the appearance of Specialty Coffee Shops focusing on light roast single origin coffees and alternative preparation methods.
Quick Links:
Cafes in the City Centre (Distr. V., VI.) – Andrássy Avenue – Jewish District (Distr. VII., VIII.) – Múzeum körút/District. VIII. – Buda Castle – Buda, Gellért Hill
There are also the big brand cafe chains like Starbucks and California Coffee Shop Company – unfortunately today you can find them at almost every corner of Budapest.
They're trendy and quite popular with the younger generation but make overpriced, mediocre coffee.
TIP: Try instead a local chain, Cafe Frei's offerings. They have some unique coffee drink concoctions – 70 altogether – groupped according to geographic regions (Latin America, Italy, France, Australia, Japan. A Cuban Espresso is slightly sweet and tastes like caramel, while the Jamaican Latte is uniquely spicy.

You will find a Frei Cafe in all major Shopping Malls, in the city centre (in Hercegprímás utca neart he Basilica) as well as at Budapest Airport at both terminal.

Coffee drink prices range from 450 to 850 HUF.
The Hungarian capital offers an ecclectic combination of old and new, 21. century coffee culture experience juts as in many other areas (architecture, restaurants).
Favourite Cafes in Pest – City Centre (Distr. V., VI.)
Espresso Embassy – Our Favorite Specialty Coffee Shop
Address: Arany János utca 15. district V., close to the Danube Promenade and the Chain Bridge
Open: Mon-Fri: 07.30 – 18.00, Sat – Sun: 09.00 – 18.00
Located next to Montenegro's Embassy, Espresso Embassy one of the first of 3rd wave cafes in Budapest, a tribute to fine coffee, where good coffee is everyone's passion.
This is not a place that exudes old world coffee house atmosphere, the design and interior is clean, minimal with vaulted ceiling and industrial lamps, with a long wooden counter with bar stools at the back.
Espresso and other coffee drinks are made from single origin coffee beans (mostly freshly roasted by local micro roasters like Casino Mocca, or from Has Bean one of the best gourmet coffee bean suppliers in Europe) roasted to a light colour to best bring out all the flavours of the beans.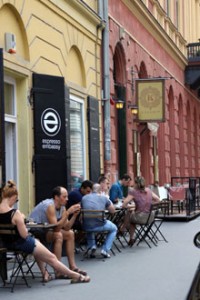 Coffee prepared with Aeropress or with other pour-over methods is also available.
You can buy also buy packs of roasted coffee if something catches your fancy (a 250-300 g packet costs around 3 500-4 500 HUF depending on bean type)
They also have around half a dozen cakes and pastries as well as some sandwiches to go with your latte (the cocoa snail/kakaós csiga is the best in town supplied by Pékműhely bakery).
Staff is very kind and everyone is expert at all things coffee.
Prices are friendly: espresso: 400-650 HUF, cappuccino: 500-650, lat white: 650 HUF, filter coffee: 550-850 HUF, hot chocolate: 550 HUF, lactose-free milk +50 HUF.
Tamp & Pull in Bank Center (address: Arany János utca 25., district V., Mon-Fri: 7.00- 18.00), another great specialty coffee bar, is just a short walk from Espresso Embassy should you want to sample more good coffee.
TIP: Find more Third-Wave Cafes in Budapest.
Cafe Frei Váci Utca
Address: Váci utca 74., district V.
Opening Hours: Mon – Sun: 09.00 – 19.00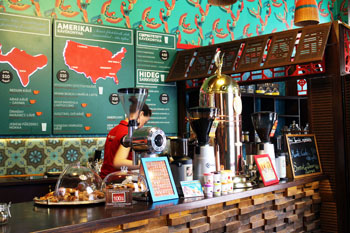 Váci Street is mainly known for touristy, rip-off places when it comes to restaurants, cafes and clubs but there are exceptions where you can get quality drinks/food and honest, welcoming service.
Cafe Frei Espresso Bar at the southern end of Váci utca (close to the Central Market Hall)is one of these few places.
It is part of a local cafe chain owned by a former TV-reporter-turned-thriller-writer, Tamás Frei.
They have several other cafes, mainly in shopping centres in Budapest (Allee, Aréna Plaza, Mammut etc.) but the one in Váci Street has a unique, Caribbean feel that will leave a lasting impression on you.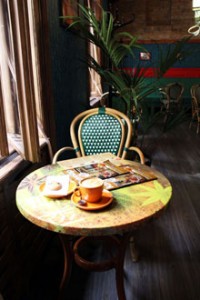 A wide variety of coffee drinks are on the menu, focused on a variety of preparation methods, main coffee drinking nations (Italy, France, latin America, Japan, Arabian nations etc.) and flavorings instead of single origin, farm selected beans and new wave preparation methods
You can taste traditional espresso and cappuccino or exotic drinks like Jemen Spiced Mocca, Taj Mahal Black Coffee (a combination of fine Earl Grey tea spiced with orange peel and creamy espresso made from Indian coffee beans) or Caffé Marocchino (a small shot of espresso, the cream sprinkled woth cocoa powder then topped with frothed milk).
Some great cakes and cocktail specialties make the place ven more enticing to stop by.
Prices are friendly: espresso (a huge variety is available): 330 HUF, cappuccino: 430 HUF.
TIP: I also like to drop by Cafe Frei in the Libri Book Shop in Allee Shopping Mall, and the one on Eiffel Square next to Nyugati Train Station.
A new Cafe Frei Espresso Bar opened in Liget Center at Dózsa György út 84/A in the diplomat quarter close to Heroes' Square, the City Park and Andrássy Av.
The World of Strudels – First Strudel House of Pest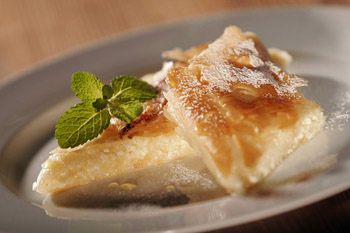 Taste strudels (a traditional Hungarian pastry) in one of the finest cafes in Budapest, the Első Pesti Rétesház (First Strudel House of Pest) located in the city center.
The First Strudel House of Pest Cafe & Restaurant is open on Christmas Day (25. December) unlike most restaurants in the city.
There are countless trendy cafes, but only a few make good-quality espresso, cappuccino and other coffee drinks.
Most cafes in Budapest offer breakfast, light lunch/dinner (salads, pasta dishes) and pastries, cakes to go with your coffee.
Alibi Cafe –
Closed Down

– A Starbucks in its place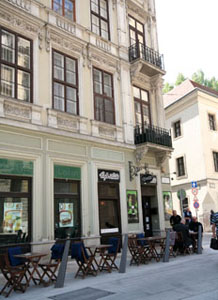 Address: Egyetem tér 4., district V., M3 (blue) metro Kálvin tér station
Open: Mon-Fri: 8.00-22.00, Sat-Sun: 10.00-22.00
Unfortunately Alibi closed in February 2016.
A Starbucks opened there, just a few steps from one of the most prestigious classic coffee house in Budapest, the Centrál.
Does Budapest really need another faceless chain cafe with overpriced yuck coffee made from overroasted beans just so you can drink it with overly sweet artificial syrups so that you won't be able to detect the bad taste of the coffee?
The area, Egyetem tér a is little Venice of Budapest, part of partial pedestrian Main Street project created a few years ago. A favorite spot of many people, including our family so we are really sad that this charming cafe that opened in 2000 had to give up and over to the sharks.
You can enjoy your coffee in the terrace in good weather: the area is partially pedestrianized (it is part of Budapest's New Main Street) so it is quite peaceful for sitting around.
Madal Espresso & Brew Bar
Address: Ferenciek tere 3., district V., city centre, M3 metro (blue line) Ferenciek tere station
Opening Hours: Mon – Fri: 07.30 – 19.30, Sat – Sun: 08.30 – 19.30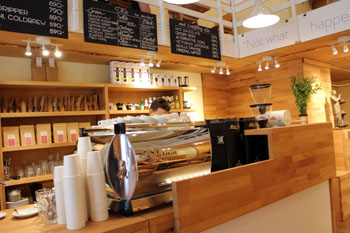 Madal is a specialty coffee shop at Ferenciek tere (not far from Cafe Alibi) that opened in summer 2015.
They have their own roaster, Beyond Within in the suburbs where they roast high-quality, farm-selected single origin bean, but guest coffees are also available (Square Miles,
Spacious cafe on two levels perfect for coffee aficionados.
You can have traditional espresso-based drinks (espresso, cortado, flat white, cappuccino latte, filter coffee prepared in various ways (AeroPress, Hario, Kalita, for around 590-790 HUF), cold brews, but their hot chocolate (590 HUF) and teas (590-690 HUF/4 dl) are also awesome.
They have another cafe in Hollán Ernő utca (close to Jászai Mari Sqr., Margit Bridge Pest end), actually that one opened before the Ferenciek tere location a couple of years ago.

Madal's 3rd location is in the heart of Budapets, in Alkotmány utca in the neighbourhood of the Parliament. It's called Madal Food & Vegan Restaurant (Open: Mon – Fri: 11.30 – 15.30). It's a vegan pizza and pasta place with some other famous international dishes (gyros, quesadilla, burger).
TIP: Find out more about Madal Espresso and Brew Bar.
Double Shot Partisan Coffee
Address: Veres Pálné utca 33., Budapest 1053, district V.
Open: Mon: 08.30 -20.00, Tue – Wed: 08.30 – 19.00, Thurs – Fri: 08.30 – 18.00, Sat: 08.30-20.00, Sun: 08.30 – 18.00
Double Shot is another awesome specialty coffee bar in downtown. It's located off the beaten path in a quite little street.
The warm, welcoming decor and expertly prepared coffe ensures a great experience in Double Shot. Food is tasty too so we highly recommend it for a coffee/lunch break when exploring Budapest's city centre.
Gerlóczy Cafe & Restaurant
Address: Gerlóczy utca 1., V. distric V.
Open: every day: 07.30 – 23.00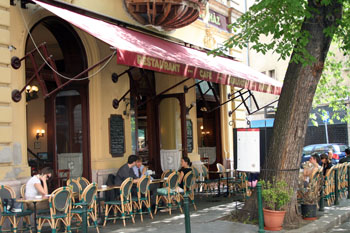 Gerlóczy Cafe is a French bistro type place tucked away behind lovely Kammermayer Square in downtown.
It's a bit touristy, and is often full on summer days, but it is a pleasant place to sip a cup of coffee on the terrace.
Gerlóczy is also a restaurant – a quite good one – offering lunch menu of two courses from Monday to Thursday for 1400 HUF, but you can also eat a la carte.
There's also breakfast menu (light: cappuccino with croissant for 750 HUF or hearty: Vienna sausage, salted butter, pepperoni flavoured ciabatta, scrambled eggs and French toast for 2200 HUF).
This charming cafe and restaurant in downtown Budapest is great for lunch or just a cup of coffee with a slice of cake.
Andrássy Avenue – Opera Neighbourhood
Két Szerecsen Coffee House & Bistro
Address: Nagymező utca 14., district VI.
Open: Mon – Fri: 08.30 – 23.30, Sat – Sun: 09.00-23.30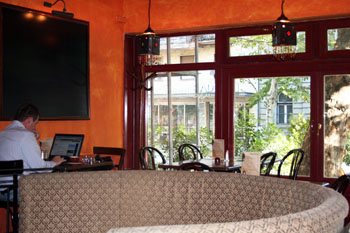 They make decent espresso and other coffee drinks.
Két Szerecsen is one of the best breakfast places in central Budapest (breakfast is served between 8.00-11.00 on weekdays and between 9.00-11.00 on weekends).
It is also a dining place offering Mediterranean-style dishes.
Due to the location – in a restaurant and cafe hub of the city just off Andrássy Avenue, – the place is very popular with locals and tourists alike. It is a ideal for breakfast or for a light lunch/dinner with a glass of wine.
Food & Prices in Két Szerecsen
Két Szerecsen has been around for quite some time which is a testimony to the quality of food, coffee and service here.
They have a wide range of breakfast dishes including sweet and savoury options:
Croissant and pain au chocolat (590 HUF)
Egg dishes (fried eggs: 790 HUF, bacon & eggs/ham & eggs: 1 390 HUF, egg benedict with ham: 2 490 HUF, egg benedict with spinach & tomato: 2 390 HUF, omelette with mushrooms and bacon and sour cream: 2 390 HUF
English breakfast: fried eggs, bacons, beans, sausages, fried mushrooms and fried tomato: 3 190 HUF
You can choos eform a wide range of coffee and other drinks:
Espresso: 450 HUF,
Cappuccino: 650 HUF,
Flat white: 790 HUF
Latte: 890 HUF
Fresh mint tea: 890 HUF
They also have quite nice food, including weekly offers, daily 2-course menu and a carte dishes like
Tapas selection (vegetarian, meat seafood): 1 990 – 4 690 HUF
Soups: a bowl of goulash is 2 290 HUF
Pasta dishes (3 290 – 3 990 HUF) and risotto (2 990 – 3 990 HUF)
Mains covering local (chicken paprikash: 3 490 HUF) and international fare (3 types of green curry: 3 990 – 6 290 HUF)
Desserts: floating island with forrest fruits (madártej in Hungarian): 1 990 HUF, chocoalte souffle with chilli sour cherry: 2 290 HUF
Cafe Factory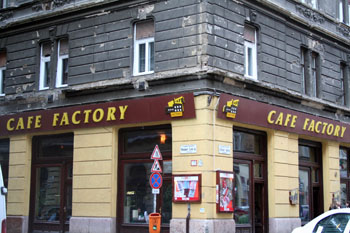 Address: Jókai utca 28., district VI.
Open: every day 11.00-23.00
Cafe Factory is a spacious and upbeat place situated in a side street of Andrássy Avenue.
Coffee is made from Italian specialty coffees like Vergnano, Manuel, and Mauro.
A variety of espressos, other coffee drinks, tea, alcoholic drinks are offered along with sandwiches, tortillas and salads.
Prices are friendly (espresso is 290-350 HUF, cappuccino is 350 HUF, sandwiches, salads are cc. 900-1300 HUF)
Jewish Quarter – Districts VII & VIII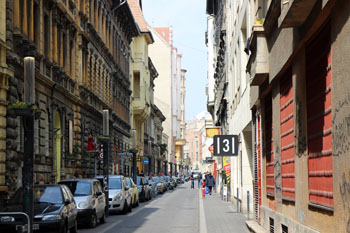 The historic ghetto of Budapest has undergone a profound change in recent years: lots of run-down houses were renewed and converted into hip bars, restaurants, show rooms, clubs.
District VII. is also the area where most of the famous ruin bars/garden pubs are: Szimpla, Kőleves, Liebling, Mazel Tov, Ellátó Kert, Grandió and a many more.
Besides places of nightlife entertainment, the area offers a good number of cafes with wonderful food, coffee, pastries, cakes and service.
Socks Coffee – Opposite the Synagogue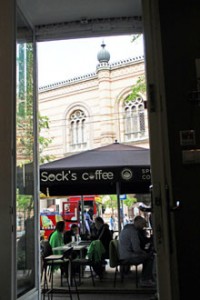 Address: Dohány utca 1/b.
Opening Hours: Mon: 08 – 19.00, Tue – Thurs: 08.00 – 17.00, Fri: 08.00 – 20.00, Sat: 08.00 – 19,00, Sun: 07.00 – 19.00
This is a really great place with very attentive and professional baristas, a huge selection of pastries and cakes (Hungarian – Dobos cake, French-style tortes, peanut butter cheese cake, walnut cake, paleo creations), ice cream and very good coffee made from a local roast (Lucky Cap from Szekszárd).
They strive to make everything from high-quality, often organic ingredients. You can have a smoothie if you're up to something nutritious and healthy.
A must-try if you're near the Great Synagogue, you can admire the beautiful temple from the terrace of the cafe.
Cirkusz – A Great Brunch Place In Budapest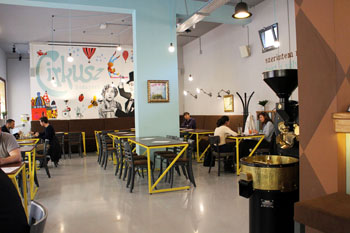 Address: Dob utca 25., district VII.
Open: every day: 08.00- 16.00
A small batch, Has Garanti electric roaster provides the freshly roasted beans for your espresso, cappuccino or latte.
The name of their specialty brand is Bagira.
I really liked the vibrant, colourful design of the place when I dropped by with my son, Zalán, after the oprning in spring 2014.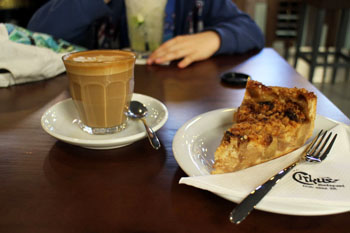 The food is good too – nowadays they specializes in breakfast and brunch
They Offer Sweet Treats Like
Croissant (800 – 900 HUF)
American pancakes (2 800 HUF)
French toast (2 800 HUF)
Waffles (2 800 HUF)
If You're More In The Mood For Savoury Flavours
try an egg dish like the Pulled Pork Benedict (3 700 HUF) or
a hearty guacamole dish (Huevos Rancheros: guacamole, tortilla, pulled pork, poached eggs, red beans, corn, chili, onions, cheddar cheese and nachos: 4 200 HUF)
Since they roast their own coffee is very good in Cirkusz. A cup of espresso is 600 HUF, while a flat white costs 950 HUF, a cappuccino is 900 HUF.
Cirkusz is surely one of the best places in the neighbourhood for a leisurely breakfast or brunch.
Warm Cup Espresso & Brew Bar – Temporarily CLOSED
Address: Kertész utca 39., district VII.
Opening Hours: Mon-Fri: 10.00-18.00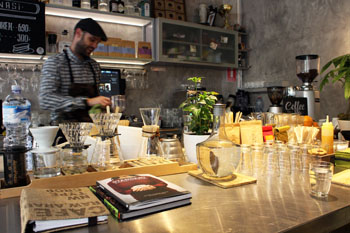 District VII. is not short on specialty coffee shops either. One of the newest is Warm Cup in Kertész utca where you should drop by if you appreciate exceptionally good coffee prepared from carefully selected and roasted beans.
If you would like to try coffees made with pour-over techniques (Hario V60) Warm Cup is an ideal place for that.
Artisan cakes and pastries (carrot cake, pumpkin pie, savoury snacks) and pastries, laid-back atmosphere are the other highlights of the place making one our favourite cafes in the neighbourhood.
A dog-friendly place.
My Little Melbourne & My Little Brew Bar
Address: Madách Imre út 3., district VII., a short walk from Deák F. tér metro hub (M1, M2, M3 lines), or trams 47, 49
Opening Hours: My Little Melbourne. Mon – Fri: 07.30-18.00, Sat – Sun: 08.00-18.00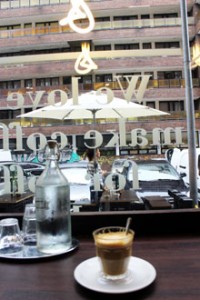 These two Australia-inspired cafes are right next to each other managed by the same coffee enthusiast couple.
My Little Melbourne was among the first specialty coffee shops in Budapest along with espresso Embassy and Tamp & Pull.
They make coffee from top quality farm-selected beans supplied by roasters from all over the world (Caffenation, Work Shop Coffee, Five Elephant, Stooker Roasting Company etc.).
Cold brewed coffee is also available if you's like to get a cool, fast caffeine fix. You can get cakes, biscuits, granola, teas, chocolates, coffee brewing equipment, soft drinks (fritz cola) too.
Cozy but very busy places, the Brew Bar is more spacious, though it's nice to sit up on the gallery if you can snatch a place in MLB.
TIP: Kontakt is a small Specialty Coffee Shop in the historic Röser Courtyard on Károly körút close to My Little Mellbourne (although according to the ZIP code it's in district V. but I think it's closer to the Jewish Quarter than the downtown area).

Their signature drink is a special cold brew called Roket – slowly dripped coffee drawn like beer. Refreshing, flavourful and caffeine rich – I prefer it on scorching summer days.

Luckily they also serve espresso, flat white, cortado and the like. Great homemade biscuits, cakes and granola bars.
Blue Bird Cafe
Address: Dob utca 16. – Gozsdu Court, district VII.
Opening Hours: Sun – Wed: 09.00-18.00, Thurs – Sat: 09.00 – 20.00
Blue Bird is located in the extremely popular dining and clubbing passage, Gozsdu Udvar –
a series of connected courtyards in the middle of the Jewish District, packed with bistros and cafes (Spíler, Ramenka).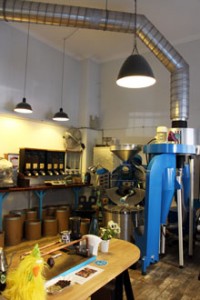 The place boasts vibrant, exotic design – mosaic tile floor, custom made wood decorations, and a their very own parrot.
Service is unfortunately erratic and inattentive, coffee is mostly good – they roast their own in the Blue Bird Roastery & Shop in the nearby Rumbach S. Street.
It's nice, cheery place though and the cakes are delicious.
You can also have breakfast or a light lunch here.
Wines, beers, soft drinks, juices are also available.
TIP: Visit Blue Bird Roastery at Rumbach Sebestyén Street 12. to see the small batch roaster, buy freshly roasted coffee (not farm selected but quite good quality) or try a brewed coffee drink (Chemex, AeroPress) (you can also have espresso or flat white if you prefer traditional cofffee).
Múzeum Körút & Other Parts of District VIII.
Fekete & Budapest Baristas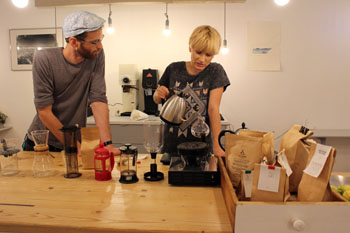 Múzeum krt, part of the the Small Boulevard between Astoria and Kálvin tér, has two specialty coffee shops: Fekete Espresso, Brew & Food Bar and Budapest Baristas, in a beautiful, historic building that housed an antique bookshop until gourmet coffee became more popular than used books.
Fekete (opening hours: Mon-Fri: 7.30-19.30, Sat: 9.00-19.30, Sun: started in a small, pracatically a hole-in-the-wall shop at Múzeum krt. 5., and expanded in 2015:.
There's a courtyard with tables and chairs from which opens a the Brew & Food Bar section of Fekete.
Much better now with the added place and options of alternative, filter coffees.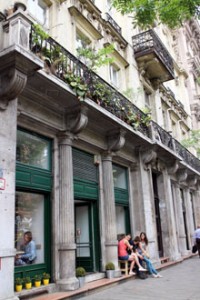 A changing selection of heavenly cakes, quiche, salads too made on the spot from high-quality ingredients.
Budapest Baristas
Opening Hours: Mon-Fri: 7.30-20.00, Sat-Sun: 9.00-19.00) opened in spring 2015 in a more spacious shop than Fekete.
Serves espresso and pour over coffees made from Casino Mocca specialty roasts and occasionally from other international guest coffees.
The cake offer is also very tempting here – the selection changes every week so there's always a reason to drop by.
Besides coffee drinks, teas there are alcoholic drinks including Belgian beers, wines, champagne and cocktails.
Prices: teas: cc. 490-590 HUF, espresso: 290 HUF, cappuccino: 370 HUF, cafe latte: 440 HUF, croissant: 240 HUF, sandwiches: 440 HUF.
More Favourite Cafes in Various Parts of Pest
Wiener Salon
Address: Corvin sétány 2/B., district IX.
Open: summer: Mon-Sat: 8.00-22.00, Sun: 9.00-22.00, winter: Mon-Sat: 8.00-20.00, Sun: 9.00-20.00
Website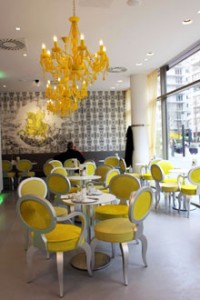 Wiener Salon on Corvin Promenade, behind Corvin Plaza, offers a taste of true Viennese cafe culture.
The owners Nicholas Göndöcs and his father Rudolf Peter Groissböck put great emphasis on quality ingredients, and professional attentive service. You can often find them in the workshop making ice cream, macarons or doughnuts.
The counter is packed with amazing cakes and ice cream served in crunchy cone baked on the spot (among the top of Budapest's ice cream shops) that not only look but taste really good.
Bright, modern interior with yeallow chairs and chandeliers lends a comfortable and cheery vibe to the place where you can happily sip your coffee while watching life on the promenade.
Thier doghnuts (light and fluffy filled with not too sweet apricot jam) are the best in town – baked fresh every day.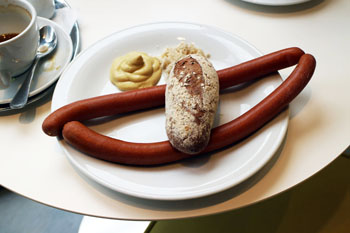 Try one with a melange or cappuccino prepared from freshly roasted coffee beans (supplied by the owners' roaster in Vienna)
Breakfast is very good too: frankfurter with freshly baked bun or kornspitz, toasts, sandwiches, Viennese ham with coffee or tea. Welcoming, kind owner and staff.
You can watch how everything is made through the large windows of the workshop behind the counter.
Buda Castle – Best Cafes
Walzer Cafe – Buda Castle
Address: Táncsics Mihály utca 12., Buda Castle, district I.
Open: Tue-Sun, 10.30-18.30, closed on Monday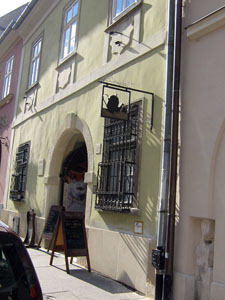 This lovely cafe is just a few steps from the Matthias Church in Buda Castle.
Just like Alibi, Cafe Walzer too uses Semiramis freshly roasted coffees for its espresso and other coffee drinks.
The cafe also offers quality teas, tasty snacks, pastries, cakes and chocolate specialties.
TIP: Find out about more Cafes in Budapest.
The city has of course many other good cafes.
The city centre, including Váci utca, Liszt Ferenc Square, and Ráday utca are packed with terraced restaurants and coffee houses.
And there are the growing number of outlets belonging to international coffee house chains, like the
Starbucks,
Costa Coffee, or
the California Coffee Company.
You have a wide choice to pick from where to sit in for a good cuppa in Budapest.