Affordable, Quality Accommodations for Budget Travellers
Browse our hand-picked list of best Budapest Hostels. Staying at a hostel is a great way to save on accommodation and spend the money on eating out, shopping or sightseeing.
You'll find great hostels both in the city centre and the less busy, more peaceful areas.
Quick Links:
City Centre Hostels (districts: V., VI., VII., parts of VIII. & IX.)
Maverick Hostel & Ensuites (Distr. V., Ferenciek tere, )
Pal's Hostel & Apartments (Distr. V., Basilica)
Pal's Mini Hostel (Distr. VI., Oktogon Sqr.)
HomePlus Hostel (distr. V., Balassi B. Str., Parliament neighbourhood)
The Loft Hostel (distr. V., Veres Pálné Str., Váci Str. area)
Metroplis Hostel (District VII., Rákóczi út 78)
Carpe Noctem Original (distr. VI:, Szobi u. 5-Western Railway St., Andrássy Avenue)
Wombats City Hostel (Distr. VI., Király Str.)
7 x 24 Hostel (Distr. VI., Király Str., Deák F. Sqr area)
Big Fish Hostel (distr. VII., Erzsébet krt., Blaha L. Sqr, Oktogon)
Marco Polo Hostel (Distr. VII., Jewish Quarter)
Lavender Circus Hostel & Apartments (Distr. VIII., Palace Quarter., Hungarian National Museum)
2night Hostel (Distr. XIII., Szt. István krt., Grand Blvd., Nyugati Train St.)
Best Overall Budapest Hostel: Maverick Hostel & Ensuites – It offers a nice combination of stylish, quality, clean accommodation at a very central location and for superb price.
Best For Solo Travellers:
Best For Partying: The Hive Party Hostel
Best For LGBTQ People: All places listed on this page are LGBTQA friendly but if we have to choose one that is most ideal for LGBTQ travellers then we recommend the Carpe Noctem hotel.
Most Peaceful Hostel: Flow Spaces
Why Sleep At A Hostel in Budapest?
It's not only about saving money but by sleeping in a hostel during your Budapest trip you'll get to know other travellers from all around the world and perhaps you'll even make new friends.
Not only students and people with low budget choose a hostel as accommodation, but travellers with all sorts of backgrounds – middle-aged people, seniors, singles, and families – prefer hostels to expensive and often faceless hotels.
Laid-back atmosphere,
Helpful, friendly people
Clean, well-equipped rooms and facilities at affordable price
make staying in a hostel an attractive choice.
What Features/Qualities We Looked At When Compiling Our "Best Hostels in BP" List?
We didn't just randomly choose a couple of places to make this list. We did a thorough research on:
Location: we mainly picked hostels that are centrally located ensuring that you can get to all the atrractions on foot. If a hostel on this list is a bit far from the centre than public transport connection must be excellent.
Bedroom quality: most importantly cleanliness, but we also checked size and decor, noisyness etc.
WiFi – The hostel we have picked all have free wireless internet you cna use during your stay.
Staff – mainly how the staff interacts with travellers, how well they speak English and other languages, are they kind and helpful
We've also looked up the best hostels for solo travellers, families, queer people and that are most ideal for female tourists. Check them out below!
Best Hostels in Downtown Budapest
The city centre offers a wide selection in quality, inexpensive accommodation. You will be just steps away from all the mus-see sights, cafes, restaurants, bars and party places.
Maverick Hostel & Ensuites – Stylish & Clean, Central Location, In A Grandiose, Historic Mansion – Best Overall Hostel
Address: Ferenciek tere 2, Budapest, 1051, district V., M3 Metro (Blue line)
The Maverick Hostel is definitely one of the best-value hostels in Budapest based on many traveller's reviews. Housed in a historic, refurbished buidling, the hostel is well-located, right in the heart of the city with excellent public transportation next to the hostel.
The famous pedestrian shopping street Váci utca and many other attractions in central Budapest are just a short walk from the hostel. You can easily reach the river Danube and Elizabeth bridge too.
TIP: see also our pages about downtown Budapest, and recommended walking tours.
Accommodation in Maverick Hostel – From 10 EUR/Bed/Night
The cheapest sleeps are offered in the dorms that have 4, 5 , 6 and 10 beds.
Private rooms are also available with up to 5 beds. Rooms – apart from the dorms – have their own bathroom. There is a female-only room too with 6 beds..
Highlights
Located in a grand, historic building
Clean, quality inexpensive rooms with ensuite bathroom, reading lights andcable TV
Bedlinen and towels are included
Free WiFi in the whole building
Well-equipped, nice kitchen
Free coffee and tea all day long
24-hour reception with helpful staff who speak Englsih and other languages
Free lockers and luggage storage
Late check-out till 13.00 with no extra cost
All-day open supermarket very close by
Non-smoking hostel
Queer people are very welcome
Perfect Choice for female travellers since there is a women-only room( 6 beds)
Rates In Maverick Hostel Budapest
The lowest price is around 8- 10 EUR for a bed per night in a multibed dorm.
4-Bed Dorm – 15 sqm (Mixed): cc. 11.6 EUR/bed/night
6-Bed Dorm – 29 sqm (Mixed): cc. 11.4 EUR/bed/night
8-Bed Dorm – 35 sqm (Mixed): cc. 8.7 EUR/bed/night
6-Bed Female-Only Dorm – 36 sqm: cc. 9.1 EUR/bed/night
Budget Double Room with Bathroom (13-14 sqm): cc. 33.3 EUR/night
Standard Double Room with Bathroom (13-19 sqm): cc. 41.7 EUR/nigtht
Triple Room with Bathroom (21-22 sqm): cc. 46.5 EUR/night
4-Bed Room with Bathroom (21-22 sqm: cc. 51.7 EUR/night
If you want something unique book the Vintage Double Room. It has lovely antique furnishings and decor and with balcony where you can view the bustling city.
What Travellers Say About The Maverick Hostel & Ensuites?
Clean and well-appointed hostel, in a historic building, despite the central area it isn't overly noisy
Exceptional quality, clean rooms including bathrooms, nice kitchen with all the necessary appliances
Kind and helpful, English-speaking staff
Great value for the price.
Gay-friednly place
Ideal for women, even travelling alone
Foodie TIPS: There's a Starbucks nearby (1-minute by walk) but if you prefer specialty brews try Madal Coffee & Brew Bar at Ferenciek tere. For budget fast food have slices of pizza at Pizza Me on Ferenciek tere (4-minute walk). Vegans should try Napfényes Vegan Restaurant & Confectionery at 1 minute walk from Maverick.
Pál's Hostel & Apartments – Prime Location At The Basilica, Tidy, Basic Accommodation
Address: Szent István tér 3., Budapets 1051
Location: Couldn't be more central, everything is within walking distance
Things To Do Recommendations Nearby
St. Stephen's Basilica, the largest church of the capital and Hungary is the most obvious attraction here. It hosts wonderful organ concerts on Thursday evenings.
Szent István tér is a large plaza surrounded by cafes, restaurants and bars. Try Akademia Italia for Italian vibes, coffee and pastries, pizza, pasta and other Italian delights.
The Danube and the promenade (Duna Korzó) alongside the river is just a few minutes walk. If you feel up to a longer stroll you can cross ove rone of the bridges to the Buda side.
Vörösmarty Square, the very heart of Budapest that hosts the annual Christmas Fair is 8 minute by walk (650 m). By the way Szent István tér where the hostel stands is also home to a Christmas Market every December.
Liberty Square (Szabadság tér) with a charming park, cafes and a World War 2 monument and interactive fountain is also close by on foot (5 minutes/500 m).
Additional Highlights
Pál's a clean, bright hostel with
4-bed dorms with their own basic bathroom
Private rooms with shared bathroom and kitchen
Rooms with ensuite bathroom
Apartments
WiFi, bedlinen, towels are all covered by the price.
Rooms are bright and comfortable with real beds instead of bunks.
Hairdrier, adapters are also available upon request without additional cost.
The dorms are large, they have a nice sitting area, reading light, electric outlets.
For more privacy chosse a single- or double-bed private room though you have to share the bathroom with other tourists.
If you prefer to have your own bathroom then go for a Double, Triple or 4-bed room with ensuite bathroom.
Nice common room and large security lockers are additional pluses.
The staff is very helpful, giving you lots of useful tips on what to see, where to eat, and helping you should you encounter any problem.
Rates In Pál's Hostel & Apartments
A bed in the dorm starts from 10-12 EUR/night
A double room with private bathroom is around 100 EUR/night
TIP: If you want your own kitchen and bathroom Pál also has nice apartments for rent with 2, 3 or 4 beds.
Pál's Mini Hostel – Grand Boulevard/Oktogon Sqr. – Simple, Good-Value Budget Lodging
Address: Oktogon tér 3. Bp., 1067 district VI.
Location: Nagykörút/Grand Boulevard, very good transportation: trams 4, 6 both have a stop at Oktogon tér and Nyugati Square (M3/blue metro line) is just a 1 tram stop
Pál's Mini Hostel is cheaper than the Hostel & Apartments under the same name.
Highlights In Pál's Mini Hostel
Besides the affoordable room prices,
Free WiFi,
Bedlinen and towels
Fully-fitted kitchen
Well-appointed central location if you want reach everything either by public transport or on foot
Rooms In Pál's Mini Hostel
4 dorms (mixed) with 6-8 beds and private rooms of various sizes (with single or double bed as well as a family room).
Private Rooms Prices
A single-bed room with shared bathroom starts from cc. 48 – 51 EUR/night
A double room with ensuite bathroom is cc. 70 – 80 EUR/night
A family room with shared bathroom is around 100 EUR/night
Things To Do Recommendations Nearby
For strolling in the busy city center, exploring the chic Andrássy Avenue with the renewed Opera House along it
To the west Andrássy Av. ends in St. Stephen's Basilica we've already mentioned above, at the Hostel & Apartments
If you walk to the east you will reach Heroes' Square (Hősök tere) with City Park (Városliget) sprawling behind it.
If you hop on tram 4 or 6 you can visit Margaret Island for fresh air and lots of green.
What Travellers Say Abou Pál's Mini Hostel?
An exceptionally good low-priced hostel with superb location right next to the major tram line: basic, clena
Nice communal area to hang around
Friendly, knowledgeable staff
Overall a very nice hostel, one drawback is that there's only 1 male toilet.
A bit noisy
The Loft Hostel – Unique, Cozy Place In Downtown, Highly Rated
Address: Veres Pálné utca 19., district V.
Website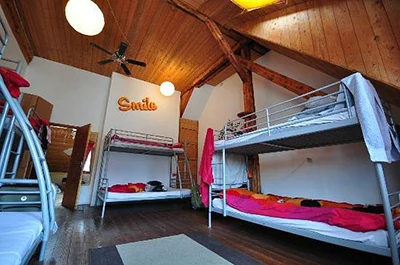 The Loft Hostel is situated in the loft of an old, classic Art-Nouveau building in district V., close to
Váci Street,
the New Main Street,
Danube Promenade and
Other sights and attractions.
The hostel has undergone a renovation and offers comfortable, clean rooms with warm, welcoming atmosphere.
Other Highlights
Staff is there 24/7 – they are ready to help with everything
High-level of security
Free WiFi
Free bedlinen and towels
Free coffee and tea throughout the day
Locker use is also free of charge
Daily cleaning
Very large common room with comfy sofa, bean bags, books, board and card games, puzzles, TV
Elevator (The Hostel is in a loft of of a building)
Desktop computers with printers – you can print your tickets/passes free
Kitchen with oven, microwave, toaster, coffee/tea maker, fridge and many other appliances, spices
Although Budapest is a fairly safe city (read our Safety in Budapest article), the hostel has top-notch security.
The common room is spacious with a large screen TV on with lots foreign-language channels. There's a cozy sofa and a choice of board and card games to while away in the evening.
The dorm is nicely furnished. All beds have reading lights and electrical outlet.
Free computer and internet use, Wi-Fi in rooms and in the common room for laptop users.
Free hot beverages like tea, coffee, hot chocolate are a nice. The kitchen area is well-equipped and -stocked.
The Loft is a great hostel with a captivating feel in the city centre.
Rates In The Loft Hostel
Dorms are available from cc. 15 – 17 EUR/night
Private rooms fro around 40 EUR/night
What Travellers Say About The Loft Hostel?
The Loft is no doubt one of the highest rated hostels in Budapest. Toruists who slept there all praise the
Character of the place
Unbeatable loctaion – this is the place to stay if you want to be in the thick of things and not break the bank
Cleanliness everywhere
The kindness and professional attitude of the staff is often mentioned too.
Since the accommodation is on the top floor of an old building it can get hot and overly sunny in summer.
Kitchen is nice and got everything you need from kaing tea to cooking dinner.
Lovely communal area to lounge around and make friends during your stay.
Lavender Circus Hostel, Doubles & Ensuites – Bohemian Atmosphere, Clean, Well-Appointed
Address: 1053 Budapest, Múzeum krt. 37., district V., M3 (blue) metro, Kálvin tér station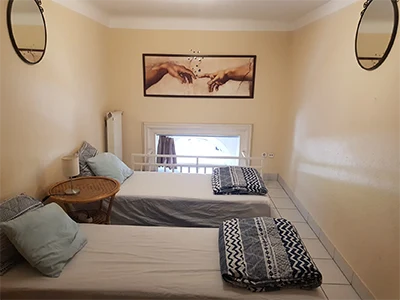 The Lavender Circus Hostel exudes lively, bohemian atmosphere with tidy rooms in downtown near Múzeum körút.
You will have a one-of-a-kind experience here.
The walls of the well-lit, bright rooms are decorated with pictures drawn with black marker: a bicycle, Budapest city scape (the Basilica for example), an astronaut, standing lamp etc.
It has a quiet, laid-back atmosphere so this not the place if you're after lots of partying.
Great Location In The City Centre
The hostel overlooks the building of the Hungarian National Museum with its large garden.
Lots of sights, cafes, restaurants are located nearby that you can reach by walk.
Both Váci utca and the Great Market Hall are only a 500-m walk, Ráday utca is even closer (230 m) with an assortment of cafes, restaurants and bars.
Getting to the Lavender Circus Hostel from Budapest Airport is very straightforward: take Bus No. 100E from the airport and get off at Kálvin Square, the hostel is 5 minute by walk from the there.
Rooms, Amenities In The Lavender Circus hostel
There are rooms with shared or private bathrooms, some of them come with a kitchenette too. In the shared kitchen you will find all the necessary appliances, utensils to have a nice meal and store your food in the fridge.
Free tea and coffee is provided in the shared kitchen,
Free use of internet Wi-Fi in the rooms and in the common room,
Security locks,
Bed linen, towels are the main amenities in the hostel.
Late check-in and check out is possible
Room Rates In Lavender Circus:
A double room with ensuite bathroom is cc. 73 EUR/night. Note: Currently they accept only cash.
What Travellers Say About The Lavender Circus Hostel?
A one-of-a-kind hostel with cool art on the walls. Comfortable, tidy rooms, close to everything important.
Friendly staff, ready to help you making your stay as good as possible.
Fantastic location, just opposite the Hunagarian National Museum.
One downside is that there is no elevator, and you need to go up several flight sof stairs.
A perfect choice for 2-3 days in Budapest.