Carpe Noctem Original – For Socializing, Partying, Good Location, Ideal For Solo Travellers
Address: Szobi utca 5. 3/8a, district VI.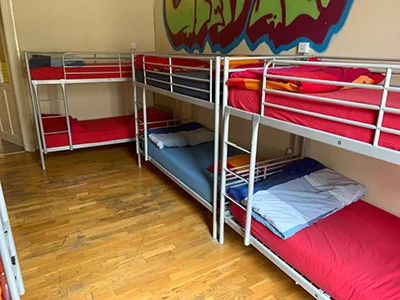 The name of the hostel translates to "seize the night". A perfect cheap lodging for single travellers who want to get the most of a short stay in Budapest.
Located in a quiet side street in the centre close to Nyugati (Western) Train Station and Andrássy Boulevard with lots of attractions, pubs, clubs nearby.
Public transport options are excellent since the hostel is between the M3 (blue) and M1 (yellow) metro lines, and a trolley service runs just in front of the hostel building.
The party district is nearby and the immediate araea is packed with restaurants, cafes, street food, shops an dbars.
Although the Carpe Noctem is not a loud party hostel, I wouldn't recommend it for people who want peace and quiet.
It is for socializing and making friends from other parts of the world. That's why it has a large common area with bean bags and a cozy corner sofa.
Other Amenities In Carpe Noctem Original
Free coffee and tea
Bedlinen and towels are also provided free of charge
Free WiFi and use of desktop computer
Lockers with padlock
Air-conditioning
The extremely helpful, native English-speaking staff will go out of their way to help you settle in and plan your stay in Budapest. They tell you what to see, which restaurants are good and affordable.
Just tell them what you want to do and they arrange it for you:
Cheap theatre and opera tickets,
Caving tours,
Walking tours,
Pub crawls (with local pub tour guides),
Trips to Budapest's thermal baths, etc.
Room Rates In Carpe Noctem Original
Dorm beds from around 15 EUR/night.
7 x 24 Central Hostel, Close To The Party District/Ruin Bar Scene, Families Are Welcome
Address: Király utca 14., floor 5 door 1, doorbell 32., district VI.
M1, M2, M3 metros, Deák Ferenc tér station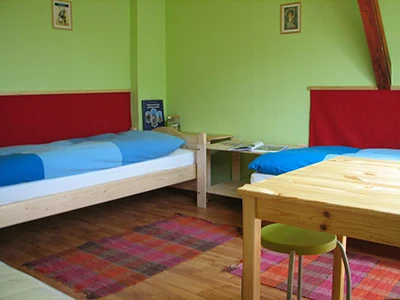 The 7 x 24 central Hostel has strategic location regarding partying and public transport services.
It is about 2 minutes from Deák Square – one of the city's major transportation hubs – where 3 of the 4 metro lines meet.
There're also several
Tram (trams No. 47, 49 on Deák Ferenc tér), and
Bus routes (buses No. 4, 9, 16, 105), as well as
Night bus services (night buses No. 909, 914, 931, 950, 966, 979) in the area.
Airport shuttle bus stop No. 100E is just a 2-min walk at Deák Ferenc tér
If you plan to do lots of sightseeing both on foot and using public transport, then the 7 x 24 central Hostel is a perfect choice for accommodation.
You Can Reach Many Important Sights Like
St Stephen's Basilica,
Váci Street,
Andrássy Avenue with the Hungarian Opera House,
the former Jewish Quarter – by walk.
But if you want to see sights that are a bit far by walk you can hop on a metro, tram or bus.
The rooms are nice and sunny with warm decor. No bunk beds but comfortable, wide beds!
Rooms In 7 x 24 Central Hostel
2 rooms with 2 beds (one of them has private bathroom & toilet),
1 room with 3 beds,
2 rooms with 4 beds with private bathrooms.
All rooms have free WiFi and cable internet, and there's also free internet access and WiFi available in the common room. Free towels and bed linen are provided.
The common room and most rooms are air-conditioned which you're going to appreciate during hot summer days.
The fully-fitted kitchen is stocked with tea and coffee that you can use free of charge.
Security is excellent with PIN coded doors, and lockers. The staff is very kind and will help you with anything regarding you stay.
Late check-in is available.
This 7 x 24 Central Hostel is recommended for families or for anyone who want quiet, centrally located accommodation. See more photos about the rooms!
Room Rates 7 x 24 Hostel
cc. 14 – 23 EUR/person/night.
What Travellers Say About The 7 x 24 Central Hostel?
It is a very good hostel right in the city centre, close to metro and tram lines, but you can also reach many attractions on foot.
They have private rooms some with shared others with private bathroom – a great choice for families coming to a short visit to Budapest
Courtyard facing rooms are quieter
Excellent transportation anywhere incl. the Airport (the bust shuttle stop is just a short walk at Deák F. Sqr.)
There is no 24 hour reception – good idea to confirm with the owners (email, phone, chat) just before your trip to ensure everything is in order with your booking.
The Hive Party Hostel – In The Ruin Pub District
Metropolis Hostel – Ideal For Solo Travellers, Couples, Large, Comfy Beds in The Dorm
Address: Rákóczi út 78, 1st floor, doorbell 66., Bp., 1074., District VII.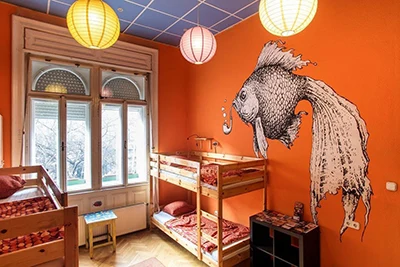 The Metropolis Hostel is a newly renovated hostel in a lovely old building in district VII.
Located on a busy street just off Grand Boulevard, between Blaha Lujza Sqr. and Keleti Train Station it has good transport connections.
Tram lines (trams 4,6) running along Grand Boulevard,
The M2 (red) metro station at Blaha Lujza Square, and Keleti Train Station and
The party district in the old but now hip Jewish Quarter is a short walk. The iconic Great Synagogue fro example is just at 1.5 km distance from the hostel.
Walk along
Király utca (Gozsdu Court is full of cafes, street food and restaurants)
Dob utca,
Kertész utca to find cool bars and garden clubs.
Dormitory With Private Bedchamber Plus King-Size Bed
The 5-bed dormitory (mixed) has a unique feature: part of the room is partially closed off to create a bedchamber with a comfortable king-size bed in it. So book this bed in the dorm if you prefer sufficient privacy at budget price.
It also comes with special design elements, furnishing and complete with the modern LED lighting it results in a welcoming, stylish atmosphere.
Spacious, cheery rooms with comfortable beds, large bathrooms, and a huge kitchen are the major benefits of this Budapest hostel.
Free web access and WiFi in rooms and in the common room and use of computer in the common room is also free of charge.
Other Features In The Dorm & Other Rooms Include:
42″ TV with cable offers
Free WiFi
Lockers with safety lock
Shared bathroom
Hairdrier
Bed linen is included but towels are available for some extra charge: 2 EUR
24-hour reception
Luggage storage is available and it's free of charge
Private Rooms
The private rooms exude the same youthful design and ambience as the dormitory.
Double Deluxe Room – king-size bed, shared bathroom, 42″ flat screen TV, hairdrier, towels for extrs cost, bedlinen is included, lockers, free WiFi, welcome champagne can be ordered for plus cost
Superior double room:
Triple room – this is the quietest room in the hostel so definitely go for this if you want to enjoy some peacful time during your stay. It has the same amenities as the deluxe double listed above.
Kitchen In The Metropolis Hostel
They have a nice, fitted kitchen with the follwoing appliances:
Oven
Microwave oven
Heating plate
Fridge
Coffee/tea maker
Room Prices in Metropolis Hostel
A bed in the dorm is between 15 – 27 EUR/night
Wombats City Hostel – Hip, Welcoming Atmosphere, Breakfast Included, Female-Only Dorms
Address: Király utca 20., district VI., Deák F. tér metro hub (M1, M2, M3 metro lines)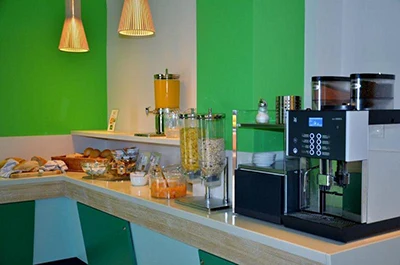 The Wombats City Hostel is very well located hostel in a renovated 4-storey building in the up-and-coming Király Street in VI. district where
Restaurants,
Cafes and
A buzzing nightlife abound.
Andrássy Avenue with the Opera House, Nagymező utca, Pest's Broadway, offer a lot to do and see.
Transport connections are excellent since you can get to anywhere by any of the three metro lines converging at Deák Sqr. at just a short walk from the hostel.
Erzsébet Square, a popular city centre park with terraced clubs and bars (Akvárium, Fröccsterasz, Prosit Wine Bar) is also close by.
Rooms In Wombats City Hostel, Female-Only Dorms
There are single and double rooms, as well as dorms with 3, 4, 5, 6 and 8 beds.
There are dorms with 4,, 5, and 6 bed for female travelelrs exclusively.
The place is clean, calm and entirely non-smoking.
Facilities In The Wombats City Hostel Include:
24 h-reception
Keycard
Luggage storage and lockers in every room that open with your keycard
2 lifts
Kitchen
Laundry room with washing machine and dryers
Bar nicknamed WomBar with bargain drink prices
Brekafast room
Internet, free WiFi.
Staff is kind and speaks English, Italian, and French.
Room Rates In Wombats:
A night in a dorm is around 21 – 26 EUR.
A private double room costs cc. 67 EUR/night.
Breakfast is included in the price.
What Travellers Say About The Wombats City Hostel?
Reviews about this Budapest hostel are rather mixed. Some have complained that the rooms were dirty, there were bedbugs, other mentioned that it was clean.
All in all, Wombats offers basic, quiet, most of the time clean and tidy rooms in a hipster meighbourhood.
Well-based if you plan to do lots of sightseeing either walking or using the city transport.
Good hostel for partying
Rooms are hot during summer
Staff is friendly and helpful
A bit too large for getting to know others or make friends.
Great for female travellers because of the women-only dorms.
Flow Spaces – Great Market Hall, Modern, Spotless, Peaceful, Female-Only Dorms
Address: Gönczy Pál utca 2., Budapest 1093, District IX.
Location: very close to to the Great Market Hall and the Danube, Liberty Bridge (Szabadsáh-híd), trams 2, M4 metro station
Flow Spaces is a relatively new place in the immediate vicinity of the Central/Great Market Hall the famous historic food market Budapest. The Danube river front with the green Liberty bridge are very close by so you can get to the Buda side easily by walk.
Váci utca is just a short walk too. Naturally, public transport services are within easy access so you can get to farther parts of the city without any hassle.
Just hop on Tram 2 – voted one of the best sightseeing tram lines in the world -, or you can get on the newest metro line, M4 (green line) at the Market Hall.
Despite the downtown location the hostel is in a quiet neighbourhood so if you are not into partying and appreciate the relaxing atmosphere then this is the place for you.
Rooms In Flow Spaces
The first impressin if you enter the building is that it is very bright and neat and you will feel at ease at once.
Twin Room: 2 simple single beds, private bathroom with shower and toilet, TV, electric outlets
Double Room: double bed, private bathroom with shower and toilet, electric outlets, TV, in some of the doubles there is mini fridge
Triple Room: 3 single beds, private bathroom with shower and toilet, electric outlets, mini fridge, wardrobe
Quadruple Room: 4 simple beds, private bathroom with shower and toilet
4-Bed Dorm: bunk beds, private or shared bathroom
6-Bed Dorm: bunk beds, shared bathroom
8-Bed Dorm: mixed or female-only, private or shared bathroom, bunk beds
Room Rates in Flow Spaces
A night in a 4-bed dorm costs cc. 52 EUR
A double room with ensuite bathroom starts from cc. 83 EUR/night.
A bed in a female-only 8-bed dorm costs cc. 48 EUR/night
All in all it isn't the cheapest hostel in Budapest but you will get value for your money: relaxing atmosphere, spotless, airy rooms with lots of natural light.
Breakfast isn't included in the room price but you will have no trouble finding places nearby to grab something to eat.
TIP: Book in advance because prices go up for the wekkend or around popular evnets, festivals.
Amenities, Services
Free Wifi
Free luggage storage
Lockers with each bed
Washing machine use costs 8 EUR
Kitchen with all the necessary gadgets to cook and store food
What Travellers Say About The Flow Spaces Hostel?
Superb hotel, value for money
Nice location next door to the Market Hall and with easy access to many landmarks, quiet at night
Privacy curtains for every bed, sufficient number of outlets for charging, big locker with each bed
Great for couples or families
Ideal for longer stays
Staff is very nice and helpful
WiFi is not the best
No elevator but it's managable (it's a 2-storey establishment)
Large kitchen and common area
Marco Polo Top Hostel
Address: Nyár utca 6. district VII., tarms 4, 6 or M2 metro Blaha Lujza tér stop.
The hostel has free minibus service from keleti Train Station.
A large complex with central location in the historic Jewish District.
Marco Polo has double and quad rooms with TV and private bathrooms, as well as a dormitories (two 12-bed rooms).
The rooms have lockable wardrobe.
You'll find lots of information about Budapest at the reception but the friendly staff is ready to help you, too.
Rooms and bathrooms are kept clean and tidy.
There's a friendly bar in the cellar to chill out.
Other Services/Amenities Include:
Free WiFi
Luggage room
lift
laundry facilities
iron and ironing board
towel hire
hair dryer
soft drink machine
breakfast is available for cc. 2.8 EUR
parking nearby
Pets and bikers (bike storage is available) are welcome. Good, basic accommodation with easy access to all sights and things to do.
Room rates are between cc. 26 -50 EUR/night, in dorm (12 beds): cc. 8-10 EUR/night
Related
Currency, Costs, Prices – Public Transportation – Inexpensive Hotels – Cheap Apartments – Currency, Costs, Prices – Public Transportation – Inexpensive Hotels – Cheap Apartments