Favorite Artisan Ice Cream Shops in Buda and Pest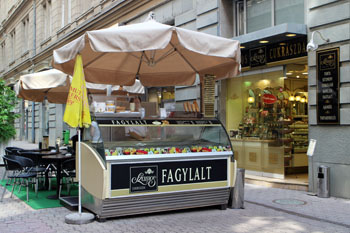 Summer is all about having fun outdoors, enjoying a meal or cool drink on a cafe terrace, getting tanned on the beach and having delicious ice cream, fagyi or fagylalt in Hungarian.
Budapest has a couple of great artisan ice cream parlors where you can get creamy Italian-style gelato or refreshing sorbet made from natural ingredients.
Table of Contents – Ice Cream in Budapest
Corvin Promenade (distr. IX.): Wiener Salon (CLOSED)
Buda Castle Area:
Gelateria No. 7. – Kedveskrém – Auguszt Fény utca
Outside the City Centre:
Daubner Confectionery – Erdős és Fiai
Just as the city's has more and more specialty cafes where you can sip excellent espresso, cappuccino, flat white or drip coffee made with AeroPress, Hario or other alternative method, new ice cream shops seem to turn up at very corner.
Beware though, the expression "Kézműves Fagyi"/"Handcrafted ice cream" is being overused, and not every place deserves to use it.
Here are our favourite places my son and I tried during our walks in the city that truly make delicious artisan ice cream.
Ice cream, Gelato, Sorbet, Parfait, Frozen Yogurt – What's the Difference?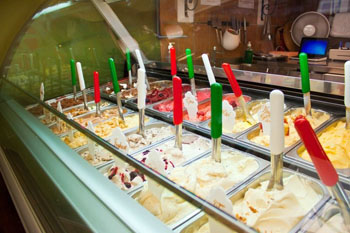 These chilled desserts are all available in Budapest, and we love all of them.
Ice Cream – fagylalt in our language
Gelato – Italian-style ice cream: it is a milk-based: sugar and egg is added, flavoured with various fruits, chocolate, caramel, vanilla seeds then cooked until creamy then put in an ice cream maker machine that freezes it while slowly stirring the mixture.
Less heavy and lower in calories than cream-based ice cream, but still lusciously creamy with intense flavours.
Brioche gelato is a real treat popular in Sicily (you can try it in one of Budapest's newest gelato shops: the Gelati & Co. in the city centre, in a small street just off Váci utca, or in MAMO Gelato in Ráday Street): ice cream put between two slices of freshly baked brioche bun.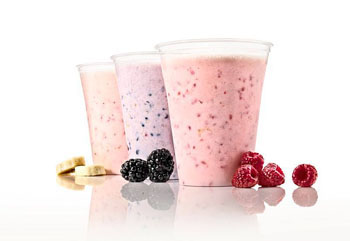 Sorbet: made without milk or cream so those with lactose intolerance can freely savor it. It is made from fruit puree with a dash of liquor occasionally added.
Sherbet is not the same as sorbet: it is an American version made with low fat milk.
Parfait – it is originated in France: no ice cream machine is needed to make it. Heavy cream, with sugar, flavorings and other ingredients is whipped up over steam then frozen. Daubner in Buda has some luscious parfait tortes all through the year.
Granita (jégkása): it's frozen, crystallized fruit pulp flavored with alcohol. Most jégkása-s in Hungary aren't made from real fruit, but mostly artificial flavorings and colours, and lots of sugar.
Frozen Yogurt: Made from creamy Greek-style yogurt with various fruits and toppings. A much healthier version of ice cream with way less calories. It's becoming quickly popular in Budapest with several places having opened in recent years.
Ice Cream of the Year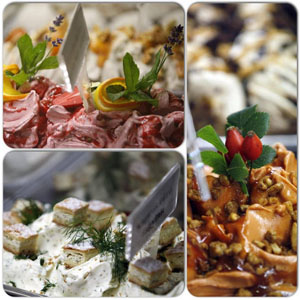 Each year there's a contest where confectioners prepare create a unique ice cream.
A jury samples each creation then chooses the best.
A honey-walnut-rosehip ice cream by Balázs Erdélyi from the Frer Confectionery in Buda (Máriaremetei út 94., district II.) won last year.
Other contenders that were awarded:
lavender-strawberry-lemonade also by Frer Confectionery
magic cinnamon (Varázs fahéj) by Horváth Cukrászda (Petőfi utca 35., district IV., Újpest)
Favorite Ice Cream in Pest – City Centre
Note: opening hours are for the summer months. Spring and autumn hours are usually shorter.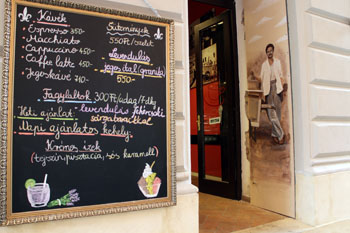 Gelateria Pomo D'oro
Address: Arany János utca 12., district V., close to St. Stephen's Basilica
Gelateria Pomo D'oro is our absolute favorite. It is close to the Basilica as well as the Chain Bridge and the Danube Promenade, so you can easily find it when exploring the city centre. A great place to stop for a scoop or two on a hot summer day.
The place is across the street from Trattoria Pomo D'oro, a great Italian restaurant by Gianni Anoni a well-known Italian chef living in Hungary (he can be often seen in Hungarian cooking shows).
The Gelateria also belongs to him. Around a dozen flavours are available made from real, natural ingredients.
You can see the vanilla seeds in the vanilla. Mango is is creamy and zesty. The salted caramel is heavenly. No artificial flavorings and colours are used.
There's a quite large terrace with colorful tables and chairs. The cone is really good too: crunchy and tasty.
A scoop (cc. 7-8 dkg) is 330 HUF.
There is also coffee (an espresso is 450 HUF, cappuccino: 550 HUF, ice coffee: 990 HUF), soft drinks, and a limited selection of cakes: canolli, tiramisu, mille feuille (cc.550 HUF/slice).
The ice cream is weighed right in front of you before you pay for it. Granita comes in 4 flavours: raspberry. passion fruit, lemon and mint, and sour cherry.
The most flavourful is the lemon & mint. 1 dl costs 190 HUF.
Firenze Gelato E Caffé –

NEW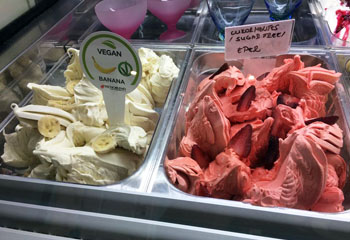 Address: Galamb utca 4. district. V. close to Erzsébet bridge, tram 2. Március 15. tér stop
A new place that opened in 2015 spring in downtown Budapest, not far from the Danube Promenade and Erzsébet Bridge.
They have classic flavours like chocolate, a dark chocolate creation called Black mamba, vanilla, chocolate-hazelnut, salted caramel, strawberry, elderflower-lemon, pina-colada, a Gelatinho (was first made in 2014 in honour of the Football World Cup in Brasil): a mix of guava, coconut, pineapple and lime evoking Caribbean falvours.
You can also have sugar-free and vegan ice cream: banana, tangerine (dairy-free).
Coffee (made from dark roast Italian Vergnano), cakes, sandwiches are also available.
Price:
Zimoo Ice Cream Shop –

Closed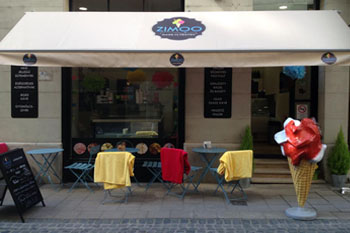 Address: Cukor utca 1., district V. close to Ferenciek tere, M3 (blue) metro)
Zimmo is also a new ice cream parlor and cafe right in the centre. Real artisan ice cream, lots of choices in flavours: from old-favourites (chocolate, vanilla, coconut, lemon) to new trendy ones (whiskey-cream, raspberry cheese cake).
If the weather is not ideal for gelato treat yourself to a delicious cake and coffee. Those who prefer healthier alternatives will find fruit juices and paleo desserts.
There's a small terrace on the street. Prices:
Fragola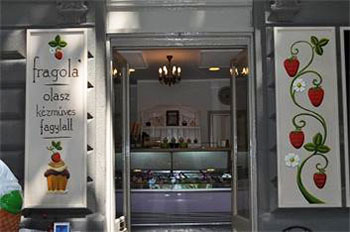 Shops In Budapest:
Nagymező utca 7. district VI., (Pest)
Károly körút 3/a district VII., (Pest)
Hollán Ernő utca 4. district XIII. (Pest)
Pozsonyi út 49., district XIII. (Pest)
Kiss János altábornagy u. 54.. district XII., Buda,
Opening Hours vary from shop to shop so please check their main website:
Although ice cream is not made in artisan way in Fragola – means strawberry in Italian – but it is among the best shops in the city offering some peculiar flavours (Gorgonzola, Tihany Camembert) besides the traditional ones.
They became so popular that after the first shop in Nagymező utca (opened in 2011) today they have altogether 6 or so places at various spots in the city.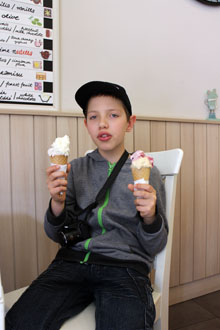 The cool, creamy desserts are made from pastes and fruit juices – all natural ingredients without any additives – supplied by the manufacturer, mixed with milk or water in an Italian ice cream maker.
Fresh, seasonal fruits, nuts and seeds are added at the end.
The selection is wide: you can choose from at least 12-18 flavours at each place. Unique flavors: the two cheese ones mentioned above, poppy seed, olive, caramelized fig, chianti red wine, chili fondant.
The fondant is a real treat for chocoholics. It's water-based so those with lactose intolerance can freely enjoy it.
Most Fragola shops also offer coffee, lemonade and other soft drinks, mineral water and (in Csévi utca in Buda or the place at Bajcsy-Zsilinszky út). The Károly körút shop also has yogurt and smoothie.
MAMO Gelato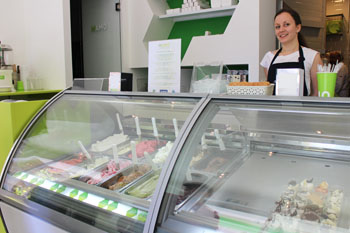 Address: Ráday utca 25., district IX,
Open: Mon-Sat: 11.30-22.00 Sun: 11.30-21.00
Facebook
MAMO opened in 2013 in Ráday utca (not far from Fragola's shop at No. 14.).
They follow traditional Italian ice cream making techniques: fresh, seasonal fruits and ingredients and milk are used to make lush, fluffy gelato.
Around a dozen flavours to choose from: chocolate (dark and milk), strawberry cheese cake, hazelnut, coconut, grapefruit, lemon.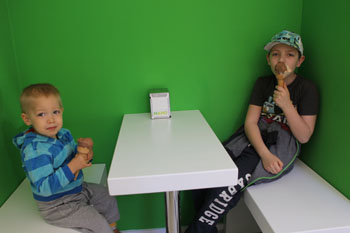 Some other delicious frozen delights to sample here are: ice bon ( 200 HUF a piece), semifreddi (450 HUF) or the brioche gelato (800 HUF). Granita is great here too.
Coffee and cakes are also available. There's a terrace outside the shop to enjoy your treat and contemplate life in Ráday utca.
Portions are quite large. Price: one flavour: 300 HUF, two flavours: 500 HUF, 3 flavours: 600 HUF etc.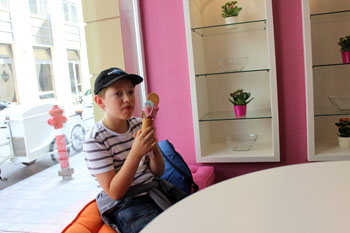 Gelati & Co. –
NEW
Address. Szarka utca 6.., district V., a side street of Váci utca, close to the Central Market Hall
Gelati & Co. is one of the newest addition to Budapest's Italian ice cream shops. This one is opened at the end of June 2014 just off Váci Street in Szarka utca.
Sicilian-style ice cream is made here from fresh raw ingredients. Try the traditional brioche-gelato: ice cream served in warm brioche bun. It is delicious but very filling.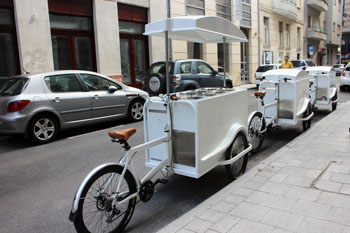 Besides traditional flavours, popular chocolate-inspired creations are also available: Mars, Bueno.
Other serving options are: various sizes cones, sweet cone, chocolate covered cone, paper cup. You can meet their white, traditional ice cream cars at various places in town.
Price: a portion in a normal-size cone: 250 HUF
Gelarto Rosa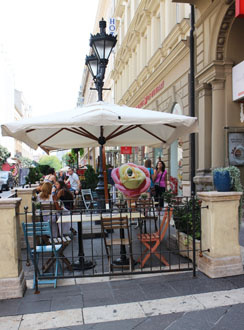 Address: Szent István tér 3., district V., across the Basilica
Open: Mon-Sun: 10.00-22.00
The place where ice cream is not only delicious but looks pleasing to the eye: the creamy, cold delight is served in artfully arranged rose shape.
The sorbets are refreshing to the taste buds on a scorching summer day: try raspberry, grapefruit or the lemon basil sorbet.
Other exciting flavours: panna cotta with salted caramel, oreo, lavender/white chocolate. Those on diet or with diabetes can opt for ice cream sweetened with birch sugar.
There are also macaron and coffee for cold days. You can choose from small (2 roses: 550 HUF) and larger portion (3 roses: 660 HUF).
Expect a long line in front of the shop (you can admire the Basilica opposite while queuing).
Bp Creamy –
NEW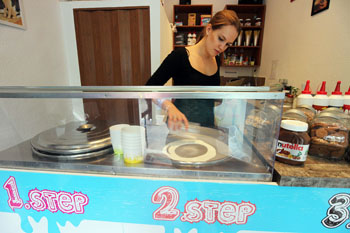 Address: Andrássy út 61., district VI., trams 4, 6 Oktogon stop
Open: Mon-Sat: 13.00-21.00
Facebook
A unique, new place where ice cream is prepared right before your eyes so you can see what goes in your chilled dessert.
Bp Creamy's owners got the idea from Thailand but created their own special flavours in the Budapest shop.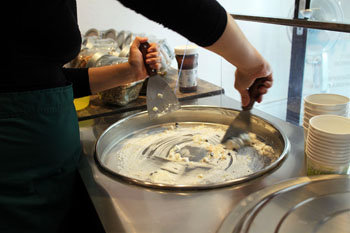 Only natural ingredients are used: full milk or homemade yogurt, or if you can't tolerate lactose, you can choose to have yours from coconut or soy milk.
First you choose size (small, medium or large cup), then choose milk or yogurt (or soy/coconut milk), you pick what fruits – seasonal (raspberry, peach, apple, pear, plum in summer, banana, kiwi, oranges in winter) and other goodies: chocolate chips, biscuits, toffee, Nutella, raisins and other prunes) will go in.
Viola, the kind shop owner, then swiftly mixes all these on a chilled surface and within a couple of minutes you're ice cream/frozen yogurt is ready.
Add chocolate, caramel, strawberry or blueberry sauce to heighten the delight and sit on the small terrace facing Andrássy Avenue.
Prices: small: 450 HUF, medium: 550 HUF, large: 750 HUF
Dolce Intervallo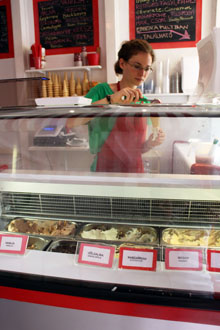 Address: Szív utca 26., district VI.
Open: Mon-Sun: 12.00-19.30
Dolce Intervallo – Sweet Break – is a small, simple artisan gelato shop in a side street of Andrássy Avenue close to Heroes' Square.
The owner, Alberto is from Italy so he knows how to make real good gelato from only natural ingredients.
You can taste old favourites like chocolate, fondant, vanilla, strawberry, lemon, sour cherry, or cocos. Natural, intensive flavours.
No terrace yet and only two bar stools inside but the gelato is delicious.
Large portions, a scoop costs 200 HUF (the chocolate topping is free of charge).
Cool Cafe
Address: Petőfi Sándor utca 12., district V.
Open:
A lesser-known Italian-style cafe and cake shop right in the heart of the city.
The creamy, smooth ice cream is available all year round. You can pick from around 24 flavours arranged nicely in the large counter right at the entrance.
They have extra dark chocolate, Toblerone, pistachio, ice coffee, tiramisu, cheese cake, all sorts of fruity variations: raspberry, melon, lemon, banana, tropical.
Sugar-free ice cream is also available. Besides ice cream they have a nice selection of cakes and desserts. Coffee is quite good too.
Valdocco Confectionery – Best Value for Money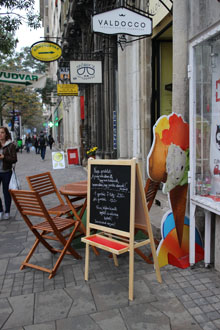 Address: Múzeum krt 7., district VIII., M2 metro Astoria station, or trams 47, 49
Open: Mon-Sat: 10.00-21.00, Sun: 11.00-18.00
Although not in the inner city (district V.) but still well-located to try this hidden gem of the ice cream palette of Budapest.
Valdocco also opened in 2013 right next to one of the best espresso and specialtiy coffee bars, Fekete.
They have around 16 flavours: strawberry, lemon, kinder chocolate, walnut, caramel
Portions are among the largest you get in the city, and if you think you can't cope with 7 dkg of the chilled dessert (230 HUF) go for a smaller portion (cc. 4 dkg, 120 HUF.)
You can also have tea, coffee, cakes (Isler, Somló sponge cake, tiramisu, and pastries (cocoa snail, pogácsa).
There's a small terrace (inside there's no space fro chairs and tables) to sit down and watch busy life om Múzeum krt.
Wiener Salon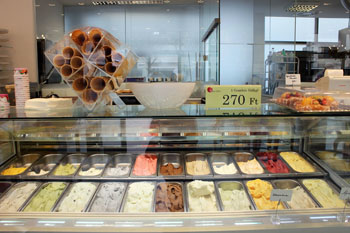 Address: Corvin sétány 2/B.
Open: summer: Mon-Sat: 8.00-22.00, Sun: 9.00-22.00, winter: Mon-Sat: 8.00-20.00, Sun: 9.00-20.00
Website
Wiener Salon is one of my favoruite new places in Budapest on the promenade right behind the Corvin Plaza shopping centre: a true Viennese cafe and ice cream parlor where everything from coffee (made from freshly roasted coffee) to doughnuts is preprared of high-quality ingredients and with lots of care and professionalism.
Besides their heavenly doghnuts (light and fluffy filled with not too sweet apricot jam) and delicious cakes, Wiener Salon also offers handmade ice cream in a wide variety of flavours as well as sundae creations.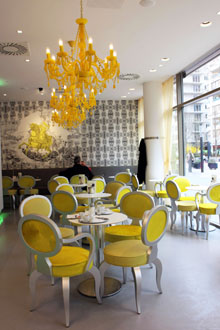 The crunchy cone is also made freshly in the shop. The walnut ice cream is exceptionally good.
You can savour your ice cream or coffee/croissant/donut/cake combo on the spacious terrace or in cold weather inside the boldly decorated shop.
Breakfast is very good too: frankfurter with freshly baked bun or kornspitz, toasts, sandwiches, Viennese ham with coffee or tea. Welcoming, kind owner and staff. You can watch how everything is made through the large windows of the workshop behind the counter.
You can also meet and chat the owner, Nicholas Göndöcs, or his father, Rudolf Peter Groissböck – often can be found in the workshop making macarons or other delights – also an owner of one of the best confectioneries in Vienna, the Groissböck Cafe & Conditorei.
A scoop is a generous 6 dkg and costs 250 HUF.
See more photos about Wiener Salon on our FB page.
Domi's Bake Shop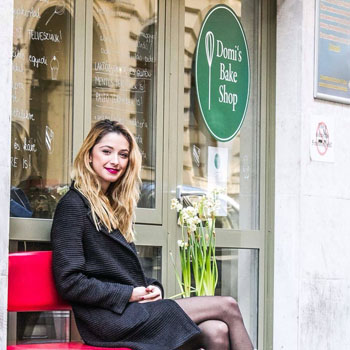 Address: Weiner Leo utca 16., district VI.
Open: Tue-Sat: 10.00-18.00
Facebook
Domi's is a tiny gourmet cake shop and dessert bar in a small street in district VI. created by a Dominika Suri a young, talented pastry chef.
The interior is like stepping in your grandma's kitchen: very comfy and relaxing especially with aroma of the freshly baked cookies and cakes lingering in the air.
You won't find the usual selection of cakes here but ingenious dessert creations made only from the best ingredients.
A wide range of healthy options for those on a paleo diet or having lactose and gluten intolerance: these creations are made with coconut flour.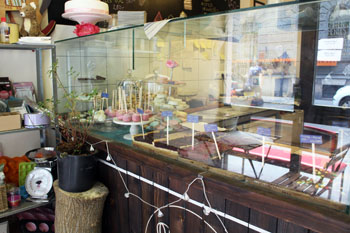 Delicious cupcakes (try the Oreo one), brownie, fruit cakes, fresh pies, to-die-for macarons, cute cake pops lemonade and coffee drinks.
Of course the ice cream is of unique quality too: It is served in 2,5 dl plastic cups (costs 450 HUF).
Flavours vary according to season and Domi's fantasy: caramel with roasted walnut, raspberry, brownie, poppy seed with pomegranate.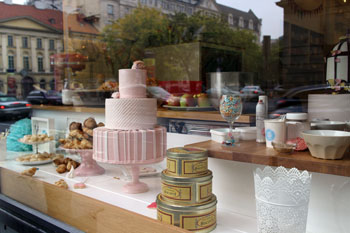 Cake Shop
Address: József Attila utca 12., district V. (at just a stone's throw from Erzsébet Square)
Open: Mon-Fri: 8.00-20.00, Sat: 10.00-20.00, Sun: 10.00-18.00
Website
A cute confectionery with the most delicious gateaus, cakes, macarons, meringues, cookies on offer.
Each delectable piece is handmade with only premium quality, fresh ingredients. right behind the shopwindow so you can watch from the street how a cake is baing made.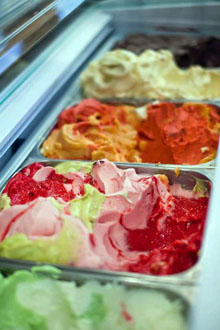 The selection is changing according to season, holidays or the mood of the pastry chef.
Some of the latest creations include the Raspberry Chocolate Deluxe (a brownie and raspberry combo) or the Lime Cake with Raspberry Meringue.
Ice cream at Cake Shop is also of top quality. both traditional (chocolate, vanilla) and exciting, bold flavours (lemon with basil, aperol) are available.
Prices: cakes, tortes: 650/slice, cookie-macaron: 250 HUF/piece. A portion of ice cream (4 scoops): 650 HUF)
In Buda Castle & Buda
Kedveskrém – NEW
Address: Batthyány utca 26., district I.
Open: Mon-Sun: 10.00-20.00
Facebook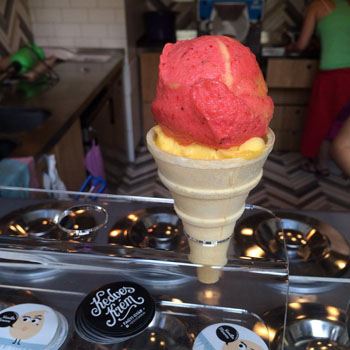 Kedveskrém is one of the newest artisan ice cream places in the city located in Buda.
The owner is József Vajda, creator of one of the best bakeries in Budapest: Pékműhely (at just a stone throw from Kedveskrém at 24., Batthyány Street and at Bartók Béla Blvd 15. since April 2015.)
Rustic, cheerful interior with modern ice cream making equipment. The cones will be baked on-site too.
Just like in the bakery, the emphasis is here on on using only best quality, all-natural ingredients.
The choice in flavours is mostly traditional: chocolate, hazelnut,vanilla, coffee, raspberry, lemon with a dash of ginger.
The result might be not the fluffiest ice cream but it is sure one of the tastiest in the city.
The round paper cards illustrating the flavor are a nice touch.
Price: A scoop is 250 HUF.
Gelateria No. 7.
Address: Szentháromság utca 7., Buda Castle, district I.
Open: from spring to autumn, Mon-Sun: 10.00-18.00
This lovely Italian cafe and gelateria is in Buda Castle, right next to the oldest cake shop of Budapest, the Ruszwurm.
It is open only from April till end of September offering a artisan gelato in around 24 flavours, coffee, cakes (profiterol, tiramisu, croissant), sandwiches, good coffee, latte as well as soft drinks.
Snag a chair on the terrace (no place to sit down inside) to take a rest during exploring the castle area.
Auguszt Cukrászda – Fény Utca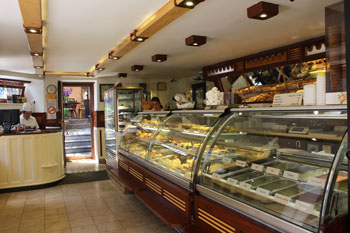 Address: Fény utca 8. district I. behind Fény Street Market and Mammut Shopping Mall
Open: Tue-Fri: 10.00-18.00, Sat: 9.00-18.00, closed on Monday and Sunday, in 2014 closed from 22. July to 18. August due to refurbishment
Auguszt is one of the oldest and best confectioneries in Budapest with four generations of experience, innovation and hard work to create above excellent cakes, gateaus, and pastries.
It is highly recommended if you happen to be in the area (shopping in Mammut or browsing the stalls at the Fény utca Market)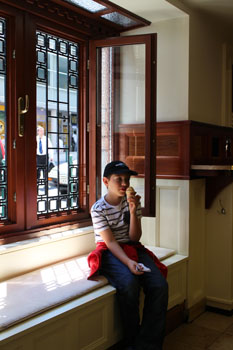 The selection is ample: from traditional Hungarian cakes (Dobos, Sacher, Rákóczi túrós, Eszterházy), desserts (chestnut puree, Somló sponge cake) and pastries: beigli, Pozsony crescents (traditional Christmas pastries) to French style biscuits, pastries and tortes.
You can select from the cake counter on the ground floor to take away or enjoy it in the a classic coffee house on the first floor, or in the a pleasant garden.
Traditional ice cream – choice is not as wide as at other places but good quality, prepared on site with fresh, natural ingredients.
Some unique tastes (poppy seed, or pumpkin seed) besides the popular, traditional ones (vanilla, chocolate, strawberry).
More Gelaterias in Budapest
These are a bit out of the centre but worth the time and trouble to get there to try their ice cream.
Daubner Confectionery
Address: Szépvölgyi út 50., district II.
Open: Mon-Sun: 9.00-19.00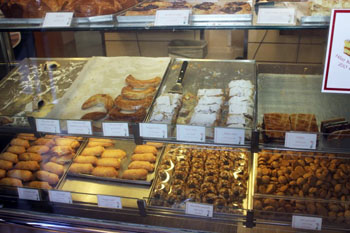 Similarly to Auguszt, Daubner is an iconic place among pastry shops in Budapest.
The shop is quite unpretentious with no tables and chairs to sit down inside: they focused more on take away customers.
Although it's not as centrally located than the shops listed above, but do make time to try there scrumptious cakes (traditional Hungarian tortes and pastries: Eszterházy, Sacher, Lúdláb, flódni, beigli), some refreshing fruity cakes (raspberry cottage cheese, red currant poppy seed cake, black forest cake).
They also have a dazzlingly wide choice of parfait tortes and parfait desserts.
The ice cream is also to die for (see the flavours here) and served in sweet cone baked on site. A scoop (5 dkg) is 200 HUF.
Erdős és Fiai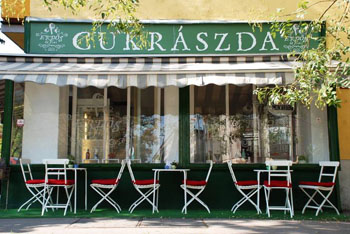 Address: Etele tér 3., district XI., near Kelenföldi Railway Station, M4 metro
Open: Mon-Fri: 8.00-20.00, Sat-Sun: 9.00-20.00
Facebook
It's a shame Erdős and Sons is not in the city centre though now you can easily get there by the new M4 metro line or Tram 1.
The owner learnt the secrets of ice cream making in Italy: he worked there for a couple of years and revisits the country each year to keep his knowledge on all things gelato up to date.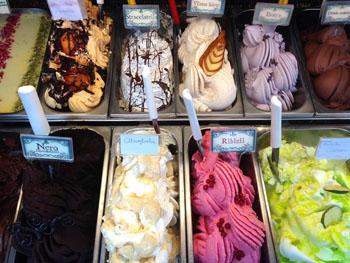 Handmade, rich, creamy ice cream in 33 flavours: pistachio (really good-unlike any I ever tasted), dark chocolate, stracciatella, lemon cake, red currant, William's pear, salted caramel, Pilota cookie
Price: 230 HUF/scoop – cakes and pastries are also yummy.
Yogurt Based Ice Cream
Try the following frozen yogurt shops for a healthier version of traditional gelato
Jono Yogo
Address: WestEnd Mall, underground level, Allee1st floor, Árkád 1st floor, Mammut I. III. floor
Open: Mon-Sat: 9.30-21.30, Sun: 10.00-20.00
A self-service place located in three shopping centres (WestEnd, Allee, and Árkád) where you can make your own frozen yogurt creations.
TIP: Summer can be really hot in Hungary – there are heat spells when the daily tempertaure exceeds 35 deg. Celsius/95 deg. Fahrenheit. Read our Recommendations on how to Beat the Heat in Budapest.
Related:
Best Cafes – Third-Wave Cafes in Budapest – Downtown Budapest – Historic Coffee Houses – Gourmet Festival – Hungarian Food Specialties – Wine Tasting – Strudel Tasting – Cronut in Budapest