Where to Have the Best Eats?
Browse our list of the best Budapest restaurants, located both in the city centre and in the outer districts. The list includes those eateries that we think have the right combination of criteria like:
the quality of food,
polite and quick service, and
fine atmosphere.
We've based this list on our own and our friends' and relatives' dining experiences as well as on other reliable resources (restaurant reviews, gastronomy magazines etc.).
Best-Value Restaurants in Budapest by Area
Price Guide
The following categories are just an attempt at showing you what to expect to pay for a meal in a restaurants. It is an approximate price of a main dish.
very expensive (above 4 000-5 000 or more HUF) – $$$$
expensive: main courses cost around 3 000-5000 HUF – $$$
moderate (main courses cost cc. 2 000 – 3 000 HUF or less) – $$
cheap (around 1 500-3 000 HUF or less) – $
TIP: You can eat at 50 % discount in many restaurants in Budapest and across the country on Gluttonous Thursday, a special feast day of the Carnival Season in Hungary (falls usually at the end of January-middle of February.
Castle District and its Neighbourhood – District I.
Alabárdos Restaurant $$$$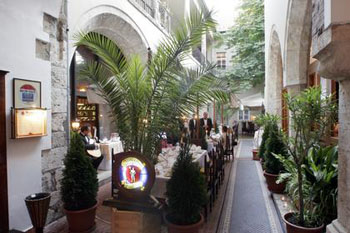 Address: Országház utca 2., across Matthias Church
Tel: (+36 1) 356 0851
Hungarian cuisine within medieval setting in a 400 year-old Gothic building.
The owner aims to bring back long forgotten Hungarian dishes.
Great food, live classical music, candle light, fine porcelain and decor make Alabárdos a perfect place for a romantic dinner.
The menu includes two special courses prepared at the table: Grilled duck liver, flambéed beetroot, polenta roasted with walnut, and pear and Rib of suckling pig with green pepper sauce potatoes fried on duck grease, mustard onion.
Arany Kaviár – $$$$
Michelin Recommended Restaurant
Address: Ostrom utca 19.
Tel: (+36 1) 201 6737
Open: 12.00-24.00
Website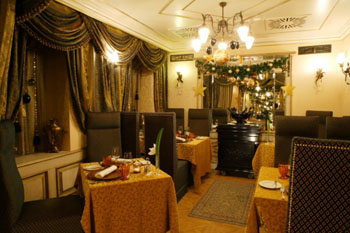 Arany Kaviár is an elegant restaurant with Russian Cuisine in Buda Castle. Beautiful decor, friendly service, fine food and drinks are what you'll experience in this place.
There's a tasting menu with drinks that includes five courses (price without drinks: 10 000 HUF, with drinks: 15 000 HUF).
The wine selection is extensive and includes wines from all major Hungarian wine regions as well as international offerings. They also offer one of the widest selection of wines by the glass (1,5 dl from 780 HUF up to cc. 2 600 HUF).
Csalogány 26 – CLOSED Permanently In 2022 – $$ – $$$
Earned BIB Gourmand Status from Michelin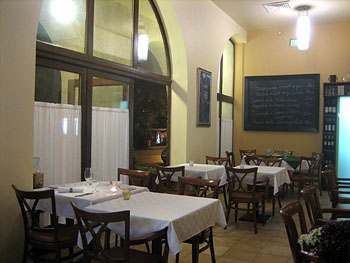 Address: Csalogány utca 26., district I.
Tel: (+36 1) 201 7892
Opening hours: Tue-Sat: 12.00-15.00 and 19.00-22.00, Sun, Mon: closed
Website
Csalogány 26 is most often mentioned among the best-value restaurants in Budapest. The small place boasts creative cuisine with some Hungarian dishes with modern twist.
There are two menu lists from which you can have a 4 course meal for 8000 HUF or an 8-course treat for 12 000 HUF.
The wine offering is varied with more than 20 wines from both
well-known (Szepsy from Tokaj, St Andrea from Eger, Heimann from Szekszárd, Malatinszky from Villány)
and lesser-known but very good Hungarian wineries (Sándor Tóth from Balaton-felvidék, Bussay from Zala wine region)
21 Vendéglő $$$-$$$$
Hungarian Restaurant-Earned BIB Gourmand Status from Michelin
Address: Fortuna utca 21.
Tel: +36 1 202 21 13
Open: every day 11.00-24.00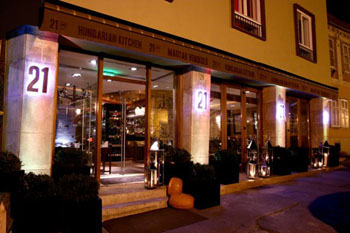 The 21 Magyar Vendéglő is one of the best places to taste Hungarian dishes.
The restaurant is also situated in the Castle District on historic Fortuna utca.
You'll find simple traditional local fares on the menu like Chicken paprikás with home made dumplings, Roasted Mangalica pork chop with cabbage strudel, Wiener schnitzel with potato salad etc.
Desserts too represent Hungarian cuisine: Somlói galuska (layered sponge cake with vanilla and chocolate sauce), Dobos torte and there's also a cheese plate.
The wine list includes some of the finest local wines from
Szekszárd,
Villány,
Lake Balaton,
Pannonhalma,
Eger, and
Tokaj regions.
Andante Borpatika $-$$$
Address: Bem rakpart 2., district I.
Tel: (+36 1) 457 0807
Opening hours: Tue-Sat: 16.00-24.00, Sun, Mon: closed
This classy wine bar on the Danube riverbank in Pest is a great place to sample Hungarian wines.
The bar is owned by Zsolt Tiffán wine producer from Villány and Ákos Kovács Hungarian pop-rock singer.
Since Andante is not a restaurant, you won't find traditional three course menu offerings here.
Instead you can have starter-like meals like Mozzarela caprese, goose liver served cold in its own fat, Mangalica salami with fresh vegetables, salads, dips, sweets (Somlói galuska, parfait) and cheese plates.
The wine list consists of local wines from the main wine growing areas and a Pinot Noir from Aradhegyalja in Transylvania.
See other quality wine restaurants in Budapest.
Pavillon de Paris $$$$
Ideal for a Romantic Dinner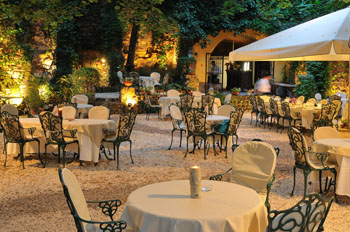 Address: Fő utca 20., district I.
Tel: (+36 1) 225-0174
Opening hours:
Website: Pavillon de Paris
Pavillion de Paris is a stylish, French garden restaurant in Buda.
It opened in summer 2010 with the aim to bring fine French-style cuisine to Budapest.
Prices are high but the romantic setting and the great food are worth a try especially for a special occasion like birthdays or an anniversary.
See more garden restaurants and eateries with outdoor terrace in Budapest.
Buda and the Buda Hills – District II.
Remíz Cafe & Brasserie $$$-$$$$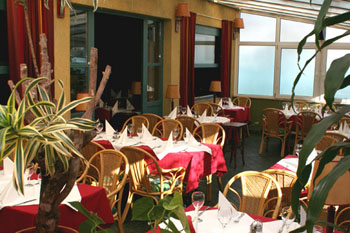 Address: Budakeszi út 5., district II., tram 56 or black bus 22 from Széll Kálmán tér (trams 4, 6, M2 metro)
Tel: (+36 1) 2751396
A fashionable dining spot among politicians and celebrities far away from the noisy city center. It is a large restaurant with at least five rooms and a spacious terrace. Food shows consistent quality, though it's a bit pricey.
Wines are from the major Hungarian wine producing regions with some international selection.
Don't miss Remíz's pastry shop offering delicious sweet and savory pastries, cakes and desserts. Their specialty is the Havelka pastry served fresh every evening from 21.00. It is a puff pastry filled with plum preserve and with sesame seeds on top.
Best Restaurants in Budapest – Óbuda – District III.
On our Hungarian Restaurants in Budapest we've already recommended the Kisbuda Gyöngye Restaurant and the Kéhli Restaurant.
Besides these two places, historic Óbuda has some other good-value restaurants.
Stelázsi Cafe & Restaurant & Wine Bar
Address: Nagyszombat utca 3., district III., Óbuda
Tel: (+36 1) 631 3624Website: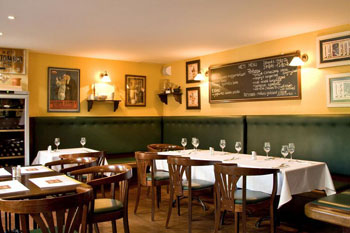 Stelázsi is a pleasant restaurant and wine bar next to the Aquincum Military Amphitheatre. It offers grandma's cooking in a homey, countryside environment.
You can choose from
the daily menu ( 2 courses 1 200 HUF, 3 courses 1 400 HUF),
chef's offer or
pick something a la carte.
Tasty, traditional Hungarian dishes at fair price – mains are around 2 000 – 4 000 HUF, soups: 600 – 700 HUF, desserts: 600 – 700 HUF.
TIP:
Try the nudli – rolled potato dumplings – coated with sweet, cinnamon bread crumbs.
They also have great wines (6-8 are availble by the glass – 1,5 dl) and organise wine dinners.
Wasabi $$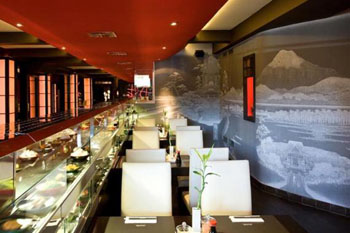 Address: Szépvölgyi út 15., district III. (has other joints at 26. Podmaniczky utca in district VI., and in MOM Park Shopping Center)
Tel: (+36 1) 430 1056
A fairly good conveyor-belt restaurant offering sushi and other Japanese and Pan-Asian dishes. Selection of dishes could be improved though.
There's 3-course daily menu : 1 390 HUF and teppanyaki all you can eat Japanese grill dishes for 8 990 HUF.
Restaurants in Downtown Pest – District V.
The inner city area has the most quality restaurants and cafes, some of them with Michelin-star or close earning to it.
[highlight color="yellow"]By Neighbourhood:[/highlight] Vörösmarty Square – Váci Street – Danube Promenade – Basilica – Parliament
Vörösmarty Square
Onyx Restaurant $$$$ – Got a Michelin Star in 2011
Address: Vörösmarty tér 7-8. district V. next to the Gerbeaud Cafe & Confectionery
Tel: (+36 30) 508 0622 Reservation is highly recommended.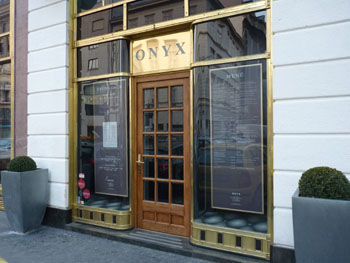 Onyx earned Hungary's second Michelin star after Costes' success in 2010.
The restaurant is part of the Gerbeaud complex owning and running the famous cafe.
It is a fancy fine dining place with rich interior decoration, prime food and expert service.
Their wine offering encompasses the best of the best domestic wines, and a nice selection of high-priced foreign wines and Champagnes.
You can choose from tasting menus (the entire table has to order the same menu)
the lunch course is 4 or 6 course: 4 course menu is 19 900 HUF , the 6 course menu is 29 900 HUF, without wines,
the dinner menu is a 6- course Hungarian Evolution Menu for 29 900 HUF or 8 courses Chef menu for 34 900 HUF,without wines.
Youu can of course also eat a la carte.
The lunch menu is available on Thursday, Friday and Saturday from 12.00, the dinner menu is available Tuesday – Saturday between: 18.30 – 20.30.
Bottega Di Brontolo – Italian Flavours $$$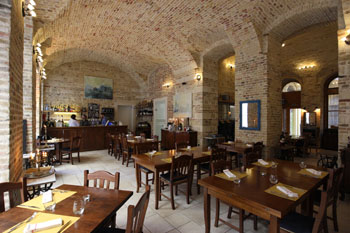 Address: Wekerle Sándor utca 5., district V.
Open: Mon-Sun: 11.30 – 22.30
Tel: (+36 70) 611 4970
You can enjoy simple but flavourful Itaian dishes in the grumpy chef's restaurant (brontolo menas grumpy) right next to Vörösmarty tér.
The seasonal menu includes classics like
caprese salad (2 400 HUF)
bruschetta (1 200 HUF)
zuppa di pomodoro (1 200 HUF)
minestrone (1 200 HUF)
pasta dishes (Bolognese, Carbonara etc. – 2 400 – 4 800 HUF)
risotto (with porcini or seafood)
seafood
main meat dishes ( 3 200 – 6 000 HUF)
desserts: tiramisu (600 HUF, 1 200 HUF), cannolo (1 200 HUF), artisan ice cream (1 200 HUF)
Cozy, countriside interior with lots of space for larger meetings or just friends or family.
[highlight color="yellow"]70 611 4970[/highlight] Trattoria Pomo D'oro is another high-end Italian place in downtown Budapest, in Arany János utca not far from the Basilica. Address: Arany János utca 9., Open: Mon-Sun: 12.00 – 24.00
Deák St. Kitchen $$$
in the Ritz Carlton Budapest Hotel
Address: Erzsébet tér 9-10., district V., M1, M2, M3 Deák Ferenc tér station
Open: Mon-Sun: 12.00- 01.00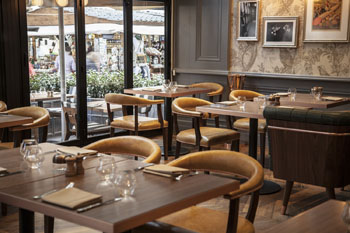 Deak St. Kitchen is a brand-new grill restaurant and wine bar in the city's top luxury hotel The Ritz Carlton Budapest.
Contemporary local and international dishes,
Business lunch between 12.00 – 15.00: 2 courses 2 500 HU, 3 courses 3 500 HUF
excellent wines and cocktails within a classy, cozy environment.
Live acoustic music on Friday and Saturday evenings.
There's a spacious, shaded terrace in Fashion Street/Deák Ferenc Str. where you can people watch while sipping a delicous cockatil.
A 10 % service charge is added to the bill.
Váci Street
Basilica & Neighbourhood
Borkonyha (WineKitchen) – Got a Michelin Star in March 2014 $$$-$$$$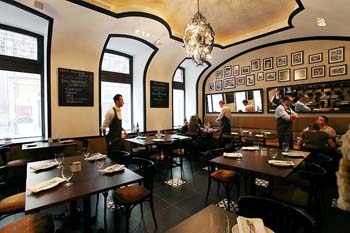 Address: Sas utca 3., district V., close to the Basilica
Tel: (+36 1) 266 0835
Opening hours: Mon-Sat: 12.00 – 24.00, closed on Sundays and holidays, the kitchen is closed between 16.00 – 18.00, you can have cheese, pate, salads with home made bread
Website
Borkonyha opened not long ago yet the stable quality in food and service has already earned them a Michelin star early 2014.
It is one our favorite places for dinner in downtown Budapest because a combination of several things:
the laid-back bistro feeling, the attentive (but not overbearing) service
the short, ingenious menu that doesn't take long minutes to peruse and choose from,
delicious food from the freshest ingredients
We are delighted that the talented chef, Ákos Sárközy's efforts were rewarded with a star by the French restaurant guide.
The daily menu is written on a chalk board and includes treats like:
Rabbit ragout soup with citrus and lovage (1 950 HUF)
Fresh fish from the market in chervil bean ragout and curry flavoured granola (4 950 HUF), or
Mangalitza spare rib with spelt and pak choi (3 950 HUF).
Poultry variations with marinated zucchini, quince and quinoa (4 550 HUF).
Not to mention the wide selection of Hungarian wines, many of which are served by the glass
cheapest offer is two roses: 670 HUF/dl,
the most expensive is a prime red by Attila Gere from Villány costs 6 000 HUF/dl
There's a nice terrace on the street where you can enjoy your food in good weather while people-watching.
Borkonyha is one of the few places you cannot go wrong with!
Costes Downtown – Got a Michelin Star in 2016 $$$-$$$$
Address Vigyázó Ferenc utca 5., district V.
Open: every day: breakfast: 6.30 – 10.30, lunch: 12.00 – 15.30, dinner: 18.30 – 23.00
Tel: (+36 1) 920 1015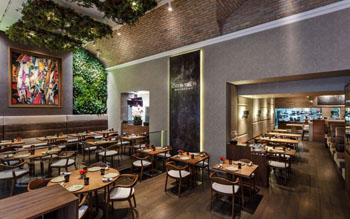 The sister restaurant of Hungary's first Michelin restaurant, Costes (in Ráday utca), opened in 2015 in the 4-star Prestige Hotel.
The downtown Costes has less stiff, friendlier atmosphere and prices but the same top quality than the Ráday Street place.
Warm, contemporary interior with lots of green palnts. They live up to their mission "Quality gastronomy without compromises."
They have
3-course business lunch Monday to Friday (6 900 HUF but you can select the dishes individually if you wish)
Lobby menu between 12.00 – 22.00: salads, sandwiches, burgers (prices cc. 2 000 – 4 000 HUF) and
degustation menus of 4, 5 and 6 courses with or without wine pairing, prices: 22 000 – 30 000 HUF without wines
a standard menu of starters, soups, mains, grill dishes and desserts
For special occasions festive menu is prepared (Easter, Christmas, Valentine's Day). You cna also treta yourself to excellent breakfast here that is also served to the hotel's guests.
They add 12 % service charge to the bill.
The wine and champagne list is also excelelnt in Costes, with around 20 served by the glass.
Parliament – Kossuth Square
Biarritz Café and Restaurant $$$
Address: Kossuth tér 18., district V., M2 Kossuth tér station
Tel: (+36 1) 311 4413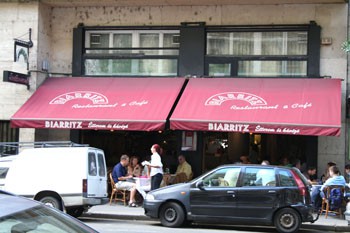 A small but fine restaurant near the Budapest Parliament.
Great French and Hungarian dishes and fresh salads. There are seasonal menus as well as daily offerings.
Excellent for business meetings too. Biarritz organizes wine nights every month.
The wine card offers around 30 wines from the best-known Hungarian wine regions, a few of them is served by the glass.
See more restaurants and cafes at Kossuth Square near the Parliament!
Borssó Bistro $$$
French-Style Restaurant Cafe in Downtown Budapest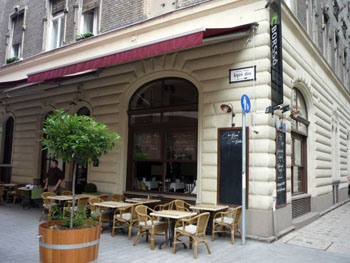 Address: Királyi Pál utca 14., district V., M3 (blue) metro Kálvin tér station
Tel: (+36 1) 7890975
Open: Tuesday: 18.00 – 23.00, Wed-Sun: 12.00-23.00, kitchen is closed between: 15.00- 18.00
This charming bistro in the recently refurbished part of the downtown has fresh contemporary cuisine.
French specialties along with some traditional Hungarian courses are the highlights of the menu.
You can have a 6 course tasting menu with or without wines (8 900 HUF)
Goulash is 2 000 HUF, mains: 3 500 – 7 900 HUF, desserts: 1 500 – 1 600 HUF. They charge 12 % service fee.
Restaurants in District VI., Terézvaros
District VI. also known as Terézváros, is packed with restaurants and cafes, especially along Andrássy Avenue and Liszt Ferenc Square.
Klassz Restaurant & Wine Shop $$$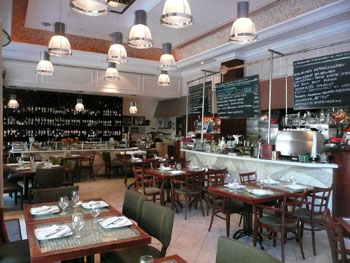 Address: Andrássy út 41., district VI., trams 4, 6 Oktogon stop
Open: Mon-Sat: 11.30-23.00, Sun: 11.30-18.00
A very good-value bistro, restaurant and wine bar on Andrássy út, next tot he Paris Department Store and near the Opera.
It can be quite busy during lunch time (unfortunately they don't take reservations).
The small terrace is overlooking the classy Andrássy út.
A good selection of Hungarian wines are available by the glass or for take away at reasonable price.
Food is good, nothing outstanding but it is great value for your money.
The staff is attentive.
Cafe Bouchon $$$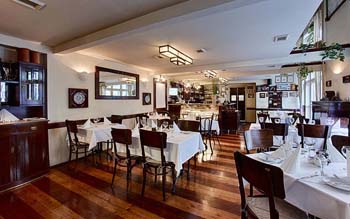 Address: Zichy Jenő utca 33., district VI.
Tel: (+36 1) 353 4094
Open: Mon-Sat: 11.00 – 23.00, Sun: closed
Bouchon is a small French-style cafe and eatery in a side street of the "Pesti Broadway" Nagymező utca.
The cuisine combines traditional Hungarian dishes with European flavors.
Relaxing atmosphere, delicious food and kind service awaits diners at Bouchon in Budapest.
Meat & Sauce – Sandwich Bar
Address: Nagymező utca 34., district VI.
Open: Mon-Fri: 9.00 – 23.00, Sat-Sun: 11.30 – 23.00
Tel: (+36 20) 335 1041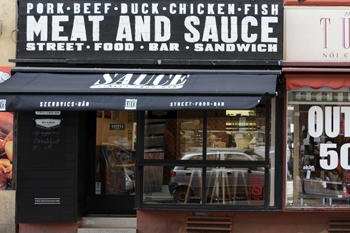 A street food bar specializing in sandwiches dipped in gravy. Selection includes pork, beef, chicken, duck as well as fish. You can have a half or a whole sandwich.
Prices are 1 000 – 1 400 HUF for a half portion.
You can also choose from 3 soups to go with your sandwich, each costs 650 HUF. And if you want dessert the choice is usualyl 3 cakes for around 750 – 800 HUF.
There are also burgers and salads – mostly with meat – on the menu.
The place is small so it fills up quickly during lunch/dinner time but you can take away your food.
Ristorante Krizia $$$-$$$$
Address: Mozsár utca 12., district VI., M1 Opera station
Tel: (+36 1) 331 8711
Opening hours: Mon-Sat: 12.00-15.00 and 18.30-24.00, Sun: closed
Close to Bouchon is another top Budapest restaurant: Ristorante Krizia, a fine Italian place with a good combination of elegant and rustic setting.
It offers tasty dishes made from fresh and seasonal ingredients.
The wine list is quite good too and includes both Italian and local bottles. Atmosphere is much peaceful than you would expect in an Italian eatery.
They have a business lunch of three courses for 2 600 HUF and a degustation menu for 8 990 HUF.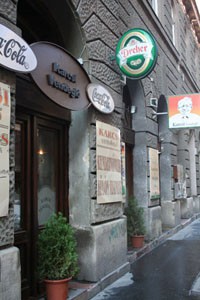 Karcsi Vendéglő $-$$
Address: Jókai utca 20., district VI., M3 metro Nyugati pályaudvar, M1 metro or trams 4, 6 Oktogon stop
Tel: (+36 1) 312 05571
Opening hours: Mon-Fri: 11.30-22.00, Sat: 11.30-16.00, Sun: closed
Karcsi vendéglő is a modest inn serving hearty Hungarian meals, and with homey atmosphere.
Daily menu of two choices costs 990 HUF.
Food is simple but tasty and quite inexpensive. Kind service. Great value for money.
Menza Restaurant $$
Address: Liszt Ferenc tér 2., district VI., trams 4, 6, M1 metro Oktogon stop
Tel: (+36 1) 413 1482
Website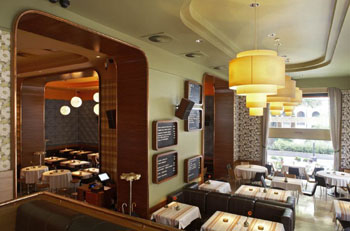 A retro-style place evoking the ambience of the '80es and '90es in Budapest.
The quality of food tends to vary but it is good at most times and definitely on the cheaper side.
Traditional local dishes dominate the menu.
The wine list is quite short but there is a wide selection of cocktails, spirits, soft drinks, coffee and tea.
Daily menu of soup and main dish is 1 290 HUF. Nice terrace in a busy area.
Top Restaurants in District VII.
Bock Bistro $$$
Address: Erzsébet körút 43-49 (within the Corinthia Grand Hotel Royal), trams 4, 6 Király utca
Tel: (+36 1) 321 0340
Opening hours: Mon-Sat: 12.00-24.00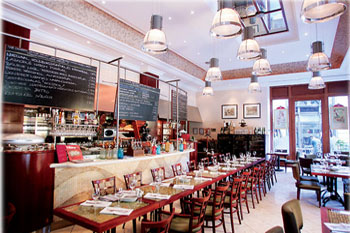 Bock Bistro is definitely one of the best wine restaurants in Budapest, named after the renowned Hungarian wine producer József Bock.
It was one of those few places that many expected to receive a Michelin star.
We really enjoyed the wide selection of appetizers, snacks similar to Spanish tapas: tasty bacons and salamis that we washed down with splendid red Hungarian wine.
The wine list is extensive and apart from the owner's 20 or so offerings, wines by many other producers (from Villány, Szekszárd, Eger, Tokaj, Neszmély, Somló, Balaton regions) are available, quite a few of them by the glass.
The good thing is with Bock Bistro that you can just sit there, sipping a glass of wine and nibble some appetizers with it, of course they offer more substantial meals too.
Olimpia Étterem $$$
Address: Alpár utca 5., district VII.
Tel: (+36 1) 321 2805
Open: Mon-Fri: 12.00-15.00 and 19.00-22.00, Sat: 19.00-22.00, closed on Sundays and holidays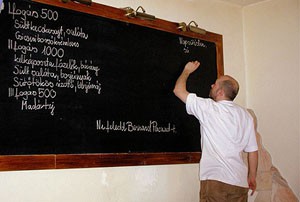 Olimpia is a rather new place that quickly became very popular both among locals and tourists.
Situated in a small cellar-like place, Olimpia's new approach to restaurant menu attracts many guests.
There's no menu, instead the chef creates a several-course meal from seasonal ingredients every day.
The daily offerings are written on a large black board with white chalk. They have some unique wines, two of them served by the glass.
The lunch menu includes two-three courses and is available from 12.00 till 15.00 every day (prices: two-course menu 1 850 HUF, three-course-menu: 2 050 HUF: main dish only: 1 500 HUF).
Dinner menu (reservation is a must): 4 courses: 5 700 HUF, 5 courses: 7 000 HUF, 6 courses: 7 800 HUF, 7 courses: 8 300 HUF.
Montenegrói Gurman $-$$
Address: Rákóczi út 54., near Blaha Lujza tér
Tel: (+36 1) 782 0806
An inexpensive place specializing in simple, tasty Balkan food like Pljeskavica, Csevapcsicsa, or Ustipak. There's a choice of two portion sizes.
Osteria Fausto's – $$$$
Recommended by Michelin
Address: Dohány utca 5., M2 Astoria station
Tel: (+36 1) 269 6806
Open: Mon-Sat: 12.00-23.00, Sun: closed
A first-class and a bit expensive Italian restaurant in Budapest (they have another place called simply Fausto at 2., Székely Mihály utca, district VI).
You can choose from both Italian and Hungarian wines to go with your meal. Take your partner here if you want to impress her/him and have a memorable romantic dinner.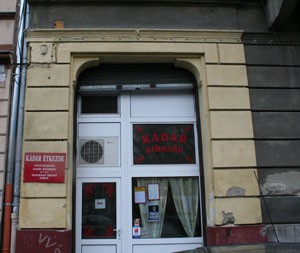 Kádár Étkezde $
Address: Klauzál tér 9., trams 4, 6 Király utca
Tel: (+36 1) 321 3622
A small, good value self-service restaurant in the old Jewish quarter.
The cuisine is non-kosher traditional Hungarian. Kádár is very popular with locals, so prepare for crowd during lunch time and to share the table with others. Menu is only in Hungarian, only cash is accepted.
Restaurants in District VIII.
Fülemüle $$$ – $$$$
Address: Kőfaragó utca 5.
Tel: (+36 1) 266 7947
Opening hours: Sun-Thurs: 12.00-22.00, Fri-Sat: 12.00-23.00
A homey Hungarian/Jewish restaurant for those who like hearty food.
Cholents made with home-smoked meat, roasted goose leg with potato latkes, steak and 3-4 fish and vegetarian dishes, traditional Hungarian desserts.[/two_third_last][/box]
Múzeum Cafe & Restaurant – $$$$
Address: Múzeum krt. 12.
Tel: (+36 1) 267 0375
Opening hours: Mon-Sat: 12.00-24.00, Sun: closed
The historic restaurant a few steps from the Hungarian National Museum specializes in traditional Hungarian cuisine.
The spacious terrace is a nice spot to watch life on busy Múzeum körút. The interior features some great art work: a Venetian mirror, hand-carved wood paneling, Zsolnay tiles, painted ceiling by Karoly Lotz.
The wine list is impressive featuring well-known bottles and some rarities from Hungary. Around 8 wines are available by the glass.
Restaurants in District IX.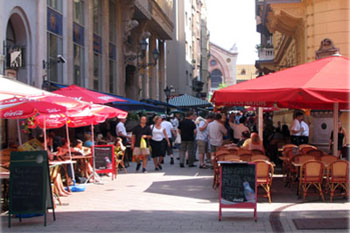 The partially pedestrian Ráday utca in district IX. is lined with trendy cafés and restaurants.
In summer you can enjoy your meal at the terraces
Cafés, terraced restaurants in Budapest's Ráday pedestrian street
Costes $$$$ – Hungary's 1st Michelin Star Restaurant
Address: Ráday utca 4.
Tel: (+36 1) 219 0696
Website: Costes
Costes represents Parisian bistro atmosphere and serves international dishes.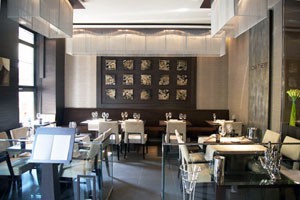 It was the first Hungarian restaurant that received a Michelin star (in 2010).
If you want to splurge on eating out and enjoy gourmet food during your stay in Budapest then Costes is a good choice.
You can choose from three tasting menus (a 5-course Discovery Menu for 18 000 HUF without wine, an 8-course Grand Menu: 26 000 HUF without wine, and a 5-course Vegetarian Menu: 15 000 HUF without wine) or eat a la carte.
Other Restaurants in District IX.
Borbíróság Restaurant $$$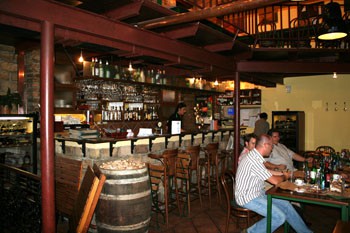 Address: Csarnok tér 5., next to the Great Market Hall
Tel: (+36 1) 219 0902
One of our favourite restaurants in Budapest.
In Borbíróság you can have traditional Hungarian fare and taste around 100 great Hungarian wines by the glass.
Prices: Soups: 750-1 250 HUF, main dishes: 2 250-4 250 HUF.
Lunch menu (between 12.00-17.00 every day): 1 850 which includes a glass of drink of your choice (wine, beer, soft drinks)
Best Restaurants in City Park
Gundel $$$
Address: Állatkerti körút 2., M1 Hősök tere station
Tel: (+36 1) 321 3550
Perhaps the best known restaurant by foreigners. Elegant and expensive place next to the Budapest Zoo in the City Park.
Robinson Restaurant $$
Address: City Park lake, M1 Hősök tere station
Tel: (+ 36 1) 422 0222
An ideal place for romantic, candle-lit dinner on an island on the City Park lake.
Return to Restaurants main page.
Related: