Explore the City by Bike!
The number of cycle lanes and bikers have grown in recent years so biking in Budapest has become a more pleasant way of exploring the city.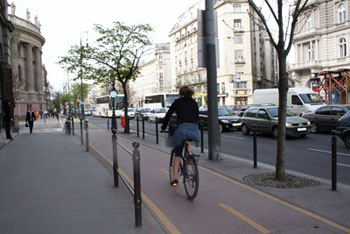 Currently 200 km cycling paths criss-cross the city and the No. 6 path of the international biking route, EuroVelo, goes through the city too.
Due to these developments Budapest ended up at the No. 13 spot on a list of the Most Bike-Friendly Cities of the World (made by the Copenhagenize Consulting Company focused on all things cycling ,and bicycle culture).
This applies to cycling in the congested areas, like the city centre, and along the main traffic routes but Margaret Island and the Buda Hills are perfect for biking around.
Table of Contents
The city center and the main traffic routes are now more bike-friendly areas, but still the green areas, like the Buda Hills, Margaret Island or the City park are the most pleasant places to bike around.
Hopefully more and more designated cycling paths will be built in the coming years so that cycling will be a pleasant and safe way of discovering the city.
Bike Tours –

NEW
Going on a bike tour allows you to see the major sights, everyday life in a quick and fun way.
Cycling enthusiast locals will guide you through the city, telling you historical facts, stories, showing you hidden spots few know about.
TIP:Families with children are welcome, plenty of breaks during each tour to take refreshments and photos, comfortable pace.
Cycling Paths in Budapest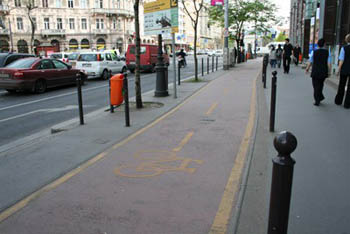 Budapest has altogether 200 km pathways designated to cycling.
This includes the cycling paths, cycling lanes and side streets designated as suitable for cycling.
The management of the Hungarian capital aims to increase the length of cycling paths to 300 km by 2015.
Designated cycle paths are painted in red and are marked with two yellow stripes running along the path's sides and a yellow bicycle is painted in the middle of the route at some points.
Be prepared however that in most areas in Budapest you have to share the pavement with pedestrians and zigzagging on two wheels among walkers in the busy downtown can be frustrating.
Cycling on the roads is quite dangerous. Drivers usually have no respect for each other, let alone for bikers. And it's not pleasant and healthy to ride behind a truck or old bus inhaling the exhaust fumes.
Bicycle Map and Route Planner
Here are two useful resources for bikers:
Bicycle Map and Route Planner by Geologika
Public Bike Sharing System – BuBi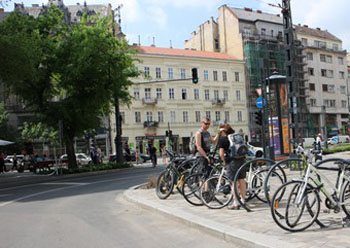 Budapest has a public bike sharing system called BuBi (short for Budapest Bicycle).
Despite the city's quite extensive public transport system, getting to a spot within the city by metro, bus or tram sometimes proves to be rather troublesome.
By bike it is usually quicker, healthier and more fun.
The use of the BuBi requires registration but the bikes can be used for free for 30 minutes.
After the 30 minutes 500 HUF/30 min will be charged (currently 350 HUF).
Using the Bubi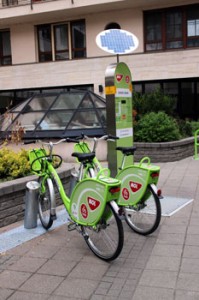 You can rent the sturdy bikes (each weighs 25 kg) at 112 stations in the city (look for the light green bike stations with the MOL BuBi logo on them).
At present there are nearly 1 300 BuBI bikes available for rent.
Stations are avaialble at 300-600 m distance in the city center.
There are two options:
Regular Users (90-, 180- and 365-Day Passes)
Register in person before renting the bike – fee is 18 900 HU/12 months: you'll receive a MOL-BuBi Card that you swipe in front of the sensor on the bike.
Occasional Users – 3 Types of Tickets
Can buy
24-hour (500 HUF),
3-day (1 000 HUF) or
7-day cards (2 000 HUF)[
Register with your bank card at a station's touchscreen terminal or using the MOL BuBi Mobile app.
BuBi Touch Screen Terminals Map
Rental Costs
You have to pay a deposit – 25 000 HUF per bike – as well. This amount will be locked up in your bank account until the end of the rental period (24, 3-day, 7-day).
The rental fee and any additional charges (if you used the bike for more than 30 min, and if you asked for a VAT invoice-costs 500HUF) will be deducted from the 25 000 HUF, the remaining amount will be un-locked.
During the validity period of the cards you can use the bikes free of charge for 30 minutes.
After that the first 30 minutes cost 500 HUF, then the price increases by 500 HUF/30 minutes until the 3 hour rental time (then by 1 000 HUF).
Children under 14 years of age are not allowed to use the bikes.
Best Places to go for Biking in Budapest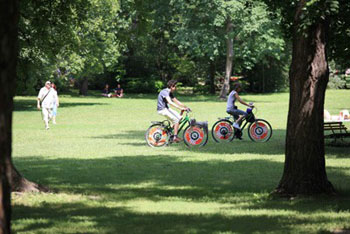 If you want to enjoy biking do it on Margaret Island where there're long stretches of paths for bikers, lots of green and fresh air.
Other nice place for cycling is up in the Buda Hills.
You can take up your bike by the Cogwheel Railway (fogaskerekű vasút) that runs between Városmajor and Széchenyi Hill stations.
The only other public vehicle you can take your bike with you on board is the HÉV suburban railway (bikes aren't allowed on metro, trams and buses).
Andrássy Avenue is also favoured by bikers.
Bicycle Rental in Budapest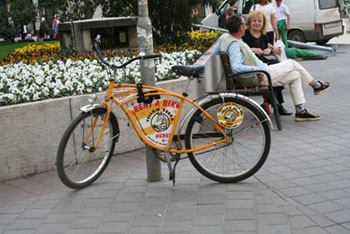 There're a couple of bike rental companies in the city:
Budapest Bike
Tel: (+36)30/944 5533
It operates in Szóda café (Wesselényi utca 18., district VII., M2 metro Astoria station, and it's also close to Deák tér metro station).
Bicycle rental prices:
2 500 HUF/day (same day return), 3 500 HUF/24 hours, 3 or more days: 3 000 HUF/day.
Price includes safety helmet, safety chain and child seat if necessary.
dynamobike & dynamobake
Address: Képíró utca 6., district V.
Opening hours:
Mon-Fri: 08.30 – 19.00, the cafe on weekends and holidays: 09.30 – 15.00,
bike rental shop on weekends and holidays: 09.30 – 15.00 and 19.00 – 20.00
Besides awesome homebaked cakes and great coffee dynamobake, located in a small street in central Budapest, also rents bikes and organizes sightseeing tours.
Bikebase
Address: Podmanizcky utca 19., district VI., M3 metro or trams 4-6 Nyugati tér or Oktogon stop
Tel: (+36) 70 625 85 01
Rental prices: 2000 HUF/day, 3500 HUF/2 days
On request they organize guided bike tours in Budapest in English, German, French, and Italian languages.
TIP:
Bike tour organizers, and bike rental companies are usually closed during the winter season or operate with shorter opening hours.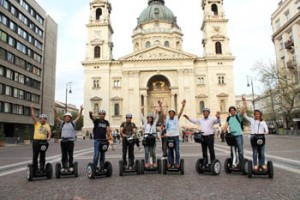 Segway Tours – Sightseeing on 2 wheels, Without a Sweat
A fun sightseeing exploring the popular city parts:
take our Budapest City Center Segway Tour along Pest's main attractions from Andrássy Avenue to Szabadság Sqr.
1 hour tour + 15 – 20 min training, small groups, professional guiding in English.
E-Bike Tours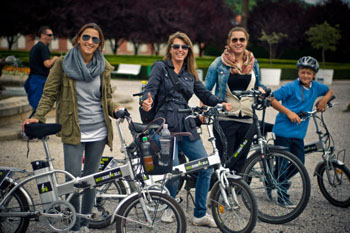 If you want to see the most important sights of the city, feel its daily rythm but don't have much time for it, go on an e-bike tour.
Convenient bikes powered by a small electric motor to help you cover a long distances within a short time.
You can choose from three tours of various lengths.
Learn more about the e-bike tours in Budapest.
Transporting a Bike on Public Transport Services
You can do it only on a few services, in carriages that have the bike pictogram on them:
suburban railway lines
tram 60 (cogwheel railway), on buses 65, 65A and 165,
on trams 59 and 59A, and
on public transport boat lines D11, D12, D13 and D14.
You have to buy and validate a single ticket (350 HUF) for the bike if you don't have a bicycle pass 8can be bought for 540 HUF for most types of passes).
Read more at the Public Transportation Company's website.
Bike-Friendly Cafes in Budapest
There is a good and increasing number of biker-friendly places, a sign that Budapest is trully becoming a cycling city. Some of our favourite places are:
dynamobake & dynamobike – Delicous homemade cakes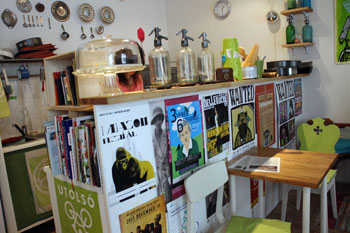 Address: Képíró utca 6., district V.
Opening hours: Mon-Fri: 8.30-19.00, weekends and holidays: 9.30-15.00
dynamobake is a cute, cheery little place in a small street close to Kálvin tér (M3, M4 metro lines) and the Central Market.
Homemade cakes, brownie, pies and biscuits, quiches, excellent coffee, tea and natural fruit syrups. Paleo, sugar-, gluten-, and dairy free treats are also available.
Bea, the owner is really easy to get on with and chat to, really kind lady.
On top of the delicious cakes and fine service you can rent bikes and accessories as well.
A 24-speed Merida Crossway is only 3 500 HUF for 24 hrs. Tips on where to go by bike, what to see and do are also kindly provided.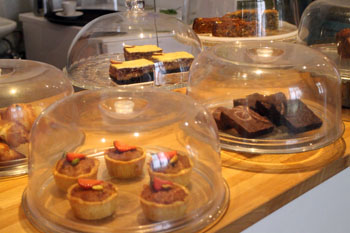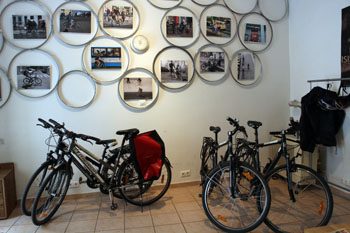 Mester Bike & Cafe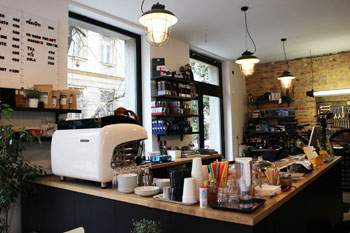 Address: Mester utca 11., district IX.
Opening hours: Mon-Fri: 08.00-19.00, Sat: 09.00-13.00
A bikers' paradise where you can sip a cup of really good coffee (prepared from fresh roast) while your bike is being serviced.
You can get all sorts of bicycles here: from adults to kids, mountain bikes, road, cross trekking as well as clothes, helmets and accessories.
Cocoa snails and biscuits are the choices with the coffee.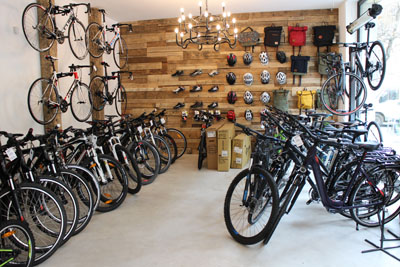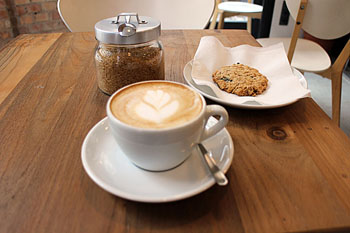 Related:
Cheap Hotels – Best Hostels – Cheap Restaurants – Information about Budapest