An open weekend for Budapest buildings that celebrate their 150th birthday in 2023.
Date: 11 – 14. May, 2023
Location: Various Buildings In Budapest

If you're planning a trip to Budapest, make sure to check out the Budapest 100 festival, which takes place annually in April. The festival celebrates the city's historic buildings and architecture, with a different theme each year. The event offers a chance to explore the unique and beautiful architecture of Budapest and learn about the city's history.
Budapest is known for its beautiful and unique architecture, which blends various styles, including Gothic, Baroque, Art Nouveau, and more. Some of the city's most iconic landmarks include the Hungarian Parliament Building, the Buda Castle, the Fisherman's Bastion, and the St. Stephen's Basilica.
Aside from these well-known sites, there are numerous hidden gems waiting to be discovered. The Budapest 100 festival is a perfect chance to explore these lesser-known buildings, as it showcases 100 historic buildings that are usually closed to the public. Visitors can take guided tours of these buildings and learn about their history and significance.
Apart from the Budapest 100 festival, visitors can also explore the city's architecture on their own by simply taking a walk through the streets of Budapest. The city's unique buildings and stunning facades are sure to leave you in awe.
The Budapest 100 is one my favourite programs and lucky for us who adore historic buildings the event last for 4 days instead of the usuall 2-day weekend festival.
Following the popularity of the four-day urban festival in 2022, the Open House Weekend will once again be enriched with a professional conference and a walking tour from May 11-14, 2023.
During this extended weekend, we invite you to embark on an urban time travel journey from the past to the future, centered around the unification of Pest, Buda, and Óbuda in 1873.
On the occasion of the 150th anniversary, we explore what the city was like one and a half centuries ago, how it has developed since then, and what lies ahead.
60 buildings (residential buildings, institutions) welcome visitors this year.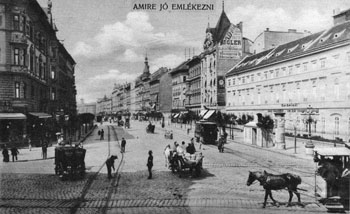 The event has a varied program
guided walk tours,
exhibitions,
movie screenings,
workshops,
picnic,
wine tasting,
children activities etc.
not exclusively for architecture buffs but everyone who loves to look into the history of buildings that we see or pass by every day.
Here is a selection – though most programs are in Hungarian (except for some guided walks in English) – I don't think you wouldn't enjoy them:
Entry is free to the buildings participating this year as well as to the programs, events.
Registration is required in most cases at the e-mail address provided next to the program name on the organiser's website.
Table of Contents
Some of the Programs
Recommended for non-Hungarian speakers.
13. May, Saturday
14.00 – 15.00 – Guided tour in English, Bartók Béla út 62-64., distr. XI.
14. May, Sunday
09.00 – 11.00 – Community breakfast á la Bauhaus (Freyja), Barát utca 12., Bp. 1074, distr. VII. – Freyja is a croissant heaven in Budapest, a bakery and cafe focusing on making the best croissants.
10.00 – 18.00 – Photo exhibition on past and present of the building: Bartók Báéa út 62-64., distr. XI.
10.00 – 16.00 – History of the house – exhibition, Lónyay utca 39/a, distr. IX.
10.00 – 16.00 -Exhibition which presents the life of the designers Hofstätter Béla and Domány Ferenc, and also the history of the building. The drying room of the building, which is an industrial heritage, will be open for the public: Margit körút 15 – 17., distr. II.
10.00 – 18.00 – László Moholy-Nagy: Architects' Congress – LOOK Gallery's Bauhaus tribute exhibitio: Bajcsy-Zsilinszky köz 2., 4th floo, distr. VI.
10.00 – 18.00 – International Rezső Seress Challenge: is Sunday gloomy in your language too?, Dob utca 46/B, distr. VII.
11.00 – 12.00 – Guided tour with Márk Baczoni in Englis, Pozsonyi út 38-40., distr. XIII.
14.00 – 15.00 – Guided tour in English, Bartók Béla út 62-64., distr. XI.
Related:
Budapest Events in April 2018 – May Events, Things to Do in Budapest – Budapest Neighbourhoods and Districts – Alternative Tours – Downtown Budapest – Brief History of Budapest