Affordable Transport from Airport to the City Center
This affordable and reliable Budapest airport transfer service will take you to your hotel promptly so that your visit to Budapest starts smoothly.
You can book a one-way trip back to the BUD Airport but you can also book a two-way transfer.
A trustworthy company operates this transfer service that has been in business for many years ensuring efficient and honest service to their customers.
You will travel in a comfortable, air-conditioned car or minibus depending on the number of passengers you booked the transfer for!
Start your Budapest vacation in convenience!
Why Book the Airport Transfer Service?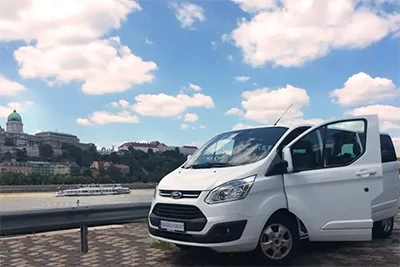 Convenient Trip to Your Hotel/Apartment
Comfortable drive to your accommodation,
No waiting for a taxi, or public transport service.
An air-conditioned car or minivan will take you to your hotel.
A much more enjoyable way of getting to the city from the airport than travelling on a congested metro or bus (unfortunately the new Bus 100 Airport Shuttle to the centre is always crowded).
English-speaking, Polite Driver
The driver will be waiting for you at the airport terminal holding a card with your name(s) on it.
Even if your plane is late the driver will wait for you and take you directly to your hotel.
Inexpensive
You pay a flat rate (see the form below) depending on the number of passengers riding with you in the car. No extra charge if the plane is late.
Budapest Airport – Hotel Transfer Booking
Fill in the booking form with the appropriate details: date and exact time of arrival/departure, flight number, hotel name & address, number of people, e-mail address, mobile phone number!
If you wish to book a trip back to the Airport please fill in the form accordingly!.
Press the "Book Now" button to pay the tranfer price via PayPal! You can pay with debit/credit card – no need to create a PayPal account – or from your PP balance.
After booking your transfer you'll automaticall receive a confirmation e-mail with the details of your booking.
Cancellation Terms
To get a 100 % refund on your booking please cancel your transfer booking at least 24 hours before the pick up /departure time.
Please send your cancellation request through our Contact Form.
You are eligible for a 100% refund on your booking, for cancellations greater than 24 hours prior to your pick-up / departure time.
Your booking is not considered canceled until Budapestbylocals.com confirms your cancellation. The time of cancellation is considered to be the time Budapestbylocals.com receives your cancellation request.
The fee will be refunded to your account within 1-2 business days.
You are not eligible for any refund on your booking for cancellations 24 hours or less prior to your pick-up departure time.