Information, Tips on Transportation to the City Center
Many international airlines operate flights to Budapest throughout the year, including a range of cheap flights.
Flights to Budapest land at Liszt Ferenc International Airport (BUD) some 25 km far from the city centre.
Flights land at and depart from Terminal 2. (Terminal 1 closed down in 2012.)
There are many ways to get to the city centre from the airport including
Table of Contents
Budapest airport has many facilities: shops, cafes and restaurants.
It also offers a wide range of services including free internet connection in the departure and waiting areas.
The SkyCourt is a modern new passenger hall conencting terminals 2A and 2B.
Location of Liszt Ferenc Airport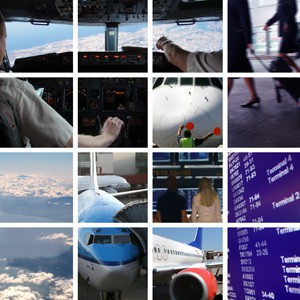 Address: 1185 Budapest-Ferihegy, district XVIII.
1675 P.O.Box. 53.
Telefon: +36 (1) 296-9696
Useful Telephone Numbers:
Call Center / Information: Tel.: (+36 1) 296-7000
Ticket information and booking: (+36 1) 296 5959, (+36 1) 296 5960
Lost Luggage:
Celebi Ground Handling:
Tel.: (Terminal 2): +36 (70) 332-4006, +36-70-332-4007, +36 (1) 296-5966 (fax is)
E-mail: LL@celebi.hu, Menzies Aviation: Tel.: T2A +36 (1) 296-8315T2B +36 (1) 296-8399E-mail: bud.ticketing@menziesaviation.com
Malév Ground Handling:
Tel.: +36 (1) 296-7327, +36 (1) 296-7948, +36-70 456-6038
E-mail: lostandfound@magh.hu
Find the best rates for your Budapest Fly
Getting to the City Centre from Budapest Airport:
By Taxi
Perhaps the quickest way of getting to your destination within Budapest is by taxi. Taxis queue up the arrival levels of Terminal 2.
The new owner of Budapest Airport solved the chaotic situation that had been characteristic of the taxi service at Budapest Airport for many years.
In December 2010 Főtaxi company won the tender for the operating a reliable taxi service at lower prices.

Look for taxis with the Főtaxi logos on.
The new and high quality taxi service includes:
Budapest Főtaxi-taxi service at Liszt Ferenc Airport
a simple taxi booking system: look for Főtaxi booths just outside of arrival buildings at Liszt Ferenc Airport Terminal 2.
Give your destination address to the attendant. You'll receive a voucher about your taxi booking that contains information about the destination, the fare and the vehicle.
You can pay with credit card (all major credit cards are accepted – the cars are equipped with POS terminals) and most importantly
the trip to the city centre costs 5 900-6 500 HUF/taxi (cc. 20-22 EUR), and you can share the fee with other travellers. You can check the fares here
You can get in the first available car, show your voucher with the destination address on it to the driver. New cars are equipped with multimedia screens in the back of the seats providing tourist and other information.
Public Transportation
There are several public transport services from Budapest Airport to take you to downtown Budapest.
NEW

Direct Bus Line No. 100E: Airport – City Center/Deák Ferenc Square

The new service connects the Airport and the City Centre.

Buses – low-floor, air-conditioned vehicles – run every 20 minutes between 03.40 am – 01.20 am. The journey is 30 – 40 minutes long between:
Ferenc Liszt Airport and
Deák Ferenc tér metro hub (where 3 metro lines meet) in district V, downtown Budapest
The bus also stops at Kálvin tér (M3 metro) and Astoria (M2 metro). See the schedule on BKK's website.
Ticket: the new bus service can be used with a [highlight color="yellow"]special ticket[/highlight] that is valid only for this line. It costs 900 HUF.
Boarding is at the front door.
Bus 100E Ticket Can be Bought from
BKK public transport customer service points (cash or bank card)., at the airport at Terminal 2A. Open: every day: 08. 00 – 22.00, and at Terminal 2B, Arrivals, Opening Hours: every day: 09.00 – 21.00, on 31. December: 08.00 – 21.00, on 01. January: 09.00 – 21.00
ticket vending machines next tot he customer service points (with cash or bank card)
the driver when boarding the bus (have the exact amount – 900 HUF – ready because the driver doesn't have change).
More Options to Get to the City Centre
By train
From Ferihegy Train Station (Ferihegy vasútállomás, accessible by Bus 200E, 5th stop/8 minutes) Ferenc Liszt Airport Terminal 2 to Western Train Station (Nyugati Pályaudvar).
The train journey takes less than half an hour (cc. 22-25 minutes).
Train Ticket
The ticket costs around 400 HUF that you can buy
at Ferihegy train station in the ticket office (open every day between 6.00-18.00) or
from vending machines, or
for the way back at platform B at the Nyugati railway station from the ticket vending machine).
Budapest card, 24-hour, 72-hour and 7-day travel cards are also valid for this train trip.
Bus 200E
Bus 200E takes you from Terminal 2 to the M3 (blue) metro terminal called Kőbánya-Kispest Metro Station.
The bus journey is about 30 minutes.
From there you can travel to the city centre (Deák Ferenc tér for example) by metro (M3-blue line).
See our page about Budapest metro where you also find a downloadable metro map.
Note:
Bus 200E runs
from 4 am to 11 pm every 7-8 minutes during the day, and
every 15-20 minutes at night, from 11 pm to 00.21.
The night service takes you to the South Pest Bus Garage, instead of the Kőbánya-Kispest metro Termini.
Departures from Terminal 2 at Night -Bus 200E
To Határ út Metro station): 23.21, 23.36, 23.51, 00.21.
Here you can change to night buses
914,
914A, and
950, 950A to get to the city centre (buses depart at very 5-15 minutes approximately).
Late Night Services (00.21 – 03.29 am):
You can use Bus 900 that travels between
Terminal 2 and
the bus garage in Southern Pest (Dép-Pesti Autóbusz garázs).
Tourists heading for the city center need to get off at Bajcsy-Zsilinszky stop nearby St. Stephen's Basilica in district V. Here you can change for night bus services
950 or
950A to get to your destination.
Night buses are marked with a black service number.
See Timetables for Night Services at the Budapest Public Transportation Company's (BKK) website.:
Public Transport Tickets, Travel Cards at Budapest Airport
A one-way public transport ticket costs 350 HUF (450 HUF when you buy it from the driver onboard the bus).
If you plan to use public transport frequently buy a pack of 10 single tickets (costst 3 000 HUF) or a travel card.
Places to Buy Tickets/Travel Cards
You can buy public transport
single tickets,
pack of 10 single tickets,
travel cards (24-hour, 72-hour, 7-day),
passes at the BKK Customer Points/BKK Ügyfélpont at Terminal 2A and 2B. (BKK is an abbreviation for the Budapest Public Transport Company in Hungarian).
BKK Customer Service Points at the Airport – Opening Hours
Terminal 2A, Arrivals, Opening Hours: every day: 08.00 – 22.00, on 31. December: 08.00-20.00, on 01. January: 08.00 – 22.00
Terminal 2B, Arrivals, Opening Hours: every day: 09.00 – 21.00, on 31. December: 08.00 – 21.00, on 01. January: 09.00 – 21.00
Ticket Vending Machines
There are 3 machines altogether placed next to the Customer Service Points.
There is also a ticket vending machine at the stop of Bus 200E. You can buy tickets (all types), travel cards and passes here with cash or bank card
Relay News Agents, Post Office
You can also buy single tickets and pack of 10 single tickets at
the Relay News Agents, and
the post office (closed on weekends and holidays) on the mezzanine level at Terminal 2A.
24-hour, 72-hour and 7-day travel cards are also sold at the post office at Terminal 2A.
Relay News Agents – Opening Hours
Sell only single tickets (350 HUF) and pack of 10 single tickets (3 000 HUF).
Terminal 2A Arrivals, Relay Newsstand: 08.30 – 00.30 every day
Terminal 2A Departures, Relay Newsstand: 04.15 – 21.00 every day
Terminal 2B Arrivals, Relay Newsstand: 08.00 – 21.30 every day
Terminal 2B Departures, Relay Newsstand: 04.30-21.00 every day
Post Office Opening Hours (closed on Saturday, Sunday, Public Holidays)
The post office is located at Terminal 2A: Open: Monday – Friday: 8.00 – 12.00 and 12.30 – 15.30, closed on weekends and public holidays.
TIP: See more on public transport in Budapest, buying and validating tickets. You might also want to read about other ways of travelling in the city.
See also the airport's FAQ page about transportation between the airport and the centre.
MiniBUD Airport Shuttle
The shuttle service, a minibus with 8-11 seats, takes passengers travelling to the same direction within Budapest and drops everyone off at the requested address.
You can book a shuttle on-line.
They'll send you a confirmation in which
the pick-up time,
your reservation code and
any other important details are included.
You'll also receive a SMS message. The driver will ask you for the reservation code.
The drivers speak several foreign languages and since they know Budapest and its traffic very well you'll get to your destination quickly.
Look for the MiniBUD Desks at Terminal 2.
All Minibuses arrive to and depart from the Terminal 2's Main Entrance.
Airport Shuttle Minibus Prices:
from 7 EUR/ prs to the districts near to the airport, price also depends on the total number of persons using the service
for 2 persons to Pest centre or the central districts in Buda: 17.5 EUR.
TIP: According to travellers who used the service the minibus service is quite slow. It collects passengers from various addresses that takes time so it doesn't worth the money.
Centrumbus
Between the Airport and the Regency Suites Budapest Hotel in the City Center (district VII.)
The Centrumbus provides direct transfer from the airport to the Regency Suites Budapest Hotel in downtown (address: Madách tér 2., district VII.).
The Centrumbus departs from the airport terminal every day between 09:00-16:00 and 21:00-23:00.
Price of Centrumbus Service:
Liszt Ferenc Airport – Regency Suites Budapest Hotel (service ASM380): 1.000,- HUF / person
Regency Suites Budapest Hotel – Liszt Ferenc Airport (service ASM381): 1.000,- HUF / person
You can buy your ticket at the AirportShuttle Desks at the airport terminal.
Car Rental
Avis, Inka, Europcar, Hertz, and Budget car rental companies have counters at the airport if you choose to use a car during your visit.
Read more about Car Rental in Budapest. You can get into the city center by car in about 20 minutes on Ferihegy High Speed Road.
Services and Facilities at Budapest Airport
You find a range of
restaurants,
snack bars and
shops to while away.
The airport shops provide you the last opportunity to buy unique Hungarian gifts, like Herend porcelain.
The Cirrus Lounge in the transit area of Terminal 2B has computers with free internet access, photocopiers, snack bar and fax-receiving facility.
Facilities are available for people with disabilities too: toilettes, wheelchairs.
You can ask for assistance with boarding or disembarking.
SkyCourt Budapest
The SkyCourt is a new passenger hall between terminal 2A and 2B that welcomes passengers from 27th march 2011.
It is a hip modern building with fast and convenient services to make arrival at Budapest an even more pleasant experience.
Free WiFi at Budapest Airport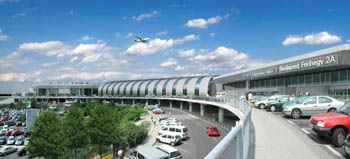 Internet access is provided free of charge for up to two hours in the departure and transit areas of Terminal 2A and 2B.
So you can browse the world wide web on your smartphone or tablet while waiting.
First you have to chosoe an internet network either bud:free wifi or bud:skycourt free.
After selecting the network a website run by Budapest Airport will load which provides the web conection for up to 2 hours.
For more up-to-date information on flights and services visit the airport's official website.
Hotels Near Liszt Ferenc Airport
There are some good-value hotels in the vicinity of the airport.
Hotel Ibis Budapest Aero
Address: Ferde utca 1-3., Budapest, district IX.
Tel: (+36 1) 347 9700
Price: from around 50 EUR per room in low season
Ibis Budapest Aero is one of the nearest hotels to the airport.
It's a 3-star hotel with excellent transport connections to downtown Budapest.Tthe M3 metro has a station at Határ út just outside the hotel building.
It takes you to the city centre within 10 minutes.
Rooms are soundproofed. The hotel has a large garden and there's a shopping mall nearby.
See our full review of Airport Hotels.
Hotel Ében
Address: Nagy Lajos király utja 15-17., district XIV.
Tel: (+36 1) 383-8418
A good value budget hotel.
The M2, red metro line has a station at Örs vezér ter, about 200 m from the hotel.
Price: around 50 EUR/single room, 55 EUR/double room in low season
Tulip Inn Budapest Millennium
Address: Üllői út 94-98, Budapest, district VIII.
Tel: (+36 1) 477 8000
The hotel is situated along Üllői út, a main thoroughfare that connects Budapest Airport with the downtown. You can get to the city center in 5-6 minutes.
The nearest metro stations are at Nagyvárad tér and Népliget (metro stations of the M3, blue line)
Price: 60 EUR/single room, double room 75 EUR in low season
TIP: Here's a list of some of the Best Central Hotels in Budapest, if you prefer to stay in the city center.