Apartment hotels offer convenient accommodation over an impersonal hotel.
An apartment hotel has large bedrooms with a spacious living room, bathroom and fully fitted kitchen providing a home away home for travellers.
The combination of apartment living and hotel service makes apartment hotels a very appealing accommodation for extended stays.
You can select from a range of apartment hotels in Budapest both in the city center and the greenbelt.
Table of Contents
Apartment Hotels in Budapest City Centre
You'll find several apartment hotels in the centre if you want to be close to the top sights and attractions.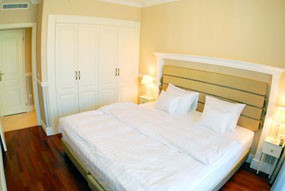 Queen's Court Hotel & Residence *****
Address: Dob utca 63., district VII.
The Queen's Court Hotel & Residence is a lavish 5-star, all-suite establishment in downtown Budapest within easy reach of many sights, restaurants, bars and clubs.
The buzzing Grand Boulevard (Nagykörút) is just a short walk with a string of shops, restaurants and the glitzy West End Shopping Center next to the Nyugati Train Station.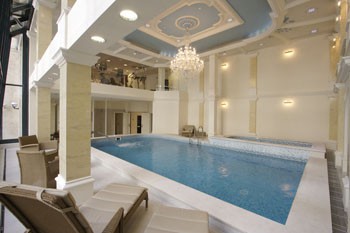 The Queen's Court offers upscale accommodation in 71 suites:
Bronze Suites – 28-30 m2 (301-323 sq.feet)
Silver Suites: 40-42 m2 (431-452 sq. feet)
Gold Suites: 56-58 m2 (603-624 sq.feet)
Platinum Suites: 70-80 m2 (753-861 sq.feet)
The majority of suites have one or two balconies.
A silver suite (115 EUR/night in low season and cc. 150 EUR/night in high season) for example has a bedroom with a king or queen sized bed, a lovely bathroom, a fully-fitted kitchen (microwave oven, cooker, sink, refrigerator, tea/coffee maker etc.) and living room with large windows and modern furnishing (sofa, TV set, desk etc.).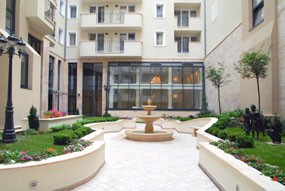 The hotel has its own restaurant called Chess.
Room prices in Queen's Court Hotel & Residence: depending on the season suites are around 110-250 EUR. Note that breakfast is not included it in the room price it costs an extra 10 EUR.
See also our Guides to High-end Budapest Apartments and Luxury Budapest.
St George Residence All-Suite Deluxe Hotel & Apartments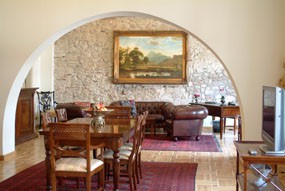 Address: Castle District, Fortuna utca 4.
The St George Residence Hotel in Buda Castle offers high-end accommodation in a superb location surrounded with historic monuments in Buda Castle.
The neighbourhood of the hotel abounds in historic and cultural sights (Royal Palace, Matthias Church), restaurants and lovely cafes, wounding pathways.
The Baroque mansion and former inn has been completely renovated and turned into a deluxe apartment hotel. The renovation kept the original architectural elements while the interior was decorated and furnished with the finest materials offering 21st century luxury within historic setting.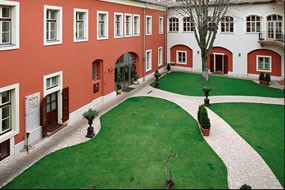 The lavishly furnished 26 suites consist of bedroom, living room, bathroom and a fully-equipped kitchen. The size of the suites ranges between 47-110 sq.metres offering ample space even for large families
Suite rates:
Bronze (47-54 m2):cc. 120-176 EUR/night
Silver (55-70 m2): cc. 140-213 EUR/night
Gold (71-93 m2): cc. 160-262 EUR/night
Diamond (94-110 m2): 750 EUR/night
Breakfast is not included in the room prices, you can have breakfast for 15 EUR/person.
Suite amenities include: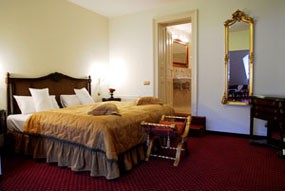 air-conditioning
sound-proof doors and windows (though the area is quite peaceful)
fully-fitted kitchen
work corner with high speed internet and telephone
LCD TV sets with 20 channels
mini bar
safe
hair drier
13 of the suites have jacuzzi bathrooms. All bathrooms are equipped with soft towels and toiletries (shower gel, shampoo, and soap).
The Tobacco & Cigar room is in the vaulted cellar stretching underground the building. The room is ideal for business meetings, private parties and wine tasting.
There's a lovely inner courtyard should you long for some fresh air. St George Hotel Residence in Buda Castle is truly a luxury accommodation highly recommended for weekend getaways, honeymooners, families, business travellers, and anyone who wants to experience something different from the standard 5-star hotel stays.
TIP:
read a guide to our favourite Budapest attractions.
Marriott Executive Apartments Millennium Court *****
Address: Pesti Barnabás utca 4., Budapest 1052, district V.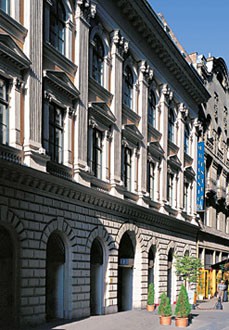 The Marriott Executive Apartments Millennium Court is a very centrally located 5-star apartment hotel right in the heart of Budapest, with a few steps from the Danube bank in Pest.
One of the symbols of the city, the Chain Bridge (Széchenyi Lánchíd), is about 100 m from the hotel. The Castle Hill with the Royal Palace rises beyond the Buda end of the bridge.
It has studio, one-bedroom and two-bedroom apartments, all well furnished with warm colours and the so-called Marriott Revive bedding that ensure extra comfortable sleeping.
Kitchens of the apartments include microwave oven, stove, refrigerator, pots, pans, serving dishes, silverware, dishwasher, toaster, tea and coffee maker.
There is a flat screen TV with DVD player in the living room. Rooms are air-conditioned that you can adjust yourself.
You can do your business activities in the home office area which has high speed internet (you have to pay extra fee), voice mail and private telephone.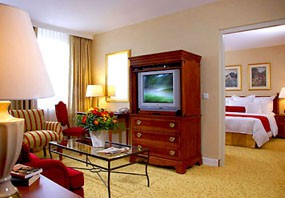 Other room equipment includes:
safe,
iron and ironing board
large wardrobes
In the AQVA bar & lounge you offers light snacks, beverages within a relaxing environment. There's breakfast (included in the room price) until 10.30 with a choice of cereals, breads, cheeses, cold cuts, fruit juices.
The wellness area of the hotel includes a small tub, a work-out room and a sauna. There's also a games room should you not be able to find anything interesting to do in Budapest.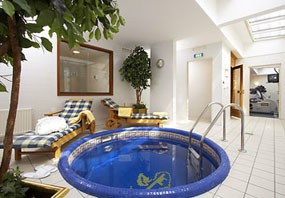 Round-the-clock staff service helps guests with anything in relation to the accommodation or giving sightseeing restaurant tips.
Room prices: around 160-260 EUR.
On-site, underground parking costs 32 EUR/day.
In Marriott Executive Apartments you can expect typical high standard (though it's more 4-star than 5-star according to travellers) Marriott quality and you'll be given value for your money.
TIP:
the Corinthia Hotel on Erzsébet körút, Grand Boulevard also has some nice superior apartments called Royal Residence.
Starlight Suiten Hotel ****
Address: Mérleg utca 6., Budapest 1051, district V.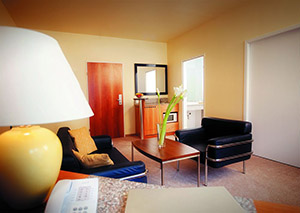 The 4-star Starlight Suiten Hotel in Mérleg utca is located in downtown Budapest, in a small side street just off the riverfront with many sights (St Stephen's Basilica, Chain Bridge, Castle District) and the Deák tér metro station (M1, M2, M3 metro lines) within walking distance.
The beautiful Gresham Palace, today housing the Four Seasons Hotel, is right behind the Starlight Suiten hotel on Széchenyi Square. You can do a nice walking tour in this neighbourhood.
You'll find numerous restaurants in the area, both Hungarian and International.
See our guide to best Budapest Restaurants.
Starlight Suiten Hotel offers convenient stay in 43 executive suites that have separate bedroom and living room, bathroom, working area, dressing area. There's a kitchenette with a microwave oven.
Hotel rooms are spacious with modern and clean bathroom and a separate living room. Both the bedroom and the living room have TV-s with satellite channels. Rooms have air-conditioning.
A small breakfast (cereals, breads, jams, cold cuts, and drinks) is included in the room price but you can have a more substantial buffet breakfast for cc. 13 EUR/person.
Sauna and fitness room, and the Starlight Cafe are other amenities you can enjoy in this downtown apartment hotel. Staff is courteous and professional, they speak good English and German.
Parking is 17 EUR/day. You also have to pay for internet use.
More Four-Star Budapest Hotels…
Mamaison Residence Izabella Budapest ***
Address: Izabella utca 61., district VI., Budapest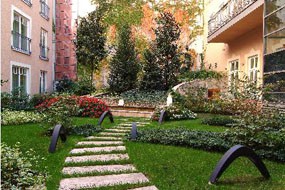 Residence Izabella (named after Izabella Kasimira Jagello /1519-1559/, queen of Hungary) is a four-star all-suite apartment hotel housed in a 19th-century building in Budapest centre, in a side street of Andrássy Avenue.
The M1 (yellow line) underground station is cc. 30 m from the hotel. Residence Izabella is part of the Mamaison chain ensuring excellent service.
Oktogon (trams 4,6) and Nagykörút are very close with lots of shops, restaurants, cafes, bars, and clubs.
The 38 fully serviced suites (all non-smoking) are spacious ranging from 1-bedroom to 3-bedroom, and furnished in modern style, equipped with all the conveniences you need away from your home.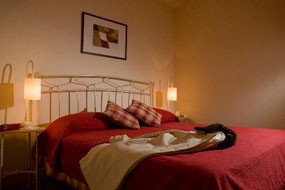 All rooms have large American style kitchen, a lounge, living room with TV, DVD player and Hi-Fi set, wireless internet, and separate bedroom(s).
Rooms have washing machine and you'll find driers in the basement of the hotel. The basement also houses a small fitness room that you can use free of charge.
There's also a nice garden.
Room Types: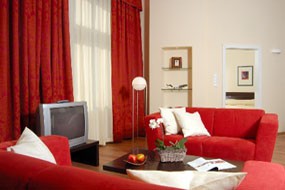 Classic Suite (45 sq. meters)
Superior Suite (47 sq. meters)
Deluxe Suite (55 sq. meters)
Grand Deluxe Suite (65 sq. meters)
Ambassador Suite (82 sq. meters)
Presidential Suite (97 sq. meters)
You can have breakfast (served between 7.00-10.00) in the breakfast room behind the reception area.
Travellers' Reviews of Residence Izabella:
The majority of guests were very satisfied with the hotel: both the quality or rooms and the location. Some have complained that the breakfast is very limited (you have lots of other options in the area to grab something to eat).
The highlights are:
the large sized rooms,
comfortable beds,
wireless internet everywhere within the hotel,
use of laptop free of charge
excellent location,
extremely helpful staff
One other on the negative side is that they clean the suites only once a week.
Adina Apartment Hotel
Address: Hegedüs Gyula utca 52-54., district XIII., Budapes
Website: Adina Apartment Hotel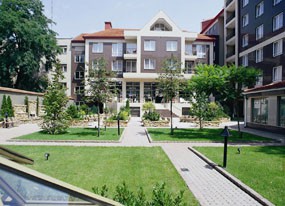 Adina Apartment Hotel is a highly rated establishment offering great value accommodation in 93 hotel rooms and apartments.
Although the location is not central but there's good transportation (M3 metro station either at Lehel tér or Dózsa György utca). The Lehel Tér Grocery Market is also a few minutes walk where you can shop for special Hungarian food stuff and have cheap eats.
Margaret Island (Margitsziget) a lovely green island with walkways, swimming pool is within easy access too.
If you don't mind walking you can easily get to the city centre in 15 minutes, and you will see sights and aspects of Budapest that you would miss had you stayed in a city centre hotel.
Rooms are large superior doubles while apartments are either 1- or 2-bedroom. Some rooms have balcony.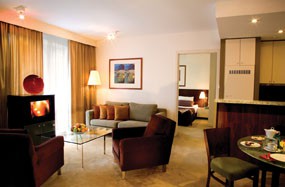 Apartments have:
fully fitted kitchen – great for self-catering
lounge and dining area
separate work space with high-speed internet and voice mail
radio/CD player
individually controlled air-conditioning
Amenities and services include:
24-hour reception
apartments are serviced daily
17-m long swimming pool
jacuzzi
fitness room
sauna
broadband internet connection (on request)
24-hour reception
apartments are serviced daily
17-m long swimming pool
jacuzzi
fitness room
sauna
broadband internet connection (on request)
underground garage parking (fees apply)
dry cleaning and laundry service
The hotel welcomes you with a complimentary drink in the bar and free coffee and tea in the lobby are also included in the price. A standard breakfast is included in the room price but you can also opt for a continental buffet breakfast for 4100 HUF.
According to reviewers, the staff is kind and helpful.
Hotel Charles & Apartments Budapest
Address: Hegyalja utca 23., district I.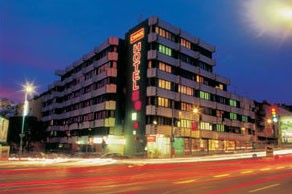 Rooms in Hotel Charles:
Standard studio, Room price: cc. 35 EUR
Deluxe Studio -air-conditioned, Price: cc. 50 EUR
Standard Apartment, Price: from cc. 40 EUR (without breakfast)
Deluxe Apartment, Price: cc. 55 EUR
Breakfast is not included in the prices.
Apartment Hotels in Budapest's Greenbelt
Dominika Apartment Hotel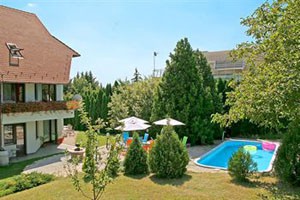 Address: Lidérc utca 13., district XII.,
If you really want to stay in a peaceful area, off the beaten path in, then consider staying in Dominika Apartman Hotel in the XII. district in Buda.
This homely place offers accommodation in 3 hotel rooms and 9 apartments. Located in the Buda Hills, fresh air, green surroundings, the twittering birds ensure complete relaxation.
Should you need to get in the city centre, there is a bus stop close to the hotel (cc. 150 m far) for bus No. 8 that takes you to the center in about 15 minutes.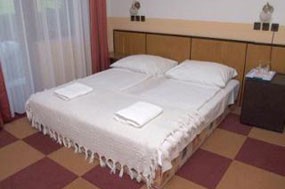 Apartments and Rooms:
4 out of the 9 apartments have balcony and 3 of them have terrace so you can enjoy the fine panorama. Each apartment has 1 bedroom with either a double bed or two single beds, a spacious living room, American style kitchen and a bathroom.
Other Room Equipment Include:
TV with satellit channels
telephone
Wi-Fi internet
kitchen is equipped with electrical cooker
hairdrier in the bathroom
mini bar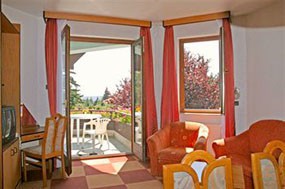 You can enjoy the swimming pool in the lovely garden during summer. You can leave your car in the closed parking area free of charge.
Room rates:
single room: from cc. 48 EUR/night
double room: from cc. 58 EUR/night
apartment for 4 persons: 68 EUR
apartment for 6 persons: 85 EUR
Children up to 6 years of age stay free of charge, children between 6-12 years of age receive 50 % discount.
Prices include a buffet breakfast served in the breakfast room, VAT and tourist tax.