Taste Great Beers by Large Beer Makers, and Smaller Artisan Breweries!
Date: 29. August – 03. September 2023
Location: Szabadság tér/Liberty Square, Budapest 1054, Downtown
The Beer Festival in Szabadság Square and the other, smaller festivals (Belgian Beer Festival, Czech Beer Festival) offer opportunity for beer lovers to taste the best beers made in Hungary.
Besides wine celebrated on the numerous wine festivals organized in Budapest throughout the year, beer, especially specialty beer made by small, craft breweries, has become more and more popular in recent years.
This year the downtown beer fest will be 6 days long, between 29. August – 03. September, 2023.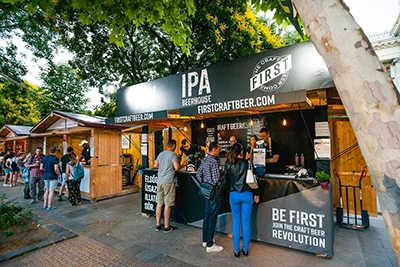 Table of Contents – Beer Festival in Budapest
Beer Festival On Szabadság Square/City Center
Location: Szabadság tér/Liberty Square, district V.
Address: Szabadság tér, Budapest 1054, district V.
A nice downtown square and park that you can get to conveniently from every part of the city.
Getting There:
Tram 2: Kossuth tér, M2 metro (red line) Kossuth tér station
M3 metro (blue line): Arany János utca station
Trolley bus No. 78: Kossuth Lajos tér stop
Buses No. 15, 115: Hold utca/Széchenyi utca stop
Tickets:
Entry to the festival and concerts is free.
To drink beer you have to buy the festival glass though.
Premium tasting glass: 2 799 HUF, Exclusive glass: 3 999 HUF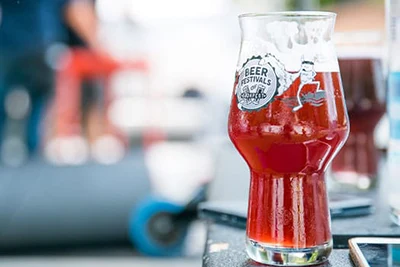 Why Should You Go?
Szabadság tér/Liberty Square a, lovely, spacious park in downtown Budapest, hosts the beer festival.
The venue is centrally located in close vicinity to countless attractions, like the Parliament, St. Stephen's Basilica or the riverbank.
Just take a stroll taking in all the the downtown offers and then have a rest at the beer festival. Chill with a nice cold, local craft brew and street food under the canopy of stately sycamore trees.
The weather at this time of the year is still sunny and warm, ideal for an outdoor festival such as this.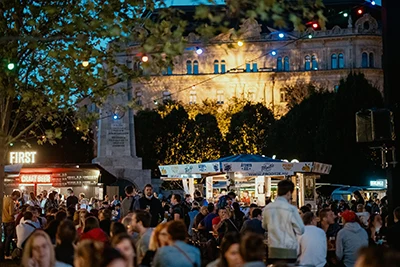 250 beer specialties: local, import and craft brews
2 dl tasting option
New beers that can be first tasted on the festival
Food trucks and street food including typical Hungarian fare like lángos, the round deep-fried savoury pastry.
Concerts in the evenings
Laid-back, picnic atmosphere awaits you over the first week of September 2023.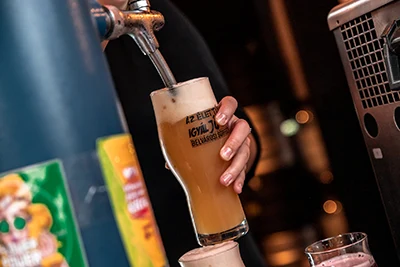 TIP: No worries if you don't like beer, a good choice of quality wines will also be available not to mention other drinks like spritzers, soda drinks, coffee/iced coffee if it's still hot.

Not to mention the tasty food offer: BBQ, burgers, Mexican fast food, pizza, Fish & Chips.
Opening Hours:
Programs At The Downtown Beer Festival
No doubt beer is in the limelight of the festival, but a series of great programs offer a wonderful time for all ages.
40 musical bands give concerts during the six day event.
The tasting expert of the Dreher Beer Factory lets you in the secrets of beer tasting and professional tapping.
You can also try your hand at tapping at the Soproni Brewery's stand.
The HB beer group recreates Bavarian beer drinking atmosphere.
The Heineken and Soproni Breweries will introduce the process of beer making.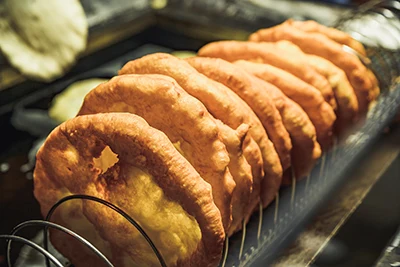 Tasting, Prices
You can taste beers from a glass that you buy at the festival venue. Two types of glasses are available:
Premium glass (0.3 L): 3 499 HUF,
Exclusive glass (0.3 L): 4 999 HUF.
A mug of beer will cost around 1 000 – 1 500 HUF depending on beer type.
There will be 0.2 L glasses available for those who want to have a couple of beers without getting drunk.
Beers You Can Taste On The Festival
Close to 250 beers can be sampled during the 6-day festival on Szabadság Square near the Parliament.
The beer specialties of the largest breweries in Hungary: Dreher, Heineken, and the Pécsi Sörfőzde will be available, but many small, craft breweries will also be represented (twice as many as in 2011).
Some of the specialties that offer a unique beer experience are:
Elixir 18, Cherry and Dark Chocolate Beers by the Gyertyános Brewery in Miskolc
Elder flower and Ginger Beer by the Brandecker Beer House
Cingulus Porter, Millet, and Sour Cherry Cognac Beer by the Rizmajer Brewery
Bitter Honey (Keserű Méz) unfiltered brew by the Fóti Craft Brewery
a range of Czech beers
a wide variety of Belgian beers (Floris Fraise – strawberry wheat beer, Floris Kriek sour cherry wheat beer, Corsendonk Agnus, Corsendonk Pater, Cuvée des Trolls, La Trappe Dubbel etc.)
Stari Irish Red, Stari Sour Cherry and Stari Unfiltered Brew
Kissler Holló dark beer, Kissler Ősforrás, Kissler beer distillate
If you don't like beer you can quench your thirst with cider offered in a special place called Ciderliget, dedicated exclusively to this drink. Visit the event's site for mor einformation.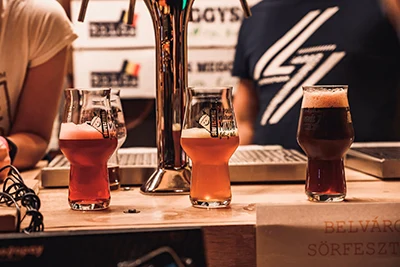 Food On The Festival
After a a couple of beers eveyone needs something to eat….No worries a couple of street food truck will be present at Szabadság Square:
Burger Market – delicious gouremt burgers
Kővári Grill – all sorts of gilled meats and sausages
Vitéz Kürtös – the iconic pastry of Hungary, Chimney cake/kürtös kalács
Attaboy Street Food Bistro – burgers, pizzas, tortillas
Pizza 54
Pancake Factory – pancakes with Nutella and other delights
Levendula Ice Cream – gelato in a nice variety of flavours
TIP: If you can't attend the festival go on our Cruise with Craft Beer Tasting, every day between 19.00 – 21.00 or 22.00 – 23.30 on Fridays and Saturdays.

Price: 42 EUR, 39 EUR (students)

You'll sample 5 popular Hungarian artisan brews, each sample is 150 ml + you can choose a favourite to have a 1 pint for FREE.
Snacks, live music, a 2-hour river excursion are all included in the price (28 EUR).
More info about the Beer Festival at Liberty Sqr.: official website
Find out about other September events in Budapest!
More Beer Adventures
Other Beer Festivals in Budapest
There are a couple of other festivals dedicated to beer in the Hungarian capital:
Belgian Beer Festival, September
Date: date is not available yet!
Location: NEW: Sörház utca 39., Budapest 1222. district XXII.
The Festival of Belgian Beers that used to take place on the terraces of the Whale/Bálna Shopping & Cultural Centre, moved to a new venue in 2018.
A wide range of Belgian beers (cc. 50) will be available on tap along with other Belgian specialties (cheese, chocolate).
Czech Beer Festival, 07 – 11. June, 2023
Date: 07 – 11. June, 2023
Opening hours: ever day from 12.00
Location: Roof Terrace – WesteEnd Shopping Centre
Entry: free (payment for beer/food is in cash)
Czech beers, gastronomy and concerts are in the focus of the Czech Beer Festival for 5 days in mid-June at a lovely rooftop park in the city centre.
OktoberFest At Erzsébet Tér, Downtown, 29. Sept – 01. Oct, 2023
Location: Fröccsterasz at Erzsébet tér 11-13, Budapest 1051
Date: 29. September – 01. October 2023, Friday – Sunday
After Munchen, Paris, Dublin and Washington Budapest will have its own Octoberfest at a nice riverside venue in Buda.
The cream of the crop of Hungarian, Bavarian and other international craft breweries will be present within a Farmers' and Gastro fair on the 4-day event.
Cultural and fun activities for kids make the festival a great weekend program for the whole family. Daily ticket is 1 990 HUF (incl. a Paulaner beer mug).
Find out more about the Oktoberfest in Budapest 2023 View our Facebook photoalbum about the festival
More Summer Events:
World Athletics Championship Budapest 2023 – Summer Festival – F1 Hungarian Grand Prix – Sziget Festival – Festival of Folk Arts – Jewish Summer Festival – Top Summer Activities 2023
Other Events in the Castle: Budapest Wine Festival 2023