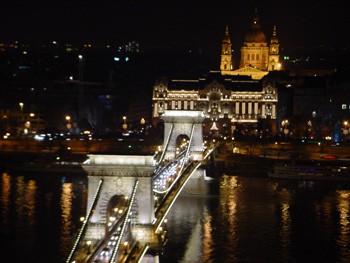 Tips on Accommodation and Things to Do
We collected some useful information you might need when you visit Budapest on business.
Where to stay?
Which restaurant to go for a business meeting?
Where to go to have some fun?
Even if you come here on business, you should make time for exploring the city's historic sights, relax in one of the thermal baths and enjoy the vibrant nightlife.
Quick Links:
Business Hotels – Restaurants – Sightseeing – Cruises – Conference Venues – Nightlife
Why is Budapest a Popular Business Travel Destination?
The city offers a wide selection of hotels equipped with high standard business meeting facilities.
Buildings with stunning architecture that are perfect conference venues.
A couple of new establishments with top notch business facilities.
Budapest became a metropolis during the past decades, so don't expect it to be ridiculously cheap, however it's still less expensive than most other fashionable cities in the world.
It has a vivid cultural and nightlife, a varied restaurant and cafe scene with a range of internet cafés/wifi spots.
It's a beautiful city and strange at the same time that does not cease to amaze me, although I've been living here for many years now.
Business Hotels in Budapest
If you want to organise a conference or business meeting in Budapest you can't go wrong with a hotel owned by the Danubius Hotels Group.
They have substantial expertise in organizing conferences and banquettes gathered during their 30 years of operation.
Exclusive meeting rooms with modern conference facilities, expert and helpful tasks make them a perfect venue for any business or social event.

List of the Danubius Hotels in Budapest:
Danubius Hotel Gellért ****
Address: Szt. Gellért tér 1., district XI.
Tel: (+36 1) 889 5500, room reservation: (+36 1) 889 5501
Danubius Health Spa Resort Margitsziget **** superior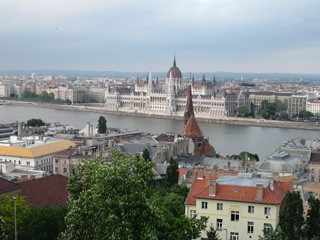 Address: Margitsziget (Margaret Island), district XIII., Árpád Bridge
Tel: (+36 1) 889 4700, room reservation: (+36 1) 889 4752
Danubius Health Spa Resort Helia****
Address: Kárpát u. 62-64., district XIII.
Tel: (+36 1) 889 5800
Danubius Grand Hotel Margitsziget **** superior
Address: Margitsziget (Margaret Island), districtXIII.
Tel: (+36 1) 889 4700, room reservation: (+36 1) 889 4752
Danubius Hotel Astoria ****
Address: Kossuth Lajos utca 19-21., district V.
Tel: (+36 1) 889-6000
Danubius Hotel Flamenco ****
Address: Tas vezér út 3-7., district XI.
Tel: (+36 1) 889-5650
Best Western Hotel Hungaria ****
Address: Rákóczi út 90., district VII.
Tel: (+36 1) 889-4400
Hotel Budapest ****
Address: Szilágyi Erzsébet fasor 47., district II.
Tel: (+36 1) 889-4279
Hotel Stadion ***
Address: Ifjúság útja 1-3., district XIV.
Tel: (+36 1) 889-5200
TIPS: Budapest has a couple of nice Boutique hotels, modern designer hotels in the city centre with relaxing atmosphere, personalized service. These contemporary fashion hotels are ideal for business travellers who want a refreshing hotel environment after a long business meeting.
Budapest Airport Hotels offer comfortable accommodation in the close proximity of Ferihegy airport. Most of them have conference rooms and are equipped with business facilities.
The 4-star Airport Hotel Budapest is very close to the Ferihegy airport situated in a peaceful neighbourhood.
Other Budapest Hotels with the Business Travellers' Needs in Mind
Corinthia Budapest (formerly Grand Hotel Royal *****)
Address: Erzsébet körút 43-49., district VII.
Tel: (+36 1) 479 4000
It was given the Best Conference Facilities award by the Budapestweek magazine in 2005.
The 5-star hotel has a spacious conference center and an exhibition centre to accommodate large-scale events. The recently renovated Royal Spa offers cutting edge spa facilities and treatments.
Four Seasons Gresham Palace *****
Address: Roosevelt tér 5-6., Budapest district V., tram 2, Roosevelt tér stop
Tel: (+36 1) 268 6000
Four Seasons Hotel Gresham Palace more…
Boscolo Budapest Hotel
Housed in the lavis new York Palace (Erzsébet körút 9-11, district VII.) the Boscolo Hotel also has a modern business center accommodating 3-220 persons with top-notch technology. The historic building that was restored to its glory a couple of years ago, itself is worth a visit.
Read more about New York Palace Boscolo Hotel here.
The Ritz Carlton Budapest *****
Address: Erzsébet tér 9-10., district V.
Tel: (+36 1) 429 5500
The recently opened Ritz Carlton Hotel at Erzsébet Square is one of the top five star hotels in the Hungarian capital.
Kempinski Hotel Corvinus *****
Address: Erzsébet tér 7-8., M1, M2, M3 metros district V. (close to the Le Meridien Hotel)
Tel: (+36 1) 429 3777
Excellent location and service. Do try its Asian-inspired spa complex! In the gallery on the first floor you can view a great art collection by Hungarian artists.
Address: Váci út 1-3., district VI.
Tel: (+36 1) 288 5500
Awarded the "Best Business Hotel in Hungary" by Budapestweek journal. It's connected to the West End City shopping mall, but other shops along Grand Boulevard (Nagykörút) are also within walking distance.
Excellent transportation: trams 4,6, M+ (blue) metro line, Nyugati Railway Station.
Sofitel Budapest Chain Bridge *****
Address: Roosevelt tér 2., district V., tram 2, Eötvös tér stop
Tel: (+36 1) 266 1234
From the street level windows of the Paris Budapest Café you can enjoy the breathtaking view of the Danube with the Chain Bridge and Castle District on the opposite bank in Buda.
Hotel Intercontinental Budapest *****
Address: Apáczai csere János utca 12-14., district V.
Tel: (+36 1)327-6333
Rewarded with the Best Conference Facilities title, together with Corinthia Grand Hotel Royal in 2005.
Holiday Beach Budapest ****
Address: Piroska utca 3-5., district III.
Tel: (+36 1) 436 7160
A rather new wellness and conference hotel in Budapest, with a large and well-equipped conference room, swimming pools, jacuzzis, sunterrace, saunas, tennis courts, aerobic and other fitness and wellness services.
Novotel Budapest Congress ****
Address: Alkotás utca 63-67., district XII.
Tel: (+36 1) 372 5400
Novotel Budapest Centrum ****
Address: Rákóczi út 43-45., VIII. district
Tel: (+36 1) 477 5300
If you Want to Feel at Home Away from Home:
Marriott Millennium Court – Executive Apartments
Address: Pesti Barnabás utca 4., district V.
Tel: (+36 1) 235 1800
Enjoy the ideal combination of home comforts and the indulgence of hotel services. Located in the heart of Budapest, many sights, shops, public transport service, restaurants are within walking distance. Spacious apartments, cozy studios
Hotel Apartment Adina *****
Address: Hegedüs Gyula utca 52-54., district XIII.
Tel: (+36 1) 801 2700
Spacious apartments with bedroom, living room, well-equipped kitchen, bathroom.
Starlight Suiten Hotel ****
Address: Mérleg utca 6., district V.
Tel: (+36 1) 484 3700
A simple elegant hotel with perfect location. Large, air-conditioned rooms (bedroom, living room, working and dressing area, bathroom) friendly staff.
Sightseeing in Budapest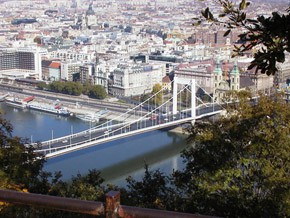 Even if you come for a short business trip try to squeeze in some time for sightseeing since the Hungarian capital abounds in historic and cultural monuments, and great museums. Here are some pages two help you plan your sightseeing:
Restaurants in Budapest Perfect for a Business Lunch
Baraka
Address: Andrássy út 111., district VI., M1 metro
Tel: (+36 1) 462 2100
One of the best international restaurants in Budapest with a hip atmosphere. It is located on the ground floor of the Andrássy Hotel on the elegant Andrássy Avenue.
Remiz
Address: Budakeszi út 5., district II.
Tel: (+36 1) 275 1396
A high-end restaurant with a wonderful outdoor terrace. Menu is available in 6 languages. Mainly Hungarian dishes.
Le Bourbon
Address: Erzsébet tér 9-10., district V., inside the Le Meridien Hotel
Tel: (+36 1) 429 5770
One of the best hotel restaurants in Budapest and one of the best French restaurants too.
Café Kör
Address: Sas utca 17., district V., near St Stephen's Basilica
Tel: (+36 1) 311 0053
An excellent place with great food (Hungarian with a touch of French cuisine), friendly atmosphere and service in the heart of the city. There's terrace in summer. Whenever I go there I can't wait to try one their delicious homemade desserts.
Cyrano
Address: Kristóf tér 7-8., district V.
Tel: (+36 1) 226 3096
A downtown restaurant with international cuisine just off Váci Street.
See also our pages about Best Restaurants, and Hungarian Restaurants.
Other Conference Venues
Budapest Congress & World Trade Center
Address: Jagelló út 1-3., district XII.
Tel: (+36 1) 372 5400, 372 5700
This is the largest congress centre not only in Budapest but in Hungary. The city centre, the airport are both asily accessible. It's been refurbished recently, equipped with the latest audio-visual technology.
CEU Residence and Conference Center
Address: Kerepesi út 87., district XIV., Tel: (+36 1) 327 3150
The Central European University's facility is a bit far from the city centre although public transport is good and you can get to downtown Budapest in 20 minutes. There are several meeting rooms. It houses a 3 star hotel as well.
The following two museums are excellent conference venues:
Museum of Fine Arts (Szépművészeti Múzeum)
Address: Hősök tere (Heroes' Square), M1 metro
Tel: (+36 1) 469 7100
Museum of Ethnography (Néprajzi Múzeum)
Address: Kossuth tér 12., districtV.
Palace of Arts (Művészetek Palotája)
Address: Komor Marcel utca 1., district IX., near the Lágymányosi Bridge
Tel: (+36 1) 555 3000
A conference room with high-tech facilities, simultaneous translation system in 5 languages
Where to Unwind During Your Budapest Business Travel
Boat Tours on the Danube
TIP:
If you can fit into your business activities enjoy a dinner & cruise on the Danube. While you contemplate the wonderful panorama of Pest and Buda on the riverbanks you can relish fine food from the buffet dinner, and live music (only during the cruise starting at 19.00).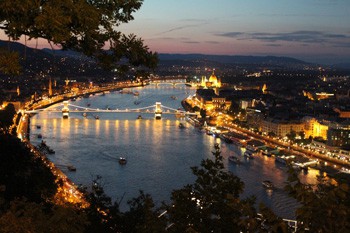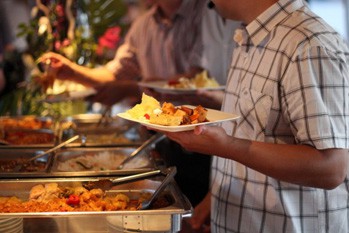 TIP:
Save money by booking another program together with the night cruise starting at 22.00.
Enjoy
an orchestra concert or
an Organ Concert in the beautiful St. Stephen's Basilica
before the boat tour. This way you not only have a great program for a full evening but you save some money by booking a Concert/Folk performance + Dinner & Boat Tour as a package
Nightlife Tips
In the Royal Palace Club you can combine business with pleasure. A first-class club that caters for businessmen's needs. Restaurant offers Hungarian and international dishes.
Address: Győri utca 16., district XII., near MOM park in Buda, 2 minutes from downtown Pest
Tel: +36 1 3568 670, 06-20-269-8351
Open: Mon-Sat: 18.00-05.00, Sun: 21.00-05.00
See more places on our Recommended Nightclubs page. You might also want to check out Budapest Casinos too. Get an overall picture about more Budapest things to do at night.
Squeeze in some time between two meetings to pop in one of the Day Spas in Budapest. They're islands of serenity and relaxation in a buzzing city.