Types of Budapest Passes, Price, Buying Info
The Budapest Card is a nifty little travel pass available for 5 durations that can make your exploration of this stunning city a whole lot easier and more cost-effective.
With the Budapest Card in your pocket, you'll have unlimited access to public transportation, like buses, trams, and the 4 metro lines. But that's not all! It also grants you free or discounted entry to a wide range of museums, thermal baths, and attractions across the city.
TIP: Buy the card online so that you'll be well-prepared to begin your visit to Budapest! You can pick up your Card at Budapest Airport at the reception of Ibis Style Airport Hotel Budapest, all throughut the day, 0 – 24 h no matter what time your plane lands.
Table of Contents – Budapest Card
The city pass can come handy when you are visiting for a couple of days and will be doing lots of sightseeing, and museum hopping (free entry to 52 museums & galleries).
Included Are
Free use of the public transport network,
Free entry to 52 museums/galleries
+ 2 free walking tours – one in Buda and the other in the Pest side, and
Many discounts make that easier and more budget friendly.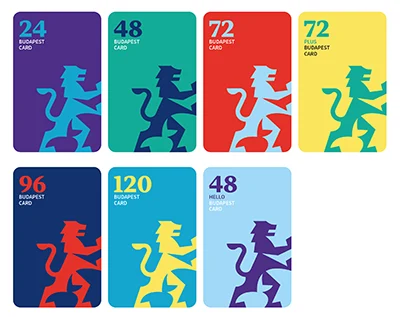 Each card is valid for one person for 24-, 48-, 72-, 96- or 120 hours, starting from the time of first use. There's also a 72-h Plus Card for
What Is A Budapest Card?
The Budapest Card can save you a lot of money. This small plastic card entitles the card holder to benefit from its included services:
Unlimited travel on public transport, including the Chairlift in Zugliget/Buda Hills (excl: Funicular in the Castle),
2 free walking tours and numerous discounted sightseeing tours,
Discounts in certain restaurants, spas, shops, car rental, and numerous other places,
Free or discounted entry to many museums and sights,
Free mobile application with 12 thematic routes and audio guiding.
The card also comes with a pocket-sized brochure with maps of Buda and Pest, and the Budapest metro system.
The brochure tells you in details how to use the card and includes all the benefits you're entitled to.
How Much Does a Budapest Card cost?
You can buy your Budapest pass for 5 different durations with the same services and discounts. Each card is valid for one person, regardles sof age.
There's also a 72-Hour Plus card with extended discounts, free Danube river cruise,
Buy Online – Choose a Budapest Card That Most Suits Your Travel Needs
Current Prices 2023:
24-Hour Card: 33 EUR
48-Hour Card: 49 EUR
72-Hour Card: 63 EUR
72-Hour Plus Card: 96 EUR
96-Hour Card: 77 EUR
120-Hour Card: 92 EUR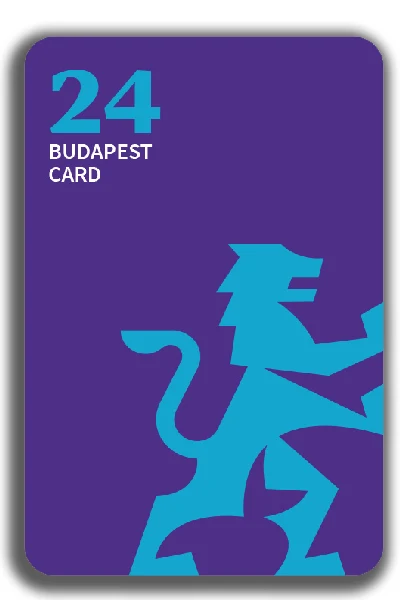 Free Services, Main Discounts with Each Card
Free entry to the Lukács Thermal Bath, located in the Buda side in Frankel Leó utca.
Free travel on public transportation in Budapest including the Chairlift/Libegő in Zugliget in the Buda Hills (excluding the Funicular in Buda Castle),
no-entry fee to the Folk Arts Festival in Buda Castle (17-20. August)
Two free guided walk tours in English: one in Buda the other in Pest. Tours depart daily rain or shine. See details below.
Discounts on admission to many more sights, attractions, services.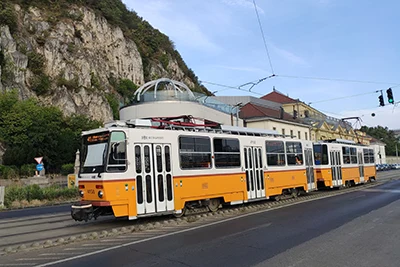 Free Entry to the permanent exhibitions of 52 Budapest Museums and Art Galleries
Museums and Galleries
HUNGARIAN NATIONAL MUSEUM – FREE
HUNGARIAN NATIONAL GALLERY – FREE
MUSEUM OF FINE ARTS – FREE
KUNSTHALLE BUDAPEST (MÜCSARNOK) – FREE
BUDAPEST HISTORY MUSEUM — CASTLE MUSEUM – FREE
BUDAPEST HISTORY MUSEUM — AQUINCUM MUSEUM – FREE
BUDAPEST HISTORY MUSEUM — KISCELL MUSEUN – FREE
BUDAPEST HISTORY MUSEUM — BUDAPEST GALLERY – FREE
BUDAPEST HISTORY MUSEUM MEDIEVAL JEWISH PRAYER HOUSE – FREE
BUDATOWER — THE MARY MAGDALENE TOWER – FREE
LUDWIG MUSEUM — MUSEUM OF CONTEMPORARY ART – FREE
ROBERT CAPA CONTEMPORARY PHOTOGRAPHY CENTER – FREE
HOUSE OF THE HUNGARIAN PHOTOGRAPHERS – MAI MANO HOUSE – FREE
VASARELY MUSEUM BUDAPEST – FREE
MARGARET ISLAND OPEN -AIR THEATRE WATER TOWER AND PANORAMIC LOOKOUT TOWER – FREE
HUNGARIAN MUSEUM OF TRADE AND TOURISM – FREE
FERENC HOPP NUSEUM OF ASIATIC ARTS – FREE
LIGET BUDAPEST VISITOR CENTER – FREE
UNDERGROUND RAILWAY MUSEUM – FREE
MUSEUM OF ÓBUDA – FREE
GOLDBERGER TEXTILE INDUSTRY COLLECTION – FREE
ST. STEPHEN'S HALL – FREE
SZANOS CHOCOLATE MUSEUM – GIFT
GUIDED TOURS AT THE PESTI VIGADÓ – 50%
"AMONG THE FIRST ONES…" THE PERMANENT EXHIBITION OF THE POSTAL MUSEUM – 50%
HOSPITAL IN THE ROCK — NUCLEAR BUNKER MUSEUM – 25%
MUSEUM OF ETHNOGRAPHY – 20%
ST. STEPHEN'SBASILICA – 20%
THE MAIN PARISH CHURCH OF THE ASSUMPTION IN DOWNTOWN – 20%
GÖDÖLLÖ ROYAL PALACE – 15%
HOUSEOF HUNGARIAN MUSIC – 10%
MUSEUM OF ILLUSIONS – 10%
SYNAGOGUE IN KAZINCZY UTCA – 10%
DOHÁNY STREET SYNAGOGUE – 10%
HUNGARIAN JEWISH MUSEUM AND ARCHIVES – 10%
HOLOCAUST MEMORIAL CENTRE – 10%
Note: Please keep in mind that most museums are closed on Monday.
When Is It Worth Buying a Budapest Card?
If you come for 2-3 or more days and plan to
see lots of attractions,
enjoy the thermal baths,
travel a lot on public transport services, the City Card is good value for you.
Where Can You Buy a Budapest Card?
The most convenient way is to get it online through our secure webshop. Just select which type of card you need.
You can use all major credit cards for paying through the secure online system. Your city card will be delivered to your hotel or apartment for free.
Offline Purchase Options:
The City Card is also available at many places in the city:
at major metro ticket offices, (e.g. Nyugati Train Station, Keleti Train Station, Déli Train Station),
Liszt Ferenc Airport: at the Budapestinfo Points in terminal 2A: opening hours: every day: 8.00-20.00, terminal 2B: open: every day: 10.00-22.00
Other Tourist Info Points in the city: Sütő utca 2., district V., (M1, M2, M3 metros), Open: every day: 8.00-20.00, City Park Ice Rink Building: Olof palme sétány 5., district XIV., Open: every day: 9.00-19.00
Travel agencies, and
in hotels.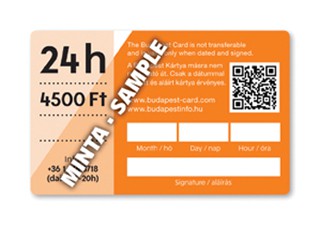 How to Use? – Validity of the Budapest Cards
Please write the starting date on the back of the card: month, day and hour. Please sign the card!
Only cards with the starting date and the owner's signature are valid.
The card expires after 24, 48 or 72 hours from the precise time you validated the card.
TIP: In case of discounts to restaurants and cafes that are part of the card's current discount system, not only the card holder but other guests (family members, friends) in her/his company are entitled to the lower prices.

Please show your card to the waiter when you select form the menu and make your order.
Discounts/Free Services With the Budapest Card
Note: the list isn't complete – for the most up-to-date information on discounts please visit the card's official website.
21 Free Services, and further 10 – 50% discounts on tickets to museums, baths, sightseeing, activities, and restaurants.
Public Transport
You can travel on all public transport services free of charge within the boundaries of Budapest.
Note: Traveling on the Funicular up and down to Buda Castle is not included in this discount.
When an inspector asks you to show your ticket, present her/him your Card.
Note:
citizens of European Union countries aged 65 and up can use all public transport lines for free in Budapest (they have to show a valid ID to verify age and EU member nationality if asked by a ticket inspector.
Find out more about Getting Around Budapest.
Sightseeing and Sights- Budapest Card Discounts
BKK PUBLIC TRANSPORT – FREE
FREE ZUGLIGETCHAIRLIFT(LIBEGÖ) – FREE
OFFICIAL BUDAPEST CASTLE BUS – FREE
WALKING TOUR BUDA – FREE
WALKING TOUR PEST – FREE
UNIVERSAL AIRPORTHUB LUGGAGE STORAGE – 50%
LEGENDA CITY CRUISES – 25%
BUDGET RENT A CAR – 25%
DOOR-TO-DOOR AIRPORT TRANSFER – BUD AIRPORT, MINIBUD – 20%
BIKE & RELAX BUDAPEST BICYCLE TOURS – 20%
CITY SIGHTSEEING BUDAPEST – HOP ON HOP OFF – 20%
"DINNER & CRUISE" WITH FOLKLOR SHOW – 20%
BIKE CARRIAGE (BRINGOHINTO) – 20%
LUNCH&CRUISE – 10%
RIVERRIDE – 10%
EURAMASIGHTSEEING TOURS – 10%
ROYAL CAR — SIGHTSEEING TOUR – 10%
JEWISH HERITAGE TOURS – 10%
More Resoureces To Plan Your Trip
See a roundup of top Budapest attractions and browse recommended Budapest City Tours.
Learn more about Biking in Budapest.
Find what concerts are on in Budapest, and browse our Events calendar page for other interesting programs throughout the year!
Thermal Baths, Swimming Pools, Outdoor Baths & Lidos*
* The discount is always on the full-price entry ticket with cabin rental.
TIP: Here's more information about Budapest Baths & Spas, including entry fees, opening hours, what to bring etc.
Other Attractions, Programs, Special Budapest Experiences
Pálinka Experience Museum – FREE
PÁL-VÕLGYI CAVE – FREE                              
URBAN BETYÁR RESTAURANT & VISITOR CENTER – FREE
MADAME TUSSAUDS BUDAPEST GIFT
HOUSEOF UNICUM – 20%
EXHIBITIONS AT THE PESTI VIGADÓ – 20%
TIMETRAP EXIT GAME – 20%
FERRIS WHEEL OF BUDAPEST WITH CHAMPAGNE – 20%
TROPICARIUM — THE SHARK ZOO – 15%
SZAMOS CHOCOLATE TOUR – 10%
ORGAN CONCERT IN ST. STEPHEN'S BASILICA – 10%
RAJKÓ FOLK ENSEMBLE & ORCHESTRA – 10%
PREMIER OUTLET BUDAPEST – 10%
BUDAPEST PINBALL MUSEUM – 10%
ARCADIASAVOYA – 10%
Other Pages Related to Entertainment in Budapest:
Restaurants – Eat & Drink For 10 % – 50 % Less With Your Budapest Card At The following Places
BUCKETLIST COLLECTION — GRATIS PROSECCO TOUR – FREE
CHAMPION WINE VINARIUM & GASTRO BOUTIQUE – 50%
PÁRISI PASSAGE RESTAURANT EXPERIENCE – 20%
ZSOLNAY CAFÉ – 20%
HALÁSZBÁSTYA RESTAURANT ( Fishermen's Bastion, northern tower) – 20%
MOLNÁR'S KÜRTOSKALÁCS (Váci utca 31., district V.) – 20%
VÉN HAJÓ RESTAURANT – 20%
LÁNGOS IN THE HEART OF THE CITY! – 20%
MADHOUSE BUDAPEST BISTRO & CRAFT BEER BAR – 20%
MAD GARDEN BUDA – 20%
BONNIE RESTRO COMICS – 20%
YELLOW BISTRO & BAR – 20%
HARD ROCK CAFE (Deák Ferenc utca 3-5.,distr. V.) – 10%
LÁNG BISTRO & GRILL RESTAURANT – 10%
OLD STREET CAFÉ – 10%
CAFÉ ASTORIA RESTAURANT (Kossuth Lajos u. 19-21., distr. V.) – 10%
TIP: Find out more about Budapest Restaurants in general, see our selection of Best Restaurants in Budapest and browse our hand-picked Hungarian Restaurants in Budapest.
See also recommended places for Wine Tasting in Budapest.
72 Plus Budapest Card Discounts
Free DOOR-TO-DOOR AIRPORT TRANSFER BUD AIRPORT, NINIBUD – FREE
Funicular up to Buda Castle – 1 FREE Ride
Danube sightseeing cruise by Legenda – FREE
Matthias Church (Church of Our Lady) in Buda Castle – FREE Entry
Molnár's Kürtöskalács – FREE