Attraction At the Foot of Castle Hill, Amazing View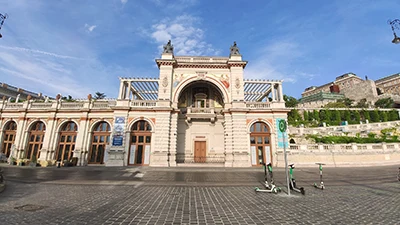 The series of buildings and gardens, known as Várkert bazár, were built in the 19. century (between 1875-1883) by the designs of Miklós Ybl architect
He designed, among many other buildings and mansions, the Opera House on Andrássy Av.
TIP: Take a leisurely walk to explore the beautiful buildings, the verdant neo-Renaissance garden while admiring the scenic panorama.

If you want to immerse yourself bit of Buda Castle history go on a guided tour of St. Stephen's Hall (in English).

Have a cocktail in Monkey Bistro – 1013 Budapest, Ybl Miklós tér 4., Open Tue-Sat: 12.00 – 24.00 that has a nice rooftop terrace allowing you to revel more in the vista.
Table of Contents – Budapest Castle Bazaar
Luckily this almost forgotten gem of Budapest had been fully renewed a few years ago with
Modern exhibitions halls,
Impressive buildings and panorama
A lush garden
Restaurants and cafes
Shops, and
Events all year round.
What's The Story Behind Castle Bazaar?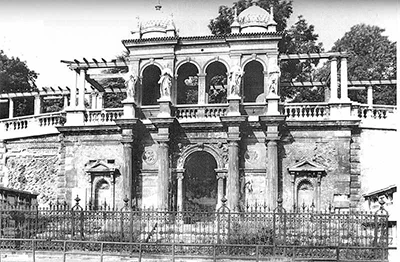 The aim of the construction in the 19. century was to create a similarly elegant and attractive city scape at the foot of the Royal Palace in Buda as the one in the Pest side of the river.
The city leaders thought that the Várkert could be developed into a busy shopping and entertainment centre, a sort of replica of the Danube Promenade in the Pest side.
It never fulfilled this aim and the buildings started to quickly deteriorate with various owners and users over the 20. century.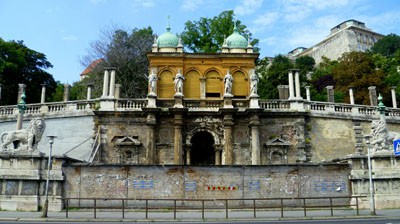 A whole new cultural and entertainment centre had been reborn in Buda! (photo source: epiteszforum.hu).
Since the Bazaar and Royal Gardens are part of the UNESCO's World Heritage sites, along with Buda Castle and the Danube riverbanks, the monument had to be restored to its original state.
Besides the renovated buildings, a series of new elements add new focus to Várkert Bazár:
You can go up to the castle by an escalator
An underground event room hosts conferences and meetings,
You can stop for coffee or grab a meal in the cafe of the Gourmet Shop.
Recommended Tours To Explore Buda Castle & The Bazaar
Renovation Finished in 2014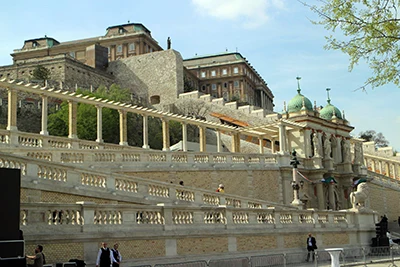 In the first phase of the development project, that was completed by 03. April 2014., the historic buildings had been renovated.
Afterwords the neo-Renaissance gardens were restored.
New buildings,
Cafes and restaurants, and the
Foundry Court (Öntőház udvar, cannons and cannon balls were made here between the 16-18. centuries) had been completed.
The reconstruction had been fully finished and the complex opened to visitors at the end of August 2014.
See more photos in our Facebook album.
Location, How To Get There- Castle Bazaar and Gardens
Address: Ybl Miklós tér, at the southern slopes of Castle Hill, between the Chain Bridge and Elizabeth Bridge
Getting There:
tram 2 (Széchenyi István tér stop/at the Chain Bridge, then cross the bridge and walk south or
get on bus No. 16 or No. 105 at Széchenyi tér/Pest end of the Chain Bridge, get off at Clark Adam tér/Buda end of the Chain Bridge then a few-minute walk),
From Pest city centre you can also get on buses No. 16 and No. 105 at Deák Ferenc tér metro hub (M1, M2, M3 lines).
By boat No. 11 (between Kopaszi gát and Árpád Bridge/Újpest stops): get off at Várkert Bazár, boat ticket: adults: 750 HUF, children up to age of 15: 550 HUF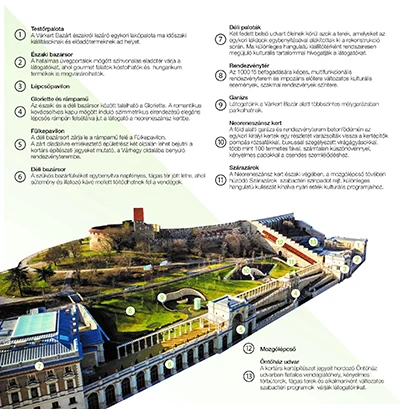 Map:
Guards' Palace/Northern Palace (Testőrpalota)
Northern bazaar – there are a gourmet shop and cafe there
Stairs
Gloriette and walk ramp
Pavilion – looks like a triumphal, entry to the underground Event Hall
Southern bazaar
Southern palaces – host exhibitions
Event hall
Garage
neo-Renaissance Garden
Szárazárok – open-air stage
Escalator
Foundry Court/Öntőház udvar: place for outdoor events, has a cafe (Bazaar Eclectica, open every day from 11.00 am)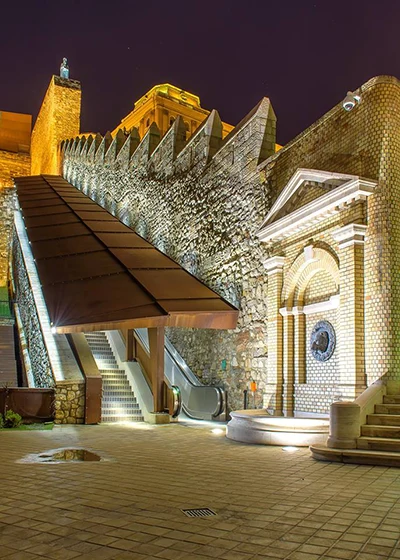 Opening Hours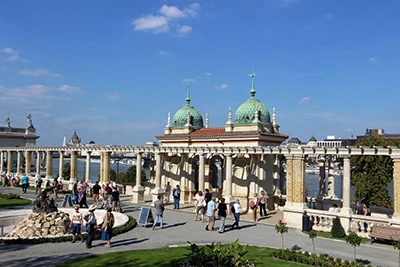 Temporary exhibitions in the Southern Palace and Northern Palace/Guards' Palace (Testőrpalota): Tuesday-Sunday: 10.00 – 17.30, Cashier closes at 17.00.
Neo-Renaissance Garden: every day: 10.00 – 24.00.
Renaissance Garden – A Green Oasis With View
Open: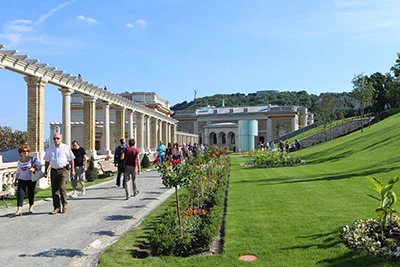 A lush garden reminiscent of the royal gardens that used to adorn Buda Castle was created between the underground garage and the concrete top of the event hall.
Rose trees, boxwood, around a 100 trees and plants with benches allow peaceful relaxation while you can also enjoy the wonderful city view.
The Szárazárok (Dry Ditch) at northern end of the garden, at the foot of the escalator leading up to the Castle, has an open-air stage where concerts provide excellent entertainment on summer evenings.
Guided Tours in English, Hungarian
St. Stephen's Hall – The Marvel Of Buda Castle, Guided Tour & Exhibition
An informative and interactive digital exhibition will help you uncover the history Buda's Royal Palace and the construction of St. Stephen Hall.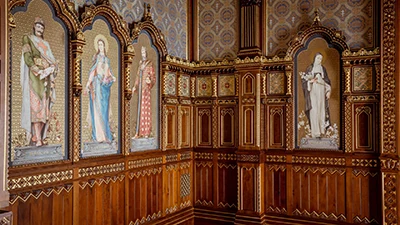 Before enetering the ornate hall you will encounter two exhibits:
The 1st one tells you how the hall was built originally then reconstructed later.
The 2nd is a unique, modern instalaltion introducing King St. Stephen's famous Admonitions
Address: Szent György tér 2 Budapest 1014, the southern connecting wings of Buda Castle Palace (E & F wings)
Opening Hours: Tue – Sun: 10.00 – 18.00
Note: Two types of tours are available: personally lead guided tours mainly for groups, and digitally guided individual tours where you use a tablet to assist you in exploring the hall and exhibit.
"In-Person" Guided Tours In English For Groups
Every Wednesday: at 12.00
Thrusdays & Fridays: at 12.00, 14.00, 16.00
Ticket Prices 2022 – 1-Hour Visiting Time
Tickets allow visitors to stay in the exhibition hall for 1 hour due to fire safety resons and the smooth operation of the tours.
Full Price: 3 950 HUF
Children, students, seniors: 1 950 HUF
Combined ticket (+Budapest History Museum): full price: 4 500 HUF, Children, students, seniors: 2 250 HUF
You can visit the Várkert and the gardens on tours lead by expert guides. Tours are available in English and Hungarian languages.
Price: 2 900 HUF/prs. Tours depart from the Guards' Palace/Testőrpalota, (Ybl Miklós tér 2., distr. I.)
Duration: cc. 90 minutes. Registration is required at the (+36 ) 30 -198 5274 mobile number.
NEW: A Jewish Ritual Bath, Mikveh, Can Be Visited on Tours: a religious bath originating from the 13. century was discovered 8 years ago in the cave system running underground in the Western part of Buda Castle.

You can view this rare find on a 1-hour English-language guided tour from Wednesday to Sunday, starting at 11.00.

Ticket: full price: 4 000 HUF. 50 % discount with Budapest Card!

The meeting point for the tour is at 1014 Budapest, Palota út 1.

TIP: You can learn about Budapest's Jewish Heritage and Tours here.
Exhibitions, Programs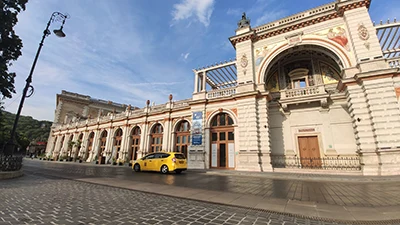 The refurbishment of the Castle Bazaar at the foot of Castle Hill had been finished and handed over to the public within a one day festival on Friday, 29. August 2014.
You can view the
Renovated buildings designed by Miklós Ybl along the renewed Lánchíd utca, the
5000 sqm neo-Renaissance garden and
a modern underground exhibition and event center.
Exhibitions In The Southern and Northern Palaces
The northern Guards' Palace (Testőrpalota) and
Southern palaces have a unique atmosphere ideal for art exhibitions and other cultural events.
The two buildings regularly host temporary exhibitions that you can visit Tuesday-Sunday from 10.00 to 17.30 (cashier closes at 17.00).
Tickets To The Exhibitions
Around 2 000 – 3 000 HUF/adult,
50 % discount for students (ages 6-26) and retirees (ages 62-70),
Free for children under 6 and for people above 70.
A New World Was Born – Europe's Fraternal War 1914-18
Location: Déli Palota/Southern Palace
Opening Hours:
Tue – Sun: 10.00 – 187.00
Tickets:
2 000 HUF, not recommended for children under 14 years of age
Depicts the belle epoque era, the years leading to the outbreak of the I. World War, then the horrors and disillusionment.
Events in the Várkert Bazaar
Street of Hungarian Flavours, 19 – 21. August 2022., Free
Venue: Between Várkert Bazaar – Döbrentei tér
Opening Hours:
August 19: 10.00 – 24.00, August 20 – 21: 09.00 – 22.00
The Street of Hungarian Flavours gastro festival is organised for the 12th time as part of St. Stephen Day's Festivities in Budapest. On the two days you can taste local food specialties from all over the country:
A special stuffed cabbage as prepared in the Szabolcs region: made with tomato and corn in the stuffing.
Another version of the stuffed cabbage from Matyó Land,
Lamb stew from Karcag town and other goodies
Hungary's Cake – each year there's a contest among confectionery to make the best torte from characteristic local ingredients. The 2022 winner can be sampled here together with the sugarfree cake of Hungary
This is also the palce where you can taste Hungary's bread 2022: a sourdough ry bread and a potato bread, both made only from natural ingredients without any enhancers, additives. Besides bread sweet pastries, milk loaf will also be available.
Find more events and programs on the official website of the Bazaar.
Mini Concerts in Summer
Budapest landmarks give home to a series of free concerts over the summer, between 01. June – 18. August 2019.
The Várkert Bazaar is one of the concert venues:
The Várkert Bazaar Gloriette: a brass band dressed in Hussar costume gives concert on Saturdays and Sundays at 17.00 and 17.30.
Pentecost Folk Art Festival, 09 – 11. June 2019.
Opening hours: 09.00 – 21.00
Entry: FREE
The festival evoking the traditions of Pentecost welcomes everyone with concerts and other family programs.
Folk Festival, 23 -27. May 2018.
Outdoor folk music and dance performances invite you to spend time in Öntőház Court of the Castle Bazaar. See detailed program of the Budapest Folk Fest!
Advent Weekends
Dates: on Sundays in December: 02., 09.., 16., 23. December 2018.
Entry: free to most programs, theatre performances can be attended with tickets (cc. 2 900 HUF)
The Várkert hosts a colourful series of programs on four Sundays preceding Christmas.
Families with children are very welcome to
make holiday ornaments,
help decorate the Christmas tree in the neo-Renaissance Garden on 23. December at 16.00,
have fun in the playhouse or the dance house and enjoy the theatre performances
Each Sunday a candle will light up on the wreath marking the approach of Christmas and the birth of Jesus.
Candle Lighting Ceremonies:
Location: in the Event Hall
02. December: 18.30,
09. December: 18.30
16. December: 18.30,
23. December: 18.30.
Other Programs on the Festival:
contemporary craft fair,
concerts,
food trucks
free children programs each Sunday.
This is perhaps the most scenic seasonal fair in the city at the foot of the castle Hill overlooking the Danube and the Pest side.
After looking around the craft market you sure will be tempted by the tasty street food offered by the trucks:
from local specialties (Kobe Sausages) to
international favourites (burgers, piadina, waffels, pancakes) and
hot drinks, the choice is ample
Children Programs on Sundays (FREE), 10.30 – 19.00
Advent craft workshop:
making gifts, ornaments,
decorating gingerbread,
lighting the candles on the Advent wreath
Concerts, Other programs
Sleeping Beauty by the Hungarian National Folk Ensemble on 04. December/Sunday at 17.00
Erika Miklósa & the Hungarian Virtuosi Chamber Orchestra, 11. December, 19.00-21.00 (tickets: 4 900-7 900 HUF).
Choir Festival on weekends: 04., 10., 11., 17., 18. December – open-air Christmas concerts by children and adult choirs in Lánchíd utca
See more Christmas Fairs and Advent Festivals taking place in Budapest.
Past Events
Spring Fair of Hungarian Flavours
Location: Event Hall
Entry: free
A 2-day event focusing on local farmer products and artisan food. Concerts, children programs accompany the fair where you can taste and buy:
ham, sausages and other pork specialties
craft cheese
honey
fruit preserves
chocolate and other sweets
pasta
pastes and spreads
chili sauce.
15th March National Day – Family Programs
Location: Event Hall, between 10.00 – 18.00
On 15. March 2018. Hungary commemorates the 170th anniversary of 1848 Revolution. The Várkert welcomes families with concerts and craft workshops.
Programs are free.
Easter Festival
Entry: free
Concerts,
folk dance performances,
family programs,
traditional egg painting
arts and crafts worksshops
await visitors to the bazaar for 3 days at Easter
See detailed program of the Easter Festival at the Castle Bazaar.
Restaurants, Cafes in Varkert
There are a couple of cafes and restaurants in the area but the colsest and mostpleasant one is undoubdetdly Monkey Bistrot
Monkey Bistrot
Souvenir & Gourmet Shop
The Castle Bazaar has 5 souvenir and gourmet shops at various psots of the area offering mainly (overpriced) Hungarian goodies:
Small gifts,
Food and drink specialties (Tokaji wines, Unicum), and of course
paprika.
Souvenir Shop in St. Stephen's Hall
Address: 1014 Budapest, Szent György tér 2., at the Royal Palace's southern connecting wing, from the direction of Lion's Court (oroszlános Udvar)
Opening Hours: Tue – Sun: 10.00 – 18.00
You can also admire the wonderful panorama of Pest from the terrace of the adjacent cafe.
Related:
Buda Castle – Top Sights – Gellért Hill – History of Budapest – Then & Now – Budapest Eye – August Programs