The Royal Palace
The original Royal Palace was destroyed and rebuilt many times. Its history is very much like that of the Matthias Church.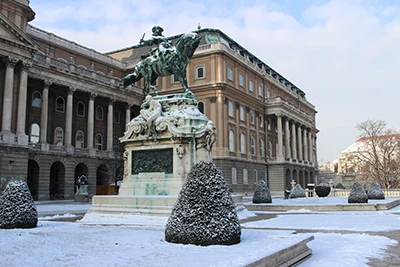 King Béla IV.started building a palace in the 13th century after the Mongol invasion.
The original Gothic Palace was built and expanded for 300 years. The golden era of the palace was under the rule of King Matthias (1451-90).
It was totally destroyed in 1686 when the Habsburg army liberated Buda from the Turkish occupation.
The Habsburgs built a completely new, small Baroque palace in the beginning of the 18th century.
It was damaged again in the 1848-49 War of Independence.
The following reconstruction almost doubled it in length at the end of the 19th century (now it's 304 m long) and a large wing was attached to the back.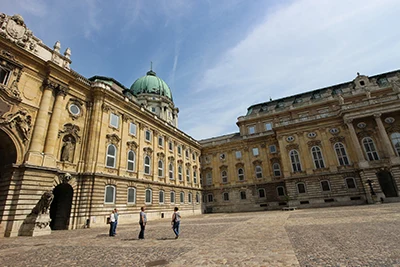 n 1945 it was the last defense of the German troops in Budapest.
Post-war reconstruction revealed Gothic and Renaissance foundations that have been incorporated in the building during the works. Thus the Palace is a mix of architectural styles.

Today the Palace Houses the Following Institutions:
the Budapest History Museum
the Hungarian National Gallery, and
the National Széchenyi Library.
Sándor Palace
The white-coloured palace today houses the headquarters of the Hungarian President's office.
TIP: after or before exploring the castle, check out the newest, reconstructed landmark of our city, the Castle Bazaar & Royal Gardens at the southern side of the hill on the bank of the Danube.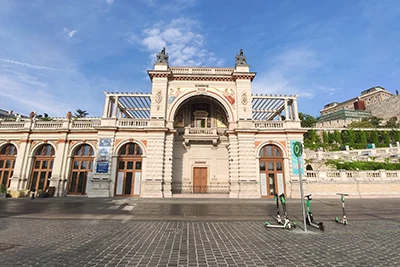 The historic complex is a work of Miklós Ybl architect and will function as a cultural and entertainment centre with exhibitions, shops and restaurants.
A historic Jewish ritual bath (mikveh) dated back to the 13. century can also be visited at the Várkert.
The English-language guided tours starting at 11.00 between Wednesday – Sunday are excellent opportunity to learn more about the past of Buda's Jewish community.
Tickets: 4 000 HUF/full price.
Events, Concerts, Programs in Buda Castle
Summer Concerts in the Hilton Dominican Court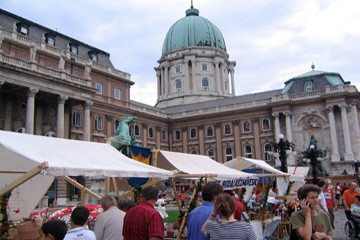 Date: usually in mid-July, Klezmer and gypsy music concerts in the Dominican court of the Hilton Hotel (Hess András tér 1-3.).
Festival of Folk Arts
Date: 17 – 20. August, 2019
Festival of Folk Arts the most renowned Hungarian folk artists and craftsmen from different regions of the country and abroad introduce their skills and craft work.
Wine & Champagne Festival
Date: 05 – 08. September, 2019.
The most prestigious of all wine festivals organized in Hungary is held Buda Castle in the first half of every September.
Read more details about he Budapest International Wine & Champagne Festival…
See also our Event Calendar.
Hotel Recommendations
As an alternative to the slightly boring Hilton, try Baltazár Hotel tucked away in a quieter part of the area in Országház utca.
It is a charming boutique hotel with only 11 rooms and a fantastic restaurant with terrace.
Where to Eat in Buda Castle?
Jamie's Italian – Opened in May 2016
Address: Szentháromság utca 9-11. (next to Ruszwurm Cafe listed below)
Open: every day: 12.00 – 23.00 Website
The newest member of the British celebrity chef's Italian chain restaurant opened in the heart of the castle in May 2016.
Jamie Oliver partnered with Hungarian restaurateur Zsidai Zoltán Roy (also by him: 21 Hungarian Restaurant at Fortuna utca 21., Cafe Pierrot at Fortuna utca 14., Baltazar Hotel at Országház utca 31., Pest Buda Bistro at Fortuna utca 3., – yes, looks like he owns all of Fortuna utca – Spíler Biergarten on Kapisztrán tér, ÉS Bisztró and ÉS Deli in Kempinski Hotel, Spíler Shanghai in Gozsdu Court).
The trade-mark characteristics of all Jamie's Italian establishments
high-quality ingredients,
professional food preparation and service,
cozy environment,
affordable (fitting to the premium location) prices
is present in the Hungarian place.
A must-try for a tasty Italian-style lunch or dinner after exploring the historic monuments of the area.
Ruszwurm Coffee House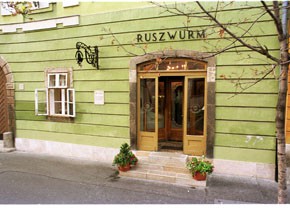 Address: Szentháromság utca 7.
Open: 10.00 – 20.00, Closed on Wednesdays
Tel: +36 1 375 5284
For a coffee and cake visit the city's oldest confectionery, the Ruszwurm in Szentháromság utca.
It's a small, Baroque coffee house dating from 1824.
Usually it's crowded with tourists, but on a winter afternoon you might get a seat in its tiny salon. On a hot summer-day have an ice-cream.
See other historic cafes in Budapest.
Rétesvár Bakery – Delicious Strudels
Address: Balta köz 4., Buda Castle
This small bakery is in a narrow alley connecting Tárnok utca with Úri utca and specializes in strudels with various fillings (cottage cheese, cherry, apple etc.).
We tried strudels of several other bakeries but Rétesvár's are the most delicious.
The place is too small so guests can't sit down inside but you can take the strudel and a cup of coffee to go with you and sit down somewhere nearby to refuel during your Castle District tour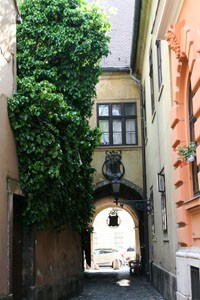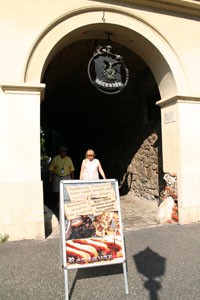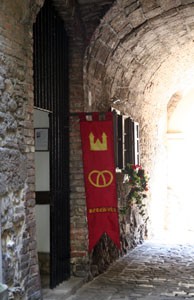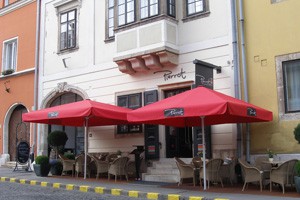 Café Pierrot
Address: Fortuna utca 14.
Tel: +36 1 375 6971
For something more substantial, your best bet is Café Pierrot in Fortuna utca.
Besides Hungarian dishes you can choose from a variety of pastas and sandwiches.
It has a free wireless internet access for its customers.
21 Hungarian Restaurant with BIB Gourmand Status from Michelin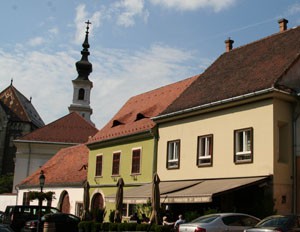 Address: Fortuna utca 21.
Tel: +36 1 202 21 13
Open: every day 11.00 – 24.00
21 is an upscale Hungarian restaurant in Fortuna utca near Bécsi kapu tér.
It received a BIB gourmand status from Michelin in 2010 for its quality cuisine at reasonable prices.
According to their motto 21 Magyar offers "Hungarian cuisine as it used to be in the "good old days", updated to the 21st century".
The wine list includes only Hungarian wines from the country's best wineries (Tamás Günzer Villány, Tamás Dúzsi Szekszárd, Konyári Winery Balatonlelle, Otto Légli Balatonboglár, St. Andrea in Eger).
Price guide: soups: cc. 1200-1300 HUF, main dishes: cc. 3 500-5 000.
See more top-rated Restaurants offering Hungarian Dishes in Budapest.
Arany Kaviár Restaurant – Michelin Recommended Restaurant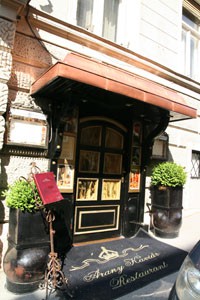 Address: Ostrom utca 19.
Tel: (+36 1) 201 6737
The menu of Arany Kaviár represents traditional Russian cuisine and the classical cuisine of the court of the Czars influenced by French cuisine.
Guests can choose from the 5 course Tasting Menu, changed regularly, or the 8 course Gourmet Menu, both very popular.
Apart from the menu, the restaurant pays special attention to the selection of wines and spirits, which are chosen by two sommeliers from famous Hungarian wine cellars and from among the masterpieces produced by smaller artisan wineries.
Price guide: lunch menu (between 12.00-16.00): 4900 HUF, gourmet menu: 25 000 HUF (without wine) 40 000 (with wine)
Alabárdos Restaurant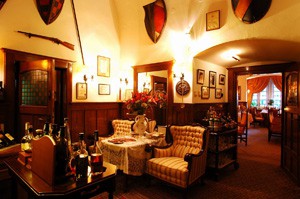 Address: Országház utca 2.
Tel: +36 1 356 0851
Open: Mon – Fri: 19.00 – 23.00, Sat: 12.00 – 16.00 and 19.00 – 23.00
Alabárdos is in a 400 year old gothic building in Országház utca (a small street opposite Matthias Church).
The restaurant specializes in Hungarian cuisine but they're open to new culinary trends.
The wine list offers 70-80 different types of wine form Hungary's various wine regions.
Price guide: soups: cc. 1600 HUF, main dishes: cc. 3200-4900 HUF.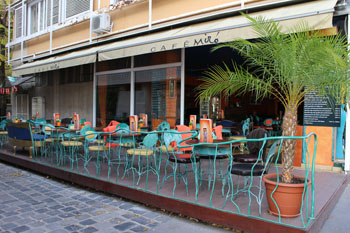 Café Miró
Address: Úri utca 30.
Tel: +36 1 375 5458
For a modern world feeling try Café Miró in Úri utca, its surrealistic wrought iron furniture brings you back from the past.
TIP: For more recommendations on where to go out eating see our Best Restaurant Guide.
Related:
Gellért Hill – Attractions in North Buda – Hungarian Opera House – Budapest Basilica – Andrássy Avenue – Vörösmarty Square