Date: November 17, 2023 – January 01, 2024
Location: Vörösmarty Square
Visit the Budapest Christmas Fair and Winter Festival on Vörösmarty Square if you want to immerse yourself in the captivating atmopshere of Budapest's famous winter holiday market.
The event is also a great opportunity to buy something unique and original for your loved ones.
The lovely plaza in the heart of the city turns into a festive market place for nearly two months between 04. November and New Year's Day.
The planned date of the Christmas fair is November 17, 2023 – January 01., 2024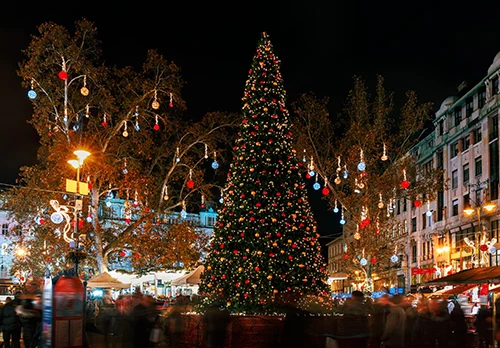 Table of Contents

This is a placeholder tab content. It is important to have the necessary information in the block, but at this stage, it is just a placeholder to help you visualise how the content is displayed. Feel free to edit this with your actual content.
Location, Getting There
The location is ideal; the Square is in the heart of the city at the end of Váci utca, right in front of the prestigious Gerbeaud Coffee House.
Getting There:
M1, M2, M3 metro lines Deák tér station (a short walk from there),
M1 metro (yellow line) Vörösmarty tér station,
tram 2 Vigadó tér stop (a couple of minutes walk form there),
trams 47, 49 Deák tér stop
Cottage-style wooden stalls and two outdoor stages take over one of Budapest's most attractive spots during the couple of weeks preceding the end-of-the-year holidays.
You can smell the scent of traditional honey cookies, mulled wine, cinnamon and fir from afar. The fragrant air simply lures you to the market.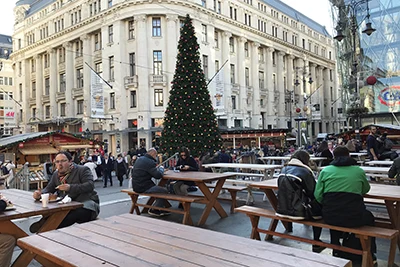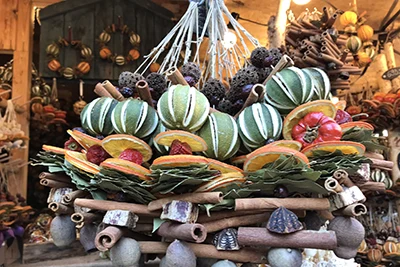 TIP: Many Budapest Hotels are situated nearby, so if you're staying in one of them the Christmas Fair is just a short walk from your lodging.
Find a good Budapest hotel within walking distance of Vörösmarty Square to conveniently explore the festive market.Includes luxury, 5-star hotels should you wish to indulge during your city break, and quality budget accommodations if you want to save on your travel.
Date & Opening Hours – Budapest Christmas Fair
Date:
17. November 2023 – 01. January 2024.
Opening Hours
17. November 2023- 01. January 2024.
Monday – Thursday: 11.00 – 21.00
Friday – saturday: 11.00 – 22.00
Sunday: 11.00 – 21.00
24. December: 10.00 – 14.00
25 – 26. December: 10.00 – 18.00
31. December/NYE: 11.00 – 05.00
01. January 2024/New Year's Day: 11.00 – 17.00
Stage Performances
Fridays: at 17.00, 18.00 and 19.30
Saturdays: 11.00, 14.00 (children programs), and 17.00, 18.00 and 19.30
Sundays: 11.00, 14.00 (children programs) and 17.00, 18.00 and 19.00
no stage performances on 24., 25, and 26. December
Stage Performances, 02 – 28. December
Monday – Thursday: at 17.00, 18.00 and 19.00
Fridays: at 17.00, 18.00 and 19.30
Saturdays: 11.00, 14.00 (children programs) and 17.00, 18.00 and 19.30
Sundays: 11.00, 14.00 (children programs) and 17.00, 18.00 and 19.00
Playhouse Opening Hours
04. November – 01. December: Wednesday – Sunday: 10.00 – 13.00 and 14.00 – 18.00
02. – 23. December: every day at 10.00 – 13.00 and 14.00 – 18.00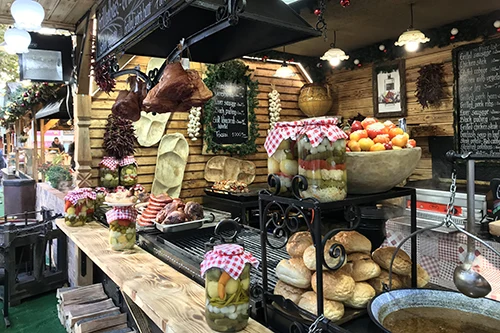 TIP: The fair will be open on 24. December/Christmas Eve :10.00 – 14.00, Christmas Day and Boxing Day: 10.00 – 18.00 as well as on 31. December (food and beverage vendors only: 11.00 – 05.00). See exact opening hours below.
160 Programs – For The Whole Family
Around 160 programs will entertain visitors during 1.5-month festival that take place on the main stage:
On weekends 11.00 till 21.00 then
from 05. December/Monday every weekday between 17.00 – 19.00
Folk, jazz, blues, soul, crossover, world music concerts, dance house performances entertain visitors to the fair.
On weekends puppet show will be on stage; sure to delight families with children.
122 stalls offer high-quality products (selected and approved by special a jury of folk art experts).
Entry is free to all programs.
Activities To Best Experience Budapest At Christmas Time
Evening Cruise with Folk Show and Hungarian Dinner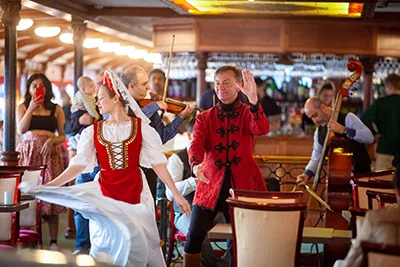 Departure: 19:00 / Duration: 120 min. – From €55
Cruise with 3 Course Dinner & Live Piano or Folk & Operetta BEST VALUE!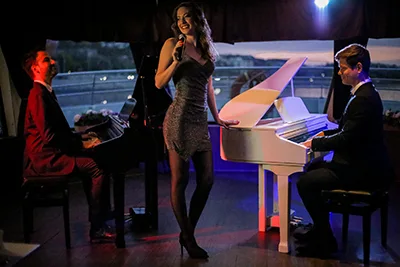 Departure: 19:30 / Duration: 180 min. – From €65
Gastronomy – On A 1 200 Sqm Terrace
Note: You can pay for food and drinks with debit card/credit card.
Besides the usual fair delicacies (kürtös kalács/Sekler cake, strudels, flódni – a traditional Jewish cake layered cake with walnut, poppy seed and plum preserve filling, bread pizza baked in clay oven, roasted chestnut) you can taste traditional Hungarian Christmas dishes:
stuffed cabbage served in bun
roasted goose thigh,
roasted pork knuckle,
grilled sausages and meat.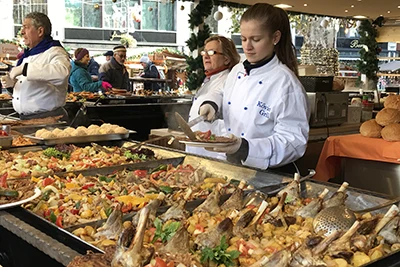 Culinary Specialties You Can Treat Yourself To Include:
Rooster testicle stew (kakashere pörkölt) – many locals consider this simple dish a gourmet's delight and happily have it any time of the day, others shudder at the thought of having a taste of it – you should try, it's quite nice with a creamy texture in a spicey paprika sauce. A portion is 2 250 HUF.
Fishermen's Soup (halászlé) and char-grilled pike perch
Whole pig roasted on skewer over open fire
Potato cake/rösti (tócsni in Hungarian) – served with sour cream and cheese: 800 – 1200 HUF
Pulled pork sandwich
Pumpkin braised in duck fat sprinkled with hot pumpkin seed or the
Foie gras/duck sausage and
Sekler cake coated with dried raspeberry and cranberry pieces (at Vitéz Kürtös: 1 700 HUF)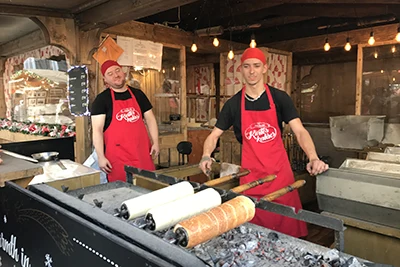 Show Kitchen In The Hütte Bistro
Thematic gastro week await visitors in the Hütte Bistro in front of the Gerbeaud Cafe where you can get to know local cuisine and wines, taste the typical dishes of Hungary and the neighbouring nations.
Each week the menu wil be focusing a different theme presented by talented chefs and wine makers.
20 – 26. November – Wild and Game Dishes, Wines of Northern Hungary: venison, wild boar, rabbit served with medium or full bodied red wines.
27. November – 03. December – Stuffed Cabbage, Wines of Somló Region: white wines like tramini, juhfark hárslevelű (linden leaf)
04 – 10. December – Advent Fasting Season, Fish and Vegetable Dishes,
11 – 17. December – Typical Hannukah Holiday Foods: deep-fried foods: doughnut, lángos, scones, potato pancake (latkes)
17 – 24. December – Christmas Dishes: Fishermen's soup, stuffed cabbage, bejgli, Gerbeaid cake, poppy seed pudding
25 – 31. December – New Year's Pork Week
The official Christmas mug of the fair features 3 new designs each year:a combination of red and white colours this year.
You can buy the mug at every stall that sells mulled wine or hot tea. It costs 600 HUF. You can collect all three if you wish.
The Lighting of the Candles on the Advent Wreath accompanied with choral singing will take place on Sundays in the Advent period at 16.00.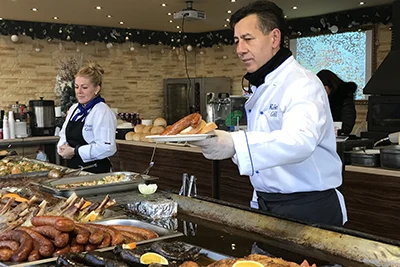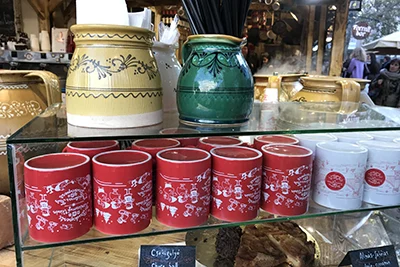 Children Programs On The Christmas Fair
Kids visiting with their parents won't be bored either.
Puppet theatre, music and dance perfromances, craft workshops await families with kids in the heated, wooden playhouse..
All programs are free.
Kids' Program Dates & Time
10. Nov – 03. Dec: Friday, Saturday and Sunday at: 10.00 – 13.00 and 14.00 – 18.00
04. Dec – 23. Dec: every day: 10.00 – 13.00 and 14.00 – 18.00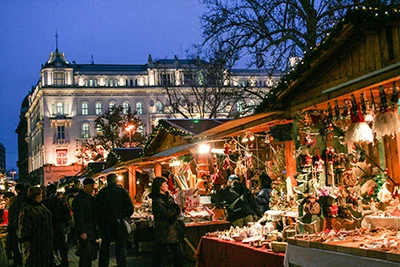 Craft Workshops In The Wooden Playhouse
Dates & Time: until 03. December Friday, Saturday, Sunday at 10.00- 13.00, 14.00 – 18.00
After 03. December the workshops welcome kids twice every day between:
10.00 – 13.00
14.00 – 18.00
They can learn the ins and outs of candle making, beading, basketry, felting, and baking gingerbread.
Each workshop will be focusing on a different art & craft project helping kids and their parents preapring for the year-end festivities.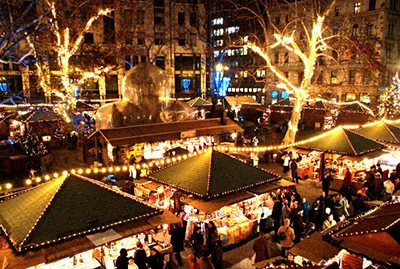 They'll be making:
Advent window and door ornaments
Christmas tree ornaments
greeting cards
toys from paper, wood, yarn, bulrush
scented candles, beeswax candles
fruit garlands and many more.
Santa Claus makes a visit on 6th December at 15.00 – 16.00 – welcomes little ones and their parents in his cottage.
Toilets – Where to Find them?
There are a good number of heated toilets in the northwest corner of the square, behind the centre stage (at the beginning of Harmincad utca).
Culinary Delights, Mulled Wine, Krampampuli
On this year's Christmas Fair you can taste an even wider selection of traditional Hungarian foods and cakes.
Old Favourites, New Delicacies
Besides old favourites like
Stuffed cabbage,
Goulash
Lángos – yeas-based dough deep-fried, served usually with sour cream and cheese on top
Strudel,
Grilled sausages and meat,
Christmas pastries, cake,
Kürtös kalács/Funnel cake (hollow, cylinder-shaped pastry from Transylvania in origin with different coatings: caramelized sugar, ground walnut, coconut or chocolate).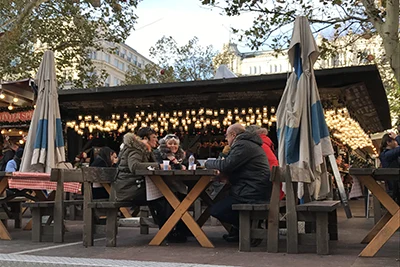 Look for the open kitchens to learn about some traditional culinary secrets:
Baking kürtös kalács – a cylinder shape pastry baked over open fire then coated in ground walnut, coconut, sugar, or chocolate.
Try the bread pizza – called lepény – (a square shaped, flat bread baked in clay oven or traditional stove, topped with sour cream, bacon or sausage and cheese) if you do not want to have a full meal (it costs 900 -2 500 HUF depending on topping).
Food & Beverage Prices At The Budapest Christmas Fair
Mulled wine: 2 dl: 600 HUF, 3 dl: 900 HUF, 0,5 dl: 1 500 HUF
Krampampuli is 450 HUF/dl
Blackcurrant/Raspberry Punch: 500 HUF/dl
Soda drinks: 500 HUF/0,5 L
Mineral water: 400 HUF/0,5 L
Hot chocolate
Coffee, hot tea:
Lángos: with all imaginable toppings from sweet (Nutella, fruit jam) to savoury: (plain salted, sour cream, cheese, sausage bacon, vegetarian) Price varies between 900 – 2 000 HUF.
Stuffed cabbage in bread: from 1 800 HUF/portion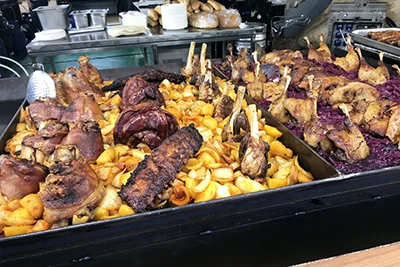 Roasted pork knuckles with onion, potato (Csülök pékné módra): 2 800 HUF
Roasted goose thigh with potato: 2 400 HUF/portion
Paella: 1 400 HUF/10 dkg
Hungarian layered potato casserole: 1 900 HUF
Salmon roasted on lava stone: 1 400 HUF/10 dkg
Foise gras with honeyed pear: 1 900 HUF/10 dkg
Grilled sausage: cc. 1 500 HUF
A slice of bread: 100 HUF
Pickles: 500 HUF/portion
Strudel: 600 HUF/piece
Kürtös kalács/Sekler cake: from: 1 200 HUF, the raspberry coated is 1 500 HUF
Lángos – An All-Time Fair Favourite
Thie local street food, lángos a yeast-based round batter deep fried in oil is available at almost every corner of the fair.
You can even learn to make it at the Lángos/Hungarian Flat Bread Workshop & Store locate dat the Váci itca end of the fair.
It comes with all imaginable toppings from sweet (Nutella, fruit jam – 1 000 HUF) to savoury:
Plain with salt and a dash of garlic oil : 900 HUF,
Sour cream: 900 HUF,
Sheese: 900 HUF
Combination of the previous two: 900 HUF
Sausage: 2 000 HUF,
Bacon: 1 500 HUF,
Grilled chicken + veggies: 2 000 HUF,
Roasted pork knuckles + leeks: 2 000 HUF
Vegetarian: 1 500 HUF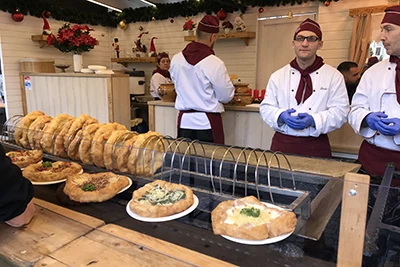 A Local Christmas Drink
TIP: Krampampuli is a traditional Hungarian punch drink, here's the recipe: put raisins, figs, dates, dried, plums, candied orange peel in a large bowl, place an iron crate over the bowl with a large loaf sugar on it.

Sprinkle the loaf sugar with cane rum (around 0.5 litre). Light the alcoholic sugar then wait until all the alcohol content burns and the melted sugar drips in the bowl.
Then pour around 2 litres spicy mulled white wine, 1 liter tea, and the juice of two oranges and lemons into the bowl. Cheers!
If you ask to have your drink in the mug you have to buy it, it costs 600 HUF
Besides mulled wine and krampampuli, other alcoholic beverages are also available to warm you up: grog, craft cherry beer served warm, grog
You can sip spicy mulled wine or other hot drinks from special mugs different in design every year.
This year you can chose from two colors (red and white) and three designs.
The famous Gerbeaud Confectionery used to have an Advent Calendar in its windows.
The pages turned over day by day, each day a decorated window opens at 17.00.
As in previous years a small Bethlehem will come alive on the square with a crib and live animals.
Besides the 15-m high Christmas fir, the light of the Flame of Peace brought by scouts from the Church of Nativity in Betlehem greets visitors of the festive market.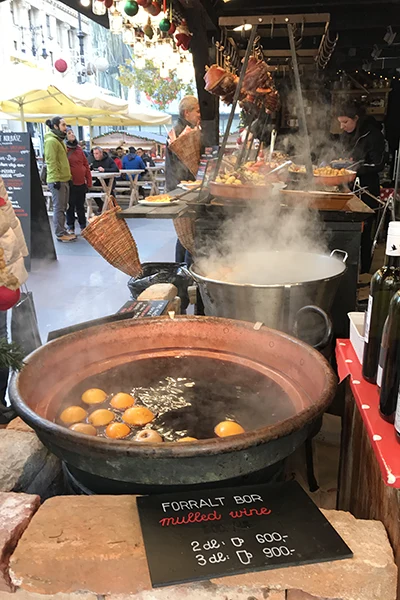 Santa Claus Is Coming, 06. December
Joulupukki, the real Santa from Finland, awaits kids from 15.00 till 16.00 on 6th December in his little cottage at the stage in front of the Gerbeaud Cafe.
The Budapest Christmas Fair at Vörösmarty tér is one of our favourite event in winter.
Even if I don't intend to buy anything, I like to stroll among the stalls, have a glass of mulled wine and view some of the cultural programs on the outdoor stage.
I usually end up buying something special for one of my loved ones.
More Festive Markets In Budapest In December 2023
Advent Fair At St. Stephen's Basilica
Planned Date: 17. November 2023 – 01. January 2024
The festive fair in front of the St. Stephen's Basilica is the next most-visited Christmas market in Budapest, after the Vörösmarty Square venue.
A slender 8 m high Christmas tree,
Tasty nibbles, fish dishes, goulash, BBQ, pastries and cakes, fragrant winter drinks
A free 200 sqrm ice-skating rink, and
A wide range of gifts are the main attractions of this Xmas bazaar.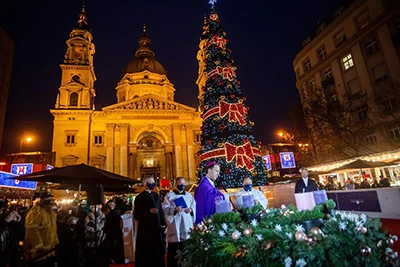 Fashion Street/Deák F. Street
A tall Christmas tree dominates the holiday fair in Deák Ferenc utca (also known as Fashion Street)
There are also kürtös kalács, strudels, mangalica products (mangalica is a unique breed of pig indigenous to Hungary) and a variety of other souvenirs to choose from.
The street is packed with big name designer shops: Furla, Massimo Dutti, Boss, Nanushka, Mexx, Lacoste so you have lots of shopping options.
The street ends with a Starbucks cafe if you wish to have a hot cup of Gingerbread latte.
You'll Sind Similar Wintr Holiday Markets Usually
In Gozsdu Court (district VII./Jewish Quarter),
at Liszt Ferenc tér and at (just off Andrássy Boulevard in Pest, near Oktogon),
Erzsébet tér – local food and drinks, sweets, some gifts to buy
Bakáts tér (Ráday Street in District IX.) – a decorated fir tree in front of the Church marks the place of this small fair.
The Advent Festival in Városháza park in downtown Budapest (close to Deák F. Sqr. metro hub) will have lots of family programs, children activities – the Snow slide will surely be popular -, charity events, a craft fair, food and drink, as well as the tallest Xmas tree of the city. The event is held between mid-November – 30. December
Óbuda's Main Square and the neighbouring arae alos turns into a festive whirl with craft fair, ice rink, gastronomy, drinks, concerts and family programs: Planned Date: 24. November – 22. December 2023.
Related:
Budapest Season by Season – Christmas in Budapest – Hungarian Christmas Recipes – New Year's Eve Party on the Danube – New Year's Eve in Budapest – More Programs in December – See also our Facebook