Best-Value Accommodations with Central Location
It's hard to select the best Budapest city centre hotels since there are so many of them ranging from 5 star hotels to cheap 3- or 2 star lodgings.
This page gives you an overview of centrally located hotels that received high ratings and good reviews on travel sites like Tripadvisor or Hotelscombined or Booking.com.
The downtown area – district V. is the most central neighbourhood with many sights, activities, restaurants, shops, clubs and bars – offers a wide selection of
charming boutique hotels,
luxury hotels in historic palaces,
riverside accommodation with panoramic view, and
quite a few moderately priced lodgings as well as apartments.
The choice is wide so do your research to choose the best accommodation for your needs and budget!
Table of Contents
Best 5 Star Hotels in Budapest City Centre
The Four Seasons Gresham Palace Hotel (room rates cc. 300-900 EUR/night) on Széchenyi Square opposite the Pest end of the Chain Bridge,
the Buddha Bar Hotel Klotild Palace in Váci Street (Váci utca 34., district V.)
the New York Palace Boscolo Hotel (room rates cc. 300-350 EUR/night) on Grand Boulevard in district VII.,
the Corinthia Budapest Hotel (supposedly inspired the director of the Oscar winner Grand Budapest Hotel movie) are the most prestigious and highest-rated hotels in Budapest city centre so far.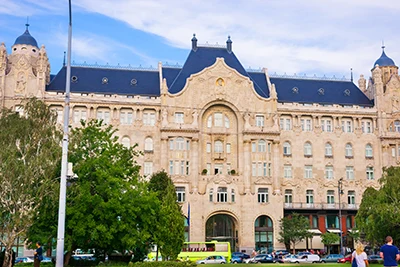 The last two are not located in the very centre (district V.) but still can be easily accessed from any point due to the very good transporttaion connections.
Both hotels are are located in beautifully redecorated palaces offering a blend of historic elegance and contemporary luxury.
The location of the two hotels is very central perfect for both tourists visiting Budapest for a couple of days, and for business travellers.
Looking more closely at the locations of the two, the Four Seasons beats the Boscolo offering wonderful views of the Danube with the Chain Bridge and the Castle Hill in Buda.
TIP: : Hotels Near Vörösmarty Square-Christmas Market
Browse our list of Budapest hotels located in the vicinity of Vörösmarty Square where the main Christmas market is held each year.
You can stay at a top-rated riverside hotel or a good-value 4- or 3-star place – no matter which option you choose you'll be close to the Christmas fair and the very centre of the city.
More Luxury Hotels in District V. – Downtown
Besides the Four Seasons Gresham Palace already mentioned above, distr. V., the inner city of Pest, is packed with hotels and other types of accommodation.
The three riverside hotels offer the most scenic views from the majority of rooms:
Budapest Marriott Hotel,
InterContinental Budapest.
These three have been around for many years and though located in ugly buildings that are eyesore on the World Heritage protected Danube bank, they are a good, reliable choice if you're looking for a central hotel with great views.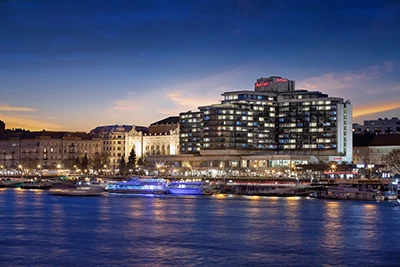 The Ritz Carlton Budapest
Address: Erzsébet tér 9-10, district V.
The Ritz Carlton is the newest gem among high-end hotels in the heart of the city at a small park with an artificial lake in its centre.
The historic building – formerly a palace of an insurance company, then headquarters of the local police, then it housed the Le Meridien hotel till autumn 2015 – has been completely renovated to accommodate the 170 luxury rooms and 30 suites, a spa and fitness centre offering a range of treatments, a great grill restaurant & wine bar, several meeting and business rooms.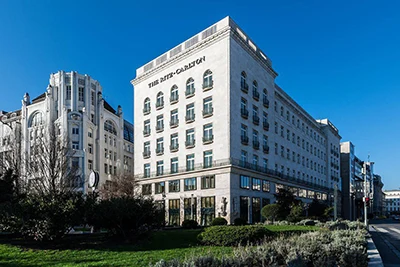 Rooms are quite spacious (measuring 34-36 sqm/366-390 sqft) with pillow menu, comfortable king or queen size beds, honour bar (a mini bar filled with special drinks and snacks), marble bathroom and some unique features.
The 30 suites are also all about 100 % comfort, panoramic views and 21st century amenities.
It's very well located near the Deak tér transportation hub where 3 of Budapest's 4 metro lines converge taking you to every part of the city.
But if you'd rather walk you can easily get to all the must-see see sights, the Basilica, Vörösmarty Square, Váci Street, thw Danube with the Bridges, on foot.
Aria Hotel Budapest
Address: Hercegprímás utca 5., district V., next to the Basilica
The Aria is a sensational new luxury Boutique hotel in the very heart of Budapest. The musical-themed hotel is the work of Henry Callan American hotelier, known for the Library Collection Hotels in the USA.
Each of the 4 wings in the elegantly refurbished historic building is named after musical genre: classical, opera, jazz and contemporary and has its own lift. Everything in Aria is about the utmost comfort of guests and of course music: composers, musicians, instruments that inspired the interior decor.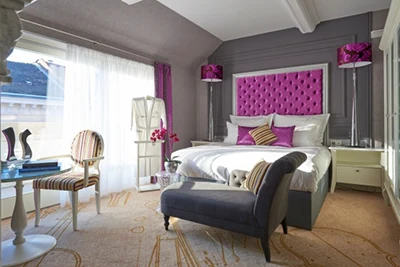 All rooms and suites have unique look and boast state-of-the-art facilities. Most rooms come with a balcony either with city view or overlooking the amazing inner courtyard, the Music Garden, the focal point of this chic hotel.
The location is unbeatable: a good starting point for exploring the city's many sights:
St. Stephen's Basilica and the grand plaza in front of it surrounded with cafes (Starbucks) and restaurants,
the Parliament on Kossuth Sqr.
Szabadság Square
Erzsébet Square – there's a hip club, called Akvárium with a huge terrace, and other great outdoor bars.
The Danube with the lovely promenade in Pest is also just a couple of minute stroll.
You can cross the Chain Bridge and you'll be right at the foot of Buda Castle.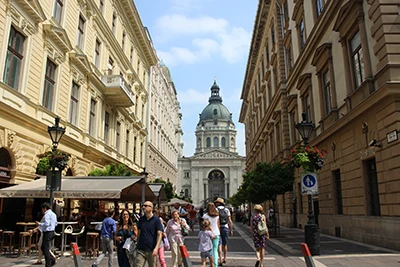 Check Rates for Aria and Compare Prices!
Prestige Hotel Budapest
Address: Vigyázó ferenc utca 5., district V., downtown
A new 4-star design hotel in an exquisitely refurbished historic townhouse just right in downtown close to the Danube and other attarctions.
A lot of care went into the design and decor of the 85-room hotel that has a Michelin-star awarded restaurant (received it in spring 2016), Costes Downtown (the sister of the Ráday Str. place that earned Hungary's first Michelin star in 2008.).
You'll have a memorable hotel stay at Prestige guaranteed by the professional, high-standard service, comfortable, unique rooms, and the utterly helpful and kind staff.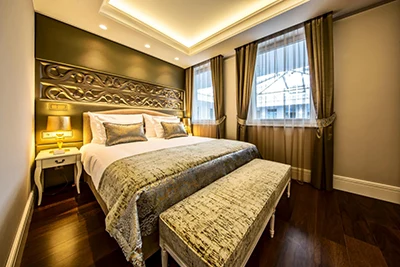 A great choice for accommodation in the city centre!
Find out more about Prestige Hotel Budapest!
Buddha Bar Hotel Klotild Palace – Closed Permanently
Address: Váci utca 34., district V., city center
One of the newest among 5-star Budapest hotels opened in spring 2012. The Buddha Bar Hotel Klotild Palace is the first 5-star project of the Mellowmood Group.
The renovated Klotild Palaces give home to this deluxe spa hotel.
The 100-year old, elegant neo-Renaissance palace has unbeatable location facing the Pest bridgehead of the Elizabeth Bridge in downtown Budapest.
Staying here, you'll be in the very heart of the city, within easy reach of all the important sights, many restaurants, shops and public transport services.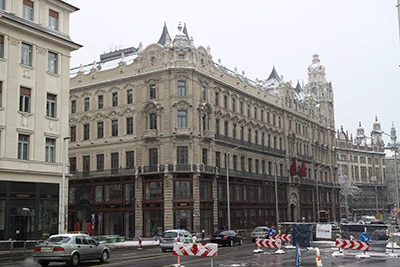 The palace hotel stands in the famous pedestrian shopping street, Váci utca.
The luxury hotel combines Oriental and Western atmosphere featuring 102 deluxe rooms, along with a variety of exclusive suites.
The Buddhattitude Spa makes this Budapest palace hotel a place of relaxation and a perfect accommodation choice both for business and leisure travellers.
The Buddha Bar Restaurant, the Siddhara Cafe on the ground floor and the all-day Lobby Bar and top-notch services complete the unique Buddha bar hotel experience.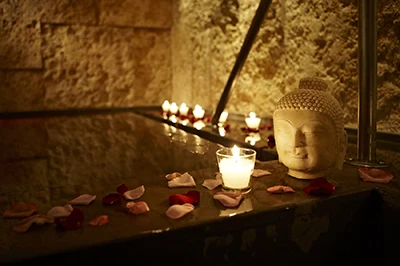 TIP: Other top-rated Luxury Hotels in the city centre include the St. George Residence All Suites Hotel in Buda Castle District, and the Corinthia Hotel on Erzsébet körút, Grand Boulevard.
See also our list of best rated 5-star Budapest hotels.
Iberostar Grand Hotel – A Lovely Boutique Hotel, CLOSED – A New Hotel Will Open In Its Place in 2023
Address: Október 6. utca 26., next to Szabadság Square
The Iberostar Grand Hotel is a quite new, contemporary design hotel right next to Szabadság Square in the heart of the business district.
The combination of premier location, romantic Spanish atmosphere, gorgeous rooms, attentive personnel make Iberostar one of the top rated hotels in Budapest.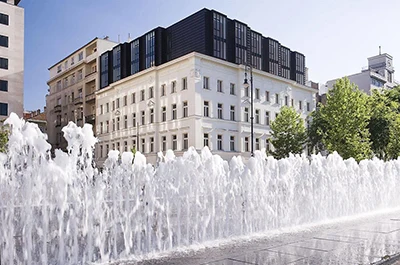 Buda Castle – District I.
The neighborhood of the Castle District offers some nice 4-star lodgings with good transport connection to the centre.
Hotel Castle Garden – green serenity in central Buda
Address: Lovas út 41., district I., Budapest
Hotel Castle Garden is a fairly new four-star hotel at the foot of the Castle Hill in Buda. The lovely building has 38 air-conditioned non-smoking double rooms. Seven rooms are in the superior category with large terrace.
The Bonfini Restaurant offers a taste of Italian and Hungarian cuisine. The garden restaurant is open during summer where you can try freshly grilled dishes.
There's a small fitness centre with whirlpool bath and Finnish sauna. You can park your car in the hotel's own garage.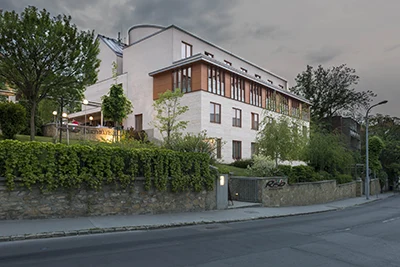 Carlton Hotel
Address: Apor Péter utca 3., district I.
The Carlton Hotel has two benefits: affordable prices and ideal location. The hotel is in a peaceful side street at the base of Castle District in Buda. It's a basic hotel, not the best in its category, but prices are friendly.
The funicular railway at Clark Adam Square is just a 2-minute walk from the hotel, and it'll take you up Castle Hill (you can take the steps if you find the ticket price – cc. 1000 HUF/adult – for the funicular a bit hefty).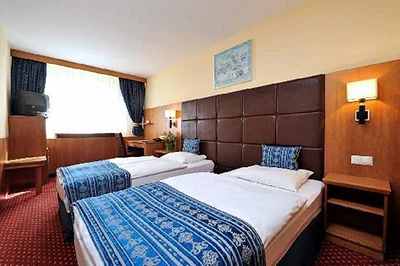 The M2 metro station and the tram 4, 6 stop at Széll Kálmán tér is about 10 minutes from the hotel on foot, so you can easily get to the Pest side, too.
Internet access is free of charge. Room rates: a double room is 60 – 140 EUR, garage parking: 15 EUR/day.
Atrium Fashion Hotel
Address: Csokonai utca 14., district VIII.
This is again a very good value hotel in Budapest's city centre, just off Nagykörút, the main boulevard of Budapest. The Atrium Fashion Hotel is a nice contemporary hotel offering accommodation in 57 rooms.
The central location allows you to conveniently explore the major sights, and find good restaurants (the hotel doesn't have restaurant just a dining room where breakfast is served), cafes, and shops. Some of Budapest's best cultural venues are also within easy reach.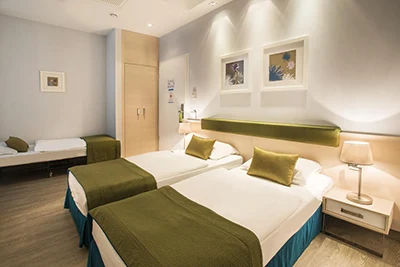 Some travellers have complained that rooms are small, and that the neighbourhood is a bit noisy, not always friendly.
TIP: Read more about safety in the 8th district of Budapest.
Soho Boutique Hotel
Address: Dohány utca 64., district VII.
The Soho Boutique Hotel opened in 2008 in the center of the city's former Jewish quarter.
Small but stylish, well-furnished rooms, helpful staff and a substantial breakfast are the highlights of this hotel that perhaps offers a bit less than you would expect from a 4-star accommodation.
If you're interested in Budapest's Jewish cultural sights, like the Central Synagogue in Dohány Street then the location of the hotel is perfect, but note that getting to the main downtown area, the 5th district takes a bit of walking.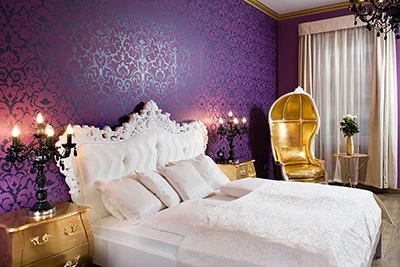 Hotel Boutique Zara
Address: Só utca 6., district V.
Hotel Boutique Zara is located in near the north end Váci utca, the popular shopping street. The excellent location allows tourists to easily reach the most notable attractions of Budapest city centre.
Vörösmarty Square, where the popular Christmas Market is held every December, is just a short walk from the hotel.
This lovely boutique hotel is the first of the Epoque Hotel Group in Hungary and it offers accommodation in 74 rooms on 4 floors.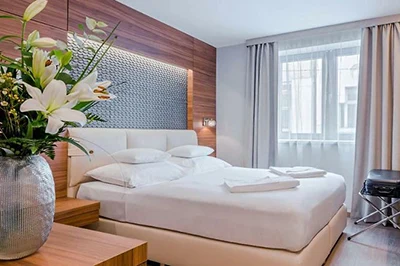 Rooms are small but nicely decorated and according to guests who slept in this hotel the staff are very friendly and helpful. Windows are soundproof so the noise from the busy Váci utca won't disturb you.
There's Free Wi-Fi in the public areas of the hotel.
TIP: see also our list of hand-picked Boutique Hotels in Budapest. Read also a detailed review of Lánchíd 19 Design Hotel, a centrally located contemporary hotel at the foot of Castle Hill in Buda.
Hotel Belvedere Budapest
Address: Mészáros utca 58/a, district I., Széll Kálmán tér M2 (red) metro station, trams 4 and 6
This contemporary hotel near Széll Kálmán tér and the Castle Hill has 44 double rooms, and 10 suites. If you want more space you can stay in one of the fully-fitted 10 apartments.
The Art Deco interior is a nice counterbalance of the cold, modern exterior look.
Buffet breakfast of both cold and hot dishes is included in the room price. Restaurant offers international and Hungarian meals. The garden terrace in the backyard is open during summer.
The wellness floor with panorama view includes a fitness room, sauna, and pool.
There's a small meeting room that can accommodate up to 50 people. You can park your car in the guarded garage in the underground level.
Hotel Belvedere is a family-friendly hotel offering equipment like baby cots, highchairs, and services such as baby sitting and a playground in the hotel's garden.
Hotel Parlament
Address: Kálmán Imre utca 19., district V., Downtown Budapest
The Best Western Premier Hotel Parlament, a 4-star hotel in the centre, at the corner of Kálmán Imre Street and Vadász Street, is just a few minutes walk from the impressive Parliament building and the Danube.
Other top attractions can also be easily accessed from Hotel Parlament.
Castle Hill with the Royal Palace and other historic monuments is across the Danube, and can be reached either by the funicular (sikló) from Clark Adam Square at the Pest end of the Chain Bridge (Lánchíd) or you can take the steps winding up the hill.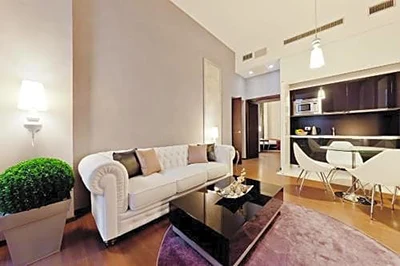 Margaret Island (Margitsziget) a green haven in the middle of the city, is also in the vicinity of the hotel north, of the Parliament building. The splendid Opera House of Budapest stands on Andrássy Avenue which is a couple of minutes walk from the hotel.
Th central location has the advantage of excellent public transport connections: the M2 (red metro line) has a stop at Kossuth tér opposite the Parlament, while the Millennium Underground (M1 -yellow-metro line) has a stop at Bajcsy-Zsilinszky út and the Opera.
Hotel Parlament is a modern hotel with 65 rooms each designed in minimal style. There are 2 rooms for handicapped guests.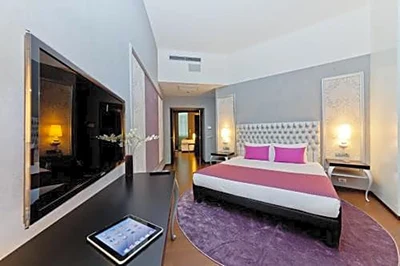 Apart from the very central location, it has many other great features:
A substantial buffet breakfast served in the atrium style breakfast room
All rooms are air-conditioned
LCD Tv in the rooms
24-hour reception
Multilingual staff
A small wellness room with jacuzzi and sauna
Business centre (conference rooms accommodating 70 people) with free internet use
According to reviewers, the staff is attentive and friendly; they speak several languages and give guests great sightseeing and restaurant tips.
Room rates: doubles are available from 59 $, they do special offers so it's good to check their website before booking.
All in all Hotel Parlament is a pleasant, clean hotel in the very heart of the city, that offers good value for your money.
Best Budget Hotels in Downtown Budapest
Hotel Central Basilica
Address: Hercegprímás utca 8., district V.
This 3-star hotel is located in a lovely street just off the spacious plaza, Szt. István tér where St Stephen's Basilica stands. The hotel is housed in a historic building that dates back to the mid-19th century. After a full renovation the 44-room hotel opened in 2007.
Apart from hotel rooms you can stay in one of the 3 apartments. You can leave your car in the hotel's underground garage.
The location of Hotel Central Basilica is superb with lots of sights, restaurants, shops, the Danube within walking distance.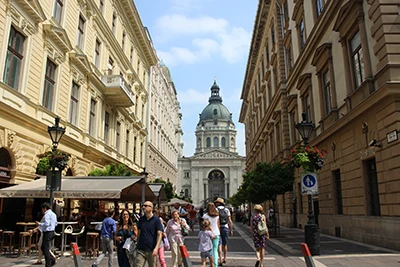 Transportation is also great, Deák tér is just a couple of minutes walk with a central station of 3 metro lines (M1, M2, M3) and several bus stops.
You'll have lots of dining out options since there're plenty of fine restaurants and cafes near the hotel on and around Szt. István tér:
Mokka Cafe
Borkonyha (received a Michelin star in early 2014)
Oliva Restaurant
Starbucks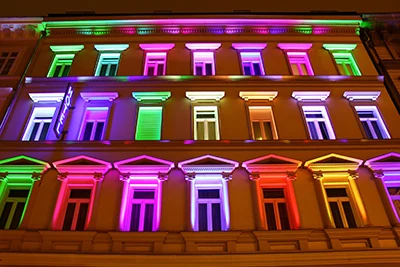 Rooms are fairly large and tidy with attached bathrooms and air-conditioning. Staff is friendly and helpful. Central Hotel Basilica is recommended for both vacationers and for travellers coming to Budapest on business.
Room prices: doubles from around 65-80 EUR. Children under 9 can stay in the hotel free of charge. The price includes a rich buffet breakfast.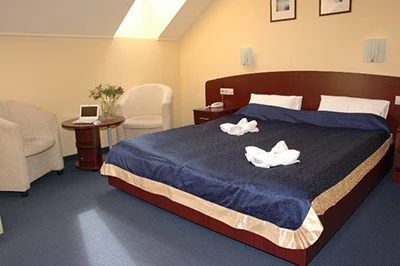 Promenade Hotel – Nice Boutique Hotel with Central Location
Address: Váci utca 22. district V., Budapest
Situated in the chic pedestrian shopping street Váci utca, Promenade Hotel offers stylish, spotless rooms with modern furnishings. All 45 rooms are air-conditioned and have free Wi-Fi internet access.
The location is great, very central, offering easy access to public transport (3 metro lines on Deák Ferenc Square), but you can conveniently reach many sights on foot too. Rooms are quite at night since the street is for pedestrians only.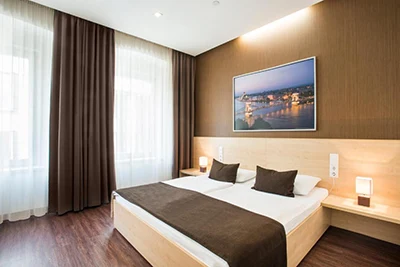 Cheap Hotels in the City Centre
Easyhotel Oktogon – CLOSED
Address: Eötvös utca 25/a, district VI., M1 metro, trams 4.6 Oktogon stop,
EasyHotel Budapest Oktogon, part of the budget hotel chain EasyHotel, is a recently opened cheap hotel in the centre of the city, near the busy octagonal square Oktogon, at the cross of Andrássy Avenue and Grand Boulevard.
The largest park of Budapest, City Park is not far from the hotel behind Heroes' Square.
The Széchenyi Bath is located in City Park and offers a fine place for relaxation. The small hotel has 59 rooms. There's no restaurant only snack tea/coffee, and soft drink vending machines.
You'll find lots of restaurants, food stalls, fast food eateries in the area. The West End City Shopping Center at Nyugati Square offers lots of cheap eats.
For tips on where to eat see our guide to best restaurants.
Room rates in EasyHotel Oktogon: from around 15 EUR if you book it well in advance.
Related