Getting Around, Map, What to See
Strictly speaking Budapest City Centre, or the downtown (Belváros) consists of district V., but this page also provides information on other sights and places of interest that are located in central Budapest, but not in district V.
In a wider sense, areas located within the circle of Grand Boulevard (Nagykörút) can be called city center, parts of which you can be easily explore by walk if you plan your itinerary well.
TIP: You can also try our Segway tour to see the sights in downtown.
Downtown Budapest is where the business life, banks, many cultural and historical sights are centered.
The city's municipality (Városháza) is also located in this area.
The partially pedestrian new main street (Fő utca) (constructed in 2011) with lots of cafes, restaurants, and shops cuts through this neighbourhood as well.
Sights in Downtown Budapest – District V.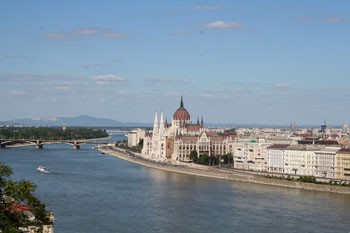 District V. functions as the heart of the city, being
Along with the Hungarian parliament on Kossuth Square, many other government offices and ministries are located here.
3 metro lines of Budapest meet at Deák Square in the heart of the city.
The capital's largest church, the St Stephen's Basilica stands on a spacious plaza in V. district.
Segway Tour in the City Center
Ride along on 2 wheels and find out about the must-see attractions of the inner city on our 1-hour Segway tour.
A 15-20 minute training (on top of the tour duration) and professional guiding are included. Tours depart every day between 09.00 – 18.00.
World Heritage Sites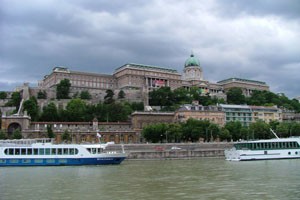 Several parts of the city centre are world heritage site, protected by the UNESCO.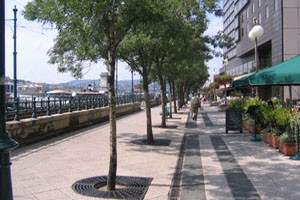 A walk along the Danube Promenade (Duna Korzó), stretching between Elizabeth Bridge and the Chain Bridge in Pest, also provides a fine view of the Buda side.
The promenade dates back to the Millennium celebrations in 1896, and it's lined with trees and benches.
Several 5-star hotels stand along the walkway like:
the Hotel Intercontinental Budapest,
the Marriott Hotel, and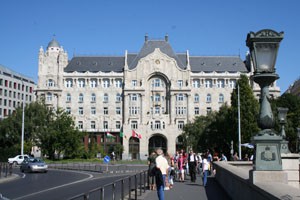 But the most upscale hotel in the area is the Four Seasons Hotel Gresham Palace, housed in a beautiful historic building offering stunning view of the Danube with the Chain Bridge (Lánchíd) and the Castle Hill in the opposite side of the river.
New Main Street of Budapest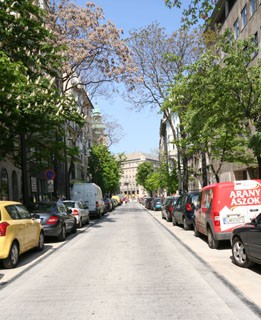 The area between Kálvin tér and Szabadság tér in district V. has undergone a refurbishment in recent years, the aim of which is to turn this part of the inner city into a more pedestrian friendly area with an elegant, contemporary streetscape.
This new part is called the New Main Street of Budapest (Új Fő Utca) and the 1st phase of the project was inaugurated in 2010.
The most spectacular element of the project is the interactive water fountain at the southern end of Szabadság tér.
The Új Fő utca is now a tempting place for a leisurely stroll and stopping for coffee or lunch in the many cafes and restaurants along the street.
Budget Accommodation in Budapest City Centre
Apart from high-end hotels, the centrum offers a range of cheap hotels, and quality hostels, as well.
See also our guide to Budapest City Centre Hotels.
Shopping in the City Centre
The centre of Budapest offers a wide range of shops, restaurants, cafes, and nightclubs.
Fashion Street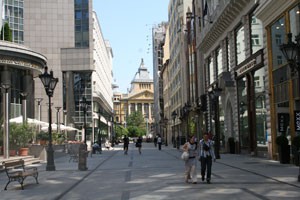 Deák Ferenc utca connecting Deák Ferenc tér and Vörösmarty Square turned into Fashion Street an exclusive shopping avenue in 2008 with a dozen of world famous designer stores like Mexx, Sisley, Hugo Boss, Puma, Benetton etc.
Fashion Street crosses the city's other famous shopping street, Váci utca, aiming at developing a whole shopping district in the city centre.
There's a Starbucks at the eastern end of the street, should you wish to stop for coffee and snacks.
TIP:
Vapiano (Bécsi utca 5., open: Mon-Thurs: 11.00-23.00, Fri-Sat: 11.00-24.00, Sun: 11.00-23.00) is a good-value Italian restaurant in Fashion Street with a wide selection of pasta dishes and pizzas.
See review of other Italian eateries in Budapest.
Váci Street (Váci utca) & Vörösmarty Square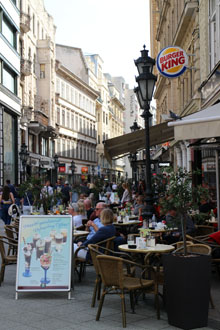 Váci Street starts from Vörösmarty Square in district V., and it leads south towards the Central Market Hall of Budapest.
The pedestrian street is teaming with tourists during the high season in summer and around holidays like Christmas since Budapest's main Christmas market is held at the north end of the street in Vörösmarty Square.
This lovely plaza was named after Mihály Vörösmarty poet (1800-1855) whose statue stands in the middle of the square.
The other main attarction here is the historic Gerbeaud Cafe & Confectionery with a large terrace and delicious cakes and desserts.
Plenty of restaurants and cafes with terraces offer a place to rest and something to eat, though eateries in Váci utca are usually overpriced.
Váci Street abounds in shops too, selling Hungarian folk embroidery and crafts, wines, and traditional Hungarian delicacies.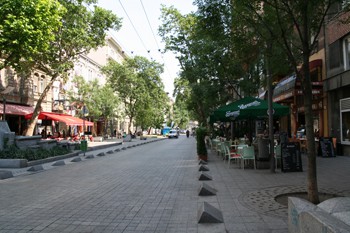 The West End City Shopping Center is one of the most accessible shopping center in downtown Budapest with lots of designer stores, cafes, fast food restaurants, a multiplex cinema, and an ice-skating rink on the roof.
Two other shopping malls on Grand Boulevard are
the Europeum Shopping Center on Blaha Lujza tér (trams 4 and 6, M2 metro), and
the Corvin Shopping Centre (M3 (blue) metro, or trams 4, 6 Corvin negyed stop)
Andrássy Avenue in district VI. is another great spot for shopping for exclusive designer clothes, shoes and accessories.
Apart from high-end retailers, the elegant thoroughfare that starts at St. Stephen's Basilica and leads you to Heroes' Square is a treasure trove of architecture gems like the Hungarian Opera House, villas, and palaces.
Visit the exhibition in the House of Terror Museum at Andrássy út 60. if you would like to learn about the early years of the communist regime,
Find out more about Shopping in Budapest.
Other Sights in Budapest City Centre
The centrum of the city offers lots of historical monuments and examples of fine architecture. The classicist building of the Hungarian National Museum stands in Múzeum körút.
The City Hall & Its Neighbourhood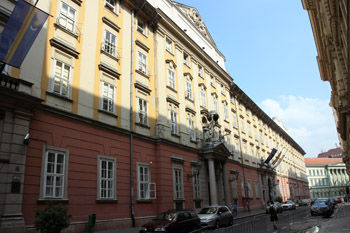 The City Hall of Budapest operates in a baroque mansion built in the 18th century.
TIP:
On the nearby Szervita tér you can admire two architectural masterpieces:
at No. 3 the coloured stained glass mosaic facade by Miksa Róth represents Birth of Hungaria
the house at No. 5. is the work of architecture Béla Lajta and it combines modern architectural elements with Hungarian motifs.
Ferenciek Tere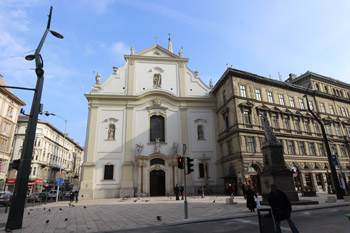 At Ferenciek tere: this busy downtown square has a lovely fountain (the Nereids' Fountain) and the Inner City Franciscan Church.
The plaza was nicely refurbished in 2013:
the ugly underpasses have benn replaced with a lovely walk area covered with attractive tiles,
designer benches and
cafe terraces from spring till late autumn.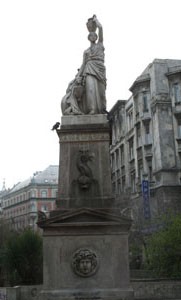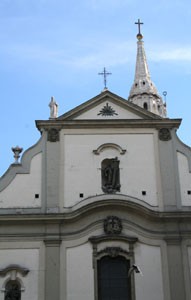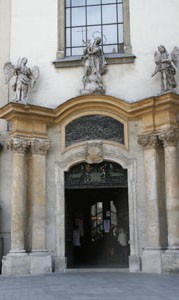 The square is more integrated in the surrounding area and in sync with the neighbouring streets (Haris köz, Kígyó utca, Kecskeméti utca and Károlyi Mihály utca – the last two are part of the Main Street).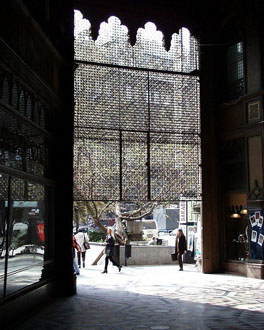 The Parisi Courtyard (Parisi Udvar/Brudern House) is an architectural gem on Ferenciek Square with beautiful Zsolnay tiles and arched windows. A luxury hotel will open in the building.
Cafe-Cake Shop TIP
Madal Espresso Bar: a specialty coffee shop at Ferenciek tere serving excellent coffee (espresso-based and pour over) prepared from freshly roasted beans straight from their own roastery, tea, biscuits and cakes.
Sit in a historic coffee house, the Centrál at 9. Károlyi Mihály utca where you can nibble on a piece of cronut or other sweet treat with a cup of coffee, while admiring the interior and soaking in that classic coffee house ambience the place was once famous for.
Jewish Sights in the City Centre
The former Jewish quarter of Budapest is situated in district VII. The Central Synagogue in Dohány utca is the most important monument, but a range of other sights related to Jewish culture including two smaller synagogues,
the Orthodox Synagogue in Kazinczy Street and
the Rumbach Street synagogue, are in the neighborhood.
Shoes on the Danube (Holocaust Memorial)
Location: on the Pest bank of the Danube, north of the Chain Bridge, close tot he Parliament
The 60 pair cast iron shoes commemorate the Nazi terror victims shot into the river at the end of WWII (1944-45). Gyula Pauler and Can Togay created the memorial in 2005.
Sztehlo Monument on Deák Ferenc Square
The grey-marble composition in memory of, Gábor Sztehlo Evangelical pastor, has been standing on Deák tér since 2009.
Gábor Sztehlo (1909 – 1974) saved many Jewish children and adults during the holocauts of World War II.
Jewish Heritage Tours
Restaurants in Downtown Budapest
The centre of the city is full of first class restaurants
BorKonyha in Sas utca is a proud owner of a Michelin star since 2014.,
Aszú right next to it is also a good place to sample contemporary Hungarian cuisine,
Onyx at the Gerbeaud House on Vörösmarty Square also earned a Michelin star a couple of years ago,
Babel Budapest Restaurant at Piarista köz 2., close to Elizabeth Bridge in Pest, is an excellent choice for fine dining), cheap eateries and joints of fast food chains.
Kiosk on Március 15. tér has a terrace offering a gorgeous view of Erzsébet bridge and the Buda side. 2- or 3-course daily menu at great price, classic Hungarian dishes (Goulash, paprikash), fine cocktails and a pretty good wine list make it a must-try place in the inner city.
Costes Downtown in Vigyázó Ferenc utca inside the Presige Hotel is also a Michelin-star place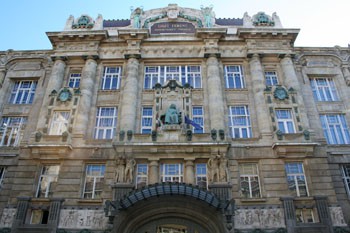 Liszt Ferenc tér & Neighbourhood

a wide side street off Andrássy Avenue is lined with at least a dozen of restaurants.
TIP:
A lunch in the Menza restaurant is a good choice. The place offers traditional Hungarian dishes at reasonable prices.
Besides restaurants, the street gives home to the Liszt Ferenc Academy of Music, fully renovated in 2013, a regular venue for classical music concerts in Budapest.
Nagymező utca, a few streets north of Liszt Ferenc Square, also has some nice cafes and bistros.
The cappuccino and breakfast dishes are great in Két Szerencsen Cafe.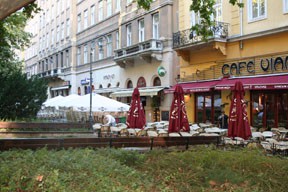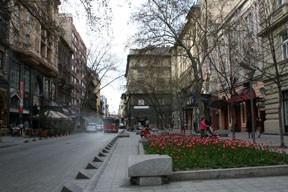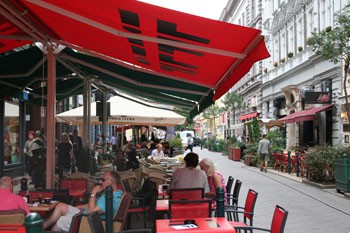 Ráday utca in district IX. is another great restaurant & cafe street.
The city's first Michelin-star restaurant, Costes is also located here along with other good or average eateries.
TIP:
Try Manga Cowboy at Ráday utca 31. for tasty burgers and Asia-inspired dishes, or
drop by Rombusz Terrace at Ráday utca 10., a a laid-back courtyard with street food, drinks, and an escape room
the ice cream is superb in MAMO Gelato at Ráday utca 24.
For further tips browse our list of best restaurants in downtown Budapest.
Parks in Budapest City Centre
You won't find lots of green in downtown but a couple of small parks and lovely squares are perfect palces for a stroll or just lying on the smooth grass.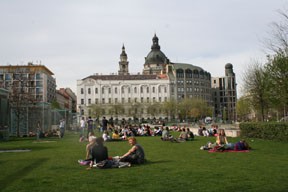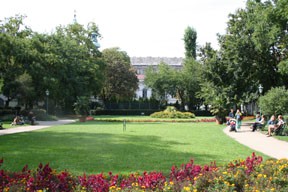 Erzsébet Square (Erzsébet tér) with its old trees is the city centre's largest park.
The park is in fact a roof garden of a cultural center named Akvárium Klub. The square was revamped in 2014 after it had gotten into a run-down state.
The city's "biggest" attraction, the Budapest Eye Ferris wheel is located here.
Related:
City Maps – Sightseeing Tips – Walk Tours – Running Tours – E-Bike Tours – Unique Sightseeing Tours – Day Trips from Budapest