Historic & Trendy Cafes
If you get tired of sightseeing, Budapest Coffee Houses are perfect places for relaxation. Have a cup of coffee with a slice of delicious Hungarian cake, sit back and simply contemplate the world around you.
Whether you want to:
travel back in time in a classic coffee house,
sit in a more trendy place with internet access in Ráday utca or on Liszt Ferenc tér, or
get a coffee-to-go and a bagel or cronut from an American-style café
Budapest has it for you.
The cafés are cake shops as well, take your time to choose from the impressive array of home-made Hungarian cakes and pastries.
Some cake shops, like the Ruszwurm and Auguszt, have been owned by the same family since the 19th century, and the secrets of confectionery making have passed on generation by generation.
Table of Contents – Budapest Coffee Houses
Historic Budapest Coffee Houses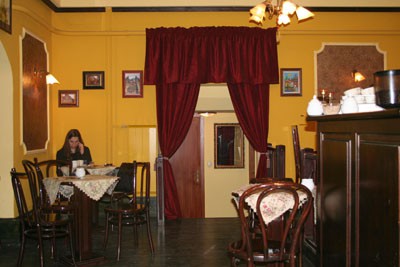 Coffee culture appeared in Budapest long before Vienna or Paris. Turn-of-the-century Budapest was a city of 500 cafés. Many of them disappeared by now, but you'll still find some classic coffee houses that preserved their heyday charm and elegance.
Cafés were an integral part of social and cultural life at that time. Many artists and writers had regular tables in cafés. They could not afford to heat their small flats, so they spent most of the day in their favourite coffee house.
Regular guests were even provided with paper and pencil to create their novels and poems.
Budapest's line of cafés served also as places for spreading news, gossip and dispersing new ideas.
Our renowned humorist, Frigyes Karinthy tested how long it would take a joke to get across the other side of the Danube.
He told his joke in a coffee house in Buda, then an hour and half later he walked into the Centrál Café in Pest, where he heard the same joke.
Not surprisingly the communist regime suppressed this vivid coffee culture in no time. Communist party leaders considered cafés as hotbeds of underground communication and secret meetings.
That's why they had every coffee house in Budapest closed down in 1948.
These times have gone. Many cafes have been restored in recent years (Central Café, Café New York) and try to revive the vivid, turn-of-the-20th-century Budapest coffee culture.
Some fell victim to the recession, like Hauer Coffee House on at Rákóczi út 47., and the century-old Lukács Cafe and Confectionery (closed in 2012) on Andrássy út.
Visit at least one of these historic Budapest coffee houses to capture the atmosphere of long gone times.
Cream of the Crop Historic Budapest Coffee Houses
In Buda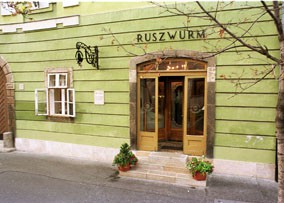 Ruszwurm
Address: Buda, Castle District, Szentháromság utca 7.
Open: 10.00-20.00, Closed on Wednesdays
Operating since 1827, Ruszwurm is the oldest coffee house in Budapest. Situated in the Castle District in Buda near Matthias Church, the neighbourhood is rich in historic monuments. Ruszwusm itself boasts beautiful Baroque interior.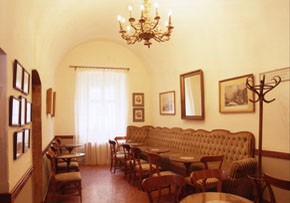 It is a small place with limited sitting area, so it is usually crowded in the tourist season. There's a terrace next to the entrance in summer. A nice selection of creamy cakes, tortes and pastries, ice cream in summer tempt visitors for a pleasant break during the tour of Buda Castle.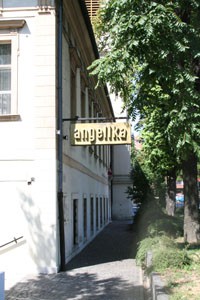 Angelika Cafe & Restaurant
Address: Batthyány tér 7., district I.
Open: 10.00-22.00 daily
Besides cakes, espresso and other coffee drinks, Angelika is also a restaurant offering a two-course daily menu (990 HUF) or a la carte eating.
Breakfast and sandwiches are also available.
Angelika is not as historic in ambience as the other places listed in this article, but has a nice location in Buda opposite the Church of St Anne.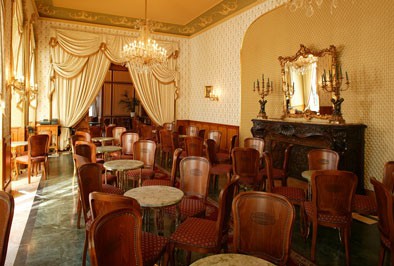 In Pest
Café Gerbeaud
Address: Vörösmarty tér 7., Pest, district V.
Open: 9.00-21.00
Gerbeaud on Vörösmarty Square at the end of Váci Utca is probably the most famous cafe in Budapest that's why it is more touristy than the other Budapest cafes listed on this page.
Read more about Gerbeaud Cafe.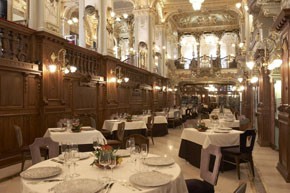 New York Café
Address: Erzsébet körút 9-11., Pest, district VII.
Open: 9.00-24.00
The New York a is posh, high-end cafe and restaurant on the ground floor of the impressive New York Palace Boscolo Hotel on Grand Boulevard (an espresso is around 900-1000HUF).
In its heydays at the end of the 19th century Cafe New York was said to be the "most beautiful cafe in the world". It was a famous meeting place of Hungarian artists.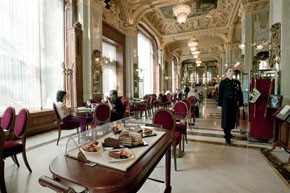 The cafe is on the ground floor of the lavish New York Palace (today functions as a luxury 5-star hotel) built for an American insurance company between 1891-95. After extensive renovation the cafe reopened in May 2006, incorporating a posh restaurant called Mélyvíz.
Despite the grand, all-gold and marble interior, the New York lost its original coffee house atmosphere. It became a high class tourist attraction with mostly snobbish staff and service. Do drop by though to admire the interior.
It celebrated its 120th birthday in 2014 with various programs and gastronomy delights.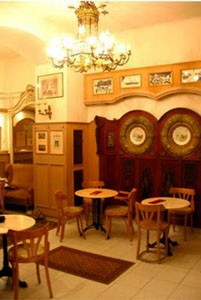 Auguszt Coffee House & Confectionery
Address: Kossuth Lajos utca 16-18., Pest, district VIII.
Open: Mon-Fri: 9.00 -19.00, Sat: 10.00-17.00, Sun: closed
The downtown Auguszt Cafe is in an inner courtyard just off Kossuth Lajos Street. The small terrace is a perfect place for a coffee & cake in the busy city centre. This classic historic cafe has two more shops in the city:
the Auguszt Confectionery at 8. Fény utca in Buda (next to the grocery market) with a turn-of-the 20th century salon upstairs. Opening Hours: Tue-Fri: 10.00-18.00, Sat: 9.00-18.00, Sun & Mon: closed
The Auguszt Pavilon near the Farkasréti Cemetery (Sasadi út 190.) has a spacious garden with old chestnut trees. The cafe boasts antique furniture and offers traditional cakes and pastries both for take away and eating on the spot. Opening Hours: Wed-Sun: 10.00-18.00 (closed on Mon and Tue)
Centrál Café & Restaurant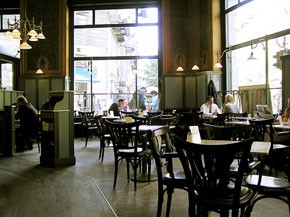 Address: at the corner of Károlyi Mihály utca and Irányi utca, district V.
Open: 8.00-24.00 daily
Centrál is centrally located in downtown Budapest (district V.), and the former literary coffee house has been restored to a modern urban cafe and restaurant.
It is a spacious place with large windows and ample sitting area. Breakfast, lunch and dinner menus are offered. It also sells cronut, the rich pastry invented by a new York confectioner in 2013.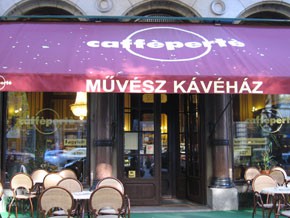 Művész
Address: Andrássy út 29., Pest, district VI.
Open: 9.00-24.00 daily
This classic, old Budapest cafe stands on Andrássy Avenue near the Hungarian State Opera House.
The interior has been renewed in recent years and modern mixes with classic resulting in a somewhat weird atmosphere.
The cakes are however delicious although service is sometimes snooty. It is also a restaurant offering slightly overpriced Hungarian (goulash is 990 HUF) and Mediterranean dishes.
Best Cake & Pastry Shops in Budapest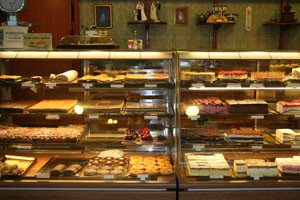 Although it is not a traditional coffee house, and it is a bit far from the city center, you must try the cakes, pastries and snacks (scones) at Daubner Cukrászda (Szépvölgyi út 50., district III., Óbuda, open: Tue-Sun: 9.00-19.00, closed on Mondays).
Szamos Marcipán Cafes & Confectioneries are also known for delicious cakes and pastries.
There are several Szamos Shops in Budapest, the most centrally located is the one on Grand Boulevard adjacent to the Corinthia Grand Hotel Royal at 45-47. Erzsébet körút. Besides cakes, marzipan figures and handmade sweets and ice cream are also available.
I dearly recommend you to spend an hour or so in one of the above cafes. They have more reasonable prices than the ones in Vienna.
Try one of the famous and delicious Hungarian cakes or pastries with your coffee or cappuccino. Travel back in time while sipping your drink, and you'll gather strength for some more sightseeing.
Trendy Cafés – New Wave/Specialty Coffee Shops in Budapest
Budapest has many trendy cafés with more contemporary vibe than the places listed above, where you can have a light lunch, listen to music and check your emails through wireless internet access.
TIP:The specialty coffee/new wave coffee shop scene is flourishing too: Espresso Embassy in the city centre is one of the first of its kind offering brewed coffee and espresso-based drinks made from freshly roasted, single origin beans.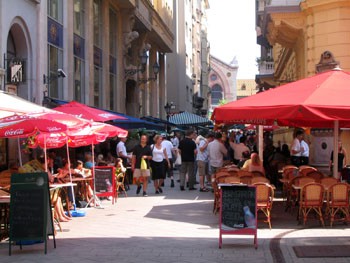 Other places where you can enjoy first rate coffee. Mantra Specialty Cafe (Veres Pálné utca 33., district V.), Madal Espresso & Brew Bar (at two locations: on Ferenciek tere and in Hollán Ernő u. 11., distr. XIII., near Margaret Bridge), Warm Cup (Nagydiófa utca 26., ditsr. VII.), Kontakt (Károly krt. 22. distr. V., close to the Great Synagogue in Dohány Str.), Budapest Baristas (Múzeum krt., district VIII.).
Ráday utca in district IX. ,and Liszt Ferenc Square in district VI., are lined with fashionable cafés and bars, but you don't have to walk a lot to find a good café in other parts of downtown Budapest. In summer you can have a drink and relax on the terraces.
See Our Facebook page also for fresh news.