Discover What Hungary Offers Outside the Capital
If you think you've had enough Budapest buzz, leave it behind for a while for a budapest day trips to see a bit of the countryside.
We'll recommend you several excursions out of the city, starting with the nearest attractions. Within 50 km you'll find plenty of sights and natural treasures.
For some artistic atmosphere visit Szentendre, or
learn more about Hungarian history in Visegrád and Esztergom.
TIP: The best way to see this three towns in the Daube Bend is on a guided tour. On these trips you'll learn about the history and culture of the settlements, enjoy the amazing panoramic views and some good local meal.
Etyek, a small village known today for its wines and gastronomy events is also worth visiting on a half-day excursion.
Table of Contents – Budapest Day Trips
Esztergom, Visegrád, Szentendre
One of the most spectacular and scenic part of our country is the Danube Bend, 40 km north of Budapest.
In fact, it is the most beautiful stretch of the river's 3 000 km course from the Black Forest to the Black Sea.
We regularly go for excursions to this wonderful area on weekends.
Just after Esztergom, the Danube turns sharply south before it reaches Budapest. This is where the Danube Bend starts.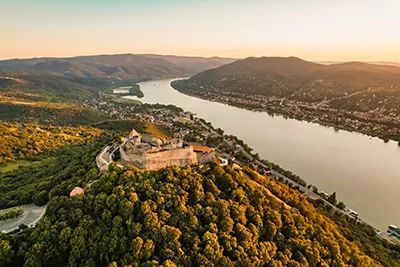 The three small towns,
Esztergom,
Visegrád and
Szentendre are like pearls on a string.
Each is worth at least a half day visit. You can easily access them from Budapest by coach, train, or even by boat.
Plan Your Daytrips
Getting to Esztergom, Visegrád, Szentendre
Hungary is a small country, and you can get to anywhere within a couple of hours by
Travelling by train and bus in Hungary is affordable, and the service is quite reliable.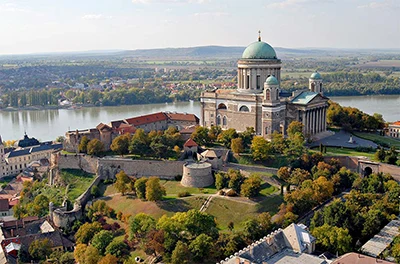 I don't recommend driving for foreigners; it is very troublesome just to get out of Budapest on weekdays.
Hungarian driving culture is not a thing we're proud of. Reckless overtaking, sudden changing between lines, exceeding speed limit; you don't need these to ruin your excursion.
Almost all major highways are under construction during summer.
If you're still more comfortable to get to these destinations by car, you'll find several car rental services in Budapest.
By Bus
You can get to each town by coach operated by Volanbusz company.

You can get to each three town by Busline No. 880-889 that departs form Újpest-Városkapu in distr. XIII.
The journey to Esztergom, the farthest town, takes cc. 2 hours.
In Hungary bus fares are determined by the kilometres of the route.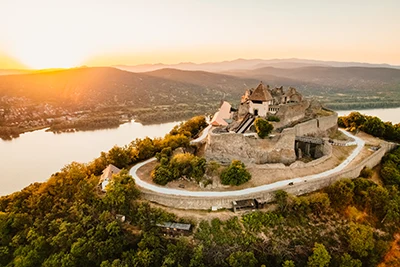 You can find information about coach fares here.
You can buy ticket from the driver too when you board the bus.
By Train
To Esztergom
About 25 trains depart to Esztergom daily from Budapest's Nyugati Railway Station (M3 metro line).
The journey takes about 1,5 hour. The ticket costs 1 100 Ft.
You can buy your train ticket at the ticket offices at the station.
For exact information on departures and ticket prices visit the official website of the Hungarian Railway Company.
To Szentendre
The best option is to take the suburban railway (HÉV in Hungarian) from Batthyány tér (M2 metro line, Batthyány tér station).
Trains leave every 20 minutes or so every day.
The trip takes 40 minutes. A one-way ticket costs cc. 600-650 Ft.
You have to buy your ticket in advance at the ticket office at the HÉV station.
If you have a valid Budapest public transport pass you only have to pay for the distance between the boundary of Budapest and Szentendre.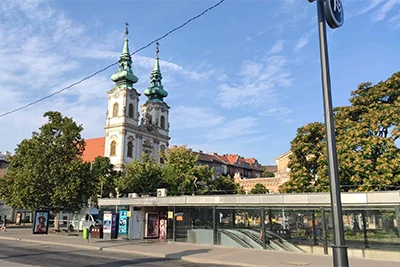 For exact information on HÉV ticket prices and timetable visit the BKK's website.
To Visegrád
There's no direct train service to Visegrád from Budapest.
Alternatively you can take a train to Nagymaros from Nyugati Railway Station, and from Nagymaros a ferry (rév in Hungarian) will take you across the Danube to Visegrád.
The ferry dock is a few minutes walk from the train station and a ferry leaves in every hour.
The train trip to Nagymaros takes less than an hour.
By Boat
The most spectacular and enjoyable way to get to these three towns. Boats run between Budapest and the cities of the Danube bend from April to September. Boats depart from Vigadó tér in Pest between Erzsébet Bridge and Szabadság Bridge.
Boat Cruise to Esztergom Mahart, 28. April – 30. September
Boarding:
Dock No. 5, Vigadó Tér 9:30 a.m.
A really good-value 1.5-hour boat cruise with to Szentendre during the summer season.
Arrival to Esztergom is at 11.00.
Return trip: 17.00, arrival: 18.30, to Dock No. 5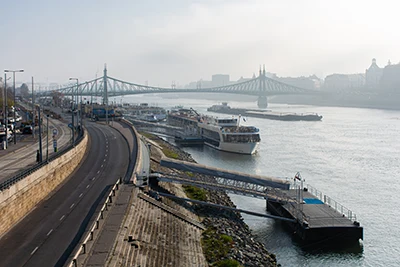 Tickets:
one-way: full price: 20,5 EUR, children (ages 3-14): 10 EUR,
return ticket: full price: 30 EUR, children (ages 3-14): 15 EUR.
Note:
The boats are usually crowded in high season!
For exact information on schedule and ticket prices visit the boat operator's website.
By Car
If I haven't discouraged you from driving, Route 11 will take you to all three towns from Budapest.
Etyek – Wines and Gastronomy
The Etyek-Budai wine region is the nearest Hungaraian wine region to Budapest lying on the southern slopes of the Vértes Hills.
White varieties (Chardonnay, Királyleányka, sauvignon Blanc) are dominant in this region too, though some wine makers started to experiment with reds, too.
The charming village of Etyek with its rolling vineyards and lovely cellars, flourishing culinary cscene is highly recommended if you are looking for a half-day trip outside the capital.
TIP: Explore the romantic cellars of Etyek on a guided wine tour with meal. Transfer to and back to Budapest is included!
Related:
Visit Budapest – Budapest in A Day – Danube Cruises – Budapest Airport – Downtown Budapest