What better way to see all the renowned attractions of Budapest then on a river cruise in the evening?
Most of the year you will be also able to capture the sunset that lends the city an enchanting aura.
A perfect time to take the best photos during your visit then post them on Instagram and Facebook for all your friends to see.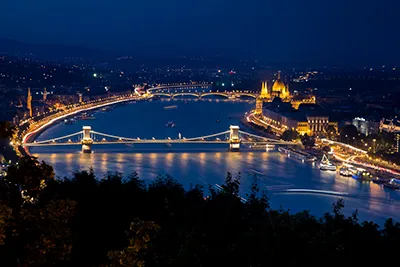 You Can Choose To Enjoy This 2-Hour Boat Excursion With A
3-course meal served buffet style – with the option of special Hungarian menu –
Wine tasting where you sample 7 local wines (80 ml each),
Craft beer tasting – savour 6 artisan beers made by Hungarian micro breweries, or
2 cocktails of your choice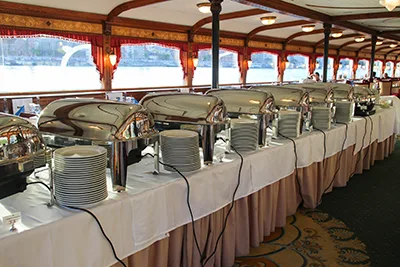 Table of Contents
Date & Time
Every day from 19.00 till 21.00, except:
14. February – Valentine's day Cruise,
31. December – New Year's Eve Boat Party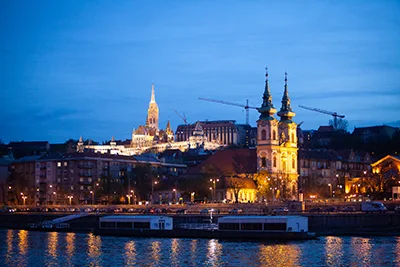 Prices – Evening Budapest Cruise With Dinner & Folk Show
Cruise with buffet dinner, live music and folk show: full price: 72 EUR, students: 69 EUR
Cruise with Hungarian-style dinner, live music and folk show: full price: 55 EUR, students: 52 EUR
Cruise & Wines with live music and folk show: full price: 45 EUR, students: 42 EUR
Cruise & Craft Beers with live music and folk show: full price: 42 EUR, students: 39 EUR
Cruise & Cocktails with live music and folk show: full price: 35 EUR, students: 33 EUR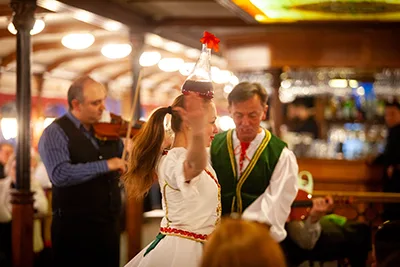 You will receive an E-ticket automatically after payment in e-mail.
What's Included In The price?
In case you book the program with dinner then you will be treated to
A 2-hour river tour on the Danube,
Welcome drink,
3-course buffet dinner with a glass of wine/beer/soft drink
A small bottle of mineral water
Hungarian folk dance show (cc. 20-min long)
Live music by a Gypsy orchestra
Note: If you'd like to have a taste of traditional Hungarian cuisine then you can choose the cruise with a special Hungarian-style dinner: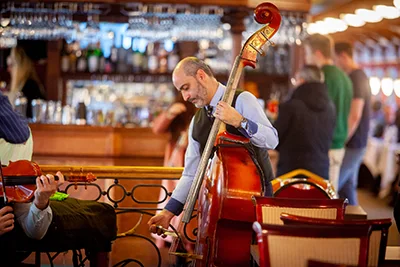 Hungarian Dinner Menu
Goulash soup Alföld style – a rich broth made with beef, carrots, parsnip, potato, various spices and noodles.
Chicken paprikash with homemade dumplings
Strudel selection – a typical Austro-Hungarian pastry made of paper thin pastry that is filled with ground poppy seed, apple or sweet cottage cheese then rolled up and baked.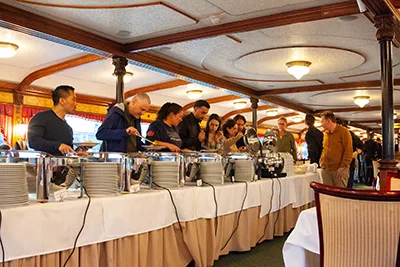 If you'd rather skip dinner, enjoy Hungarian wines on our river tour with wine tasting and learn a few things about local wine making including the most notable regions – Tokaj, Villány, Szekszárd – known for their viticulture.
List of Wines You Will Taste
Tokaji Furmint Grand Selection – Tokaj region
Büttner Pinot Grigio – Badacsony Region/Lake Balaton
Molnár rosé – Mátra Hills region
Merlot by György-Villa Vinery (Villány region)
Pastor Red for Meat – a red cuvée from the Szekszárd region
Tokaji szamorodni – a lovely sweet wine
Tokaji aszú 5 puttonyos – an elegant dessert wine with long-lasting aftertaste.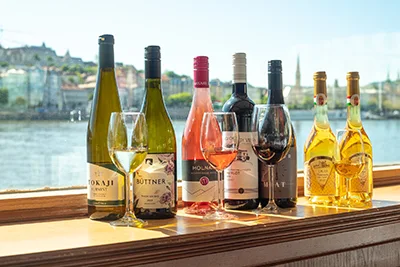 Meeting Point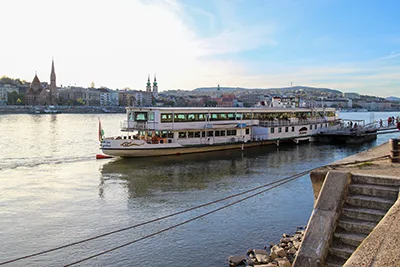 Book Your Place
Why Go On The Evening Cruise With Hungarian Dinner & Folk Dance Show?
Budapest panorama was added to the World Cultural Heritage List by UNESCO.
The Danube flows through Budapest's center regally bisecting yet connecting the two city parts: Buda and Pest.
You can experience this unique and impressive view on our river excursion.
The setting sun lights up beautifully the Danube and the whole city.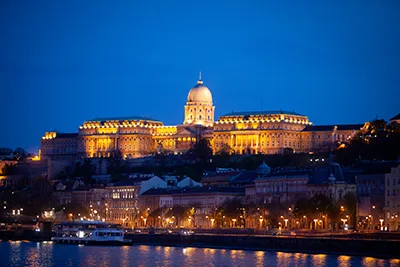 It's an ideal time to take memorable pictures so feel free to go up the deck and take a few shots with your phone or camera.
While admiring this panorama you can enjoy a delicious buffet-style meal or sample
Local wines: Tokaji Furmint, Büttner Pinot Grigio, Molnár rosé, György-Villa Merlot from Villány, Pastor Red for Meat, Tokaji szamorodni sweet, Tokaji aszú 5 puttonyos
Craft brews by Hungarian breweries – 6 types: from fruity IPA to easy lager and red ale or you can
Sip cocktails – 2 of your choice from this selection: Cuba Libre, Old Fashioned, Mojito, Pina Colada, Sex on the Beach, Tequilla Sunrise, Gin Fizz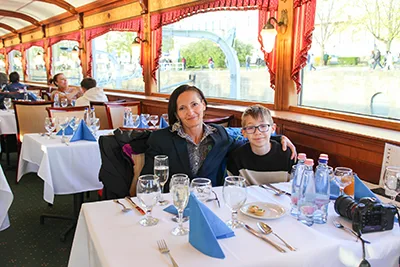 No matter which option you choose, we guaratee that you'll have a wonderful time enjoying Budapest in the evening by romantic candlelight!
Street Food Dinner Cruise: Pizza/Lángos & Drinks
TIP: If this 2-hour excursion is too long for you then we recommend the 85-minute Street Food Cruise with Pizza/Lángos & Unlimited Drinks for

32 EUR (afternoon-evening departure: 16.00/18.00/37UR, or
37 EUR night cruises departing at 20.00 and 22.00.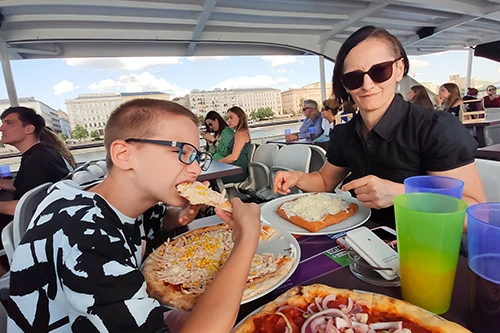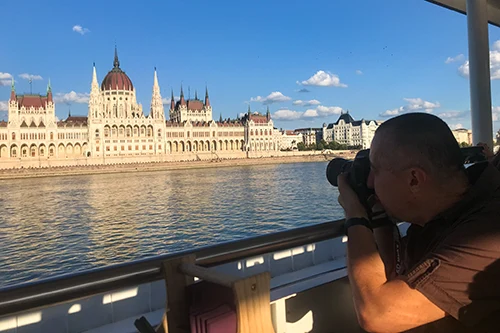 Dinner Menu On The Budapest Evening Cruise
Meaning of symbols: L – lactose free, G – gluten free, Vn – vegan, vegetarian, V – vegetarian
Soups

Goulash soup (G, L)
Seasonal creamed vegetables soup (Vn, G, L)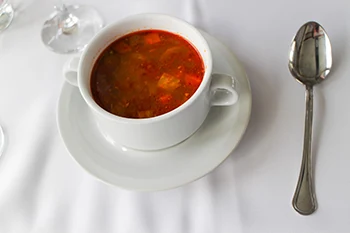 Hot Main Courses
Fillet of chicken breast steamed and served in gravy (G, L) with ragout (G, L)
Beef stew made with Villány red wine (G, L)
Stuffed cabbage made from ground turkey (G, L)
Oven-baked vegetables (G, V)
Vegetable couscous (L, Vn)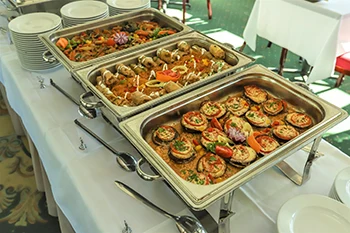 Side Dishes
Rice (G, L, Vn)
Dumplings (L, V)
Roast potatoes with parsley (G, L, Vn)
Desserts
Strudel with ground poppy seed or apple filling(L, Vn)
Somlói-style cake: a rich delicacy sponge cake slices layered with vanilla sauce, rum-soaked raisins, ground walnuts, topped wih chocolate sauce and whipped cream (V)
Fruit selection(only on request for those unable to eat other desserts)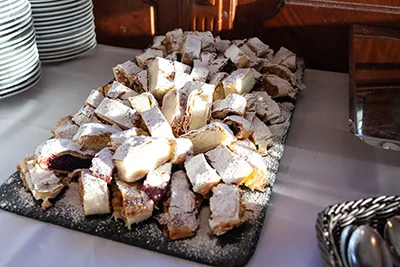 Salad
Seasonal salad with pesto dressing (L, G, Vn)
Pasta salad served with yoghurt (L, G, V)
Extra Side
Cucumber salad with sour cream (L, G, Vn)
Terms & Conditions
By booking the program you are agreeing to the terms and conditions.