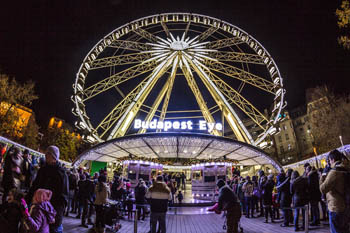 Budapest Eye – View The City from Top
The new Budapest Eye opened on Erzsébet Square in mid-march 2017 and it is operating throughout the year.
It looks different than the previous Eye and the 42 partially open cabins are simpler and look cheaper.
Still, if you aren't scared of height, a ride on the new wheel will dazzle you with the fantastic view.
Take a ride on the Eye set up on Budapest's popular park Erzsébet Square in the city centre.
With its 65 m height this is the largest ferris wheel in Europe offering awesome view from the top.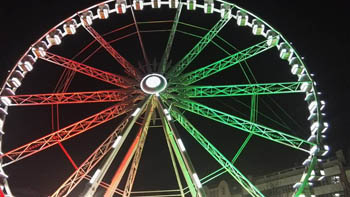 Only the Basilica, which you can admire during a ride, is higher.
Another wheel be erected on the Sziget Festival in August on Hajógyári sziget in Óbuda.
Location of the Budapest Eye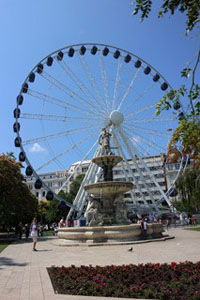 Erzsébet tér, district V., city centre
Opening Hours
Monday – Tuesday: 10.00 – 23.00
Wednesday – Thursday: 10.00 – 24.00
Friday – Saturday: 10.00 – 01.00
Sunday: 10.00 – 24.00
TIP: The Budapest Eye operates every day during festive periods like, Easter and the Christmas-New Year season when it offers an amazing view of the fairy-tale like city decked out in festive lights.
Budapest Eyee Tickets and Payment
A ride costs (8-10 minutes, 3 turns):
3 000 HUF / 10 EUR for adults (ages: 18 – 65),
1 500 HUF/5 EUR for children between ages 2 – 12.
students and people above 65 yrs of age: 2 700 HUF / 9 EUR
Family ticket (2 adults+2 kids under 12): 7 800 HUF/26 EUR.
You can buy the tickets on the spot. You can pay in cach (EUR/HUF) or with credit card.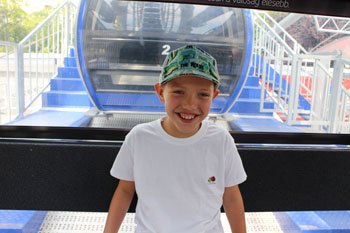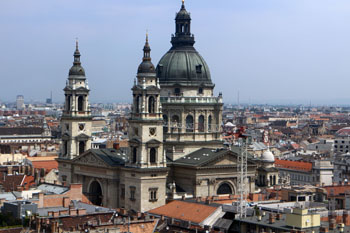 See more photos in our Facebook album.
TIP: Find more things to do for children in Budapest.
The Budapest Eye in Numbers:
Height: 65 m
It has 41 air-conditioned, closed cabins with 8 persons occupancy and 4 VIP cabins.
TIP: If you're scared of height just lie down on the grass and watch the huge steel and plexi construction slowly go round. The view is even more spectacular at night with the city lights on.
Other Attractions Nearby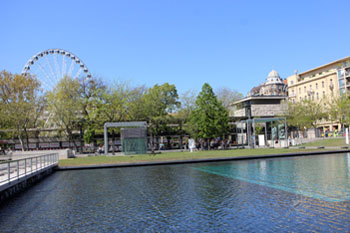 The wheel is in the city centre so it is impossible to miss it.
There are lots of sights, cafes, restaurants and shops in the neighbourhood which is the downtown of Budapest.
Erzsébet Square
This is a lovely park with a small pool, a hip club, and concert venue, Akvárium, some food bars and terraced pubs, and a bit of green in the concrete jungle of central Pest.
A popular picnic and nightlife area that was refurbished a couple of months ago.
Learn more about Erzsébet Square and other parks, green spots in Budapest.
Basilica
The largest church of the city is just a short walk from the Eye.
It gives home to one of Hungary's most precious relic, the Holy Right of King St. Stephen.
TIP: If you are not afraid of height go up the cupola to enjoy the fantastic panoramic view. Ticket is only 500 HUF/adult.

Opening hours: 01. October – 30. June: 10.00 – 16.30, 01. July – 30. September: 10.00 – 18.30.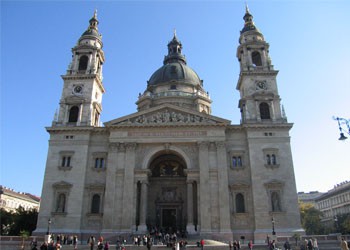 Find out more about St. Stephen Basilica.
The large square is another spot for al fresco eating and drinking.
It also hosts an amazing Christmas Market and Festival starting usually at the end of November.
The neighbourhood is packed with great restaurants and terraced cafes.
Just walk along Sas utca or Hercegprímás utca and pick a place to. BorKonyha, one of the city's Michelin star awardee is definitely a good choice.
You can't go wrong with Aszú Restaurant either where you can sample contemporary Hungarian dishes. For some quick and inexpensive Mexican street food try Burrita in Október 6. utca.
TIP: For some sweet treat try Gelarto Rosa ice cream shop across the Basilica, they serve the cool dessert in artistic flower shapes either in cone or cup.

Coffee, macaron, belgian waffles, some cakes are also available.
See more of our favourite Ice Cream Shops in Budapest.
Related:
Miniversum – Castle Bazaar – Whale/Bálna – Summer Things to Do – June Programs – July Events, Things To Do – August in Budapest