Watch The Show From A Boat on the Danube!
Date & Time: 20. August, 2023, 18.00 – 22.30
Location: Cruise Ships On The Danube (Moored During The Fireworks)
The festive Budapest Fireworks Show takes place on 20th August (St. Stephen's Day) every year, celebrating the foundation of the Hungarian state and canonization of its first king: St. Stephen.
The best place to watch the show is from a ship on the river since the fireworks are launched from:
Two bridges (Chain Bridge and Elizabeth Bridge), as well as
4 barges and pontoons on the Danube in front of the Parliament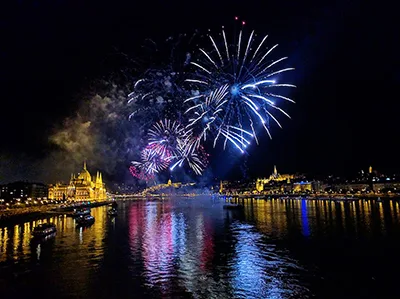 Follow the show from modern, spacious catamaran ships with wide panorama windows allowing you to enjoy a perfect, unobstructed view of the event.
Book Your Place For A Fireworks Cruise (or Scroll Down For More Details)
Table of Contents – Budapest Fireworks
Details Of The Fireworks From The Danube
4-Course Fine Dinner or Cocktails or 5 Drinks
We offer you four options for the Fireworks Cruise on August 20th:
Two with 4-course dinner (they only differ in that the Deluxe choice will have the Parliament building as backdrop for the fireworks) and
With 5 cocktails of your choice or with
5 drinks (beer, wine, sparkling wine, soda drinks).
1. Cruise With 4-Course Dinner – Parliament View (115 EUR ) – Likely To Sell Out!
After boarding – that starts at 18.00 – you will take a sightseeing excursion on the Danube where you can admire the amazing panorama of Budapest.
At the end of the cruise the ship will dock at Batthyányi Square right across the Parliament and will be staying there during the fireworks (no water traffic is allowed during the show).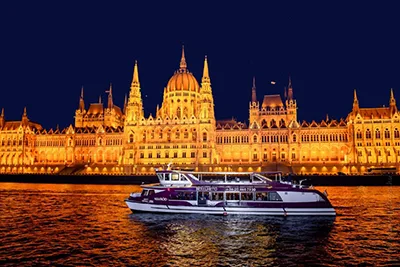 In this option the impressive Parliament building will provide a spectacular background for your maximum enjoyment of the fireworks display. So, for the best experience and viewing spot choose the Cruise with Dinner & Parliament View! These spots will sell out the quickest, so don't hesitate to book.

Note: The other two options will have a very good viewing spot too, with the Danube, Buda Castle, The Gellért Hill and the bridges as background.
During the program you can enjoy a fine dinner of 4 courses, served at your table, with vegetarian meals included. See the detailed menu below.
The Fireworks cruise with Parliament view ends at 23.00.
2. Cruise With 4-Course Dinner – Buda Castle View (115 EUR)
After boarding – from 18.00 – you will go on the same river cruise as the guests that chose the Parliament-view option.
Afterwards, the ship will moor and stay at Jane Haining rakpart, next to the Elizabeth Bridge, the same spot where you boarded. You will watch the fireworks from here which is a premium location for perfect view and photo options with
Buda Castle,
Elizabeth Bridge & the Danube and the
Gellért Hill as backdrops.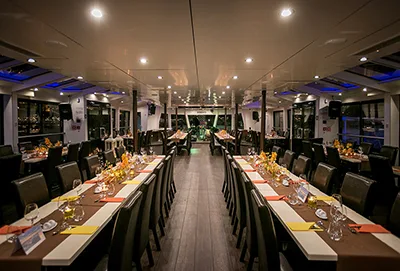 You will be served a delicous 4-course dinner with vegetarian choice at your table. The dinner menu is the same as in the first option. The whole program ends at 22.30.
3. Cruise with 5 Cocktails (80 EUR) or 5 Drinks (70 EUR) – SOLD OUT!
If you don't want to have dinner choose the cruise with 5 cocktails or 5 drinks alternatives. Boarding for this program starts at 18.00.
After a sightseeing cruise the ship will be anchored at Jane Haining rakpart, next to the Elizabeth Bridge
Program Schedule
18.00 (Depending which option you choose): Meeting to board the Ship
18:30: The 2-hour river tour starts – taking you on a scenic cruise on a convenient, modern ship with air-conditioning and large panorama windows to let you appreciate the beautiful view of the sights adorning the two banks of the Danube.
18.30 Dinner/drinks is/are served.
20:00: The ships will anchor before the fireworks start
21:00-21.25: Fireworks over the Danube – launched from the Chain Bridge, Elizabeth Bridge and pontoons on the Danube
cc. 22:30: End of Program
The ship takes you back to the pier at Jane Haining rakpart, Budapest 1052 .
A romantic and memorable way to spend a summer evening in Budapest!
4. Cruise with Buffet Dinner & Unlimited Drinks (165EUR)
Experience the grandeur of a three-hour river cruise and immerse yourself in a delightful Hungarian feast while indulging in unlimited drinks, all designed to keep your party spirit alive.
Marvel at iconic landmarks like the House of Parliament, St. Stephen's Basilica, Buda Castle, Matthias Church, and Fisherman's Bastion on the Buda side, accompanied by enchanting live music performed by the renowned Rajkó Folk Orchestra, capturing the essence of Hungarian culture.
Immerse yourself in the local atmosphere as you savor a steaming bowl of authentic goulash soup, savor the flavors of paprika-infused chicken, and sample the world-famous Hungarian wines.
All this while basking in the mesmerizing beauty of Budapest illuminated under the night sky.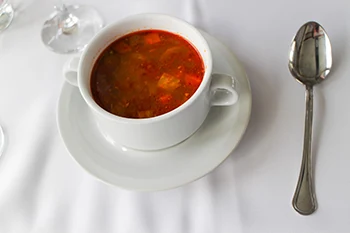 Inclusions:
Open buffet
Unlimited drinks
Live music entertainment

Menu
Soups
Goulash soup (G, L)
Seasonal vegetable cream soup (Vn, G, L)

Hot main course
Chicken fillet cooked in gravy (G, L) with ragout (G, L)
Beef stew with Villány red wine (G, L)
Stuffed cabbage from turkey (G, L)
Oven-baked vegetables (G, V)
Vegetable couscous (L, Vn)

Side dish
Rice (G, L, Vn)
Dumplings (L, V)
Roast potatoes with parsley (G, L, Vn)

Dessert
Variation of strudel (L, Vn)
Somlói Dumplings (V)
Fruit bowl (only on request for those unable to eat other desserts)

Salad
Mixed salad with pesto (L, G, Vn)
Pasta salad with yoghurt (L, G, V)

Extra side
Cucumber salad with sour cream (L, G, Vn)

L – lactose free
G – gluten free
Vn – vegan, vegetarian
V – vegetarian
Program Schedule
Departure time: The cruise starts at 19:00
Meeting time: 18:30 in front of the Gróf Széchenyi Boat
Duration:180 minutes 19:00-22:00
Meeting point: Akadémia Dock 1-3. 1052 Budapest, Id. Antall József rkp. | Gróf Széchenyi Ship
Tickets & Booking (Limited Availability, No-Risk, Free Cancellation!)
You can choose from 4 options when booking the Budapest fireworks watching cruise :
Deluxe option: cruise & fireworks with Parliament as background view: 4-course served dinner & welcome drink: 115 EUR – Likely To Sell Out!
Cruise & fireworks with Buda Castle view: 4-course served dinner & welcome drink: 115 EUR
Cruise & fireworks with 5 drinks (no dinner): 70 EUR or Cruise & fireworks with 5 cocktails of your choice from 15 classic cokctails (no dinner): 80 EUR SOLD OUT!
Cruise & Fireworks with buffet dinner and unlimited drinks : 165 EUR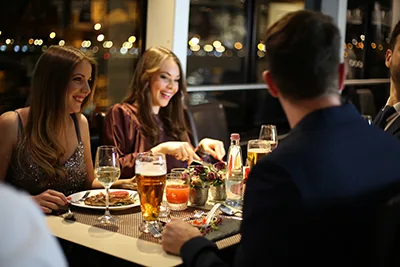 What's Included In The Price (All Options)?
A sightseeing cruise on the Danube,
Welcome drink
4-course served dinner (with vegetarian option) or 5 Drinks or 5 Cocktails of your choice
Live piano music on the cruises with dinner options,
Watching the fireworks from one of the best possible viewing points
FREE Cancellation – No Risk: Cancel up to 48 hours in advance for a full refund
Meeting Point & Time
The program starts at 18.00. Meeting is at:
Silverline Dock (Dock 11.): Jane Haining rakpart, Budapest 1052,
GPS coordinates: 47.492028, 19.050528
Please be there by 17.30!
Book Your Fireworks Cruise! (Limited Spots, No-Risk, Free Cancellation!)
Why A Boat on the Danube?
The Rockets Will Be Launched From Several Spots On The River:
4 barges and a pontoon on the Danube between Kossuth Sqr. and Garibaldi utca
3 barges and a pontoon on the river between Eilzabeth Bridge and the Chain Bridge
From the Elizabeth Bridge and the Chain Bridge
That's why a ship anchored on the river provides an excellent viewing point.
Several bridges (the most obvious choices as viewing venues) will be closed – the Chain Bridge, Elizabeth Bridge, Liberty Bridge, Margaret Bridge for sure – so the best viewing spots will not be accessible.
Petőfi and Rákóczi Bridges are good choices though if you can stand in crowd for an hour or more.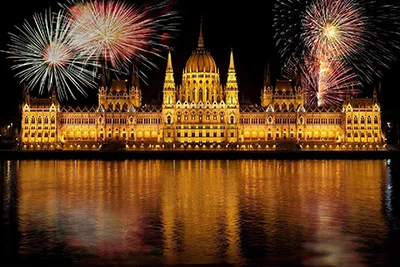 The same applies to the embankments – both in Pest and Buda – they will be full of people, all wanting to see the show and on on top of that if it's also hot (and it usually is on 20. August) then it will not be convenient to stand and sweat in the crowd.
After the fireworks it will be even more frustrating because people will want to leave their viewing spot all at the same time, heading for the metro stations or other means of transport.
You don't have to bother with all these if you choose to partake in the celebration and view the show from the comfort of an air-conditioned sightseeing ship.
You can of course go to the upper deck to get a better view of the show! What's more, you'll be treated to a tasty dinner, and live piano music!
Note: The Chain Bridge and Elizabeth Bridge and nearby areas on both sides of the Danube will be closed off traffic between cc. 18.00 – 23.00 on 20. August. You can also expect several changes in public transportation (tram 2 for example in Pest).
Romantic Cruise on the Danube with 4-Course Served Dinner Or Drinks
An air-conditioned exclusive ship takes you on a two-hour sightseeing tour on the river Danube during which you can admire the wonderful vista of the Buda and Pest sides marked by the:
Castle Hill,
Gellért Hill – one of the spots from where the fireworks will be launched
Parliament, and the
Famous bridges of Budapest (Chain Bridge – (Széchenyi Lánchíd), Margaret Bridge, Erzsébet Bridge-(Erzsébet híd), Liberty Bridge-(Szabadság híd).
Exclusive Dinner Menu On the Budapest Fireworks Cruise:
Appetizer
Pastry cups filled with tasty spreads, served with rocket salad (arugula leaves, tomato, parmesan cheese)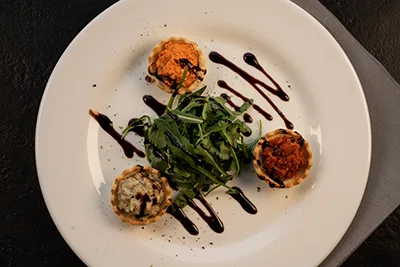 Soups
Hungarian Goulash Soup
Creamed sweet potato soup served with walnut-parsley pesto and roasted almond slices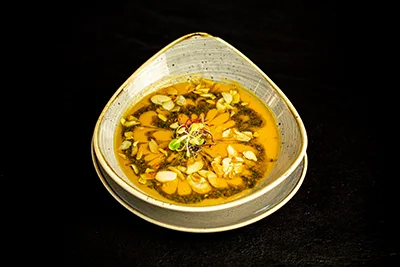 Main Courses
Herb-crusted salmon steak served on creamy tagliatelle with spinach and parmesan shavings
Chicken breast fillet with mashed potatoes, seasoned with smoked paprika, vegetable ragout
Roasted duck leg with gravy and cabbage noodles in chimney cake
Beef ragout made with dark beer, mushroom and dark chocolate served with bread dumpling
Vegetarian option: beetroot risotto with seared carrot crouton and parmesan shavings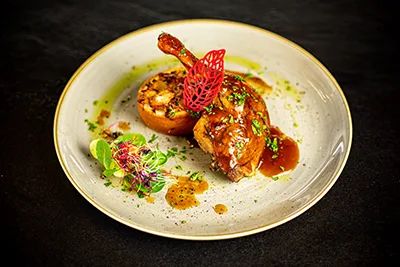 Desserts
Dark chocolate chocolate brownie with cashew nuts served with Bourbon vanilla ice cream
Vegan option: fluffy tapioca pudding made with coconut milk, served with forest fruits coulis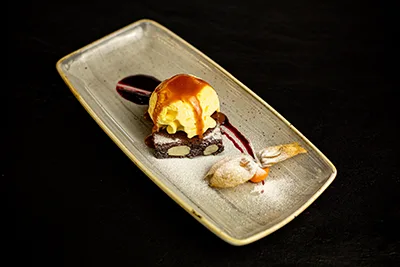 5 Drinks Option Includes:
If you don't feel like having a dinner you can choose the cruise with 5 drinks (see below) or 5 cocktails from a menu of 15 classic cocktails.
If You Choose The Drink Option You Will Be Served:
Borsodi wheat beer – a popular Hungarian brew
Coca Cola products: Coke, Zero, Sprite, Fanta
Classic lemonade
Wine: white, rosé or red
Sparkling wine: sweet and dry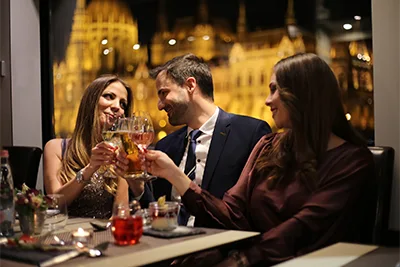 FAQ Related To The Fireworks & Cruise
What Time Does The Budapest Fireworks Start on August 20?
The fireworks show starts at 21.00/9 pm and lasts approximately 30 minutes. The rockets are launched from ships on the Danube moored between Petőfi Bridge and Margaret Bridge, some of the bridges, and the Gellért Hill.
What Time Does The Firewoks & Dinner/Drinks Cruise Start?
Boarding for the fireworks cruise on August 20, 2023 at 18.00/6 pm. The program lasts 4.5 hours that includes a 2-hour river tour, 4-course dinner with live piano show and watching the fireworks display.
Program ends at 22.30.
What Do Hungarians Celebrate on 20 August?
We celebrate the foundation of the Hungarian State and laying down the roots of Christian religion during the reign of King Stephen (cc. 975 – 1038) after centuries of pagan and nomad lifestyle.
King St. Stephen was canonized on August 20. in 1083 and he's the patron saint of Hungary, that's why this national holiday is named after him: St. Stephen's Day.
Is It Safe To Watch The Fireworks?
It's completely safe to watch the display. There are strict rules in place ensuring the safety of watchers. People won't be allowed too close to the launching points, those areas will be closed to the public.
Expect crowd though, especially on the banks of he Danube and other favourable vantage points. Congestion will be at its peak at the end of the show when everybody tries to leave all at once.
TIPS: Go to August 20. Festivities Main Page, or See more August 2023 Programs in Budapest.
Related
Summer Things to Do – Seasons in Budapest – June Programs, Activities – July in Budapest – Buda Castle – Gellért Hill – Danube Cruises – Check our Facebook site for fresh news