What to Do and See in the 1st Month of the Year?
Budapest doesn't sleep in January even if it's the coldest month of the year. The Christmas and New Year festivities have ended and the Hungarian capital is packed with energy and ready for 2019.
Table of Contents – Budapest in January
Weather in January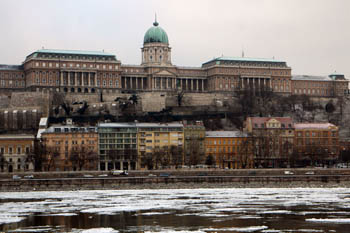 January is the coldest and drearest month in Hungary with an average temperature of cc. 0.5 Celsius degree in Budapest (minimum: -1.6 C, maximum: 2.9 C).
But this shouldn't keep you from having fun and being active during your visit.
Here are some tips and advice:
Make sure you dress in layers – (sweaters, sweatshirts, comfortable coat and boots, winter cap, scarf, gloves)
Plan indoor and outdoor programs according to the weather forecast. Do your walking/sightseeing when it's sunny and there's no snow or drizzle/rain.
If it's very cold include more indoor programs.
TIP: Budapest is famous for its classic coffee houses, but new wave cafe culture with specialty coffee shops opening almost every other week is also on the rise – see recommendations below). A nice cup of hot tea or chocolate will warm you up.
New Year Concerts in the Danube Palace
Spend the 1st day of the New Year on a splendid concert in a historic palace located in the city centre! The Danube Chamber Orchestra will perform at 17.00 presenting evergreen classical melodies to the audience.
At 20.00 a special Gala Concert starts featuring
classical music,
gypsy folk music,
opereatta songs and
balett dance
A spectacular show fitting for this special day! Tickets are available in 3 price categories for both concerts:
Christmas Market by the Basilica, till 01. January 2019.
The festive fair on Szent István Square right in front of the Basilica is on till 1st January.
On new Year's Day you can enjoy the 3D light mapping show projected on the facade of the Basilica between 16.30 till 22.00.
You can also have a delicious meal at one of the handful of food vendors and warm your hands with a glass of mulled wine or hot tea.
Christmas & Winter Fair at Vörösmarty Square, till 01. January
The city's famous holiday fair at Vorösmarty Square closes on 01. January 2019, but only the food and beverage stalls are open offering real Hungarian treats like stuffed cabbage, roast meats, lángos and chimney cake.
A huge selection of hot and cold drinks are also available.
Danube Cruise on New Year's Day at 19.00 & 22.00
View the superb night panorama of Budapest from a deck of a boat while enjoying a buffet dinner with drinks. TIP: If you prefer to go on a daytime cruise take the one with buffet lunch starting at 14.00 .
Folk Show with Hungarian Dance & Music
Date: 05. January 2019., at 20.00
Get a taste of local culture by attending a 1,5-hour folklore performance presented by one of the most talented folk ensembles of the country.
Tickets are available in 3 seat categories.
TIP: You can travel on one of the the Christmas Light Trams till 06. January. Tram 2 is the best if you want to see the most famous sights of the city dotting the riverbank. The festively decorated tram 2 runs on 01. & 02. January after 17.00.
Gingerbread City in Bálna/Whale, till 03. Jan – 23. Febr.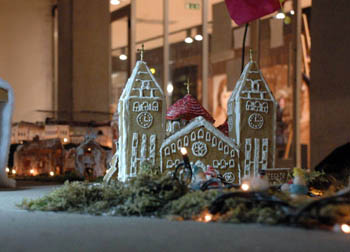 Address: Bálna/Whale Shopping c Entertainment Center, (Fővám tér 11-12., district IX.)
Opening Hours:
between 03. January – 23. February: 16.00 – 20.00, closed on Sundays and Mondays
Entry: free
Gozsdu Weekend Market, Saturdays & Sundays
Venue: Gozsdu Court, Király utca 13. Dob utca 16., Budapest 1075 , district VII. (close to Deák Square metro hub)
Dates in January 2019: every Saturday and Sunday
Opening Hours: 10.00 – 17.00
A vibrant street market every weekend in the heart of the city's party district.
Saturday the Antique Vintage Market takes place, more a flee market, with all sorts of retro and antique pieces on sale.
On Sunday, the GoArt! Gozsdu Art Market is the place where you pick up quality, handcrafted design and vintage art.
Mobile Sauna on the Danube Bank
Location: Pest side, at Rákóczi bridge (near the National Theatre and the Palac eof Arts/ Müpa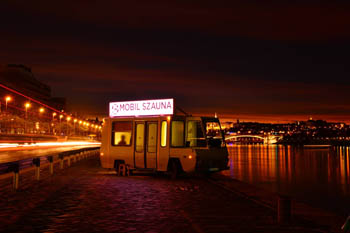 Warm up in a real Finnish sauna located on the riverbank, this year in Pest at the Rákóczi bridge.
You can easily get there by the H7 Suburban Railway (HÉV) departing from Boráros tér.
The Valyo Association' (City and River Association) project welcomes everyone for the 3rd time in winter.
Rental is donation based which is 15 000 HUF for 1,5 hours for 2 -6 persons.
With the money you support the work of the association (known also for their Liberty Bridge Festivals on some weekends in summer).
What to bring with you?
your voucher/registration information
slippers
towel
swimming suit
More information and sauna rental is available on the organiser's website.
Organ & Other Concerts
The largest church of the city, St. Stephen's Basilica gives home to a fantastic organ recital on 05. January at 20.00.
The historic temple in downtown Budapest is a perfect place for a lovely winter concert. You can combine the concert with a cruise on the Danube for a whole night program.
Organ Concerts in the Inner City Parish Church,Wednesdays at 16.00
Address: Március 15. tér, district V., tram 2
Tickets: full price: 14 EUR, student: 12 EUR (available at the venue before the concert)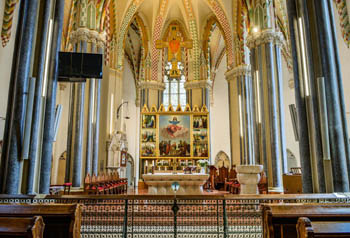 Franz Liszt's church also host concerts on Wednesdays at 16.00 performed by Gábor Szotyori Nagy on the historic pipe organ of the church.
Concert lasts cc. 45 minutes.
This lovely temple of medieval origin stands in the city centre at the Pest bridgehead of the Erzsébet bridge.
Program:
Johann Sebastian Bach: D-moll toccata and fuge
Louis-Claude Daquin: X. Noël
Alexandre Guilmant: Offertoire on the Christmas Hymns
Edwin Lemare: Joy to the World
Liszt Ferenc: In dulci jubilo, Adeste fideles
Johann Sebastian Bach: Air
Charles Marie Widor: Toccata
Find out where else to enjoy organ music in Budapest!
Bach-Stream by Ditta Rohmann Cellist, 28. January, 17.00
Venue: Inner City Parrish Church, Március 15. tér, district V., tram 2
Tickets: 2 000 HUF, students/retired: 1 500 HUF (available in the church before the concert, or on weekdays between 11.00 – 16.00)
It is part of a concert series by Ditta Rohmann cellist who will play selected solo works of J. S. Bach.
For Ditta Rohmann to play Bach is like when a thirsty man gets fresh water:
cleansing,
energizing and
refreshing.
Next concerts in the series will be on 15. February, 25. March. 22. April and 27. May.
Visit the Zoo!
The Zoo & Botanical Garden is open all year round though with shorter opening hours in winter.
January opening hours:
every day: 09.00 -16.00 (last entry at 15.00), the animal houses are open: 10.00 – 15.30
TIP: If it's too cold for strolling around the park view the interactive exhibits in the Magic Hill/Varázshegy. An excellent program with children! The Magic Hill is open: 10.00 – 15.30 in January-February.
Warm Up in a Thermal Bath!
Budapest is known for its thermal baths fed by healing spring water. The best known spas are the Gellért in the Buda side and the Széchenyi (aka Szecska) in Pest's City park.
For a less touristy spot head for the Lukács Bath near Margaret Bridge in Buda. The origins of the bath date back to the early Middle Ages. It has
two swimming pools
a relax pool (35 – 37 °C)
a medicinal pool (24 -40 °C)
sauna world and a
wellness department with various services
Skip-the Line Entry with Transfer to Gellért/Széchenyi
Open Day in the Parliament, 06. January
Date & Time: 06. January, 10.00 – 15.00
Entry: free
The Parliament building on Kossuth tér will have an open day to honour the 40th anniversary of getting back Hungary's Holy Crown. Visitors can view
the Cupola Hall,
Grand Staircase and
the Holy Crown of St. Stephen for free.
Visitors may enter the building from Alkotmány utca. Due to the great interest prepare for queuing!
Vegan Sunday Market, 14. January
Address: Anker't Club, Paulay Ede u. 33., district VI. ( a street parallel with Andrássy Av.)
Opening Hours: 10.00 – 18.00
Entry: free
A community vegan market where you can buy organic food and other stuff:
vegan sausages,
fermented cheese,
raw cakes, muesli bars,
sandwiches,
chilli sauce,
vegan soap and other cleansers, cosmetics,
hamburger and pizza – all vegan.
Hot Beer & Hot Wine Days, 08 – 14. January
Venue: Bálna Bisztró/Whale (Fővám tér 11-12., district IX.)
Getting there: tram 2 (Fővám tér or Zsil utca stop or M4 metro (green line), Fővám tér station
Opening hours: every day: 10.00 – 24.00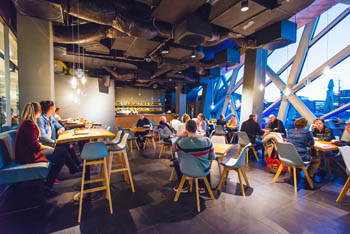 Even if you don't like beer try the hot version in the Bálna Bisztró in mid-January.
It's a popular drink in Poland and said to be a perfect cure for common cold or relieve the symptoms of flu.
Besides hot beer, you can also have fragrant hot wine.
The Bisztró is also an excellent place for a breakfast or brunch, lunch or just a cocktail or coffee.
The terrace offers an amazing view of the Buda side and the river Danube.
TIP: The ice rink in front of the Bálna is open till end of February. Skate rental is available for 1 000 HUF/3 hrs. See more places for ice skating below.
Mulled Wine Festival Next to Allee Mall, 19 – 24. January
Address: Kőrösy József utca, district XI
Getting there: tram 4. or M4 metro (green line), Újbuda Központ stop
Entry: free
This is another winter drinks-themed festival on the promenade in the Allee Shopping Centre in Buda.
Hot wine and beer,
hot chocolate,
cocoa,
tea and coffee to warm you up and of course
tasty street food
Past January Events
Related