Plan Well If You Want to See the Best of the City in 24 Hours!
If you want to see Budapest in a day, you have to plan that day thoroughly to fully enjoy your stay, and yet not to get overwhelmed.
This page is for those visitors who only have 1 day or less to explore Budapest.
The trick is that don't try to cram every sight, each historical monument, museum into a 24-hour program, otherwise you'll be exhausted by the end of it, and you won't have fun at all.
TIP: For a complete experience, visit both parts of the city: the major sights in Buda, mainly the Castle (home to the Royal Palace, the Fishermen's Bastion, and Matthias Church, as well as some great museums, restaurants and cafes), and the city centre in Pest.
Happy exploration!
Quick Links:
Recommended Tours – Hungarian Dinner with Folk Music & Dance – Night Entertainment
Budapest in One Day – Starting Fresh in the Morning
After you've had a substantial breakfast at your hotel or one of the cafes of Budapest, go and visit Castle District while you're full of energy and up to walking.
The district, called Várnegyed in Hungarian, is situated on a hill at the Buda end of Chain Bridge.
The whole district, which is an UNESCO World Heritage Site, reflects medieval and baroque Budapest with many fine buildings and narrow cobbled-stoned streets with footpaths winding around the hill.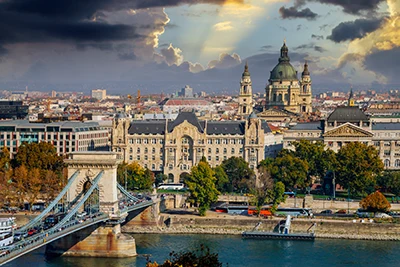 TIP1: To be close to all the major sights stay in a Hotel in Budapest City Centre.
TIP 2: the Budapest City Card offers free, unlimited travel on all public transport services, free entry to the Lukács Thermal bath, free entry or discounts to a range of museums, other Budapest baths, and restaurants.
The 24-hour card costs 29 EUR (with collection points at Budapest Aiport or free delivery to your hotel/apartman.)
Current Prices 2022:
24-Hour Card: 29 EUR
48-Hour Card: 43 EUR
72-Hour Card: 54 EUR
72-Hour Plus Card: 87 EUR
96-Hour Card: 69 EUR
120-Hour Card: 82 EUR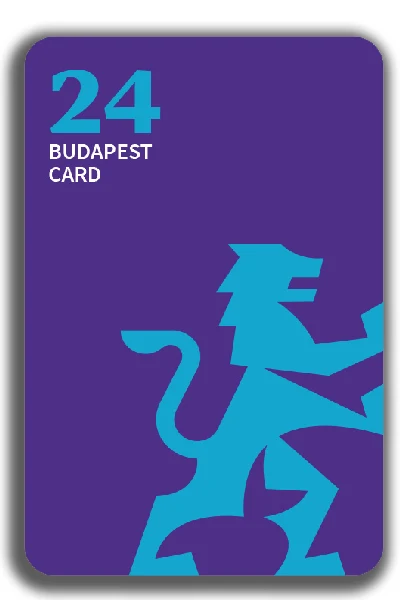 TIP 3: A convenient and inexpensive way of seeing all the major sights, is going on a Hop On Hop Off Bus Sightseeing Tour.
Modern, air-conditioned bus takes you to to a tour of the city showing you many sights and attractions. Audio guide in several languages is provided.
The main historical attractions in Buda Castle District include:
the Royal Palace,
Matthias Church on Holy Trinity Square (Szentháromság tér), and
Fishermen's Bastion from where you can admire the fine view of the Danube with the bridges, the Parliament building on the Pest side, and the rolling Buda Hills.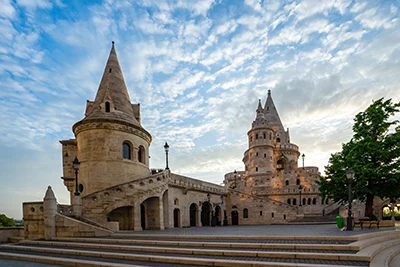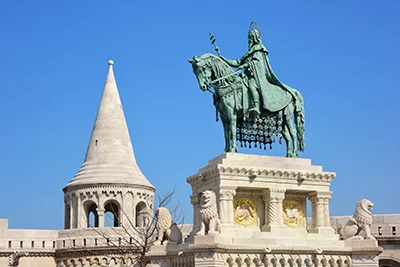 Getting to Castle District: either take trams 4, 6 to Széll Kálmán tér then walk up to the district, or get on the Castle bus (No. 16, it departs from Deák tér – a metro hub of the city – if it's more convenient for you)
or take the Funicular from Clark Adam Square at the Buda end of Chain Bridge (Lánchíd).
This way you get a closer view of the first permanent bridge of Budapest that became the symbol of the Hungarian capital.
If you find the 1 200 HUF ticket (700 HUF for kids, and 1 800 for a return ticket) for the Funicular (Sikló) too expensive, you can take the stairs starting near Clark Adam Square leading up to the heart of Castle District.
By the time you explored much of the Castle District you'll be ready for a short rest at a cafe.
For a really good coffee made from freshly roasted coffee beans, pop in the Walzer Cafe in Táncsics Mihály utca (utca=street) near Matthias Church.
A variety of coffee drinks are offered that you can sip leisurely, while enjoying the cozy coffee house atmosphere.
The oldest coffee house and cake shop in Budapest, Ruszwurm is also in Castle District.
Find out more about Ruszwurm Cafe and other historic Budapest coffee houses.
Inner City Tour To see the Heart of Pest
Take the Castle bus to Deák tér to continue your Budapest-in-a day adventure in the inner city. Here the three metro lines of Budapest meet, so if you're tired of walking, take one of the underground lines.
But if you're still up for some strolling, keep your sightseeing on foot. You will be able to see more of the city's beautiful buildings.
You have several options to go from Deák Square: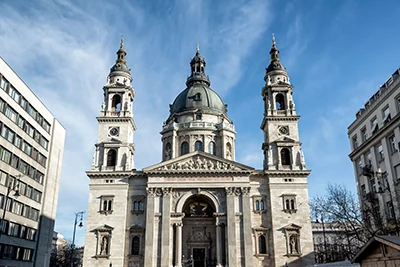 But first, if you love shopping, check out Fashion Street in Deák Ferenc utca where a dozen of famous fashion brands (Tomy Hilfiger, Mexx, Hugo Boss, Ralph Lauren etc.) have outlets.
There's also a Starbucks at the Deák tér end of the street, should you need more cafeine or snacks.
És Deli in Kempinski Corvinus is also a good choice for gourmet coffee, pastries, fruit juices, muesli and other healthy treats.
If you choose to take a look at St. Stephen's Basilica, Budapest's largest church, from there you can take Zrínyi utca that will lead you to Széchenyi tér at the Pest side of the Danube.
Alternatively, you can get here from Castle Hill by descending with the Funicular and walking over the Chain Bridge.
TIP: From Szécheniy square you can take this short walking tour of downtown Budapest.
If you've had enough walking then take tram 2 that travels from Vágóhíd utca in district IX. to Jászai Mari tér at Margaret Bridge (best to get on at Boráros tér or at the Central Market Hall stop at Szabadság Bridge).
The tram runs along the Pest side of the Danube offering a beautiful view of the Parliament, the Castle Hill and Gellért Hill in Buda, and the Danube bridges.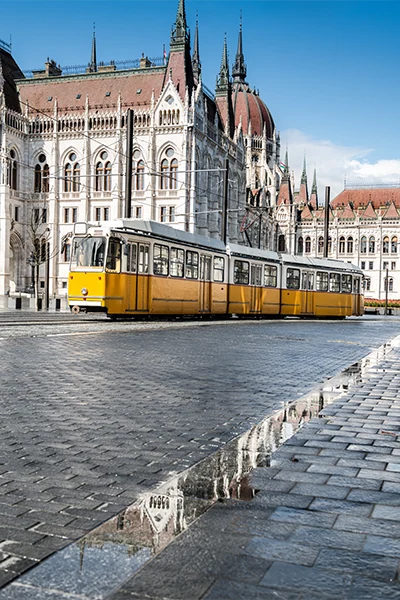 Alternative Tours – An Ideal Way to Get to Know the City
You can also do unique walk or bike tours in Budapest to see the most important sights within a short time. Local guides will tell you all the necessary facts about the sights and their history, adding interesting stories few know about.
New Main Street (Új Fő Utca)
If you have time do include a walk on Budapest's new, partially pedestrianized street, the so-called New Main Street between Kálvin tér and Szabadság tér.
Stop for a taste of strudel in the First Strudel House of Pest Cafe on Október 6 utca, where you can sample this sweet Hungarian delicacy with a cup of coffee.
If you don't have much time, do only one part of the street e.g. starting from Kálvin Square along Kecskeméti utca till Egyetem tér.
This is one my favourite parts of the city centre with lovely terraced cafes, bistros and shops.
This part was finished during the 1st step of the project. The 2nd phase included the refurbishment of Ferenciek tere that was completed in 2013.
Ferenciek tere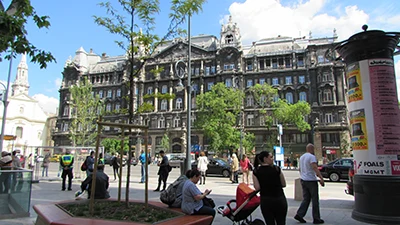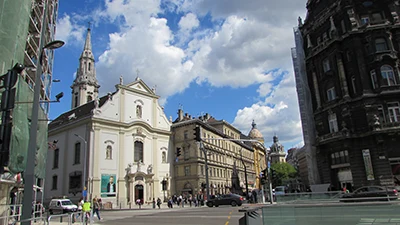 Cafe Stop:
If you appreciate great coffee stop by Madal Espresso & Brew Bar at Fernciek tere 3 – it's a new-wave cafe where coffe is prepared from a good selection of freshly roasted, specialty beans (bothe espresso and filter/AeroPress, Hario, Chemex).
Madal Specialty Coffee Shop, at Ferenciek tere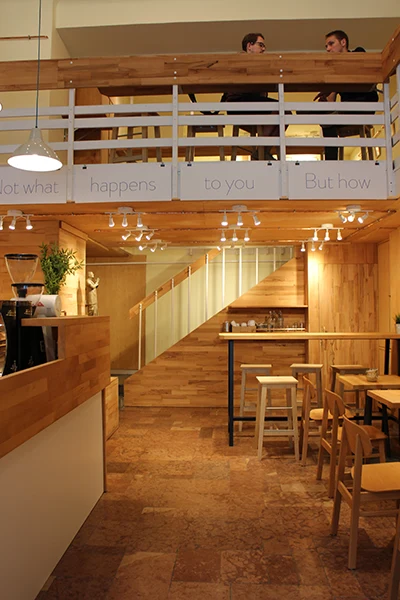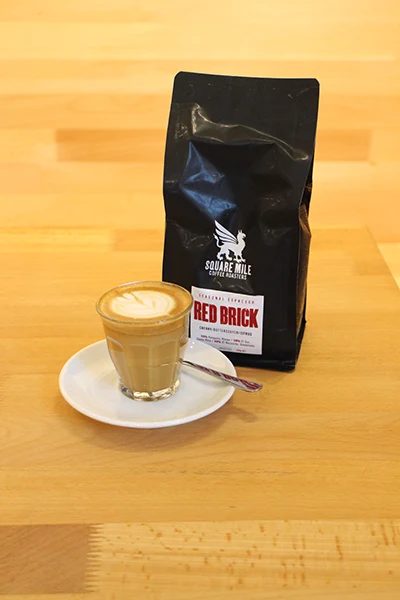 Szabadsag Square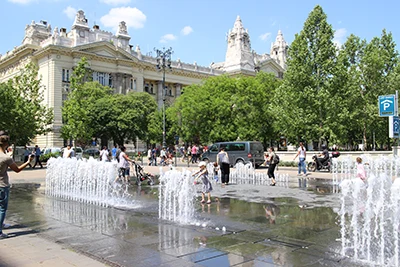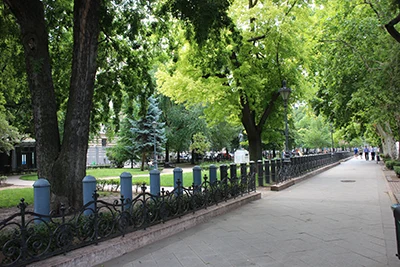 Where to Eat During Your Budapest Visit?
The city centre offers ample choice where to eat a nice lunch or dinner. Avoid eating in Váci utca, try instead the neighbourhood of the Basilica: Sas utca and Hercegprímás utca is packed with restaurants, bistros, and street food bars.
You can try the Michelin star place, Borkonyha in Sas utca or the Akadémia Italia, a spacious two-storey Italian restaurant, cafe and gourmet shop right next to the Basilica.
Aszú Restaurant is also located in Sas u., where you can enjoy fine meals by pleasant piano music in the evenings.
They also have an outstanding wine list featuring some unique Hungarian wines. Laci?Pecsenye! (Sas utca 11.) is also good if you fancy hearty meat dishes.
If you're tight on budget try one of the cheap eateries or check out the offering of the food stalls in the Central Market Hall at Fővám tér near Liberty Bridge.
You can sample some Hungarian street food like lángos (deep fried dough with sour cream and grated cheese on top) or sit down in one of the restaurants specializing in hearty Hungarian meals like goulash or stuffed cabbage.
While in the market take time to admire the great architecture of the building the roof of which is covered with the famous Zsolnay tiles.
TIP: There's a great wine restaurant called Borbíróság nearby the Market where you can taste fine wines from Hungary's major wine growing districts, and try typical Hungarian dishes.
After lunch I would either return to my hotel room for a short nap, or go to one of the parks in Budapest to relax.
Thermal Baths – Historic Spas in Buda and Pest
Even if you're here only for a day try to cram in a visit to one of the bath houses our city is famous for.
In the afternoon head for a spa to pamper yourself in the thermal pools and try some of the treatments and services (sauna,massage etc.).
I recommend the Széchenyi Baths in City Park, Gellért is also good and it's more centrally located (at the foot of the Gellért Hill) than the Széchenyi, or one of the Turkish Baths: Rudas was nicely refurbished and a modernized (the rooftop jacuzzi offers a fantastic panorama)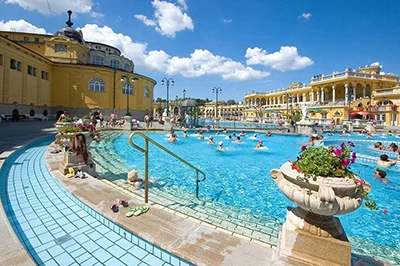 Programs for Night, Cruising, Clubbing, Partying on a Boat
To crown your Budapest city break, and see the beautiful city scape illuminated by lights at night, go for a Cruise on the Danube.
During the 1.5-hour trip you'll have a fine 4-course dinner and, on the cruise departing at 19.00 you can enjoy live music, too.
If you're more into partying just head for district VII. (Király utca, Dob utca, Wesselényi utca) , the old Jewish quarter, that is packed with ruin pubs: crazy places in old, run-down buildings with mismatched, retro-style decor, affordable drinks.
The best-known is Szimpla Kert in Kazinczy Street (you can just walk in during the day to have a look, take photos, if you don't want to have a taste of a night party there).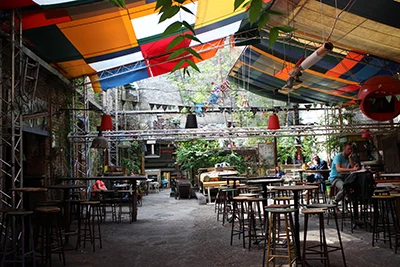 Party on the Danube
Dates: Thursday, Friday and Saturday at 23.00 (from 01. April – 31. October)
Have a fabulous night on a boat on the Danube! Enjoy a 1.5 our sightseeing on the river, great music and people.
Ticket includes a welcome drink, but you can buy it with a beverage package, that includes unlimited consumption from the bar.
See more recommended nightclubs in Budapest.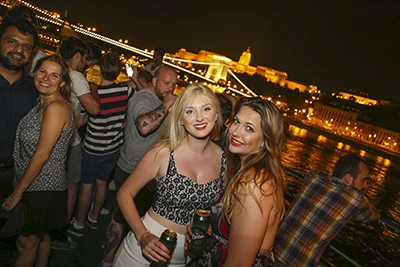 Other Resources on What to Build Into Your Budapest in 1 Day Schedule:
Suggested Tours – organized sightseeing tours including bus tours.
Sightseeing Tips – summarizes Budapest's top attractions.
Top Budapest Attractions – a more detailed guide that includes our favourite sights.
Top Summer Things to Do – some more program tips for the summer.
Things to Do and See in Budapest – main page on activities and program recommendations.
Downtown Budapest – overview of major sights and places of interest in the city centre.
Váci Street – one of the most attractive pedestrian shopping streets in world.
Andrássy Avenue – the boulevard connecting City Park with the city center is lined with beautiful buildings, great restaurants, and high-end shops.
Parliament – include it in your tight one-day program only if you love massive, historic buildings.
Jewish Budapest – visit the monuments testifying the city's rich Jewish heritage.
Culture in Budapest – includes the most important cultural venues.