Get Familiar With the City Layout
As you can see on our Budapest Maps it's a well-layed-out city, you can't get lost.
Actually you can explore two cities in one, because Budapest is made up of Buda and Pest, with the Danube flowing between them along a stretch of 28 kilometers.
The two previously independent cities were united with Óbuda in 1873, establishing Budapest.
Hilly Buda lies on the western bank of the Danube and it's mostly a residential area. Pest stands on a plain and it's more businesslike with its shops and boulevards.
Pest makes up roughly two-thirds of whole Budapest. You can walk between the two connected, but still very different parts of the city on magnificent bridges. The most famous is the Chain Bridge.
The Danube, and the bridges spanning it, are the best reference points to find your way around in Budapest.
Table of Contents – Budapest Map
Budapest Bridges
Árpád Bridge (Árpád-híd)
Margaret Bridge (Margit-híd)
Erzsébet Bridge (Erzsébet-híd)
Liberty Bridge (Szabadság-híd)
Petőfi Bridge (Petőfi-híd)
Rákóczi Bridge (formerly Lágymányos Bridge)
Three Main Islands Surrounded by the Danube
Margitsziget (Margaret Island): It's ideal for leisurely walks. You can get there either via the Margaret Bridge or Árpád Bridge.
Óbudai-sziget: home to the Sziget Festival every August.
Csepel-sziget: district XXI. is here. One of the major factories of heavy industry operated in this district in the communist era.
In Pest there are three semicircular roads (called körút = ringroad), the following two are interesting for tourists. You'll find the major places of interests, attractions along them.
Budapest Map Showing the 23 Districts
Budapest has 23 municipal districts, they are marked by Roman numerals (I.-XXIII.).
About two-thirds of the city is Pest, the rest is Buda (I., II., III., XI., XIII., XXII. districts). Central districts have lower numbers (e.g. I., II.), see below the blue circle on our Budapest map.
The outer districts have higher numbers (e.g. XXI., XXII.).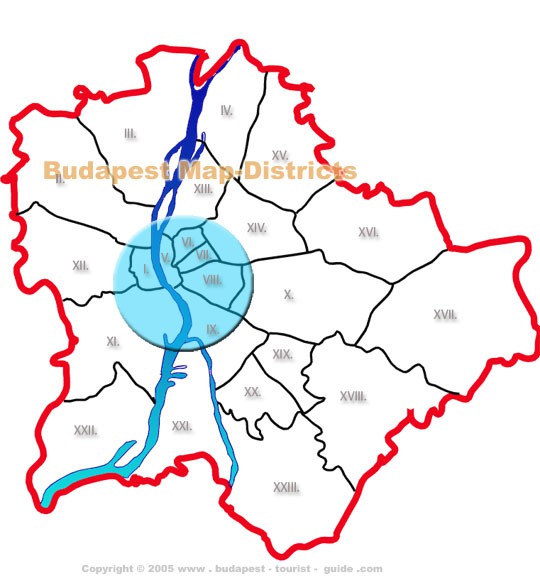 I.

Castle District, Tabán, southern Víziváros, Krisztinaváros

XIII.

Angyalföld

II.

Rózsadomb, Hűvösvölgy,

northern Víziváros

XIV.

Zugló, City Park (Városliget)

III.

Óbuda-Aquincum

XV.

Rákospalota

IV.

Újpest

XVI.

Mátyásföld

V.

Downtown Budapest (Belváros , Lipótváros)

XVII.

Rákoskeresztúr

VI.

Terézváros

XVIII.

Pestszentlőrinc-Pestszentimre

VII.

Erzsébetváros

XIX.

Kispest

VIII.

Józsefváros

XX.

Pesterzsébet

IX.

Ferencváros

XXI.

Csepel

X.

Kőbánya

XXII.

Budafok

XI.

Gellért Hill

XXIII.

Soroksár

XII.

Svábhegy
Find out more about Budapest Districts!
Budapest City Map
This is an overview map of downtown Budapest that helps you to get familiar with the inner city's layout.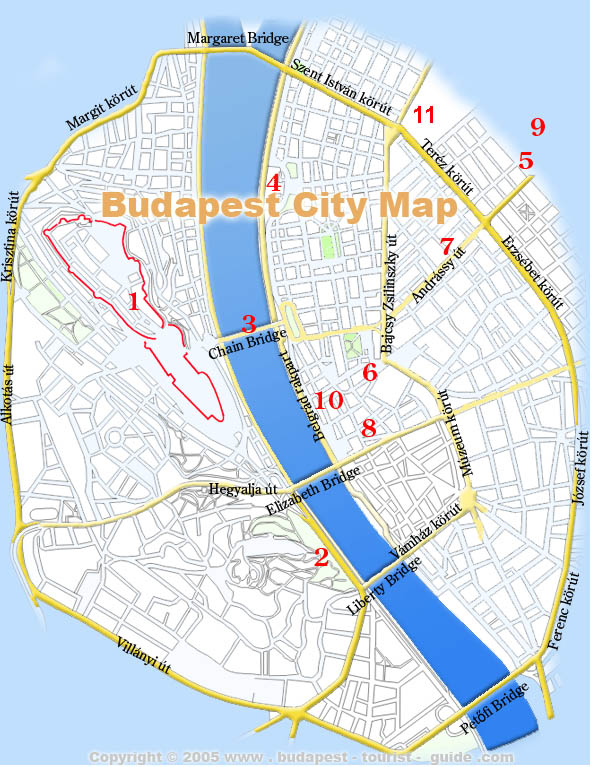 Top Budapest Attractions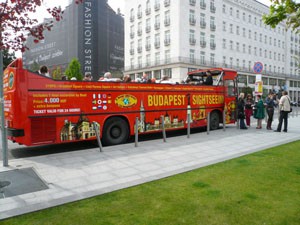 TIP: Explore Budapest on a Hop On Hop Off Bus!

Convenient, air-conditioned bus takes you around the city showing you many sights and attractions. Multi-language audio guide is provided.

Inexpensive and fun!
You can read more about and book a Budapest Hop On Hop off Tour here.
Many attractions at one place and beautiful vista of the town

The Citadella and the Statue of Liberty and stunning panorama

Magnificent Bridges above the graceful Danube

The third largest Parliament in Europe

Granidose Monuments on one of Budapest's most spacious squares.

The largest Roman Catholic church in Budapest

One of the architectural gems in Budapest

The second largest synagogue in the world, great architecture.

10. Famous Streets and Avenues

Budapest Zoo

, Amusement Park, Lake for boating and ice-skating

11. Western Railway Station

Western Railway Station (Nyugati Pályaudvar) is Budapest's oldest station

A legendary coffee house in dontown Budapest.
TIP: Here you find a more detailed description of our favoutite attractions in Budapest.
Budapest Thermal Baths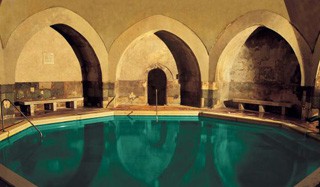 Budapest is rich in healing thermal springs that fed several historic thermal complexes:
Budapest Metro Map
Budapest is easy to explore on foot. Most of the major places of interest fall within a relatively small central area.
Nevertheless you might get tired after walking several hours ,or a sudden summer shower can discourage you from further walking. Budapest has an extensive and efficient public transport system.
Read more about Budapest Public Transport and other ways to Travel in Budapest.
Here is more information on Budapest Metro System.
TIP: See also our walk itineraries with map.
See also Our Facebook page for fresh news.