Authentic Hungarian Shopping Experience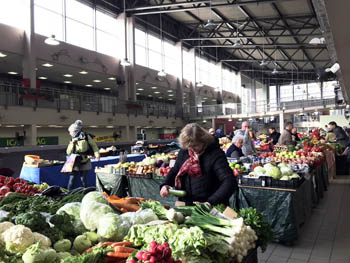 Looking around in Budapest Markets is a must if you want to get the feel of everyday life in the city.
At the beginning of the 20th century Budapest had around 40 smaller food markets.
The heyday of that market era ended when local people wanted fewer, but larger and tidier places to buy their everyday groceries at.
At the turn of the 19th-20th centuries 5 modern, spacious market halls were constructed in Budapest, including the:
Central Market at the Pest end of Szabadság híd
Hold utca market in the city centre, and
Hunyadi tér market in Terézváros (district VI.)
Today the vegetable and fruit markets sell fresh fruits, vegetables, bakery, dairy, and meat products, honey, and other food stuff all the year round.
The most impressive food market in Budapest is the Great Market Hall or (Central Market Hall) at the Pest end of Liberty Bridge.
There are a handful of other smaller markets selling bio/eco products and farmers' markets that usualyl welcome shopeprs on wekeknds only.
Quick Links:
Central Market Hall (Központi Vásárcsarnok) – Belvárosi Piac (formerly Hold utca Market) – Hunyadi tér Market – Klauzál tér Market – Fehérvári úti Market – Lehel tér Market – Fény utcai Market – Other Markets – Biomarkets
4 Reasons You Must Visit Budapest Markets:
Hungarian fruits and vegetables. Due to the favourable climate, Hungary produces tasty fruits and vegetables that you can buy in the markets at reasonable price. Whichever season may you come, do try some seasonal produce.They have real taste unlike the stuff you can get in supermarkets. Put Hungarian Paprika Powder on top of your list!
TIP: On our Special Hungarian Foods page you'll find further tips on what to buy in food market in Budapest.
Get authentic local souvenirs, food specialties, wines and spirits.
Have lángos, a deep-fried Hungarian savoury pastry, or grilled sausages and black pudding (véres hurka) with fresh bread and mustard.
Just watch how Hungarians do their everyday shopping.
Safety TIP: Markets are busy places, an advantage for pickpockets. Keep your purse in a well-fastened handbag, and hold it close to your body.

To avoid crowd, visit the markets on Monday (some of them are closed though on Monday) or mid-week! After the busy weekend, fewer people go shopping on the first day of the week.
Traditional Budapest Markets – Our Favourites in no Particular order
Five large market halls replaced the open-air markets in Budapest at the turn of the 19th – 20th century, following the Western European tendency.
They all have similar architecture: cast iron structure, and spacious interior. The markets have been renovated in the past decades.
The reconstructed markets had lost most of their old world charm, however they have a few benefits too: airy interior, new delicatessen shops, gourmet coffee shops, and clean toilettes.
Note that Budapest has few decent public toilettes, so you'll appreciate this benefit. All markets are closed on Sunday, except the Batthyány tér food market.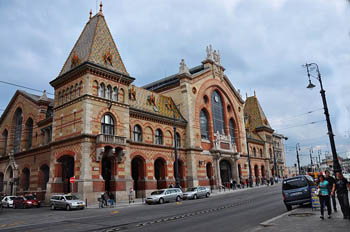 Great (or Central) Market Hall (Központi Vásárcsarnok)
Address: Vámház krt. 1-3., district IX., Pest end of Liberty Bridge, tram 2, 47, 49, M4 (green) Metro
Opening Hours:
Mon: 06 – 17.00,
Tue – Fri: 06.00 – 18.00,
Sat: 06.00 – 15.00,
Sun & Publ. Holidays: Closed
The most impressive and largest market in Budapest. It's worth a visit just to admire its architecture.
In the more than 100-year old building you can get almost everything on its three levels.
So if you have limited time for shopping, pop in the Great Market Hall to get a souvenir.
Note that that the market is very busy every day since it's popular with both locals and tourists.
The fishmonger on the lower level is one of the best in town.
The Central Market of Budapest is also a good place to get homemade dairy products, sausages, salamis, honey, and wild mushrooms sold in the back at the ground level.
TIP: Visit the Market and the famous shopping Street, Váci utca on a guided tour. Tour departs every Saturday at 11.00 in front of the Hard Rock Cafe (corner of Vörösmarty Square and Váci Str.).

Includes tasting local delicacies and guiding in English.
Read more on the Great (Central) Market Hall in Budapest.
Programs for Tourists in the Central Market Hall in 2014: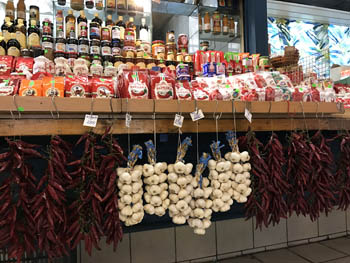 National Gastro Days in the Great Market Hall (Nagyvásárcsarnok):
Venue: Great Market Hall, Vámház krt. 1-3., district IX., Pest end of Liberty Bridge, trams 2, 47, 49, the nearest metro station is at Kálvin tér (M3 blue line)
Opening Hours:
Thurs – Fri: 09.00 – 18.00,
Sat: 09.00 – 15.00
Sun: Closed
Each week from Thursday to Saturday a different nation introduces its culinary delights as well as cultural, and natural treasures.
So browse the schedule below, and pick a nation the cuisine and culture of which interest you the most and head for the Central Market in Budapest.
Market in Hold utca- Belvárosi Piac/Downtown Market – Temporarily CLOSED
Address: Hold utca 13., district V., M2 metro Kossuth tér, M3 metro Arany János utca
Opening Hours:
Mon: 06.30 – 17.00,
Tue-Fri: 06.30 – 18.00
Sat: 06.30 – 16.00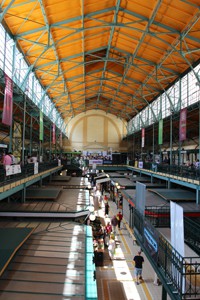 Combine shopping (and eating) in Hold utca market with a visit to the nearby Budapest Parliament.
The renewed and renamed Hold utca market (now called Belvárosi Piac / Inner City Market) offers
Vegetables and fruits,
Meat,
Dairy,
Bakery, and other grocery products, as well as it has quite a few small eateries, buffets, bistros offering good, inexpensive food for the many office people working in the area.
The new market's aim is to attract more and more farmers and greengrocers from the countryside to come and sell their fresh, tasty produce and products to the city dwellers.
As a result of the refurbishment, all buffets/bistros moved to the gallery.
The original, 19. century details were preserved during the works.
Special lanes aid blinds and the visually impaired. There's also a map with Braille writing at the entrance helping to find your way around.
Great Food On The Gallery
TIP: The food gallery is lined with places offering top-quality street-food-style fare.
They have become extremely popular in recent years. Some of the top eateries and cafes on the gallery are:
Buja Disznók specializes in breaded, deep fried pork meat,
A Séf utcája offers tasty and hearty dishes (cholent, pastrami, black pudding, pancakes, flódni cake)a dn a choice of four omelettes for breakfast)
In MoszkvaTér you can sample Russian delicacies
Lakatos Műhely
You will also find Italian Pasta, burgers (Kandalló) or Steamboo – Asian-European sushi-like food cooked in steam, it's the owner's own creation.
Cafes, Eateries On The Ground Floor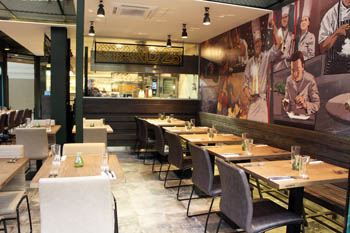 Stand 25 Bistro – by Tamás Széll and Szabina Szulló chefs (they used to ran the Michelin star kitchen of Onyx, a fine dining restaurant on Vörösmarty Square). It is a friendly bistro focusing on simple Hungarian dishes.
By Beans Coffee brews coffee from freshly roasted beans. They also have a nice selection of delicious pastries and cakes to go with your latte.
TIP: For real Hungarian fare try also Kispiac Bistro (open: Mon-Sat: 12.00 – 22.00), located next to the entrance of the market (address: Hold utca 13., Bp. 1054), at reasonable prices: grilled meats, fresh salads, pickles, homemade jams
Events in the Downtown Market
The Downtown market regularly hosts foodie events: like the Töltött Hold Gastro Weekend in February.
The first Street Food Show Gastro Festival was also held at the Belvárosi Piac Market with the best foodie places of the city, Hungarian gastro bloggers, new bistros and restaurants offering food specialties for tourists and locals alike.
The event attracts so many visitors that it moved to a new location: Andrássy Avenue.
Klauzál tér Market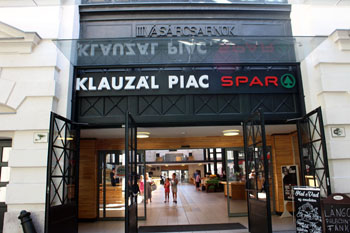 Address: Klauzál tér 6., district VII., trams 4 and 6., Király utca stop
Opening Hours:
Mon – Sat: 06.30 – 22.00
Sun: 07.00 – 22.00
The Klauzál is is in the heart of Budapest's old Jewish Quarter.
The city's number III. market hall opened in 1897 roughly at the same time as the Great Market on Fővám tér, the Hunyadi tér market and the Hold Street market.
The building was nicely refurbished inside-out in 2015 turning it into a spacious, light, and airy place where you can shop and eat at leiusre.
On the ground floor you'll find PrímaPék Cafe & Bakery a good spot for an early breakfast.
Their bakery goods are not the best but quite decent. Besides the usual cocoa snail, cottage cheese square, croissant, they have savouri snacks and sandwiches, and a nice variety of bread.
They also sell Cserpes dairy products: yogurt, milk, cheese and Trúdi.
The Prémium Sonkás offers quality ham, sausage, salami, bacon, and a wid evariety of cold cuts.
If you like pork try also Mangalica Mennyország specializing meat products made from the unique Hungarian pig breed.
Th BOCI tejbolt (dairy shop) sells all sorts of tasty cheeses and other dairy stuff.
The greengrocers are also located on the ground floor selling fresh greens, vegetables and seasonal fruits.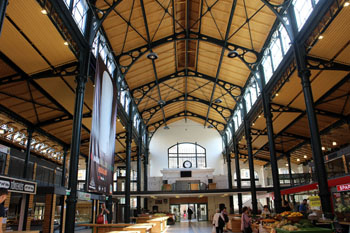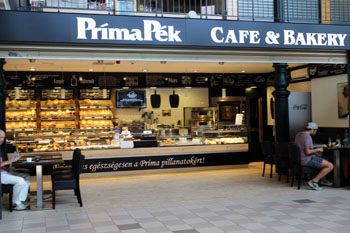 You can have fresh fruit and veggie juices in The Éden Juice & More that you can take away if you don't have time to sip it on the spot. You can also have here panini sandwiches (450 HUF) or soup (400 HUF) for lunch.
The Spar grocery is open 7 days a week.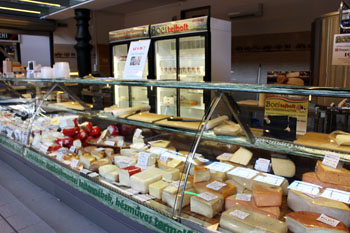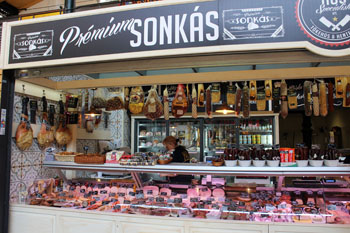 The gallery has few fast food places, Marika Lángos Sütője is the most notable offering the local street food, lángos. round yeast-based batter, deep fried in oil spread with garlic oil, and served with sour cream and cheese (optional).
The toilet on the gallery operates with a 100 HUF coin.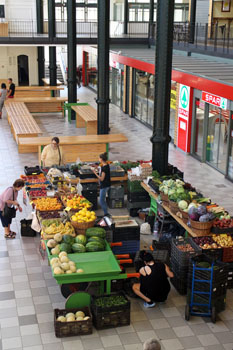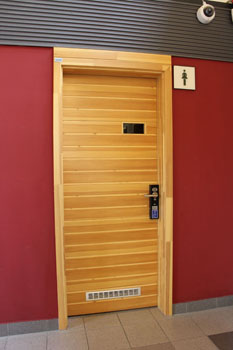 TIP 1: Next to the market's Klauzál tér entrance you'll find PolaPola, an authentic Balkan grill bar, one of the best street food places in Budapest. Address: Klauzál tér 11., Open: Mon-Fri: 11.00-24.00, Sat-Sun: 10.00-24.00
TIP 2: For good, affordble Hungarian-Jewish style food try Kádár étkezde a retro-style inn a few blocks down (Klauzál tér 9., Open. Tue-Sat: 11.30-15.30)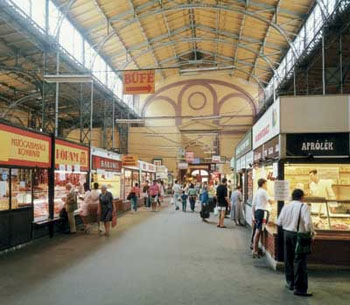 Hunyadi Tér Market
Address: Hunyadi tér, district VI.
Opening Hours:
Mon: 07.00 – 17.00
Tue – Sat: 07.00 – 18.00
The smallest food market in the city. It's open on weekdays though the offer is not as wide as it is on Friday and Saturday.
The last one renovated out of the five classic food markets of Budapest.
The exterior part of the market is where you can buy seasonal fruits and veggies, smoked meat, dairy products inside there are a couple of more vegetable stands, butchers, fishmonger, and pickles.
The Hunyadi Square market offers the widest variety in seasonal vegetables, herbs, and fruits in Budapest.
TIP: I mainly favour the Hunyadi tér market because of the Culinaris gourmet food shop next door (Hunyadi tér 3, Budapest 1067).

I can buy everything I need for a gourmet dinner and than some: exotic spices, fresh herbs, rice, pasta, dairy products, teas, coffees, chocolate, ice cream (Ben & Jerry's), biscuits, bakery products and many other delicacies.
Rákóczi Tér Market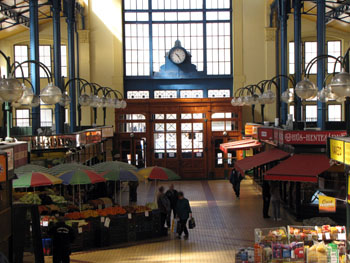 Address: Rákóczi tér 7-9, district VII. , trams 4-6, M4 metro (green line) Rákóczi tér stop
Opening Hours:
Mon – Sat: 06.00 – 20.00,
Sun: 07.00 – 18.00
A bit neglected due to the construction works of the metro 4 station.
Fewer farmers and greengrocers both during the week and on Friday-Saturday.
A good number of butchers (selling mainly pork and poultry), a small but fairly good fishmonger, one artisan cheese maker among the several ordinary dairy product sellers.
Good, basic food market for everyday shopping, don't look for exotic produce and gourmet food stuff.
Other Budapest Markets
Batthyány tér Market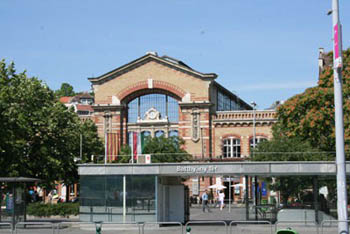 Address: Batthyány tér 5., district I., M2 metro Batthyány tér station
Open:
Charming market hall facing the imposing Parliament on the other side of the Danube. It's been recently renovated.
Fruit and vegetable vendors, you'll also find
a large supermarket,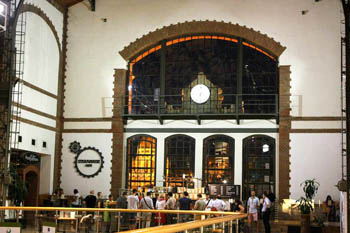 nice cafés on the top floor from where you can admire the superb view of the Danube and the Parliament.
TIP: Try the Steamhouse Cafe that uses freshly roasted, farm selected coffees.
You can have breakfast here all day. Don't miss the yummy cakes and pastries either!
Fény utca Market
Address: Lövőház utca 12., district II., at the back end of Mammut Shopping Mall, trams 4-6, M2 metro Széll Kálmán tér station
Opening Hours: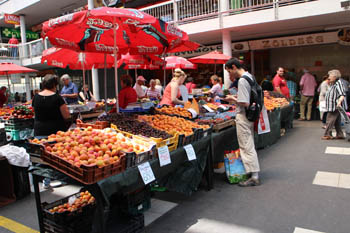 Food market, I-II levels:
Mon – Fri: 06.00 – 18.00
Sat: 06.00 – 14.00,
Sun: closed
Shops, I-II levels:
Mon – Fri: 06.00/10.00 – 22.00,
Sat: 06.00/09.00 – 14.00/22.00
Sun: closed
An upscale, modern market replaced the old market in Buda. The reconstruction increased the rent for the vendors and the prices went up too, so mainly the well-offs do their shopping here.
Besides quality Hungarian produce, you fin all sorts exotic fruits, veggies and herbs at the market in Fény utca.
TIP: Buy local artisan cheeses at the Szega cheese shop, or Italian and Iberian ham at the "A Sonkás" shop.
Lehel tér Market – an Ordinary Food Market
Address: Lehel tér, district XIII. , behind Nyugati Railway Station, M3 metro Lehel tér station
Opening Hours:
Mon – Fri: 06.00 – 18.00,
Sat: 06.00 – 14.00
Sun: 06.00 – 13.00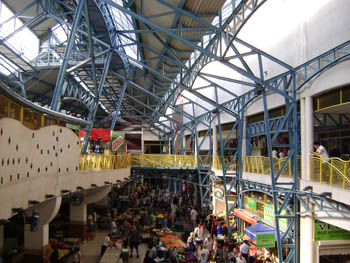 The ship-shaped modern architecture replaced the old market a few years ago.
The rather ugly yellow and red building is smaller than the Great Market Hall, but offers a wide variety of groceries.
Mainly locals from the neighbourhood do their everyday shopping here.
The most exciting products are the fresh herbs and the wild mushrooms.
There are a couple of butchers, and the Turkish spice shop also worth a visit.
Fehérvári Úti Market, Southern Buda
Address: Kőrösi József út 7-9., 1117 Budapest, next to the Allee Shopping Center, tram 4 termini
Opening hours:
Mon: 06.30 – 17.00
Tue – Fri: 6.30 – 18.00,
Sat: 06.30 – 15.00
Sun: closed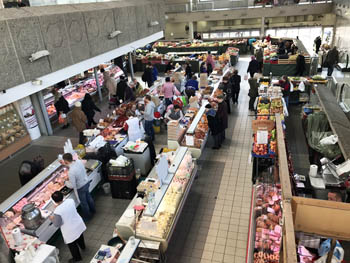 The spacious, 3-story food market in Southern Buda was finished in 2003.
This is my favorite food market in Budapest after the Central Market.
On the ground floor all sorts of products are sold from flowers to household goods.
On the first floor you'll find butchers, greengrocers and pickle makers.
This is also the place to buy
Traditional homemade mangalica or ordinary pork sausage,
Salami,
Bacon, smoked meat,
Dairy products from small producers
Artisan bread, milk loaf and other pastries.
Traditional Hungarian paprika, honey, jams, wines are also available.
There is a fishmonger with quite good offer of salt water and sweet water fishes. The wild mushroom selection is also great.
On the second floor you can have a bite and drink in one of the eateries, buffets, cafes, and pubs.
The floors are connected with escalators and are accessible for people in wheelchair.
Farmers Markets: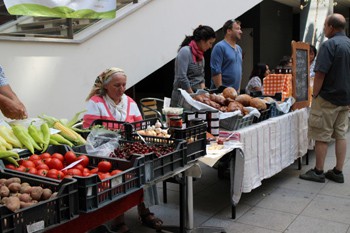 Közös Piac, SzimlaKert Sunday market, Belvárosi Piac
Besides the permanent markets listed on this page, there are a couple of temporary or seasonal farmers' markets in Budapest too, that offer friendly atmopshere and high-quality organic produce and food stuff.
Here are two of our favorites:
Szimpla Piac on Sundays
Address: Kazinczy utca 14.
Opening Hours: Sundays: 09.00 – 14.00
Getting there: tram 4, 6, Wesselényi utca or Blaha Lujza tér stops, M2 (red) metro Blaha Lujza tér station
One our favourite place to shop for artisan food products:
Bread and pastries,
Strudel,
Paprika paste,
Honey,
Jams, preserves and fruit syrups,
Gourmet cheese,
Ham, sausages, salamis,
Spices and more.
Friendly vendors, and farmers, you can taste most items before purchasing. There is also live music (jazz, world music, folk and other).
Children programs, craft workshops entertain the little ones while you are browsing among the stalls.
TIP: See also our photos in our Facebook album.
Bio Markets in Budapest
Places to Buy Local, Organic Produce and Food
Bio products are becoming more and more popular in Hungary.
In the following bio markets certified producers sell their products: fruits, vegetables, jams, honey, dairy products.
They grow their produces, raise animals within strictly controlled ecological farming. Prices are higher than in ordinary markets.
Buda Side Bio Market in the court of MOM park
Address: Alkotás út 53. XII. district, tram 59, 61, bus 8, 139
Open: Saturday only: 7.00 – 12.30
Bio Market in Csörsz utca, Budapest
Address: Csörsz utca 18., Budapest 1214, district XII.
Open: Saturdays only: 06.30 – 13.00
Albertfalvai Bio Market
Address: Fehérvári út 213., XI. district, tram 47, 18, bus 14, 114, 7A, Albertfalva stop
Open: Saturdays: 09.00 – 12.00
Related
Budapest Season by Season – Shopping Centres in Budapest – Prices, Currency in Hungary – Is Budapest a Safe City? – SkyCourt Budapest Airport