4 Lines Connecting Buda and Pest
The city currently has 4 metro lines. The new line, M4/green line started operation in spring 2014.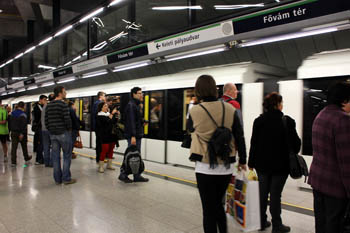 The Budapest metro system is easy to use and you can get to anywhere in the city fairly quickly.
Provided there's no maintenance or some emergency situation.
Small fires are quite frequent on M3/blue line in recent years due to which the line has to cease operation for a couple of hours.
The three main lines, M1, M2, M3 converge at Deák tér station in the city centre.
Here can change for any of the two other lines or continue your travel by bus, tram or since it is downtown Budapest you can conveniently explore the area by walk.
Table of Contents – Budapest Metro
Tickets/Passes for the Metro:

You have to validate a single ticket (350 HUF) at orange automated machines before you descend the escalator to the metro train.
If you change lines at Deák tér you have to validate another ticket, unless you have a metro transfer ticket (530 HUF).
With a Budapest card, 24-hour, or 7 day travel card you can travel on all 4 metro lines/change lines or change for other public transportation unlimited number of times within the validity period of the pass/card.
TIP: Free Travel with the City Card

With a Budapest card you can travel on the city's public transport services free of charge.
The card also entitles you to discount admission to a wide range off sights and attractions in Budapest (museums, baths, monuments etc.).
For a 2-3 day or longer visit it's worth buying.
You have a choice to purchase a 24-hour, a 48-hour, a 72-hour, a 96-hour and a 120-hour Card
There is also a 72-Hour Card for Children 6 – 18 years old.
Buy the Card Online
M1 or Millennium Underground (yellow line)
Stations:
Vörösmarty tér
Deák Ferenc tér
Bajcsy-Zsilinszky út
Opera
Oktogon
Kodály körönd
Bajza utca
Hősök tere
Széchenyi Fürdő
Mexikói út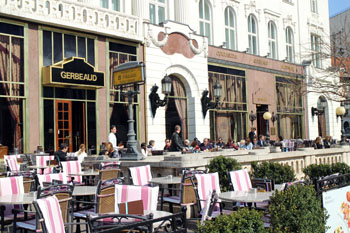 The Millennium Underground (M1, yellow line) runs between Vörösmarty tér (Budapest's city center) and Mexikói út, connecting the city centre with Budapest City Park.
Built at the end of the 19th century M1 was the first underground electric train line on the European Continent (the second in the world after London).
Most station entrances and the notices on the walls are copies of the originals.
In the 1970s trains were replaced by modern ones.
Unfortunately you won't find yellow M1 signs.
Look for signs saying "földalatti" (underground in English), like the one right in front of the Gerbeaud Confectionery on Vörösmarty tér.
Do take a ride on this historic line that is and enjoy the unique 19th-century atmosphere!
M2 (Red Line)
Déli pályaudvar (Southern Railway Station) – Örs vezér tér
Stations
(Look for red M2 signs!)
Déli Pályaudvar
Széll Kálmán tér
Batthyány tér
Kossuth Lajos tér
Deák Ferenc tér
Astoria
Blaha Lujza tér
Keleti Pályaudvar
Puskás Ferenc Stadion
Pillangó utca
Örs vezér tere
The Eastern Railway Station (Keleti Pályaudvar) is also on this line. Kossuth Lajos Square where the Parliament stands is also on this line.
M3 (Blue Line)
Note: M3 metro is under construction so please check the BKK website (Public Transport Company of Budapest) for up to date information on schedule and replacement bus services.
Újpest városközpont (northern part of the city, district IV.)- Kőbánya, Kispest (industrial district)
Stations
(Look for blue M3 signs!):
Újpest városközpont
Újpest várokapu
Gyöngyösi utca
Árpád híd
Dózsa György út
Lehel tér
Nyugati pályaudvar
Arany János utca
Deák Ferenc tér
Ferenciek tere
Kálvin tér
Újpest városközpont
Újpest várokapu
Gyöngyösi utca
Árpád híd
Dózsa György út
Lehel tér
Nyugati pályaudvar
Arany János utca
Deák Ferenc tér
Ferenciek tere
Kálvin tér
Corvin-negyed
Klinikák
Nagyvárad tér
Népliget
Ecseri út
Pöttyös utca
Határ út
Kőbánya-Kispest
The Western Railway Station (Nyugati Pályaudvar) is on this line.
Bus 200E line connects Liszt Ferenc Airport with Kőbánya-Kipest termini, an economic way to get to the centre from the airport.
M4 (Green Line)
Keleti Railway Station (Keleti Pályaudvar) – Kelenföld Railway Station (Kelenföld Pályaudvar)
Stations
(Look for green M4 signs!):
Keleti Pályaudvar
II. János Pál pápa tér
Rákóczi tér
Kálvin tér
Fővám tér
Szent Gellért tér
Móricz Zsigmond körtér
Újbuda központ
Bikás park
Kelenföldi pályaudvar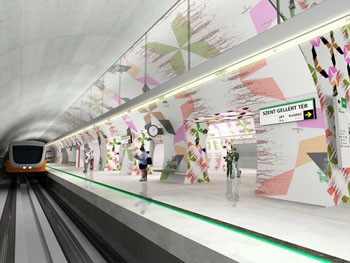 The 4th subway line started carrying passengers at 28. March 2014 after the successful test runs.
The 7,3 km long new line connects two main train stations
Kelenföld in West Buda and
Keleti Station in the eastern part of the city centre) with interchange points to the other two metro lines and above-ground travel services
The line crosses the Danube at Gellért tér station.
Gellért Spa – a historic thermal bath and 4-star hotel, and
are the two main attractions here), next comes Fővám tér, where you can get off to the Great Market Hall (Nagyvásárcsarnok).
The state-of-the-art metro trains run completely on autopilot.
The 10 stations are also new attractions in the city with unique, 21-st century architecture including a bit of Budapest or Hungary trivia in the design and decor.
See more on M4 metro on the official website.
Metro Tickets:
Single ticket, 350 HUF – valid on metro, bus, tram, trolleybus, cogwheel tram, on the whole length of the line for one uninterrupted trip. On suburban railway (HÉV) it is valid within the administrative boundaries of Budapest.
Transfer ticket, 530 HUF – if you need to change lines or use tram, bus, trolley or other public transport service. Read more about it here.
Short section metro ticket for up to 3 stops, 300 HUF – valid only on the 4 metro lines for up to 3 stops on a single line (no change for another line is included).[
See more information on public transport ticket and other transport services in Budapest.
Metro Map with the New M4 Line (Green)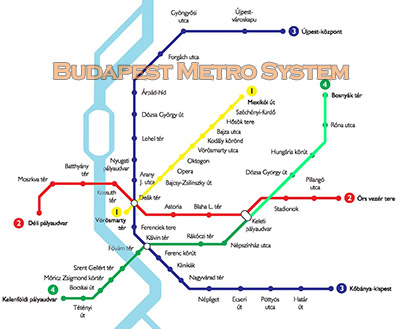 See metro timetables at the Budapest Public Transport Company's (BKK) website.