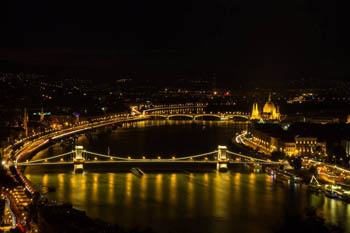 Wide Palette of Entertainment for All Ages
Do you still have energy for dancing and clubbing until dawn?
Do you want to see the city by night, perhaps from a boat on the Danube?
Or do you yearn for cultural entertainment? Budapest nightlife has all these for you, at an affordable price.
Table of Contents – Budapest Nightlife
Club and Dance Scene
Both downtown Budapest and the outskirts have plenty of bars and clubs, dance halls, discos. Many stay open until late at night.
Even the thermal baths host awesome parties with great music, laser effects and light show.
TIP: Check out the Spa Parties in the Széchenyi in the summer months and the Magic Bath parties in the Lukács during the cold season.
Entry fees to most bars are usually around 1 000-2 000 HUF, 3 – 7 EUR. Alcoholic drinks are relatively cheap, so you can get drunk without going bankrupt.
Note that you must be over 18 to be served alcohol in Hungary.
Budapest will dazzle you with its wide variety of clubs, and bars. If you want to have a mind-blowing night out you'd better pick up some knowledge.
To avoid spending the night wandering between randomly selected places that don't appeal to you, browse our hand-picked list of Budapest Nightclubs.
Ruin Bar Crawl (even on Valentine's Day)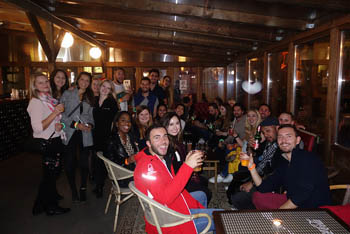 Explore the famous ruin bars of Budapest with an expert, English-speaking guide who knows the city's party scene and the story behind the famous retro bars inside out
Expert, English speaking, friendly guide
Free shots at each place (you'll visit 3 ruin bars, 3 +1 on Valentine's Day),
Awesome atmosphere,
Skip-the-line-entry to the pubs,
Party till sunrise.
Dates: every day, except Sunday and December 24., 25. 26. and 31.
Price: 15 EUR/person
Valentine's Day Ruin Bar Crawl: 28 EUR/prs – 23 ruin pubs + a club
Further details and booking:
TIP: Night Party on the Danube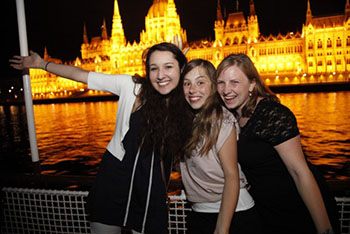 Date & Time:
May – October: Fridays & Saturdays at 23.00.
Have a fantastic night party on a boat on the Danube.
Great music, drinks and the beautiful night view of Pest and Buda ensure for a wonderful time.
The ticket includes a welcome drink and you can buy more drinks (cocktails, soft drinks, beer, wine etc.) in the open bar at fair price.
Price: 18 EUR/person
Cultural Entertainment
Budapest's Nightlife offers tempting cultural entertainment as well. Do you love classical music, are you an opera-fan?
Our city is the right place for you.
Concerts, Folklore Show
Hungarian Folk Dance Performances – if you want to learn about Hungary's rich folk culture see an awesome folk show by award winner folk ensembles. Program starts at 20.00 every day in high season and lasts 1,5 hours.
Gala Concert with Cimbalom Show in Duna Palota/Vigadó Hall – a 90-minute unique performance in a beautiful baroque palace, starting at 20.00.
Many Budapest churches give home to wonderful organ concerts. TIP: the most prestigious such church is the Basilica on Szt. István Square Listen to classical tunes at a beautiful, historic venue.
TIP: Most of the above programs are available in package deals where you book two programs at a discount price. E. g. you can combine a folk performance + a night cruise, or with a bath entry (skip the line entry with E-Ticket).
Cultural Package Programs –
NEW
Visit the Opera
The State Opera House is a must-see architectural gem in itself.
The cheapest tickets are around 1 500 – 2 000 HUF and pthe best seats can cost up to 18 000 HUF.
If you'd like to sit in the royal box where once the Hapsburg nobility had sat you have to pay around 9 000 HUF, 36 EUR. Of course you can get tickets for 4 000 – 6 000 HUF, 16-24 EUR if you wish.
Budapest Festivals
Budapest is a festival city. Every season has its own festival with rich cultural, and musical programmes.
In March-April visit the programs of the Budapest Spring Festival,
from June to August you can enjoy concerts, musicals, ballet, opera on the Summer Festival on Margaret Island,
while in October you can get a great dose of Contemporary Art during the Cafe Budapest Festival
For more details check out our event guide.
Sightseeing Tours at Night
Budapest is trully magnificent at night especially on a warm summer day.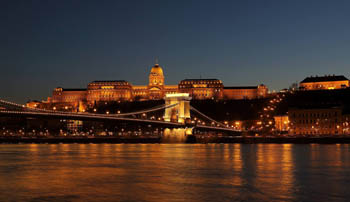 You can climb up to Gellért Hill to to revel in the vista after sunset, but the view is also gorgeous from
the terraces of the Royal Palace or
the Fishermen Bastion in Buda Castle.
Cross one of the central bridges spanning the Danube – Margaret Bridge, Chain Bridge, Elizabeth Bridge, Liberty Bridge to see both sides of the illuminated city reflected in the river.
TIP: The most convenient way of sightseeing is a night cruise with optional dinner starting at 10 pm every day. You can book it with just drinks, a 7-tier wine tasting or artisan beer sampling: Craft Beer Cruise – 19:00 / Craft Beer Cruise – 22:00 Instant confirmation with E-Ticket!
Casinos, Gambling
Do you like gambling? Budapest used to have over a dozen casinos. You'll find most Budapest Casinos in the luxury hotels along Dunakorzó, between Chain Bridge and Elizabeth Bridge.
Nightlife – Precautions
The vast majority of Budapest restaurants, cafés, clubs and bars offer good value and service. However, the drawback of the city's colourful and rich nightlife scene, that some places come short of hospitality and fairness.
Of course, the responsible ministry knows about these problems and has taken measures.
To avoid unpleasant experiences read our safety tips regarding nightlife entertainment in Budapest. Unfortunately some places target tourists to rip them off and they even apply physical force to make their victim pay the extremely high bill.
See the black list of places below that tourists frequently complained about .
In any case you fall victim to overcharging, pickpockets, physical intimidation or any other scam, call this number: 438 8080 (set up by the Ministry of Economy)!
You can report the affair to English speaking operators. You should also report your complaint to your embassy.
Avoid These Places (some of them are already closed down)
Aphrodite Akropolis Club Address: Kecskeméti utca 17. V. district
Caligula Striptease bar Address: Szilágyi Erzsébet fasor 37-39., II. district
Captain Jack's
Club Mephisto in Váci utca
Flashdance in Váci utca
Fontana Club in Váci utca
Table Dance bar in Váci utca
Sweet Milk Bar Address: Hold utca 13., V. district
Piccolo Bar at Parisi udvar near Váci utca, V. district
Fortuna Nightclub, Address: Fortuna utca 4., in Castle District
Dolce Vita bar in Október 6. utca, V. district
Ecstacy Club
Mambo Club Address: Hegyalja út 2., I. district
Muskatli Espresso Address: Regős utca 8. XI. district
Nirvana (Lola Club) on Szt. István körút 13. (Grand Boulevard)
Pigalle Club Address: Kiss József utca 1., VIII. district
Crazy Horse Address: Kiss József utca 4., VIII. district
Showgirls Nightclub
Tiamo Nightclub Address: Ferenc körút 19-21., IX. district
Torony Eatery
Zug-Love, Address: Bonyhádi út 141., XIV. district
Any nightclub in Váci utca.
Good news is that two infamous places have been shut down: Milady on Szt. István körút, and Madame Pompadour's (we've received many stories from tourists having been ripped off in this bar).

Read more travellers' reviews and stories about Budapest Nightclubs & Bars.
Further Tips to Avoid Traps
Prices on the menu. Always study the prices on the menu, and make sure you know how much the dish/drink costs before you order it. Get out off places that do not provide the prices on the menu (according to the law, prices must be clearly indicated).
Buying drinks to girls. In some bars and clubs girls might come to you to lure you into buying drinks for them . Politely turn them down, otherwise the staff might surprise you with an exorbitant bill.
Taxis– always travel with taxis of reliable companies and order it by phone to get a discount. See our list of reliable Budapest Taxis, or ask the hotel staff to suggest you good taxi companies.
Do not let seemingly helpful taxi drivers or local women lure you to an establishment they recommend. They may receive a commission for bringing victims to the place!
It would be a pity if based on these scams you decide not to have a taste of nightlife in Budapest.
See our Facebook page also for fesh news.