Green Areas, Gardens, Arboretums and some Hidden Natural Beauties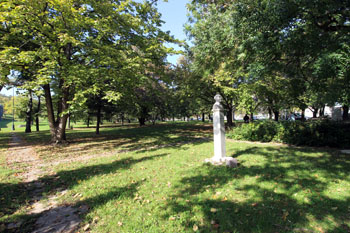 If you want to get away from the busy city centre visit the following Budapest parks, gardens and other green places.
The fresh air and the green surroundings together with stunning vistas counteract the noise and crowd in downtown Budapest.
The Hungarian capital abounds in natural treasures making it one of the most beautiful cities in the world.
Its setting with the Danube meandering through the Buda Hills, bisecting the city into two parts: the hilly Buda and the flat Pest provide some breathtaking views from various points of Budapest and relaxing green spots.
The best time to take a walk in the city's parks is in mid- or late spring when nature has already awakened.
Trees and shrubs reflect all shades of green and colourful flowers adore the lawns.
These green sanctuaries provide shade from the scorching summer heat too.
A walk in a park between mid-September and mid-October will reward you with beautiful scenery: sunbeams burst through multicolored leaves of trees, creating a warm, vibrant aura.
Take a book with you, some snacks and refreshments, perhaps a blanket and relax in the following green retreats in Budapest.
Quick Links:
City Park (Városliget) – Margaret Island (Margitsziget) – Gellért Hill – Buda Hills – Népliget – Smaller Parks in Budapest: – Károlyi Garden – Erzsébet Square – Szabadság Square – Kossuth Square – Olimpia Park – Orczy Garden – Kopaszi Dam – Mechwart Liget – Arboretums in Budapest: Füvészkert – Budai Arboretum
The Largest Parks in Budapest
The largest green areas are not only for recreation purposes but also function as the lung of the city providing it with fresh air.
Városliget (City Park)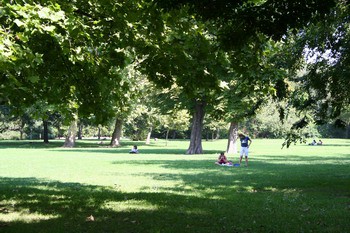 Location: behind Heroes' Square in district XIV., M1 underground (yellow line), Hősök tere station, trollies 70, 72, buses 20, 30
Városliget (City Park) is the largest of all parks attracting many people on weekends.
It stretches behind Heroes' Square on cc. 100 hectares/cc. 250 acres. In nice weather you can devote a whole day to exploring because it has many attractions, both for adults and kids.
Vajdahunyad Castle is an interesting architectural monument built for the 1896 Millenary Exhibition.
The castle houses the Hungarian Agricultural Museum.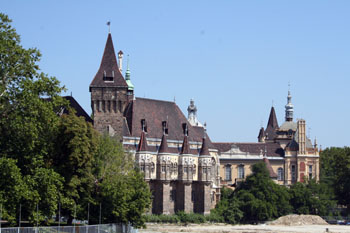 Two towers can be toured as of April 2015 providing excellent panoramic views and opportunity to take great photos:
56 steps lead up to the Kaputorony (Gate Tower) and is open to visitors every day from 9.00 to 20.00 (ticket: 300 HUF)
The Apostolok Torony (Tower of Apostles) can be visited with guide only from Tue-Sun between 10.00-17.00 (closed on Mondays). Tours in Hungarian and English depart every 30 minutes (last one is at 16.30). Ticket: 600 HUF
The City Park Lake is great for rowing in summer and ice skating in winter.
Other attractions in the park: Budapest Zoo, Széchenyi Baths, Holnemvolt Park, Transport Museum. You'll also find a few nice restaurants in Városliget.
Read more about Budapest City Park: history, major attractions, photos.
Margitsziget (Margaret Island)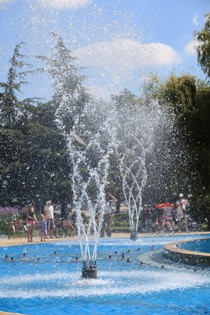 Getting there: trams 4, 6 Margit sziget stop
A serene oasis in the heart of a bustling city, in the embrace of the Danube. The island is lined with romantic walkways, flowery groves, old ruins.
The island received its name after Princess Margit, daughter of King Béla IV., who rebuilt the country after the Mongol Invasion in the 13th century.
The open-air theatre stages opera and ballet performances in summer during the 3-month Budapest Summer Festival.
Read more about Margaret Island.
Gellért Hill – Magnificent View, Pleasant Walks In Green Surroundings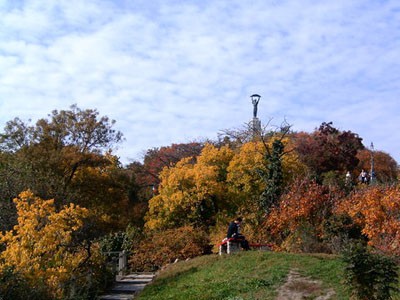 Getting there: Trams: 41, 47 and 49, Buses: 7, 86, get off: Szt. Gellért tér stop
You can see this steep dolomite rock with the Statue of Liberty on its top from almost every point of the city.
Walkways meander up the hilltop to the Citadell. Take your time to walk up and admire the splendid parks and groves and breathtaking panorama.
Read more on the history and attractions on Gellért Hill.
See our photos about Gellért Hill taken during a summer excursion.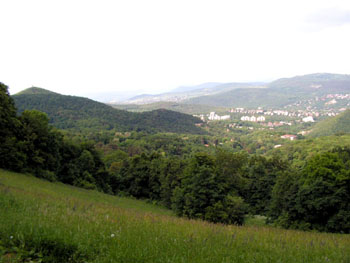 Buda Hills – Hiking, Fresh Air, Lots of Green
The gentle slopes rising on the right side of the Danube entice you for hiking. If you're with children go up the hills with the Children's Railway.
First take the cogwheel railway (fogaskerekű) from its Városmajor termini, opposite Hotel Budapest (near Széll Kálmán tér, M2 metro termini). Not far from the upper terminus is the Children's Railway that'll take you along a 12 km scenic ride.
Many parts of the Buda Hills are nature reserves, like the Budakeszi Vadaspark (game reserve) with live animals.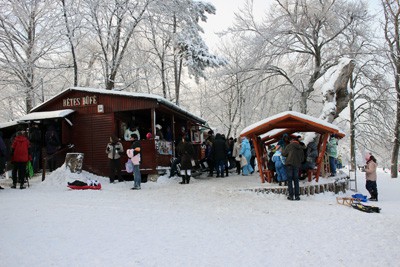 Other attractions of the hills are: playgrounds, lookouts, caves.
The Buda Hills offer great fun in winter too when fine snow covers the slopes.
Normafa is a favorite spot of locals for sleighing and skiing. Mulled wine, hot tea, strudels and other snacks are offered in the buffets.
Népliget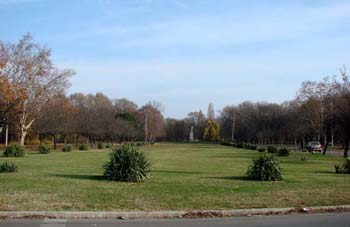 Getting there: M3 metro Népliget station, tram 1 Népliget stop
It occupies an area of 112 hectares/300 acres in the south-east part of Budapest.
It is not as popular for strolls as City Park or Margaret Island though nice paths run across the park lined with trees, shrubs, flowers and some statues.
The Planetarium stands here, in the dome of which spectacular laser shows accompanied by classical or pop music provide nice entertainment.
Runners love to train here because it has lots of long paved tracks and ample trees and green to provide fresh air.
Next to the park is the national and international coach station.
TIP: Unfortunately Népliget is not as well tended than other parks in Budapest so we don't recommend it for longer strolls or a picnic with kids.
Smaller Parks and Garden
Károlyi Garden (Károlyi Kert ) – perhaps the most beautiful small park in Budapest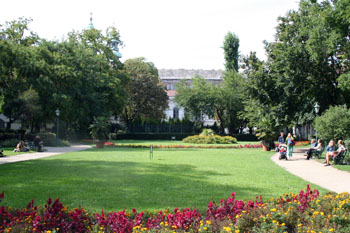 This charming park lies behind the Classicist Károlyi Palace (Károlyi utca 16., off Múzeum körút, district V., M3 (blue) metro line, Ferenciek tere or Kálvin tér station.
The garden is a home to some rare plants like the honey locust, Caucasian wingnut, silver poplars, horse chestnuts. These stately trees were probably planted at the beginning of the 19th century.
The Károlyi Palace provides shelter from the traffic and noise of downtown Budapest, that's why the park is and ideal place to relax after a walk in the city centre.
TIP: The palace, that gives home to the Petőfi Literary Museum, is open to visitors in summer, from July 16. till August 31. 2014. during museum hours: Tue-Sun: 10.00-18.00.
Entry ticket: 600 HUF
Orczy Garden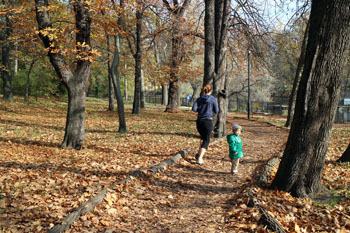 Getting there: district VIII., M3 (blue) metro line, Klinikák or Nagyvárad tér station
It's best to take a walk in the garden after visiting the Natural History Museum next door.
Many old trees provide shade in the garden; oaks, horse chestnuts, ash.
Behind a small lake stands a memorial of the Hungarian soldiers died in the two world wars.
A nice place for jogging, biking, or just strolling.
There is also a small playground and an adventure park (Orczy Kalandpark) with canopy, climbing and other fun outdoor activities.
View our photos about the Orczy Park.
Erzsébet téri Park (Park at Erzsébet Square)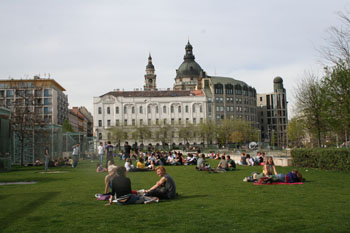 Getting there: district V., city centre, M1, M2, M3 metros, Deák tér station
The park had been nicely refurbished in 2014 with new pavements and benches.
Fountain, water steps, green lawns and a pond refresh the air.
Underneath the pond operates the Akvárium Klub cultural centre with art exhibitions, music programs, some simple bistro meals and drinks.
Its huge terrace is a hot spot among locals. Akvárium is a popular venue for concerts, gastro and wine festivals (Macaron Day is organised here in every March).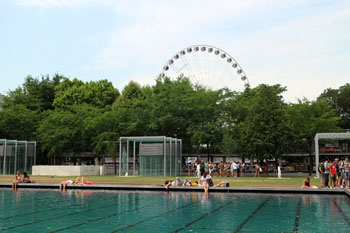 The club has two state-of-the-art concert rooms. The daily menu of the Aqua Bistro is just 1 450 HUF and includes a soup and a main with a glass of drink.
There is also breakfast from 11.00 for late risers, simple bistro meals, salads, desserts are also avialable.
A nice surprise that they also have a couple of great local craft beers: Távoli Galaxis is a superb IPA ( 950 HUF 0.33 l), the Kapucinus Meggyes/sour cherry "Nem vagyok én apáca" is a nice fruity beer (720 HUF 0.5 l)
Other places to sit around with a drink in nice weather are the Fröccsterasz, Prosit Wine Bar or Terminal Restaurant (name refers to the former bus station that operated on the spot in the communist years).
Two Luxury Budapest Hotels: The Ritz Carlton Budapest (opened in 2016), and the Kempinski Hotel Corvinus stand at Erzsébet Square.
St. Stephen's Basilica, Budapest's largest church, is also just a short walk from the park.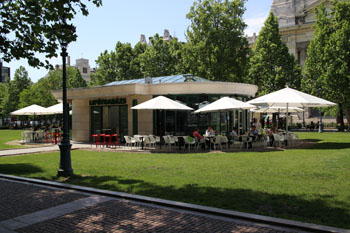 Szabadság téri park (park at Szabadság Square)
Getting there: district V., city centre, M2 (red) metro Kossuth tér station, tram 2 Kossuth tér stop, a short walk south east of the Parliament.
This is one of my favourite parks in our city. If you visit Budapest Parliament do take some time to take a look at Szabadásg Square, it's just a a few-minute walk from Kossuth Square.
By the way, the Parliament building is also surrounded by pleasant parks with various statues and historical monuments (see Kossuth Square next on the list)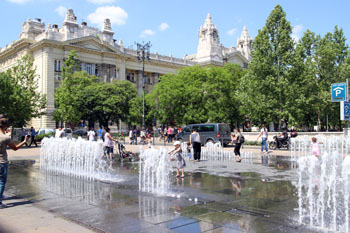 Back to Szabadság Square: Grandiose buildings of high architectural value flank the square: the Art-nouveau National Bank and the building of the Hungarian Television, the venue of riots in autumn 2006.
The U.S. Embassy is at Szabadság Square too. In front of the embassy's building is the Memorial of the Russian Army (the meeting point of the former Western and Eastern blocks). A nice playground attracts kids with various toys.
TIP:
a luxury boutique hotel, the Iberostar Grand Hotel is an excellent accommodation choice right at the southern edge of the park.
Kossuth Square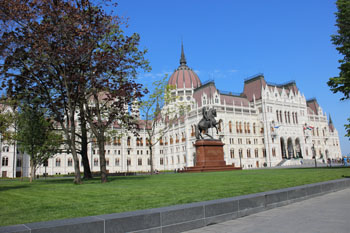 The vast complex of the Parliament building on Kossuth Sqr. is surrounded with a manicured lawn dotted with several statues of prominent Hungarian figures.
The building and park have been nicely renewed and most of the car traffic has been banned from the area. There's a new visitor centre with exhibits in the northern side.
A pleasant place for a stroll before or after visiting the Parliament.
TIP: Do stop by the Szamos Cafe that opened in June 2016 and carries a fine Hungarian cakes and pastries, breakfast dishes, smoothies, ice cream, bistro dishes, and good coffee sourced from a local roaster. The upper level houses a Chocolate Museum.
Olimpia Park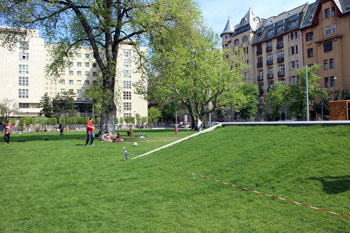 This small park and playground, a tribute to Hungarian Olympic players, is located between the Parliament and Margit Bridge on the bank of the Danube.
It's usually packed with kids and having fun on the various toys of the playground.
The symbol of the Olympic Games, the five rings painted in the Hungarian tricolor, stands on the side facing the river.
Kopaszi Dam & Park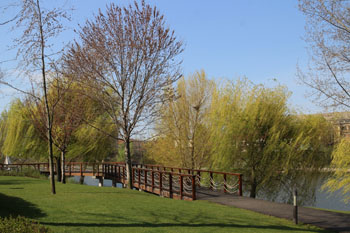 This little green gem on the Buda side south of Rákóczi brigde is a family favourite.
The 10 hectare/24 acre riverside park is a fairly recent development that has quickly became popular both among locals in district XI./Újbuda and people living a bit further.
Paved walkways, terraced bistros and cafes offering wonderful views, (from the terrace of Fruska Bistro you can see the Gellért Hill, even the tall stacks of the Kelenföld Power Plant don't take away from the beauty of the vista) a playhouse with pretty good cafe (they have delicious hot chocolate).
If you don't want to sit in a restaurant, you can grab a bite and drink at one of the lángos/pancake/chimney cake stalls.
Joggers, bikers also favor the place though the park gets rather crowded at weekends and afternoons.
View our photos taken on a Sunday morning in April 2015.
Mechwart Liget – Buda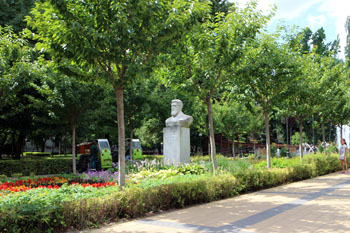 Address: at the junction of Margit körút and Keleti Károly utca in district II., tram 4, 6 Mechwart Liget stop, M2 metro Széll Kálmán tér station
This lovely park at just a short walk from Széll Kálmán tér is one of my favourite in Budapest. The statue of András Mechwart, mechanical engineer greets visitors at the entrance. The clock behind it plays bell music
The park was named after him. He did a lot to help develop Hungary's electric industry in the last third of the 19th century.
After the refurbishment in 2010 the park can be explored in wheelchair.
Large trees provide shade in the hottest hours.
A fountain stands in the centre surrounded by a pergola seat: an ideal romantic spot for a rendezvous.
Two playgrounds provide entertainment for children and there's also and outdoor fitness park. Lots of flowers add colour to the green.
Kiscell Castle Garden & Park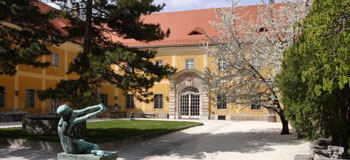 Getting there: Kiscelli utca 108., district III., tram 17, bus 60, 165 Kiscelli utca stop
Although the park is a bit neglected, it's still a nice place to take a rest if you decide to explore Óbuda.
In the Kiscell Museum you can see exhibitions about the city's history with photo, textile, ceramics, and furniture collections.
Botanical Gardens, Arboretums in Budapest
Füvészkert Botanical Garden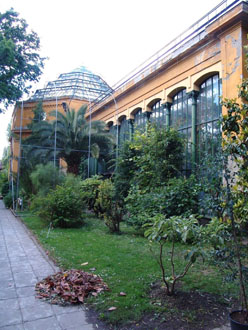 Address: Illés utca 25., district VIII., M3 (blue) metro line, Klinikák station, bus 9 or trolley 83 Kálvária tér stop, from there just a short walk
Opening hours: Mon-Thurs: 9.00-16.00, Fri: 9.00-12.00, Sat-Sun: 9.00-16.00, the greenhouses: Mon-Thurs:9.00-12.00 and 14.00-15.00, Fri: closed, Sat-Sun: 10.00-12.00, 13.00-15.00
The oldest botanical garden in Hungary (founded in 1771) gives home to around 7000 plants including 150-year old orchids.
The garden was an important venue in the famous novel, Paul Street Boys written by Pál Molnár. The Palm House (built in 1866) is the habitat of tropical and subtropical plant species, cactus, orchids, bromelias.
The Neoclassical administration building is also worth looking at.
Budai Arboretum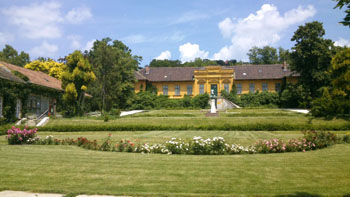 Address: Villányi út 29-43., south of Gellért Hill, district XI. (5-8 minute walk from Móricz Zsigmond körtér tram stop and M4 metro station
Opening hours: summer: 01. March-23. October: Mon-Fri: 8.00-18.00, Sat-Sun & bank holidays: only the lower garden can be visited: 8.00-18.00, winter: Mon-Fri: 8.00-16.00, Sat-Sun & bank holidays: only the lower garden can be visited: 8.00-16.00
Admission: free
Few know about the the Budai Arborétum at the Budai campus of the Corvinus University, south of Gellért Hill that boasts one of the richest plant selection in Hungary.
Vineyards covered the hills here up until the phylloxera epidemic destroyed them at the end of the XIX. century.
Today the arboretum, which is divided into a Lower and Upper Garden, has around 2000 woody plants, several hundreds flowers and 250 other rare plants.
A horticulture training school was founded here by a physician of the 1848/49 Revolution and War of Independence. The building can still be seen in the Upper Garden.
Do visit this green hidden secret of Budapest!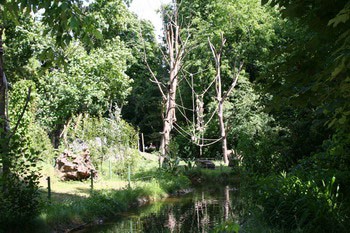 Address: Állatkerti krt. 6-12, City Park (Városliget), district XIV.,
Getting there: M1 (yellow) metro line, get off at Széchenyi fürdő stop or trolley bus 72 (Állatkert stop), or trolley buses 75, 79 ( Állatkerti út stop)
Although when you visit the zoo the animals are the main attractions, but spare some time to drop in the botanical garden housing around 2000 different plants.
The Japanese garden has a real oriental atmosphere with special trees, flowers, streams, a meditating hut, stone lamps.
TIP: The garden is a place for pleasant musical concerts on summer evenings
Related:
Buda Castle District – World Heritage Sites – Caving, Caves in Budapest – Budapest in 1 day – Patio restaurants in Budapest – Top Attractions