How to Travel in the City?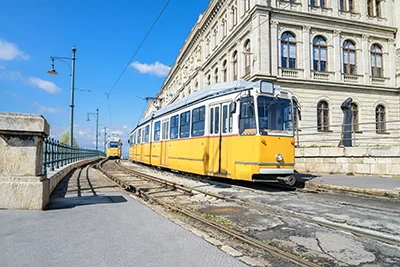 Use public transport services to travel in Budapest, especially if you stay in one of the outer districts.
Although attractions in the central districts (V., VI., parts of I., II., VII. and VIII.) are easy to explore on foot you might want to rest your legs after a while and hop on a metro/tram/bus.
Table Of Contents – Types of Public Transport in Budapest

Table of Contents – Budapest Public Transport
Best Public Transport Lines For Tourists
You will easily get to any sight and attraction by travelling on one of the four metro lines or the major tram lines (No. 4, 6 and 2).
TIP: In case it's cold or a summer shower catches you, take one of the four metro lines (M1, M2, M3 and M4), or trams No. 2, 4 or 6!
Trams 47 and 49 are also useful especially if you want to get from Pest to Buda or vica versa.
Tram 19 is great for sightseeing in Buda, it connects Kelenföld Train Station with Óbuda (the Northern part of Buda). It travels along the Danube between Liberty Bridge and Margaret Bridge offering a scenic view of the river and some famous attractions in Pest.
These transport services will take you to most of the places of interest.
The bus and trolley bus service are quite extensive too.
There's also a scheduled boat service on the Danube from spring till autumn.
Below you find information on Budapest public transport: types of tickets and passes, buying, and validating them.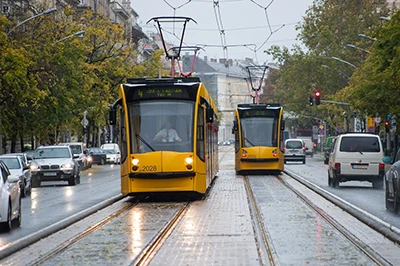 Tickets, Travel Cards, Prices and Fines
Budapest has a fairly extensive and efficient public transport system. It is also cheaper than in most Western European cities.
A wide variety of trams, buses, trolleys and metro trains run in the city.
Night service is quite reliable, too.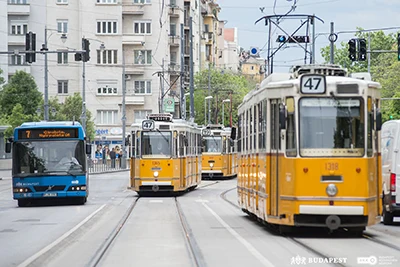 Be prepared for typical rush hours: vehicles are crowded and traffic can be rather slow. This would be expected in any large city.
Children's Fares, Student Passes, Family Discounts
Children living in Hungary up to the age of 14 travel free of charge. A valid Hungarian identity card is required for them to verify age if a controller asks for tickets and passes.
Pupils, university students can buy discount monthly/yearly passes with a valid student ID card.
No student discount on single tickets though.
TIP: For families visiting Budapest with kids we recoomend getting the 24-hour group travel card. 5 people can travel with it for p to 24 hours and it cots 5 000 HUF.
Free Travel on Public Transport with Budapest Card
TIP: If you don't want to bother with buying and validating tickets, purchase a City Card.
Besides unlimited free travel on public transport, the card offers a range of discounts on tours/services, free entry to the permanent exhibitions of many museums, entry to the Lukács Bath etc.
Buy Budapest Card: Public Transport, 30+ Top Attractions & Tours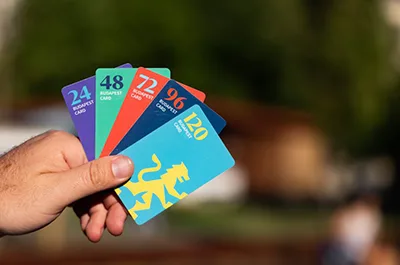 24-Hour Card: 29 EUR
48-Hour Card: 43 EUR
72-Hour Card: 56 EUR
72-Hour Plus Card: 87 EUR
96-Hour Card: 69 EUR
120-Hour Card: 82 EUR
Read more about the Budapest Card and whether it's worth getting it!
Public Transport Tickets and Passes
(Prices Updated For 2023)
Note: The price of a single ticket and discounted pack of 10 tickets has gone up as of September 01, 2023: A single ticket costs 450 HUF, pack of 10 single tickets costs 4 000 HUF. Price of travel cards, monthly passes hasn't changed.
TIP: If you visit the Hungarian capital for 2-3 days and you stay in a city center hotel, we recommend that you use:
Single tickets or the
Discounted block of 10 tickets to make travelling on public transport lines hassle-free.
Free Travel For Seniors 65 + – EU Citizens Only
TIP: Citizens of the European Union countries and Switzerland aged 65 and up can use all public transport lines for free in Budapest.
They have to show a valid ID to verify age and nationality if asked by a ticket inspector).
The current tickets and passes are of pale purple colour.
Tickets, Transfer Tickets
Single ticket (vonaljegy or just jegy) 450 HUF, (600 HUF if purchased from the driver on board the vehicle): valid on all public transport vehicles for one uninterrupted trip. If you
Block of 10 single tickets (tíz darabos gyűjtőjegy: 4 000 HUF). Costs less than 10 single tickets purchased individually.

Time-Based Tickets: Save Money
Use time-based tickets if you need to transfer between metro lines and also other lines (trams, buses, trolley).
You save money with it since you don't need to use a 450-HUF single ticket every time you need to change public transport lines.
Moreover, you can finish your trip beyond the 30th or 90th minute until you reach your destination within Budapest.
Please remember to validate your time-based ticket before the start of your travel and each time you switch to another travel line.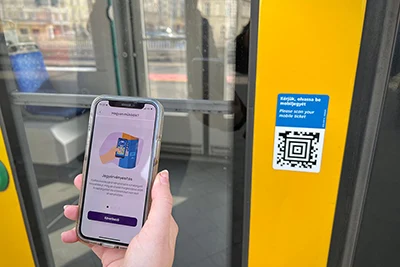 You can use time-based tickets for an unlimited number of transfers and trip interruptions, by validating it each time you board making sure that your last transfer falls within the 30-minute or 90-minute time limit.
There Are Two Time-Based Tickets:
30-minute ticket: 530 HUF
90-minute ticket: 750 HUF
Important! Please scan the code each time when you board a vehicle to validate your ticket. When transferring between metrolines, you are not required to revalidate your ticket.
Note: If you carry a bike with you (permitted only on a few vehicle types) you have to validate a single ticket for it.
Travel Cards
24-Hour Travel Card
Price: : 2 500 HUF – Please note that is not the same as the 24-hour Budapest Card
Valid on all public transport vehicles except for the boat service on the Danube.
For an unlimited number of trips from 0:00 to 24:00 of the day indicated on the ticket (you decide on the starting time).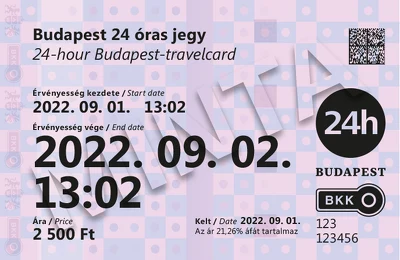 24-Hour Group Travel Card, For Max. 5 Persons
Price: 5 000 HUF – Recommended also for families
Valid on all public transport vehicles – except for the boat service.
For an unlimited number of trips from 0:00 to 24:00 of the day indicated on the ticket (you decide on the starting time).
72-Hour Travel Card
Price: 5 500 HUF) – not the same as the 72-hour Budapest Card
Valid on all public transport vehicles – except for the boat service- for an unlimited number of trips for 72 hours starting from the time and date you purchased it.
Public Boat Service Tickets
Unfortunatley Public Boat services ceased to run as of 2023 due to high maintenance expenses.
Where To Buy Tickets And Passes?
You have two options, choose the one that you're more comfortable with:
BudapestGO App or Paper Tickets/Tarvel Cards
Go the traditional way and buy and use paper tickets and travel cards (24-hour or 72-hour, or if you are comfortable with using apps
Download the BudapestGO public transport application to buy single tickets, time based tickets (for 30-minute or 90-minute duration) and 24/72-hour travel cards. The app is also a great help in planning your route providing real-time travel information as well as route and service recommendations including the BuBi public bike rental points.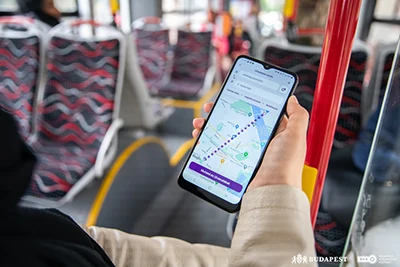 You can buy paper tickets and travel cards from the ticket vending machines with bankcard (or cash). You The purple colored ticket automats are placed at main public transport stations (metro entrance), as well as at the airport.
The airport also has BKK Customer Sales Points where you can get your ticket/travel card from a real person.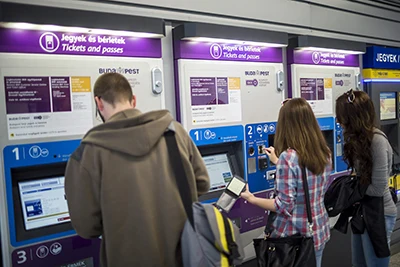 If you don't have or don't want to use the BudapestGO App you have to buy your tickets/pass in advance.
You can get them from ticket vending machines (TVM) or at many newspaper kiosks.
Around 300 new ticket vending machines have been placed throughout the city where you can get tickets and passes 24/7 by paying with cash or bank card.
I often use them and found them are quite reliable.
Most ticket offices have closed down though. You will find Ticket Offices (Jegypénztár) in some metro stations near the entrance:
Corvin negyed M3/blue line,
Népliget M3/blue line,
Nyugati tér M3/blue line,
Blaha Lujza tér M2/red line,
Széll Kálmán tér M2/red line.
Most cashiers speak only Hungarian so it's best to go to the cashier with a piece of paper on which you've written down in Hungarian what type of ticket you want to buy.
How To Use The Ticket Vending Machines (TVMs)?
Using the machines is pretty straightforward, just read the instructions displayed on the monitor.
First choose language by touching the appropriate flag symbol on the bottom of the screen on the right hand side of the TVM.
A list of the most popular ticket types and passes will appear
Single ticket-350 HUF,
Block of 10 tickets – 3000 HUF,
24-hour travel card,
24-hour group travel card,
Various monthly passes.
I only give you the steps on buying tickets/travel card because these are the ones most suited to tourists visiting Budapest for a couple of days.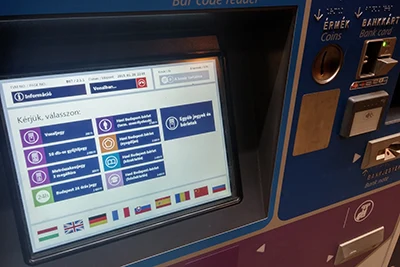 Buying Ticket/Travel Card From The TVM:
Select the ticket/travel card you want to buy.
Decide whether you want the machine to print an invoice, if not then press payment without VAT invoice.
Choose payment method: you can pay by cash, bank card (PayPass/contactless cards). I prefer using bank card, and recommend this payment method for tourists as well.
Paying By Bank Card/Contactless Card – Recommended For Tourists
The simplest and fastest way is to pay with a bankcard/contactless card.
Just follow the steps shown on the card terminal screen. After payment collect the purchased ticket or travel card.
Paying By Cash:
The machine accepts all current Hungarian coins from 5 HUF to 200 HUF.
You can use banknotes too: 500 HUF, 1 000 HUF, 2 000 HUF, 5 000 HUF, 10 000 HUF, 20 000 HUF. Based on the total value of the purchase the TVM defines the banknotes to be accepted.
If the purchase is of a small amount (e.g. a 350 HUF single ticket) 2000 HUF or smaller notes are accepted. In case of a bigger purchase larger notes can also be used.
The machine accepts 35 coins and 15 banknotes per transaction. It gives back changes in coins and notes.
Make sure you don't leave your bank card or other belongings at the machine.
You can also view an instructional video on how to buy monthly passes and use the vending machines on the transport company's (BKK) website.
How To Validate Tickets?
You must validate your ticket at the start of your journey.
Metro Stations
In case of metro tickets you have to put the ticket in the ticket validation machine (orange coloured box on a metal pole) that'll stamp a time and date on the ticket.
A short musical tone and the tiny green light confirm that the ticket has been validated.
Once you validated the metro ticket you head for the escalator that'll take you to the metro platform where you wait for the metro car.
At the top of the escalator ticket inspectors will most likely stop you to check whether you've validated your ticket.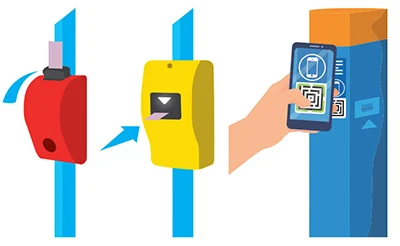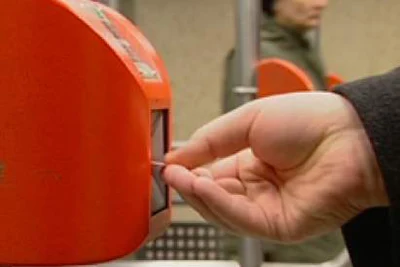 Other Vehicles
On other vehicles (trams, buses, trolley) there' s
Either the orange or yellow box similar to the ones in metro stations, or
A smaller red box in which you insert the ticket then pull the black part on the top towards you to punch the ticket (a pattern of holes appear on the validated ticket).
Note: The slot on some ticket validation machines is clogged with chewing gum or paper (deliberately done by prank makers) so you won't be able to insert the ticket. Try another machine on the vehicle to validate your ticket.[
Inspectors check passengers' tickets throughout the day.
An inspector usually wears dark blue uniform and a blue with a red armband. Nowadays, however they are in plain clothes (but still must put on the armband when checking tickets) in order to disguise themselves.
To avoid problems, buy the type of ticket or pass that are most suitable for your visit and your budget, and remember to validate it. Keep your ticket until the end of your journey.
Fines are high (if caught travelling without a valid ticket or pass you'll be fined to pay 16.000 HUF, 8.000 HUF if you pay it on the spot or within 2 days of being fined)
It's not worth ruining your stay with constant watching out for the inspectors. If you forgot to buy a ticket or validate it, and you're fined the ticket inspector must give you a receipt about the payment.
Fines For Travelling Without A Valid Ticket/Pass
If you're caught without a valid ticket by a ticket inspector, you are to pay a fine which is currently 12 000 HUF paid on the spot or in BKK's Surcharge Office within 2 work days from the date of the fining.
Note: The inspector must give you a receipt of the payment when you pay on the spot.
If you don' pay the fine on the spot or within 2 work days, but settle the amount within 30 days the penalty fare is 25 000 HUF.
If you don't pay the fine on the spot, the ticket inspector initiates a fining procedure (ensuring the opportunity of deferred payment).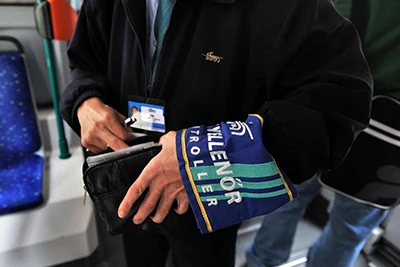 In this case he/she is entitled to ask the required personal data (name, mother's name, date and place of birth) and also the address of the passenger. On the basis of these data, the ticket inspector fills in a so-called "Surcharging procedure report".
If the passenger refuses to give his/her personal data, the ticket inspector can ask for police assistance on the spot.
The ticket inspector gives a cheque about the amount of the fine and a leaflet about the opportunities of payment.
The passenger shall sign that he/she accepts the surcharging and confirms that he/she has given the required personal data. The denial of signature doesn't acquit the passenger of the consequences of the fining.
You'll find the most up-to-date information about tickets, prices and penalty fines on the Public Transport Company's website (BKK).