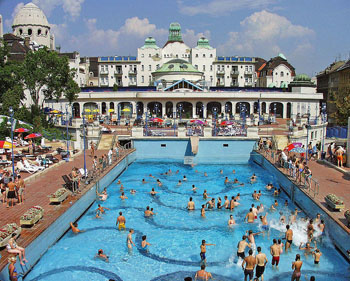 The City of Healing Waters
Budapest is often dubbed as the city of healing waters because the number of spas and thermal baths the city offers.
The land where the Hungarian capital lies abounds in natural springs and wells that contain several beneficial minerals.
Table of Contents
They supply the warm, healing waters for the nearly 50 Budapest spas, baths and public pools.
That's why the water in them is perfect for therapeutic as well as recreation purposes.
The baths originate from two time periods:
the Turkish Baths (Király, Rudas and Veli Bej) date back to the 16th century when Hungary was under Ottoman occupation,
the Gellért, Széchenyi and Lukács Baths were built in the beginning of the 20th century.
No visit to Budapest is complete with a thermal bath experience, so pick one, buy a ticket, and don't forget to pack your swimsuit.
Budapest Baths Opening Hours, Tickets – From Spring to Winter
The thermal baths are open throughout the year even in winter, including most public and national holidays (though usually with shorter opening hours and not all services are available on these special days):
March 15.
Easter,
May Day,
October 23.,
November 01.,
Christmas,
New Year.
Besides the indoor thermal bath units, most spas have several outdoor pools, at least one filled with thermal water (Gellért: 36 °C, Széchenyi: 38 °C, Rudas Turkish Bath Rooftop Jacuzzi: 36 °C.
Locals, especially, retirees, visit the baths regularly even in winter time playing, chess in the steaming water and sharing the latest gossip.
In summer you can refresh yourself in the cooler pools (22-30 °C), children pools are a bit warmer: 30-32 °C.
From May – depending on daily temperatures – a couple of seasonal baths/beaches (Palatinus on Margaret Island, Római Bath, Paskál, Pünkösdfürdő and Csillaghegyi Beach) with open-air pools only join the all-year baths, some with quite long opening hours (till 21.00 – 22.00 on extreme hot days).
Gellért Bath Opening Hours, Prices:
The indoor pools of the Gellért are open Monday – Sunday: 06.00 – 20.00
The open-air wave pool is seasonal, open from May to October (depending on the weather). The cashier closes 1 hour before the bath closes.
Ticket Prices (No-Queue Entry with E-Ticket)
bath entry (with cabin use) through a VIP Help Desk (09.00-21.00): 20 EUR
entry + 20-min aroma massage: 38 EUR
entry + 50-min Royal thermal massage: singles: 70 EUR, couples: 130 EUR
more massages available on the ticket purhcase page linked below
Book a Full-Day Gellért Spa Ticket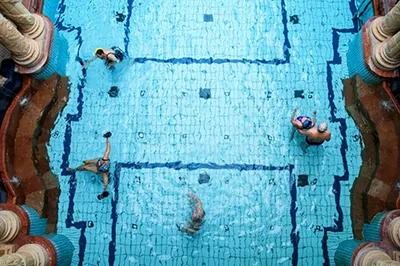 Take a break from the hustle and bustle of Budapest and treat yourself to a full day of relaxation at the Gellért Spa! Our full-day ticket includes access to all of the spa's thermal pools, saunas, and wellness treatments. You'll leave feeling refreshed and rejuvenated.
Széchenyi Bath Opening Hours, Prices
The Széchenyi is a large complex with 15 indoor pools and 3 open-air pools. The spa is open every day even during holidays like Christmas, New Year and Easter.
Indoor thermal pools/treatments: Monday – Sunday: 06.00 – 19.00
Outdoor pools: Monday Sunday: 06.00 – 22.00
Steam department: Monday-Sunday: 06.00 – 22.00
Massages: Monday-Sunday: 09.00 – 18.00
Ticket Prices (No-Queue Entry with E-Ticket)
bath entry (with cabin use) through a VIP Help Desk (09.00 – 18.00): 19 EUR
bath entry + 20-min aroma massage: 37 EUR
more massages are available on the ticket purchase page linked below
Book a Szechenyi Spa Full Day with Optional Pálinka Tour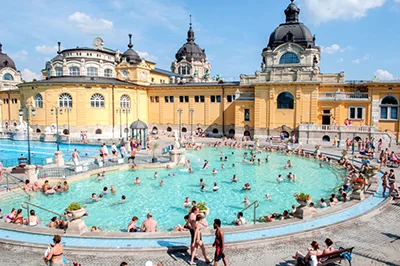 Indulge in a full day of relaxation and rejuvenation at the world-renowned Széchenyi Spa. With over 15 indoor and outdoor thermal baths, saunas, and steam rooms, you'll enjoy the ultimate in relaxation and wellness.
On Saturday the Széchenyi hosts the famous Bath Parties (from April to end of September): party time is 22.00 till 03.00 Sunday morning.
Note: you can find the exact opening hours of each bath on its own page accessible through the links below.
Budapest Baths from the Ottoman Era, and Spas form the First Part of the 20th Century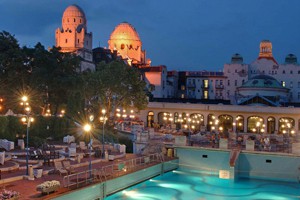 Perhaps the best-known and most prestigious spa complex in Budapest located in Buda within the Gellért Hotel.
The bath opened in 1918. It has 13 pools out of which 8 are thermal pools.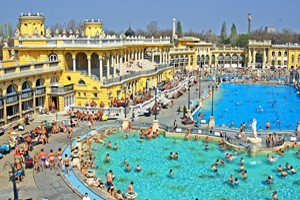 The Széchenyi is one of Europe's largest spa complexes. It currently has 15 indoor pools, 3 outdoor pools and 10 saunas and steam chambers.
It is located in Budapest's popular recreation area, the City Park/Városliget where you can do a few other fun things before or after splashing in the pools of the Széchenyi.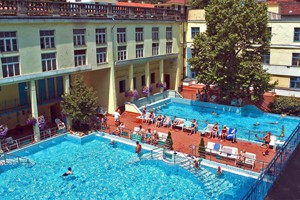 The building of the Lukács bath dates from the 1920s but the baths themselves are much older, originating from the 12th century.
It has a thermal pool, an adventure pool, and two swimming pools. It is located in Buda not far from Margaret Bridge (trams 4, 6).
Opening Hours: every day: 06.00 – 22.00, saunas: 9.00 – 21.00, the cashier closes at 20.00.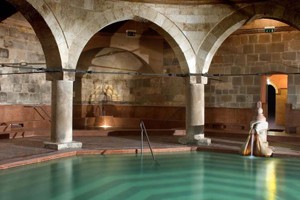 Have a dip in one of the Ottoman-era Baths or just admire their great architecture.
Learn about the history of
Király Bath Opening Hours: Mon-Sun: 09.00 – 21.00, cashier closes at 20.00.
Rudas Bath Opening Hours: swimming pool (co-ed): every day: 06.00 – 22.00, Wellness & Sauna (co-ed): 08.00 – 22.00, Steam Bath: every day: 06.00 – 20.00: ladies' day: Tuesday, men's day: Mon, Wed, Thurs, Fri, Mixed days: Sat, Sun. Cashier closes 1 hour before the bath closes.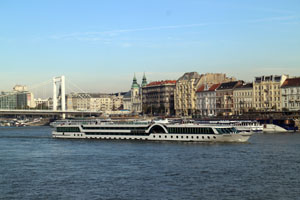 TIP 1: Bath Entry + Boat Tour with Dinner on the Danube – Save 1.8 EUR
Enjoy two great programs for less than if you bought them individually.
After indulging in the hot waters of the Gellért or the Széchenyi Baths, take a sightseeing excurison on the river Danube with 4-course buffet dinner and live music.
Prices: Gellért Bath Entry + Cruise with Dinner 67 EUR/prs, Széchenyi Bath Entry + Cruise with Dinner: 66 EUR/prs.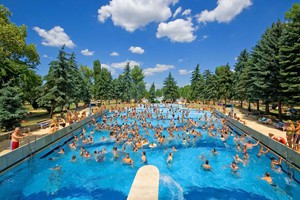 Beaches, Outdoor Baths Guide to the best outdoor baths and pools where you can refresh yourself on a hot summer day. The Széchenyi and Gellért have open-air pools but there are other baths that operate during the summer season:
Római,
Paskál,
Csillaghegyi, and
Pünkösdfürdő Baths.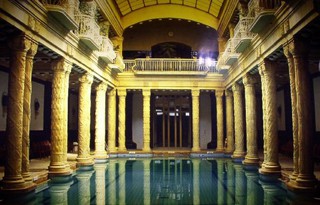 If you have arthritis and aching joints, it would be a direct sin not to have a dip in Budapest's medicinal waters.
You'll feel as if the steamy hot water is melting your tired muscles, driving away fatigue and depression.
If this hot indulgence is not enough, masseurs can take your body in their expert hands. A variety of refreshing massages as well as longer, luxurious massages are offered for a complete revitalization of your body.
Exclusive Private Bath in Gellért
TIP: The new private bath in the Gellért is a great place to enjoy some romantic time with your love one.
Most spas are worth a visit because of their history and architecture, as well. Affordable entrance fees make them even more attractive, though the elegant and touristy Gellért Bath is a bit on the pricey side.
Baths usually have two main pools and several smaller ones in which water temperature varies. Other amenities besides the steamy hot water, include various types of massages, saunas, mud-packs and other curative treatments.
TIP: Enjoy a fantastic spa party in the Széchenyi Bath in the summer season or in the Lukács from October to December.
Refurbishment of Thermal Baths & Other Important Changes: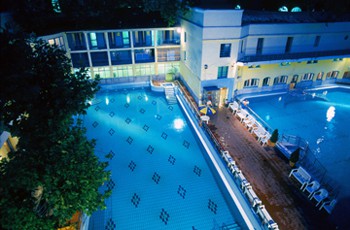 As of 1st January 2013 the Gellért Bath is a fully co-ed bath, welcoming both women and men every day.
2. The Rudas Bath and Lukács Bath underwent a major renovation in 2012 welcoming guests with renewed building and services in 2013. The baths are now accessible with wheelchair.
In case of the Lukács, the facade was refurbished and the majority of the interior was altered to be able to offer new services:
Sauna world (salt sauna, aroma steam cabin, infra sauna, Finnish sauna, naturist sauna, igloo, tepidarium, heated roman seats):[checklist]
Himalaya salt wall
Private bathing
Turkish hammam[
The Rudas Turkish Bath was also renewed in autumn 2012 with the building restored to its late 19th century state.
History of Budapest Baths & Spa Culture
The city's baths have a long history. The first settlers in the area, the Celtic tribes had already discovered and used the healing waters. They named the place Ak-ink, meaning abundant water.
The Romans occupied the settlement and called their province Aquincum, referring again to the abundance of water in the area. They had developed bathing culture at home that they wanted to enjoy in Aquincum as well. They built the first baths here, the excavations in Óbuda discovered 14 of them from this era.
Ottoman Heritage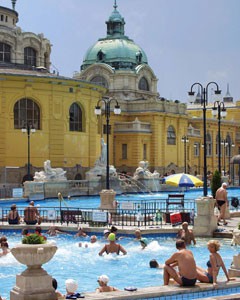 After the Romans the Hungarians used the baths for centuries.
Spa and bath culture was developed significantly during the Turkish rule in the 16th-17th centuries.
Their 150-year reign left some beneficial heritage besides the raids and devastation. Some of these Ottoman baths are still in use today, you can enjoy their great architecture, coloured glass windows and domed pools.
After the Turkish occupation baths became less popular.
The turn of the 19th-20th centuries saw another flourishing in bath culture.
New thermal springs were discovered and the science of the healing waters, balneology, demonstrated the beneficial effects of these waters.
Turn-of-the-20th Century Era
Some wonderful spa centres were built at that time; the best-known and most upscale is the Gellért Bath.
The other two from this era are the Széchenyi Bath and the Lukács Bath.
Everybody, from the aristocrats to shop assistants, were enjoying the baths. They were also places for informal meetings, and chats, just like today.
If you want to hear the freshest gossip in town, mingle with bathing Budapesti people, but I guess you need to pick up some Hungarian.
Etiquette in Baths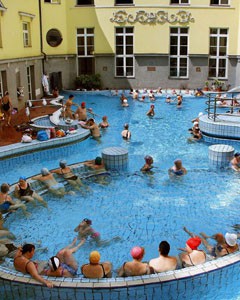 Your first visit to a spa might be a bit complicated if you don't speak any Hungarian at all.
Apart from the Gellért Bath, instructions, price lists in most baths are posted only in Hungarian. We summarize in short what etiquette to follow in the baths.
TIP: if you can't memorize the followings just follow what the local regulars do!
Make sure your devote at least two hours in the bath to fully exploit the relaxing benefits of the healing water, saunas, steam rooms and massages!
Note that the cashiers close an hour before closing time.
Entry System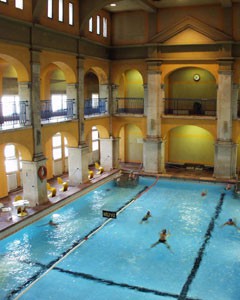 You get a proxy watch (plastic armband) when you buy your ticket.
This will let you through the turnstile at the entrance as well as locks and opens the locker or cabin you choose to use to keep your belongings in it.
Choose which services or treatments you want to try from the list at the entrance, and pay for them at the cashier. You'll get a separate ticket for each thing.
I usually go for some kind of massage besides bathing. If you prefer to have only a hot bath, ask for a standard ticket (use of sauna is included).
Turkish Baths – Men-Only or Mixed Days?
The Turkish baths were men-only for decades, today they either have separate days for men and women, or mixed days when both men and women can bath (see the opening hours given at each bath).
On single-sex days, the attendant will give you a tiny cloth that you're supposed to tie around your waist. The cloth for women looks like an apron (kötény in Hungarian) to cover the breasts.
You might feel awkward or embarrassed in it but bear in mind that other bathers wear it too, so you won't stand out from the crowd. On mixed days you have to wear a bathing suit.
At the Gellért, Széchenyi and Lukács you can choose between a cabin (kabin) or locker (szekrény) to change. If you prefer privacy choose and pay for a ticket with cabin when you buy your ticket.
Time to have a dip in the pools!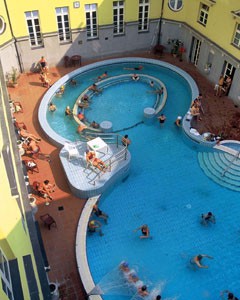 The baths usually have a main pool, surrounded by smaller ones with varying water temperatures from hot to cold.
Taking a shower before going into the bath is compulsory. Afterwards, start with the main pool then one of the hotter ones. If you feel almost cooked take a deep breath and plunge into the cold pool for a few seconds.
Head for the steam rooms (hamam) and/or the saunas that also offer a choice of different temperatures (from hot to very hot).
Finally relax in the warm pool. A thorough massage makes the whole ritual complete.
Afterwards have a nap in the rest room to regain strength to change back into your clothes. You'll need it believe me!
The hot soaking, the steam and the scorching heat of the sauna will drive away stress, slackens your body and leave you without strength.
Don't plan any major sightseeing afterwards; have dinner in a good Budapest restaurant, sit in a café or head straight for home to have more sleep.
Additional Resources: The official website of the company managing the baths.
Budapest Baths FAQ
Do Budapest baths provide towels?
Yes, most Budapest baths provide towels for rent or as part of the entry fee. However, it's always a good idea to double-check with the specific bath you plan to visit, as some may require you to bring your own towel.
Can you go to Budapest baths in winter?
Yes, you can visit Budapest baths in winter. In fact, it can be a wonderful experience to soak in the thermal waters when it's cold outside. Many of the baths also have indoor pools and saunas, so you can enjoy the facilities even if it's snowing outside.
Are the Budapest baths clean?
Yes, the Budapest baths are generally very clean and well-maintained. They are subject to regular inspections and must meet strict hygiene standards. However, it's always a good idea to practice good personal hygiene and shower before entering the pools.
What to bring to Budapest baths?
You should bring a swimsuit, a towel (unless provided by the bath), flip flops or sandals, a waterproof bag to hold your belongings, and a change of clothes if you plan to spend time outside of the bath afterwards. It's also a good idea to bring a bottle of water to stay hydrated.
Can you drink in Budapest baths?
No, you cannot drink alcohol in most Budapest baths. However, some of the newer and more upscale baths may have designated areas where you can purchase and consume drinks.