City Sightseeing by Bus, Walk, Boat, Airplane or Running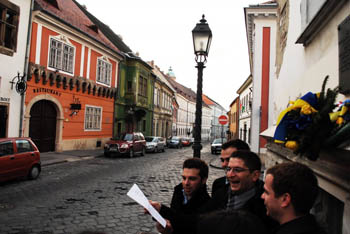 You can choose from a wide variety of Budapest tours that match all interests and budgets:
Explore the city from the comfort of an air-conditioned sightseeing bus
Admire the stunning vista from a boat cruise on the Danube,
See the city from birds eye view on an airplane, or just
Stroll in the city and absorb the rich cultural and architectural heritage.
Quick Links:
Recommended: – Jewish Heritage Tours – Sightseeing on Tram No. 2 – Tram 19 (Buda side, good alternative to Tram 2) – Tours by Bus – Walks – Free Walk Tours
River Cruises: Danube Cruises – Public Boat Service – Other Boat Tours
Exciting/Adventurous/Active: Segway Tours – Tours by Bike – Cave Tours – Sightseeing By Air – Running Tours – Alternative Tours
The expert guides tell you everything about the major sights and their historical, cultural background in several foreign languages.
Guided tours last approximately 1 – 3 hours. Photo-stops are included.
Jewish Heritage Tours – Synagogues, Museum, the Old Jewish Quarter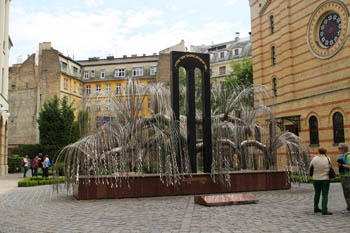 English-speaking guides with thorough knowledge about the Budapest's Jewish District and heritage lead the tours all of which include an interior visit to the
Jewish Museum,
Holocaust Cemetery,
Raoul Wallenberg Memorial Park with the Tree of Life.
On the two longer tours (Grand and Expanded Grand) you will also explore the former Jewish quarter of the city and two other Budapest synagogues (in Rumbach Street, and in Kazinczy Street).
The tours are held from May 1 till October 31., and between 02.-30. November 2015. see exact dates on the linked pages below. All entry fees are included.
TIP: We recommend one of the following guided tours if you want to learn about the history and the most beautiful monuments of the former Jewish Quarter.
You can select from two tours: a shorter and a longer, more detailed one.
The Cheapest Budapest Tour – Sightseeing on Tram No. 2
Note: Tram No. 2 isn't in service until 17. July 2022. due to reconstruction works on the line. Replacement buses are available (don't run along the river) View the tram's timetable here.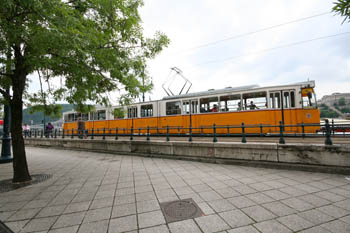 If you come here for just 1-2 days and you're short on time to do a lot of sightseeing, take a ride on tram No. 2 that travels along the Danube embankment in Pest.
You'll see the most notable Budapest attractions and the breathtaking panorama.
The most scenic section of the route is the Danube Promenade between the Chain bridge and Elizabeth bridge.
It costs only a single ticket (350 HUF), or two if you plan to do the return trip.
The Time Out Budapest guide claimed it to be "The second most beautiful public transport ride in Europe" (the first place goes to Venice).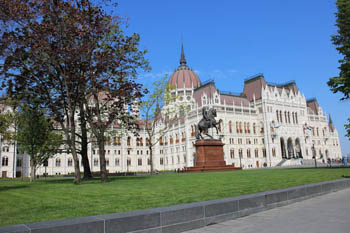 The tram rides between Jászai Mari tér and its Közvágóhid terminus near Rákóczi Bridge.
After departing from Jászai Mari tér,
You'll pass the impressive building of the Parliament, then
a splendid view with the Danube, and the
Castle Hill towering in the background opens up to you.
The Fishermen's Bastion and the tower of Matthias Church are the two dominant sights of the Castle District that you can see from the tram.
Of course you'll see most bridges of Budapest, starting with the oldest one, the Chain Bridge (Széchenyi Lánchíd).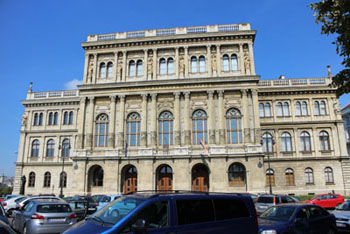 Then comes the graceful Elizabeth Bridge (Erzsébet híd), the massive cast iron Liberty Bridge (Szabadság híd), Petőfi Bridge and the last one is the red Rákóczi Bridge.
Two architectural masterpieces stand at Széchenyi Square at the Pest end of the Chain Bridge:
the Hungarian Academy of Sciences,
and the Gresham Palace (the Four Seasons chain operates a luxury hotel within its walls).
The next noteworthy sight is the newly refurbished, eclectic Vigadó Concert Hall at Vigadó tér.
The white cliffs of Gellert Hill with the Statue of Liberty on its top rises above the Danube with the Gellert Bath and Hotel at its foot in Buda, while you pass the Central Market Hall of Budapest at the Pest end of Szabadság híd.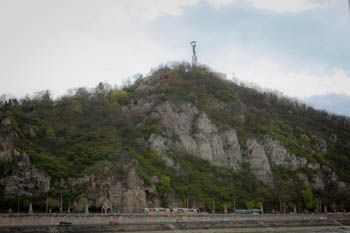 Just before Rákóczi Bridge, two new cultural establishments have opened in the previous years
the National Theatre in a middle of a charming, well-kept park, and
the Palace of Arts with the Béla Bartók Concert Hall next to it.
See also a guide to sights in the city centre.
Tours by Boat – Cruise On The Danube
TIP: Evening Cruise With Dinner & Live Music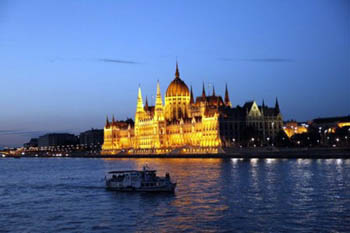 Nothing beats a cruise on the Danube, especially when the experience is heightened by a romantic atmosphere of a candlelit dinner, surrounded by the friendly lights of the Danube capital.
An air-conditioned ships will take you on a one-and-half-hour-long sightseeing excursion where you can enjoy live music and excellent warm buffet-dinner.
In the romantic candlelight you can enjoy the wonderful view of the city swimming in light.
After dinner you can also admire the panorama from the open upper deck of the ship.
The program is also available without dinner.
If you book it only with drinks, you can enjoy the beautiful night panorama over a glass of champagne, and another glass of soft drink, wine or beer.
Prices:
Full price: 49 EUR,
Student: 46 EUR.
Dates
Every day (except 20th August, and 24th, 31st December) from 19:00 till 21.00
Other Sightseeing Tours on the Danube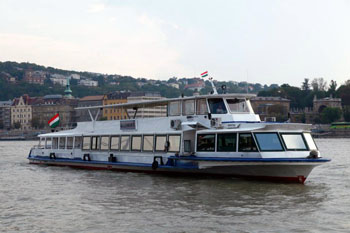 1. Boat Tour with Buffet Lunch – from 14.00 till 15.30- meeting is at the ticket office of the Duna Palota (Danube Palace) at 5., Zrínyi utca, V. district. at 13.30 the latest.
Price with lunch: 36 EUR, Student: 33 EUR.
The night tour starts at 22:00 and lasts till cc. 23.30.
Meeting time is 21:30 on the place of that days performance (Danube Palace or Budai Vigadó).
Full Price with dinner: 42 EUR, Student: 39 EUR.
TIP: Find out more on Danube Cruises in Budapest.
Boat Tours by Legenda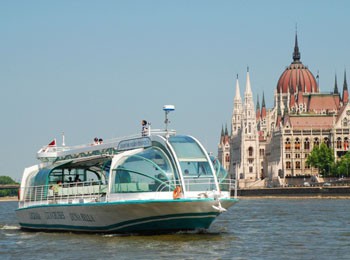 Legenda also offers daytime and evening river cruises at affordable price:
The daytime program is 70 minutes long with audio guide in 30 languages.
You'll be treated to a glass of drink of your choice (champagne, wine, beer, soft drinks, mineral water), and a glass of lemonade.
You can choose the tour with a 1.5 hour walk on Margaret Island.
Prices: daytime tour: full price: 4 500 HUF (3 500 HUF from March to October), student: 3 500 HUF, children (10-14 years): 2 250 HUF, under 10: free.
Tour with Margaret Island walk (with discounts on services on the island: bringo cart rental, 10 % at the cafe, restaurant of the Grand Hotel, 10 % spa ticket to the thermal hotel): full price: 4 500 HUF, students: 3 500 HUF, children (10-14 years): 2 250 HUF, under 10: free.
Evening Cruise: 1 hour long sightseeing, film and audio guide in 30 languages, a glass of drink on board of the boat.
Price: full price: 5 500 HUF, student: 4 400 HUF, children (10-14 years): 2 750 HUF, under 10: free.
Public Boat/Water Bus Service 2022 – The Cheapest Cruise: The National Theatre & Margaret Island,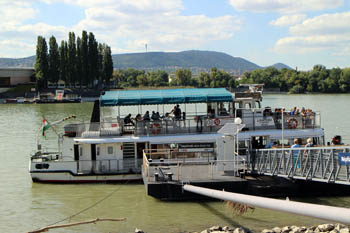 The water bus service used to run between Boráros tér (Petőfi Bridge, Pest end), and Rómaifürdő in Óbuda by the city's public transportation company (BKK). It used to be the most affordable boat tour in Budapest.
Unfortunately after the Covid pandemic only one service remained within the city centre only – between the National Theatre and Margaret Island – and in joint operation by MAHART and the Public Transport Company.
The Public Boat Line covers the following circuit route: Vigadó tér-Akadémia-Margitsziget (Sportuszoda)-Batthyány tér-Vigadó tér.
Schedule Of Public Boat Transport
The service operates between Tuesday – Sunday (no service on Mondays) freom 12.00 (noon) till 20.00 (8 pm)
Vigadó tér, Pier 5
12.00
14.00
16.00
18.00
20.00
Akadémia, Pier 3
(At the Chain Bridge)
12.10
14.10
16.10
18.10
20.10
Margitsziget, Sportuszoda
(Alfréd Hajós Swimming Complex on Margaret Island)
12.25
14.25
16.25
18.25
20.25
Batthyány tér, Pier 1
(In the Buda side, opposite the Parliament)
12.40
14.40
16.40
18.40
20.40
Vigadó tér, Pier 5
13.15
15.15
17.15
19.15
21.15
Price Of the Public River Cruise
Free with monthly Budapes public transport pass (BKK havi bérlet), but only between Tuesday – Friday, on weekends you have to buy a ticket. Passes valid longer than a month are also entitle you for a free boat ride between Tues – Fri
Without a monthy pass and on Saturday, Sunday and Public holidays a daily boat ride pass is: 1 500 HUF (cc. 4 EUR). You cna travel on the public boat as many times as you want on the day of validity.
Free for children under 7 years of age – but a registration ticket have to be obtained from the MAHART Passnave Office at Vigadó tér. Crazy, I know!!!
Furthermore, from May to September, on the last weekend of each month – i.e. 28 and 29 May, 25 and 26 June, 30 and 31 July, 27 and 28 August and 24 and 25 September 2022 – you can enjoy the boat ride free of charge with a monthly or longer validity pass.
See timetables.
TIP: Travel on Snow White/Hófehérke, a 19-century heritage boat that operates on Saturday afternoons between May – end of September.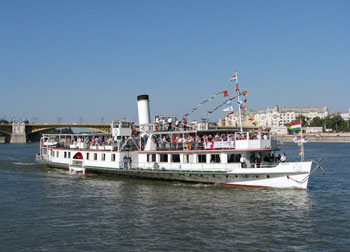 The 121-year old Snow White is the oldest among boats carrying passengers and one of the last of the classically built engine boats once travelling the Danube.
The 45-minute tour lets you see the magnificent landmarks on the banks of the river between Margit Bridge and Erzsébet bridge.
Departure times from Jászai Mari tér: Saturday: 14.00, 15.30, 17.00
Departure times from Petőfi tér: Saturday: 14.45, 16.15, 17.45.
Tickets: full price: 500 HUF, children: 300 HUF (can be purchased on board the ship).
Budapest Tours by Bus
Bus sightseeing programs are very popular in Budapest: from hop on hop off to unique water bus tours.
Riverride – a Water Bus: Amphibious Sightseeing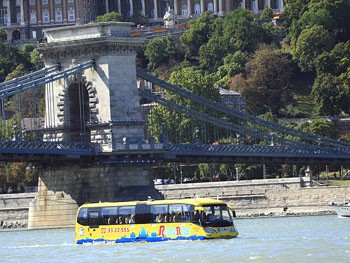 The exciting ride departs from the Pest end of the Chain Bridge, at the National Academy building, shows the important places in the inner city then slips into the Danube in northern Pest on a special ramp.
The vehicle looks a bit flimsy on the river, but the driver operates it with ease and it is perfectly safe to travel on it (there are lifejackets under the seats, 9 emergency exits, trained staff).
The 2-hour trip ends at the Chain Bridge, Pest.
Schedule: April-October: 10.00, 12.00, 15.00, 17.00, Novemeber-March: 11.00, 13.00, 15.00
Price: adult: 8 500 HUF, children (6-14 yeras of age): 6 000 HUF, free for kids under 6.
Hop on Hop Off Buses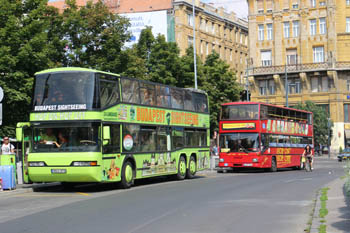 Hop on Hop off tours are great because you can get on and off at any of the stops during the validity of your ticket (usually 24 or 48 hrs). The most popular bus sightseeings are:
City Circle Sightseeing: 24-hour validity, 9 stops: Price: 23.0 EUR (includes discounts to a range of sights, museums, cafes, restaurants along the route).
Big Bus Tour: 48 hour-ticket, 21 stops, audio guidance in 23 languages, Ticket: adult: 20 – 25 EUR, children: 8-10 EUR, family: 48-60 EUR
City Hop on Hop Off: 24-hour ticket, 14 stops (2 hours), Price: adult 17.30 EUR, student: 15.40 EUR, children under 6: free
Walking Tours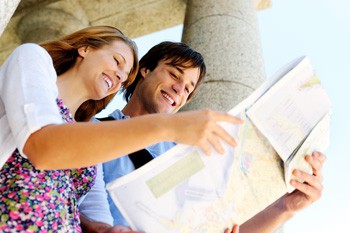 The city, especially the centre, has just the right size to be explored on foot.
Besides the Jewish heritage tours listed above there are some other walks you can take while you are here.
TIP: See also our Buda Castle walk with Itinerary map or a walk tour suggestion in downtown Budapest.
Andrássy ut, a Parisian style boulevard from the Basilica to Heroes' Square is also a great place for a leisurely stroll.
You can also pick from a wide variety of alternative tours if you want to see the so-called hidden treasures, sights even most locals don't know about.
These walks
Lead you through less touristy parts of district VIII. and VII,
Show you the underground life of these areas,
Art and culture,
Unique architecture, and
Tempt you with culinary delights.
There are highly specialized tours on
Retro Budapest,
Fashion and design,
Art Nouveau tours,
Pub crawling,
Contemporary art life,
Photo tours and more.
Recommended alternative tour organiser: Underguide.
Free Walk Tours with Budapest Card
Budapest tourist card owners can go on two free city tours (2 – 2,5 hrs)
one in Buda every day starting at 14.00 and departing from Szentháromság/Holy Trinity Square in the Castle District),
the other in the Pest side every day at 10.00, departing from Molnár's Kürtöskalács Cafe, Váci Street 31., district V.).
TIP: Besides the two complimentary tours the city card offers numerous discounts on ticket prices to a wide range of sights and attractions (museums, baths, monuments etc.).
Free travel on public transport is also included.
Tours by Bike
Biking with Meal & Tour to Szentendre Town
Pest by Bike – 2.5 Hours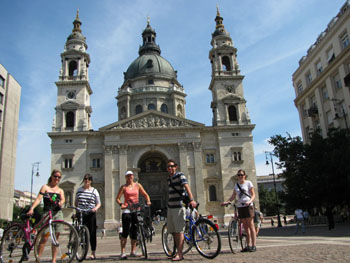 The Budapest Bike Breeze is a dedicated team of two cycling enthusiasts who love Budapest and know lots of things about its history and attractions.
They offer some very good-value tours in English, in and outside the city.
The "breeziest" tour is 2.5 hour long exploring the major sights in the Pest side that ends with a fröccs/spritzer in a local pub.
Tour dates & time: every day at 16.00.
Price: full price 20 EUR , students: 18 EUR
Bike Tour with Goulash
The tour is 4.5 hour excursion that covers both Buda and Pest.
You'll be treated to a bowl of goulash in a charming garden restaurant at the end to supplement burnt calories. Rest points are well spaced so you won't exhaust yourself during the ride.
Tour dates & time: 15. March – 15. October: every day at 10.30, From 15. October we offer scheduled tours on Friday-Saturday.
Price: full price: 27 EUR, students 25 EUR.
You'll be riding on easy-to-use 24-speed trekking bikes, helmets, child seat are provided and incuded in the price. Bikes for children are also available so the whole family can do tour.
Szentendre by Bike & Boat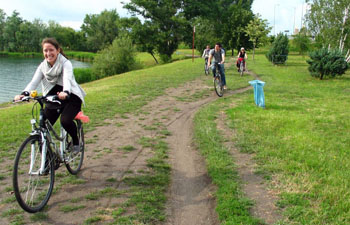 Szentendre is a picturesque artists' town in the Danube bend 22 km north of Budapest.
On the tour you'll first pedal by
some of the famous sights of our capital city (Parliament, Margaret Bridge and Island, Aquincum (Roman settlement in Óbuda), then
follow the route along the river Danube to Szentendre where you'll explore
the town centre,
have lunch then
come back to Budapest on a scenic river cruise by boat (ticket is incl. in the price).
Tour dates & time: every day at 10.30 between 15. March – 21. October, Duration: 7-8 hrs.
Price: 50 EUR
TIP: All tours have several rest points and pace is not too fast so children and those who are not in their fittest form can also do the tour, especially the shorter one in flat Pest (the Buda side is hillier than Pest so you need to pedal harder there).Bo
Book a Bike Tour
Read more about biking in Budapest.
Electric-Bike Tours
If you don't feel up to pedaling hop on an e-bike and skip the sweating and panting!
Convenient, fun and you can see most sights and feel the pulse of the city within a relatively short time. Tours available in various length.
or read more about electric bike tours in Budapest.
Running Tours
Discover the city on a running tour: you will explore the beautiful sights of the city (Buda Castle, Gellért Hill, the Danube riverbanks) including some hidden gems few know about. Get your running shoes and experience Budapest in a unique way!
Find out more on Running Tours in Budapest.
Cave Tours
Hungary's capital offers unique caves to explore besides the Labyrinth system in Buda Castle. The ground under the city full of caverns, tunnels and caves.
You can see this hidden natural treaures on guided tours in the Szemlőhegyi and the Pálvölgyi caves.
Glide Through the City On A Segway
The Segway is the first of its kind, a self-balancing, personal transportation device designed to operate in any pedestrian environment.
1 – 2 hour tours with max. 12 people so you can count on a great, intimate experience. Discover what it's like to be a Budapest celebrity as everyone, turns to watch you glide by!
City Center Segway Tour
Start: 9.00 – 18.00 every day all year round
Duration: 1 hour + 15 – 20 min training
Price: adult: 40 EUR, student: 35 EUR
A quick and exciting way to cover all the must-see sights of the city center. Professional training and guiding in English are included.
Small group tour, max. 12 persons.
Unique, Tailor Made Tours
TIP 1: Pick a Special Budapest Tour to explore the city the way you like it. These unique tours are tailor-made to your wishes allowing you to enjoy the city more freely.
TIP: Check out also the English language guided tours during the Cultural Heritage Days on weekend in mid-September.
TIP 2: Sightseeing Air Tours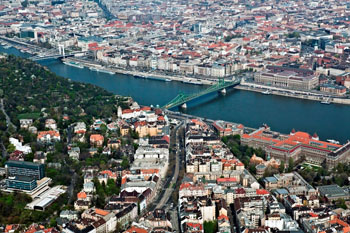 See Budapest as the birds do! Hop on a plane and admire the breathtaking panorama of the Danube, the bridges and the two city parts from the air, onboard a comfortable aeroplane.
Transfer to Budaörs airport and back to the city is included along with a glass of welcome champagne and a complimentary video footage of the program (recorded with a professional camera) to take home as a memory.
See Prices & Booking!