When is Hungary's Capital the Most Favourable For a Visit?
The weather in Budapest is definitely not boring. Since Hungary lies in the temperate zone, four seasons follow each other in constant cycle.
Oceanic, continental and mediterranean climatic zones affect and form the country's climate.
Hungary lies in the Carpathian Basin that provides both protection and isolation.
Thus weather in the capital, and in the whole country tends to be changeable.
Table of Contents
The Best Time to Come
Budapest shows its charm best in spring and early autumn, though most tourists visit the city in summer. Winter in Hungary is rather cold and grey, but you'll find plenty indoor attractions and things to do.
So our city has something for you in all four seasons. Below you can read more about the climate and recommendations about things to do in every season. I hope it helps you to plan your trip well.
Budapest Weather in Spring
March – April – May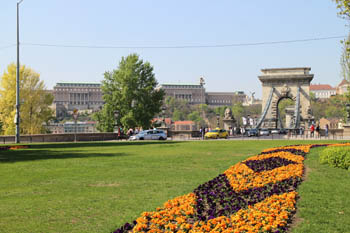 In spring the city awakens from its winter sleep.
The first buds on the trees appear and sunshine caresses the air and our faces.
Spring flowers, trees and grass in all shades of the green make a refreshing change after the grey winter days.
Weather in March and in the first half of April is a bit unpredictable, often windy, but in the second half of April and in May, days become more and more warmer.
Daily temperature rises up to between 20-25 °C (68-77°F).
Visiting Budapest in Spring
Spring is perfect for sightseeing and walking in the green parts of the city, like Margaret Island, the Gellért Hill or the Buda Hills.
The Budapest Spring Festival in mid- April is a great source of cultural entertainment.
Browse our page about Budapest events, things to do in March.
TIP: See also our program/activity recommendations for April.
Spring Holidays in Hungary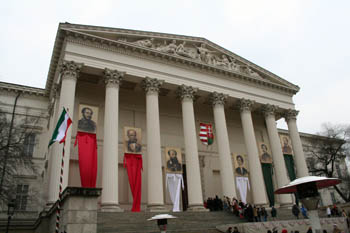 15th March is a National Holiday in Hungary when we commemorate the Revolution against the Austrian-Habsburg oppression breaking out on 15th March in 1848.
Read more about the historical background of and programs taking place in Budapest on 15th March National Day.
TIP: Easter is the other significant spring holiday in Hungary.
It is on 01 – 02. April in 2018.
Find out about some program and things to do tips on Easter in Budapest.
May Day/Labour Day is another popular holiday with plenty of outdoor programs in the capital and the rest of Hungary.
Budapest Weather in Summer
June – July – August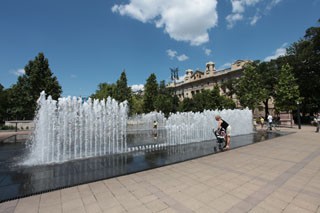 Summer can be very hot and dry in Hungary. It was in the previous couple of years. Daily temperature can go well over 30°C (86°F), especially in July and August.
See some tips on how to endure the heat in Budapest. Scientists say it's due to the global warming and extreme hot summers are going to be a tendency in near future.
The buildings and the asphalt conserves the heat and can't really cool down during the night. However, warm summer evenings are perfect for several outdoor programs.
So if you come here in the summer and plan to walk a lot in the city, bring clothes suitable for hot budapest weather.
Sudden showers can occur, so don't forget your umbrella! The annual average number of sunny hours (2000 hours) is among the highest in Europe.
As a result, Hungary produces a wide variety of delicious fruits and vegetables. Do taste them!
You can buy fresh produce at one of the local markets. The largest (and my favourite) is the Great Market Hall at the Pest end of the Szabadság-híd (Freedom Bridge).
Visiting in Summer
Summer tends to be rather hot, though you can do more sightseeing due to longer days. In the warm evenings you can enjoy many outdoor events, or just sit in a terrace of a café or restaurant.
TIP: Visit Budapest in June to enjoy a wide range of festivals and other programs. Browse also our July Events and Activity recommendations.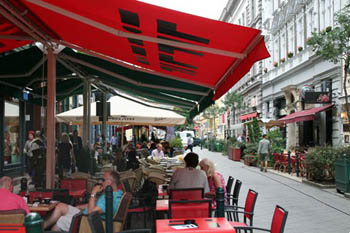 Recommended Restaurants & Cafes
On the other hand, tourists overflow the city in summer months, but if you don't mind crowd summer is perfect for a visit because you can enjoy many summer events the most popular ones being:
TIP: See more summer program recommendations.
Budapest Weather in Autumn
September-October-November
In September days are still warm but there's no scorching heat like in summer.
Kids have gone back to school and the flock of tourists starts to disappear too by this time.
If we're lucky the first half of October presents us with nice sunny days too.
This period is called vénasszonyok nyara in Hungarian (old women's summer) or Indian summer.
November leads us to winter with shorter, grey and cloudy days. Temperature goes below 0 °C (32°F) especially at nights.
Visiting Budapest in Autumn
Early autumn is an ideal time for sightseeing and walking on the streets of the city. I often do strolls in the parks and admire the beautiful golden and reddish leaves on the trees.
Sunlight in on a clear autumn day lends a mysterious hazy atmosphere to the city. A perfect time to take stunning photos of the city.
Autumn Holidays in Hungary
23. October National Day: We commemorate the 1956 revolutuion and war of independence.
Halloween/All Saints Day – 31. October – 01. November
TIP:
1.Things To Do in November – Events and Program Tips, 2.Budapest in October – some great festivals and activity recommendations. 3.
TIP:
Browse our event and things to do recommendations for September.
Nudapest Weather in Winter
December – January – February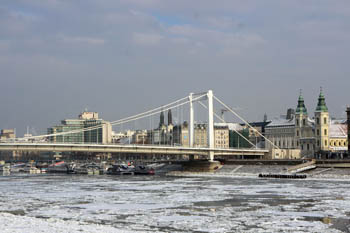 Weather in Hungary in winter can vary from year to year. Usually January is the coldest month, with daily temperatures around between -5°C (23°F) and 0°C (32°F).
Sometimes we have very cold weather lasting for a few days, with temperatures around -10 (14°F). Nights can be particularly cold.
Usually we get some snow every winter but it melts away after a few days. Even in winter there are beautiful sunny days with crystal blue sky.
See tips on Budapest programs and things to do in December. Find out what to do and see in January and February!
Visiting Budapest in Winter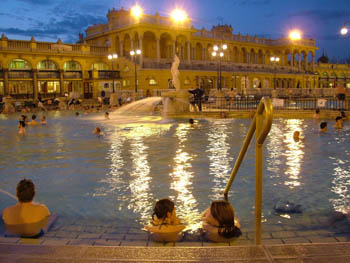 Although it is rather grey and cold in winter you'll find plenty things to do. Why not go for a museum tour?
You can choose from couple of great museums, ranging from large ones to small, friendly exhibitions.
If you aren't a museum fan immerse in one of the hot baths. The Hungarian capital is the city of spas, read more about Budapest spas!
I can't imagine a better way to warm myself up after strolling in the cold streets than dipping in a hot steam bath.
For an afternoon café and cake sit in one of the city's Coffee Houses.
In December the city dresses up in Christmas decorations. Do your Christmas shopping at the Christmas Fair on Vörösmarty Square!
MORE TIPS: Overview of Christmas Markets in Budapest – Winter Things to Do – Events and Program Tips
Related:
Basic Budapest Facts – Why Visit Budapest – Travel to Budapest – Our Facebook page