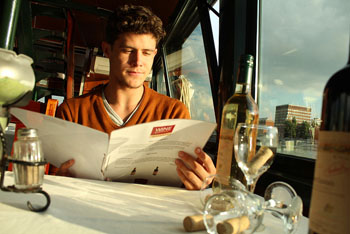 If you're curious about Hungarian wines visit the following wine bars in Budapest to get an overall picture what local wines are like.
Pest's city centre has most of the wine bars and shops, but you'll find some great places in the Buda side too.
Wine Bars in Pest
You most likely will bump into one or more of the wine places listed below while strolling in Pest's centre.
We Hungarians tend to think that our wines belong to the top in the world.
The truth is most people outside our country haven't even heard about Hungarian wines except for maybe the golden-hued, sweet Tokaji aszú and the Egri Bikavér (Bull's Blood from Eger wine region).
Wine Tasting Experience In Downtown Budapest
If you want to try as many local wines as possible we recommend going on a wine tasting program.We recommend the Hungarian Wine Tasting Experience in a central venue.
The program is on Saturdays at 20.00/8 pm and during the 2 hours you'll have the opportunity to taste 9 Hungarian wines – from both large and smaller, boutique wineries – along with a salmi/cheese plate (Hungarian cheese, salami, ham, fruits etc.).
Read more about Wine tasting in Budapest city centre or book you place below! (Places are limited).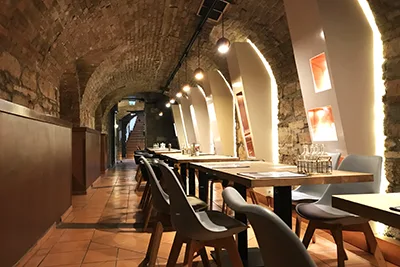 The Wine Tasting Experience in Palinka Museum
Savor the complexity and heritage of Hungarian wines as you explore a curated selection, ranging from the renowned Tokaj to the robust Kadarkas of Villány, guided by our knowledgeable specialists.
9 different wines for tasting / 9 different charcuteries
Duration: 120 min. – Price €57
DiVino Bazilika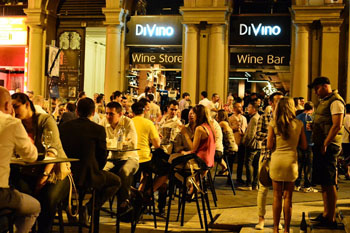 Address: Szent István tér 3., district V.
Opening Hours:
Mon – Wed: 16.00 – 24.00,
Thurs -Sat: 16.00-02.00 am,
Sun: 16.00-24.00
Divino has two bars in Budapest one at the Basilica on Szt. István Square close to 0,75 bistro listed above the other one in the hip Gozsdu Court in District VII.
A place where you can meat with aspiring winemakers, members of well-established wine making families.
Long wine list with all the well-known wine regions included.
Wines are served by the glass, minimum protion is 1.5 dl.
Prices range from 600 HUF to 5 000 – 6000 HUF / 1.5 dl (aszú-s, single vineyard selections).
Limited selection of food (cheese and ham plates, spreads with homemade bread, salmon, chicken, salads, risotto with spinach and shrimp) for around 1 200 – 4 500 HUF.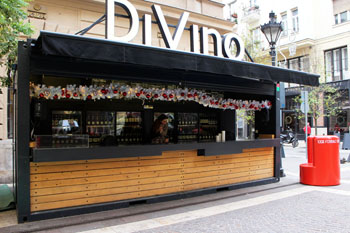 Knowledgeable, courteous staff who are ready to help you with your wine selection or questions.
DiVino is always present with its mobile truck or stall on events held on Szent István Square:
the Advent & Christmas Market in December or
the Junibor Wine Fest in Sept-October but thely also can be found at other major happennings
like the Wine Festival in Buda Castle
0,75 bistro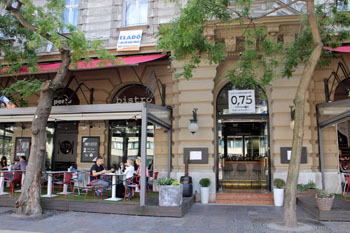 Address: Szent István tér 16., district V.
Opening Hours:
Mon – Wed: 11.00 – 24.00,
Thurs – Sat: 11.00 – 01.00 am,
Sun: 11.00 – 24.00
The owners of Palack Bar in Buda opened the place in 2015 on tourist-packed Szent István Square at the Basilica.
As the name suggests 0,75 bistro serves food besides the well-assorted wines thast represent a wide spectrum of domestic wine regions.
Except for the two top bottles (Gere Solus from Villány and Szeleshát Nyék), wine sare available by the glass in 1.5 dl portions (price: cc. 600-2000 HUF/1.5 dl).
Wine Offer
Besides local wines 13 international wines are also on the menu from 7 countries well-known names like
Simonsig,
Recas,
Bodegas Callia,
Luigi Bosca,
Lurton,
Eymann
Two Croatian bottles are also worth tasting: a cabernet sauvignon by Korlat and the grasevina by Daruvar.
Food in 0.75 Bistro
The food is pretty good too n 0,75 bistro.
You can have
goulash prepared Alföld style (3 dl: 990 HUF, 0,5 dl 1 490 HUF),
tapas (cc. 1 000 HUF), or a mixed plate for 2 (serrano ham + cheeses + seasonal veggies: 3 490 HUF)
cheese plate with baguette (2 190 HUF) or
heavier dishes like chicken paprikash (2 390 HUF), steak (5 990 HUF)
innio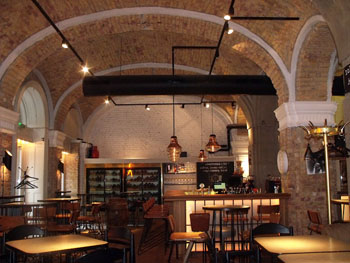 Address: Október 6. utca 9., district V.
Opening Hours:
Mon – Wed: 12.00-24.00,
Thurs – Sat: 12.00-02.00 am,
Sun: 12.00-24.00[
A trendy bar and bistro (the name is a word play on the Hungarian "inni jó" that translates to "drinking is good") in the Basilica neighbourhood with a huge wine list and quite good food from bistro food to tasting menu.
Apart from excellent Hungarian bottles, you'll find a vast choice in wines from abroad including outstanding sparkling wines and champagnes from Champagne.
Prices are geared towards tourists. Goulash is 2 000 HUF.
Warm inetrior with beige brick covered, arcaded walls.
A small terrace outside.
Service is iffy. Some say they were 100% satisfied with it while others complained on slow service and rudeness.
Anyway it's worth a try while roaming in downtown.
DOC Wine Bar – A Classic Italian Place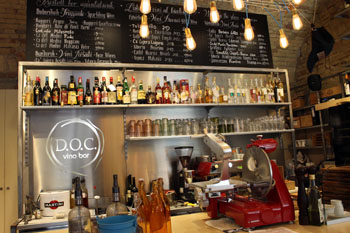 Address: Arany János utca 12., district V.
Opening Hours:
Mon – Fri: 12.00 – 24.00,
Sat: 15.00 – 24.00,
Sun: 15.00 – 23.00
The bar is owned by Gianni Annoni, a gastro entepreneur living in Budapest (also by him: Trattoria Pomo D'oro across from DOC and Gelateria Pomo D'oro) a few metres up the street toward the Basilica.
This laid-back wine spot trying to introduce wines of Italy through around 120 bottles.
Besides wines, spirits and liqueurs are also available.
If you feel like having something to eat Italian-style ham and cheese platters and anti pastis are the choice.
Nice, shaded terrace on the street to sit around in fine weather.
A great central venue close to all the important attractions (Basilica, Danube, Chain Bridge).
Wines n' Roses- Wines & Flowers
Address: Arany János utca 12., district V.
Opening Hours:
Tue-Sat: 10.00 – 20.00,
Sun – Mon: closed
Although it's not a wine bar but Wines n' Roses next to DOC Bar deserves to be put in this list.
It has some fine wines at favourable price from the small wine growing region of Mór (cc. 100 km west of Budapest) and by one of the country's emerging wine maker, Csabi Miklós.
Lovely flower arrangements and bouquets too.
Pohárszék Wine & Coffee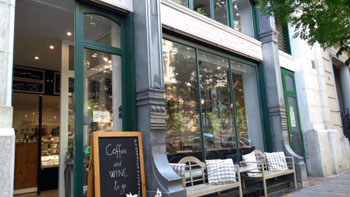 Address: Aulich utca 7., district V.
Opening Hours:
Mon – Fri: 08-.00 – 20.00,
Sat: 09.00 – 20.00
Pohárszék (means "sideboard") is a pleasant place in the city centre near the Parliament and the US Embassy on Szabadság Square
Aside from the great wines, they also have
top-quality coffee and
cakes to go with it.
You can go upstairs to savor your drink or seat outside on the small cushioned terrace seats in good weather.
In Pohaárszék you can also have daily lunch of 2 courses for only 1 200 HUF (less than 3 EUR).
Wines represent the major wine growing areas of Hungary:
Eger,
Tokaj,
Villány,
Szekszárd,
Etyek,
Badacsony,
Somló,
Sopron,
Mátra.
The kind, friendly staff is ready to help you select a wine.
Drop Shop Wine Bar & Shop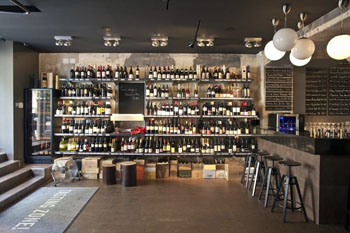 Address: Balassi Bálint utca 27., district V.
Opening Hours: Mon – Sun: 11.00 – 24.00
Drop Shop is located in the centre within a short walk to the Parliament and Jászai Mari Square (Grand Boulevard/Nagykörút).
The spacious, clean, contemporary design is the work of the interior designer couple, Sütő.
The bar chairs are not too comfy though.
Wide range of wines and champagnes both local and international and
a very professional and knowledgeable staff who will tell you everything about the wines you're interested in.
Tasty plates of cheese, salamis and olives to go with your wine.
Judy's Wine Bar & Shop
Address: Károlyi utca 11., district V.
Opening Hours: Mon – Sun: 11.00 – 23.45
Judy's Bar is inside the Hotel Erzsébet City Center in downtown Budapest.
It's a lovely spot with a nice choice of wine that can be bough by the bottle. Selection includes Hungarian wines both by well-known and emerging wineries.
Wines from abroad can also be sampled at Judy's.
There's tapas if ou want to eat something to soak up all the alcohol.
The staff will give you advice on what to taste if you're confused by the offer.
DiVino Gozsdu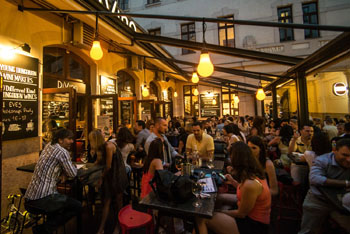 Address: Király utca 13., district VII.
Opening Hours:
Mon – Wed: 16.00 – 24.00,
Thurs – Sat: 16.00 – 02.00 am,
Sun: 16.00 – 24.00
Following the success at he Basilica, in 2014 the owners decided to open another DiVino Bar in the hip Gozsdu Court a bar-and-bistro- backed arcaded courtyard in the historic Jewish Quarter.
The spacious terrace is usually full from spring till autumn.
Here you can savour you glass selected from the 120 wines on the menu, mainly by the members of the Junibor Association of young generation of Hungarian winemakers.
Wines You Can Try in DiVino Gozsdu
All the main wine growing regions of Hungary can be found on the wine list with heavier presence of
Tokaj,
Szekszárd,
Villány, Eger and
Northern Balaton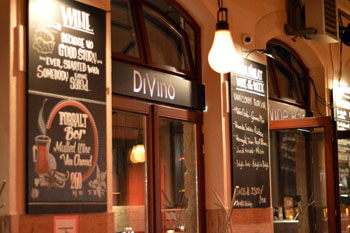 The bottles of
big name wine makers' daughters and sons (Andi Gere, Zoli Heimann, Angi Árvay) are listed together with wines of
young start-uppers (Tomi Kiss, Gábor Kiss) as well as with those who established their wineries fame and brand on their own (csabi Sebestyén, Jani Bolyki, Gábor kardos, Csabi Miklós).
Wine Recomendation
the playful kadarka-s from Szekszárd (Heimann, Vesztergombi),
any of the wide paletted of wines from Villány (Gere Solus cuvée, or
a very exciting cuvée by Gábor Kiss: Rouge 52 2013.
All the must-wines are available from
Tokaj (furmint, hárslevelű/linden leaf, yellow muscat cuvées), along with
some very serious vineyard selections (Szent Tamás Percze and Nyulászó, Kardos Betsek furmint) and of course
aszús (6 puttony by Demeter, another 6 puttony by Árvay Winery) and szamorodnis.
What to Eat?
The food menu is not long but DiVino is more focused on wine drinking than eating.
Mainly quick bites made from quality ingredients including:
cheese, olive and ham plate and
their mixed plate version,
homemade bread and spreads
goose leg confit with braised cabbage and potato cake
sirloin stake with
roasted salmon filet
cheesecake or orange-chocolate sponge with caramel mousse for dessert
Prices: wines: the smallest volume is 1.5 dl in wines that starts from 600 – 700 HUF (Frittman irsai olivér, Bolyki Indián nyár, Dúzsi rose) with the most expensive items (Gere Solus, Szent Tamás furmint reaching 3 500 – 6 000 HUF/1.5 dl.
Foods: around 1 000 – 3 800 HUF. Professional, kind service.
It's a lively, youthful place ideal for a chat by a glas sof wine.
APROPÓ Tapas & Wine Bar
Address: Király utca 39., district VII.
Opening Hours:
Mon – Wed: 18.00 – 24.00,
Thurs – Sat: 18.00 – 02.00 am
Kadarka Bar
Address: Király utca 42., district VII.
Opening Hours: Mon – Sun: 16.00 – 24.00
Kadarka, named after a Hungarian grape variety is locat d in the popular Király Street of Pest's 7th district.
It has an ample selection of wines:
cc. 40 – 40 whites and reds
9 roses
7 sillers
12 dessert wines
6 sparkling wines and
4 champagnes
All of them are availably by the glass in 1,5 dl or 0,7 dl if you plan to try several wines.
Wines To Taste in Kadarka
The selection covers almost the entire wine growing area of Hungary from
big name wineries: Szeleshát-Szekszárd, Haraszthy-Etyek, Géza Balla-Transylvania, Kreinbacher-Somló to
lesser-known wine makers: Nyolcas-Eger, Havas és Tímár-Eger, Planina-Mohács, Halmosi-Szekszárd.
Prices are very reasonable:
whites: 290 – 1 090 HUF/0,7 dl, 590 – 1 900 HUF/1,5 dl,
reds: 390 – 1 390 HUF/0,7 dl, 790 – 2 490 HUF/1,5 dl,
dessert wines (exclusively from Tokaj): 490 – 3 890 HUF/0,7 dl, 990 – 1 690 HUF/ 1,5 dl,
sparkling wines and champagnes: 590 – 3 990 HUF/1,5 dl[
Definitely try the one of the 4- 5 of the name giver wine, kadarka from the Szekszárd region:
Tüske Kadarka 2013 or Toronyi Kadarka 2013 or
Balla Géza Kadarka 2013, Ménes/Transylvania
Another must-try is the fröccs (spritzen: a blend of wine and soda water, various ratios are used) especially on hot sumemr days.
All imaginable options are available, just to list a few:
kisfröccs (small fröccs) – 1 part wine + 1 part soda: 390 HUF
hosszúléps (long stride) – 1 part wine + 2 parts soda: 430 HUF
házmester (caretaker) – 3 parts wine + 2 parts soda: 1 190 HUF
Some unique fröccs concoctions Kadarka is known for:
lavender rose fröccs: 590 HUF
raspberry rose fröccs: 550 HUF
ginger white hossuúlépés: 690 HUF
For kids or those who don't drink alcohol grape juice (must in Hungarian) is agreat choice:
Doblo Wine Bar
Address: Dob utca 20., district VII.
Opening Hours:
Mon – Wed: 14:00 – 2:00 am
Thurs – Sat: 14:00 – 4:00 am
One of the most beautiful wine bars of the city stands at the corner of Dob Street and Holló Street in the Jewish Quarter.
In addition to the wines of the great wineries, it offers
quality artisan wines,
bio wines,
tasting events and
live music.
Képzeld el Wine Bar – Imagine!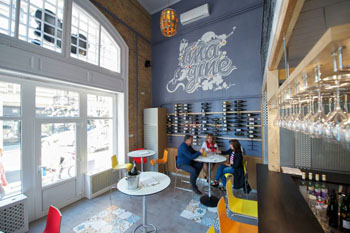 Address: Wesselényi utca 23., district VII.
Opening Hours:
Mon – Wed: 11.00 – 24.00,
Thurs – Sat: 11.00 – 02.00 am
A small but relaxed place with cheery atmosphere at the corner of Wesselényi and Nagy Diófa Streets in the centre of the Jewish district.
Two sitting and one standing table but there's a tiny terrace overlooking the street.
Wines by less known Hungarian wine makers make up the majority of the wine list with some Italian choices thrown in (prosecco, bio prosecco by Valdobbiadene DOCG Brut Biologico).
It's possible to have only a little bit – 0,5 dl – if you're unsure about a wine though the staff (two of them are the owners) is extremely helpful.
The small portion is also fitting if you want to sample more wines.
Lots of wines from
the Badacsony region: Northern Lake Balaton: Borbély, 2HA, Villa Tolnay, Sabar, Szatmári cellars)
but other prominent areas are also represented: Eger, Villány, Szekszárd.
No cooked food but top quality wine snacks: craft cheeses, sandwiches.
Youngsters and middle-aged business mingle well here in the afternoons and at night.
Perfect for a spontaneous wine tasting session, meeting with friends or warming up for a party in one of the nearby clubs, ruin bars.
Prices: 300 – 650 HUF/0,5 dl, some big name wines: 600-800 HUF/0,5 dl.
Prices of 1.5 dl glasses start from around 600 HUF. Some heavier reds cost 1 500 HUF per 1.5 dl.
VinoPiano, Inside Élesztőház Craft Beer Bar – Best Value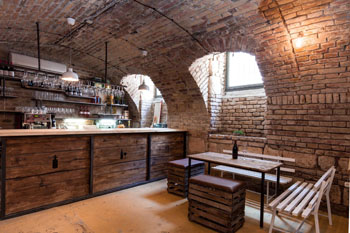 Address: Tűzoltó utca 22., district IX.
Opening Hours: every day: 15.00 – 03.00
The craft beer sanctuary of Budapest, Élesztőház, gives home to the VinoPiano wine and tapas bar echoing the local proverb: "Sörre bor mindenkor, borra sör meggyötör"
It roughly translates to: You can drink wine after beer anytime, but you'll suffer if you do it the other way round.
The place is specializing in Hungarian craft wines so this is the place if you're looking for some unusual fine bottles.
VinoPiano carries organic, chemical-free wines by unknown, small wineries:
Farsang Cellar from Eger
Toronyi Cellar, Pálinkás Cellar from Szekszárd,
Zsirai Cellar from Villány
Csetvei Cellar from Mór
DemeterVin from Tokaj
The offer is constantly renewed with fresh, new wines added to the menu.
Prices in VinoPiano
Prices are very friendly. You can get 0,5 dl glass for 200 HUF, while 1,5 dl glasses start from 600 HUF.
Clean, industrial design with natural colors,
wooden crates as stools, and
wine accessory decors.
There's a pop-up fröccs/spritzen (wine with soda water) terrace on the upper floor with a different offer than available in the bar with new wines and wine makers introduced each month.
A nice place to sip a a glass or two fröccs on hot summer evenings!
Permanent and daily tapas offer from local ingredients bought fresh from the market so besides the usual cheese-olives-sausages, you can savour some creative bites: dusk liver patée, confit pork rib, grilled cheese on salad bed.
Varied Programs
VinoPiano has a varied program offer too:
Live music on Thursday evenings,
Pop-up tastings and meeting with wine makers,
Gasztro Theatre performances,
GasztoPlacc farmers' market on Sundays.
A cozy place where you can have
a chat with friends or
enjoy a concert or performance while
trying new, interesting wines!
vinoWonka Chocolate & Wine Bar
Address: Corvin Sétány 2, district VIII., behind Corvin Plaza (M3 metro, trams 4, 6)
Opening Hours: every day: 14.00 – 22.00
The place behind Corvin Plaza combines two of the best things in life: wine and chocolate.
In vinoWonka both are high-quality, hand-crafted products.
You can choose from
35 – 40 wines from all parts of the country and
delicious bonbons and truffles by the top chocolatiers of Hungary: Harrer from Sorpron, Pelle-Molnár handcrafted bonbons (oroszlány town), Bolka (Budapest) etc.
A great number of wines are available by 1 dl glass. Prices around 320 – 1 000 HUF/dl.
Simple bar food: sandwiches, cold plates with cheese and salamis, olives are alos offered.
Nice terrace to sit around and watch life on the promenade.
Budapest Wine Bars – the Buda Side
The choice is less in the Buda side of the city but here are 3 favourites.
Szalonspicc Wine Bar & Cafe
Address: Lövőház utca 14., district II.
Opening Hours:
Mon – Sat: 12.00 – 24.00,
Sun: 16.00 – 24.00
Szalonspicc was the first wine bar in Buda that opened in 2012 in the pedestrian Lövőház Street.
They carry around 60 local and international wines and 15 champagnes and sparkling wines.
The minimum volume is 1,5 dl from whites, roses and reds and 1 dl from dessert wines and champagnes.
Prices:
dry whites: 890-1 900 HUF/1,5 dl.
roses: 890 HUF/1.5 dl
reds: 980-1 900 HUF/1,5 dl
dessert wines: 1 350 HUF/1 dl – currnetly there's only one that is served by the glass: Kardos Gábor Tündérmese from Tokaj: a late harvest Yellow Muscat and Furmint blend that carries you toa Fairy tale (that's what Tündérmese translates to)
champagnes: 850 – 2 900 HUF/1 dl
Food in Szalonspicc
Simple but tasty bar food is the choice:
burgers (beef, chicken vegetarian with grilled goat cheese),
wraps (1 590 – 1 890 HUF)
tapas (1 200 – 2 590 HUF),
salads (1 250 – -2 690 HUF) and
desserts (chocolate fondant: 990 HUF and American style pancakes: 1 250 HUF) prices between 850 – 2 200. Good wine selection, knowledgeable wine recommendations and friendly service. Delicious snacks, tastefully served. An excellent choice for light dinner, or just sipping wines.
A pleasant place to sit around, especially on the terrace in fine weather.
Palack Wine Bar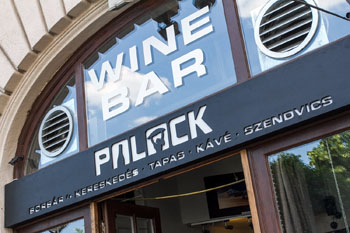 Address: Szent Gellért tér 3., district XI.
Opening Hours:
Mon: 12.00 – 23.00,
Tue – Sat: 12.00 – 24.00,
Sun: 12.00 – 22.00
Palack offers a scenic view of the Szabadság bridge, the Danube and the Pest side.
The bar carries 80-100 wines from smaller but value-oriented Hungarian wineries that are available by the glass or bottle to take away.
Wine List in Palack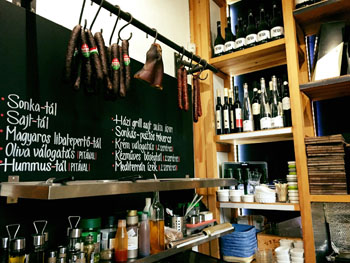 There are some international choices too:
Simonsig,
Trapiche – Malbec (Argentine),
Yealands (New Zealand).
The wine menu is very similar to that of 0,75 bistro though here wines are grouped according to type (light whites, roses, full-bodied whites, light reds, full-bodied reds, dessert wines etc.) not growing region.
Two champagnes are available by the glass:
the Kreinbacher Brut Classic (1 350 HUF/1,5 dl) and
the Francois – Pinot Noir Rosé Brut Nature (1 250 HUF/1,5 dl)
1,5 dl is the smallest portion but you can ask to split in two if you plan to taste more wines.
If you aren't a wine drinker or want to drop by with kids, no worries, Palack has some tasty
lemonades (3 dl is 450 HUF, 5 dl is 650 HUF)
Hollósy fruit syrups (elderflower, lavender): 3 dl is 350 HUF, 5dl is 550 HUF, coffee drinks (espresso, cappuccino, latte),
tea,
mineral water,
soft drinks, and
even cider and beer.
Andante Borpatika
Address: Bem rakpart 2., district I. at the foot of the Chain Bridge
Opening Hours:
Mon – Sat: 12.00 – 23.00,
Sun: 17.00 – 23.00
TIP: Tour of Wine Bars in Budapest – an afternoon event in either June or July when you can hop from place to place to meet wine makers and sample their offer.
Related
Where to taste wines in Budapest? – Faust Cellar Buda Castle offers several tasting lists – Wine Festival in Buda Castle – Danube boat tour with 7-tier wine tasting – Our Facebook page