Date & Time: 24 – 29. May 2023
Location: Liberty Square/Szabadság tér/Downtown Budapest
After the hugely successful I. Downtown Budapest Wine & Champagne Festival in 2022, this year you'll have opportunity once again to visit the best wineries and champagne cellars of Hungary at Szabadság tér!
The heart of downtown will turn into a cozy outdoor wine and champagne tasting celebration for 6 days at the end of May, including the Pentecost weekend.
An outstanding selection of drinks and the finest street food exhibitors will await visitors, so if you happen to be in Budapest between 24 – 29. May do include this event in your program schedule.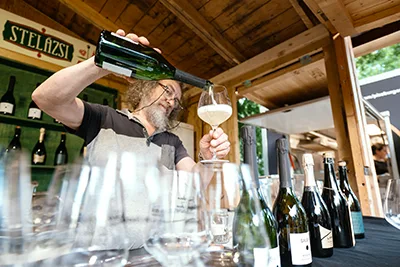 Table of Contents – Budapest Wine & Champagne Festival
Opening Hours Of The Festival
Every Day (Wednesday – Monday): 12.00 – 00.00
Note: Concerts usually start in the afternoon around 17.00/5pm.
Tickets To The Festival
Entry to the even in itself free if you don't want to taste any wine just plan to walk around and perhaps have a bite.
However, if you wish to sample from the wine and champagne selection you have to by a unique tasting glass.
Tasting Glass Prices
Premium Festival Glass: 3 499 HUF
Exclusive Festival Glass: 4 999 HUF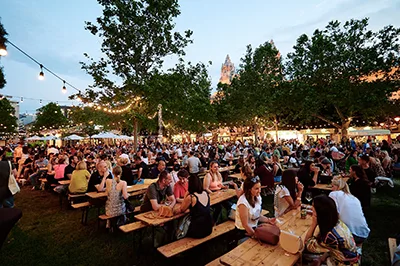 TIP: Besides allowing you for tasting the wines, the festival glass also makes a nice memorabilia about your Budapest visit.
Why Go To The Budapest Wine & Champagne Festival?
Tasting Local Wines & Champagne
Visiting Festival, you'll have the opportunity to taste an impressive selection of Hungarian wines and champagnes at one place.
No need to go on a wine tasting tour, you'll have many options at the festival between 24 – 29. May.
From crisp whites to full-bodied reds, there's something to suit every palate.
Local winemakers set up stalls throughout the festival grounds, allowing visitors to sample their offerings and learn about the unique characteristics of each wine.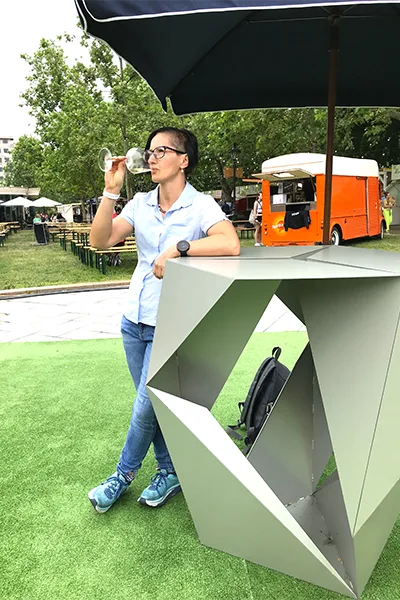 Gastronomic Delights:
No wine festival is complete without delicious food to pair with the wines, and the Budapest Wine and Champagne Festival certainly delivers on that front.
Numerous food stalls offer a wide range of culinary delights, including traditional Hungarian dishes.
Indulge in local delicacies such as
Goulash – a rich beef soup with vegatables,
Roast pork knuckle, sausage
Hungarian paprika salami and sausage plate
Cheese tasting plate
Lángos (fried dough sprinkled with garlic oil or topped with sour cream and cheese), and
Chimney cake (kürtöskalács) – a real treat: thin dough stripes rolled on a wooden cylinder, forming a spiral shape, then baked till golden brown over open fire. The crispy, caramellized exterior is coated with cinnamon or vanilla sugar, sweet cocoa powder or ground walnut, but these are just the most popular flavourings.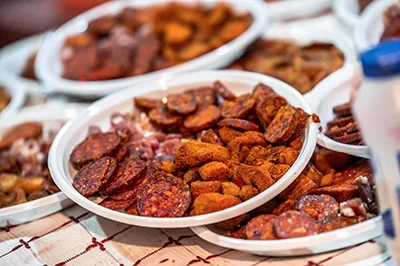 Cultural Entertainment:
Beyond the wine and food, the Festival also provides a diverse program of cultural entertainment each day.
Live music performances, concerts by local bands create a vibrant atmosphere every evening and night. Immerse yourself in the lively ambiance as you sip your wine and enjoy the talents of local artists.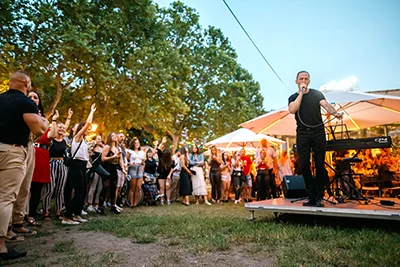 Which Wineries Champagne Makers Will Be Present?
Here are some wineries, wine bars and shops that will be present at the Downtown Budapest Wine & Champagne Festival:
Frittmann Peti
Gál Csaba
Szentpéteri Attila
i. Bujdosó Ferenc
Konyári Dani
Laposa Bence
Kovács Tomi
Figula Misi
Pály Attila
Gepárd és Űrhajó Wine Bar
Jekl Flóra
Takler Andris
Dúzsi Tomi
i. Heimann Zoltán
Vesztergombi Csaba
Sebestyén Csaba és Csilla
Hernyák Tomi
Rókusfalvy Palkó
Darabont Betty
Csernus Károly
Mionetto Prosecco Bar
Prosecco Shop
Prosecco Please
Moët & Chandon
Kern-Bor & Pezsgőház (Kern-Wine & Champagne House)
Wine Age – made in USA
Food Vendors To Look Out For At The Festival
Smokey Monkies BBQ
Cheche Burger
Mexikói büfé (Mexican Street Food)
Zabálj Csak! BBQ
Nemo Fish & Chips & Seafood Truck
Happy Churros
Kővári Grill
PizzaMe
Stelázsi
Sajtok, szarvaskolbász (Cheese, venison sausage)
TIPS for Enjoying the Budapest Wine & Champagne Festival:
To make the most of your visit to the Budapest Wine and Champagne Festival, here are some tips to keep in mind:
Dress comfortably: As you'll be spending a significant amount of time walking around the festival grounds, it's essential to wear comfortable shoes and clothing. Also, don't forget to bring a light jacket or sweater, as evenings can get a bit chilly.
We've had lots of rainy days this May so we recommend that you also bring an umbrella or baseball cap paired with a light jacket to keep you dry in a spring shower.
Pace yourself: With so many wines and champagnes to sample, it's easy to get carried away. Pace yourself and drink responsibly. Take your time to savor each wine and engage in conversations with winemakers to enhance your understanding and enjoyment.
Attractions Nearby The Festival Venue
Thanks to the central location, you'll find lots of points of interest in the neighbourhood of Szabadság tér/Liberty Sqr.
Parliament Buidling
First and foremost, the Hungarian Parliament Building on Kossuth Square is close by on foot. So definitely combine visiting it with attending the wine festival.
You can go inside on a cc 50-60-minute guided tour that will tell you all the
Important historical and architectural details,
Facts about the construction, cool stories related to the building and famous Hungarian politicians and
You also get to view the Crown of Hungary's 1st King, St. Stephen, famous halls, and the grand staircase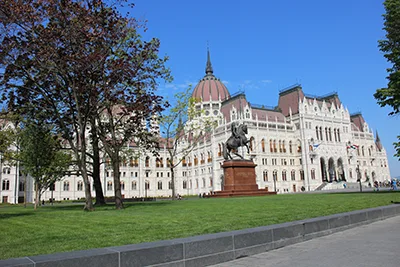 If you don't feel like going inside just take a stroll on the landscaped square and admire the building from the outside.
You can take plenty of photos and get a real feel of importance and impressiveness of this huge edifice.
Shoes On The Danube
This truly significant and moving memorial located on the banks of the Danube River, at just a short walk from the Parliament Building, and it commemorates a tragic event from World War II.
You will see 60 pairs of iron shoes, crafted to resemble the footwear worn by men, women, and children who were forced to remove their shoes before being shot and thrown into the river by the members of the Hungarian Nazi Arrow Cross militia.
Walking by the memorial, you'll see a chilling reminder of the horrors of the past and the innocent lives lost.
It serves as a tribute to the victims and a reminder of the importance of tolerance and respect for all humanity.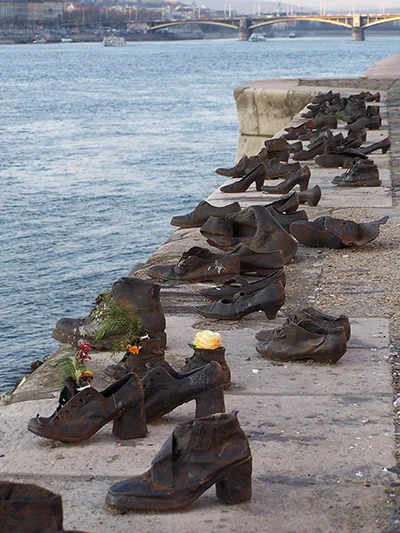 Q: How do I buy tickets for the Budapest Wine & Champagne Festival?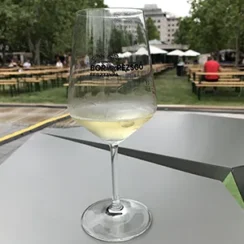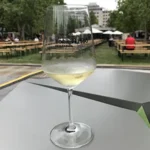 A: Entry to the festival is free.
For tasting wines you have to buy a festival glass at the entrance.
It costs 3 499 HUF.
Q: Is it a kid-friendly event?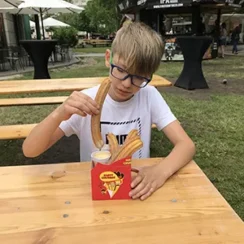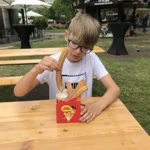 A: Although there aren't children programs at the festival it's absolutely OK to attend with your kids.
They can walk around the park – there's a small playground for toddlers close by – and they will enjoy the many street food options too. See the photo of our son eating churros at the fetstval last year.
Related