Please See Our List Of Similar Budapest Hotels:
Hotels In Budapets City Centre – Season Hotel Gresham Palace – Anantara New York Palace Budapest Hotel – The Ritz Carlton Budapest – Aria Budapest – 5-Star Boutique Hotel at the Basilica – Corinthia Hotel Budapest – Lanchíd 19 Designer Hotel – Prestige Hotel Budapest – Sofitel Budapest Chain Bridge – Iberostar Grand Hotel Budapest – St. George Residence All Suites Hotel – Baltazar Hotel Budapest
A Romantic Luxury Hotel in the City Centre
Address: Váci utca 34., district V. , Budapest City centre
Quick Links:
Rooms – Spa – Restaurants – Sunday Brunch – Travellers' Reviews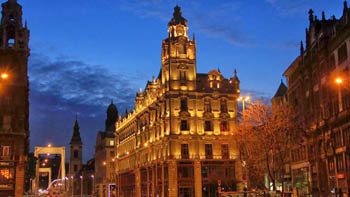 Why Stay?
This lavish palace hotel in the chic Váci Street opened in spring 2012.
The interior design of the hotel has recently been voted the most beautiful in the world by the International Hotel Awards.
If I were a tourist in my city I would definitely choose the Buddha Bar Hotel because it has the right combination of several things I look for in an accommodation:

Excellent location in the city centre in the middle of Váci utca shopping street that ends in Vörösmarty Square where the Christmas Market is held each year, also close to the Buda end of the Erzsébet Bridge where the Danube Promenade starts offering a wonderful view of the Danube and the city's famous sights.
Staying in such a centrally located hotel like the Buddha Bar Klotild Palaces, makes exploring Budapest very straightforward.
The city center, mainly district V., is packed with attractions, great restaurants and cafes, as well as night entertainment.
Historic setting: the hotel is located in a beautifully restored palace building, the Klotild Palace, actually an eclectic twin palace with Spanish baroque elements that were built at the beginning of the 20th century (1901-1902).
strong>Luxurious interior design with oriental touches – lushly decorated guest rooms (102 altogether) including some exclusive suites.
High-End Spa – Buddhattitude
with a promise of complete relaxation after sightseeing and shopping.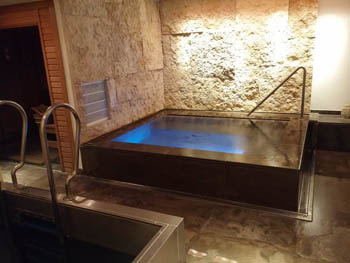 The spa has a balanced mix of the east and the west offering several services:
aromatic steam bath (40 Celsius),
a hot Japanese style bath,
tepidarium,
Finnish and infra saunas,
a whole line of luxurious spa products to buy.
Massages – Treatments
You can choose from
several types of massages (classical and Ayurvedic) and other treatments
body peeling,
facial treatments,
manicure and pedicure, as well as
a hair dresser.
Dining in the Hotel
Buddha Bar Restaurant
Opening hours:
Mon, Tue, Wed, Sun: 12.00 – 23.00
Thurs, Fri, Sat: 12.00 – 00.00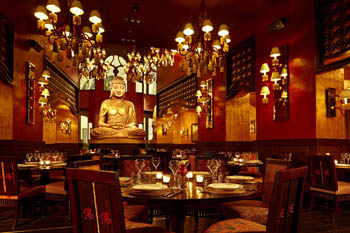 The restaurant features Asian Pacific fusion cuisine with healthy, nutritious dishes made from fresh, fine ingredients and exotic spices of
East China,
Japan and
Thailand.
You can select from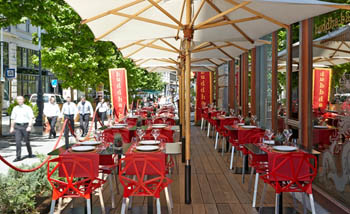 bento,
sushi,
vegetarian
tempura dishes,
substantial main courses (duck breast, chicken tikka, rump of lamb etc) as well as
classic and exotic sweet courses.[/tie_list]
The terrace opening to Váci utca is a nice spot for a lunch or dinner in warm weather.
Sunday Brunch with Live Music
Every Sunday between 12.00 – 16.00.
Price:
8 900 HUF + 12 % service charge, includes: welcome drink, water and soft drinks
Premium option: 11 900 HUF + 12 % service charge, incl.: welcome cocktail, water and soft drinks, unlimited sparkling wine, wine, beer, coffee and tea.
children price (for kids 6 -12 years old): 3 600 HUF, FREE for kids under 6.
They have Sunday Brunch offering Asian dishes buffet style – wide selection of sushi, miso soup, seafood, salads, desserts and drinks,
Children can choose meals from the menu designed to their tastes:
non-alcoholic cocktail
water and soft drinks (unlimited)
Wiener Schnitzel with French fries
Spaghetti Bolognese
Hot Dog with coleslaw
Mini burger
Chicken Club sandwich with French fries
Baalbek Restaurant
Opening hours:
Siddharta Cafe – Breakfast Oriental Style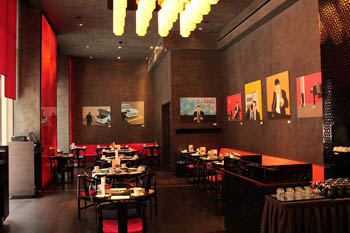 Open: every day: 06.30 – 10.30
In the Siddharta Cafe you can have excellent coffee both brewed and made espresso-style from a gourmet signature blend made specifically for the hotel.
The smoothies, juices, snacks, and the freshly made bakery goods are also very tempting.
Bars in Buddha Bar Hotel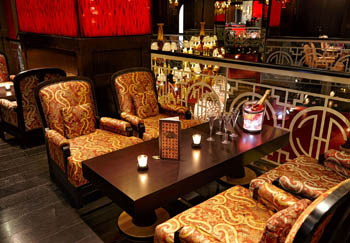 The hotel also has two great bars:
The nicest one, the Klotild bar & Lounge with glass roof and stunning panorama of the hills on the 6th floor unfortunately is open only for special occasions (though they don't state adequately it on their website, it's mentioned near the bottom of a the page so one could easily miss this information).
The Lobby bar next to the reception area doesn't offer such great view but it is also a place within the hotel that I would definitely drop by: coffee, tea, delicious pastries, wines, cocktails and other drink specialties from morning till late night seven days a week.
More About the Hotel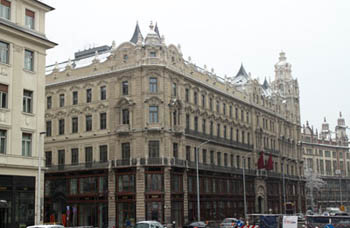 The hotel is in a historic building: in the northern part of the Klotild palaces built at the beginning of the 20. century.
Older locals call the southern palace Matild the northern one Klotild.
According to legend, one of the subcontractors of the builder named the the building parts after his own daughters so that he won't confuse them.
Rooms
The hotel offers state-of-the-art accommodation in 102 rooms and suites in the categories listed below.
All rooms have
high-speed wireless internet,
Nespresso machine with coffee capsule selection,
climate control,
safe, large screen LED TV,
minibar,
spacious bathroom.
Rooms, and the whole hotel, are equipped with 21-st century gadgets: you can adjust the lighting according to your mood, the large screen LED TV is also a multimedia centre
Superior rooms: the 25 sqm rooms are decorated in Asian-colonial style, with , comfortable bedding. The fairly large bathroom is either with bathtub or shower.
Deluxe rooms: 30 sqm, superb bedding,
Executive rooms: 40 sqm with separate working area and bedroom
Suites
Junior Suite: 48 sqm with large bathroom, a walk-in wardrobe,
Corner Suites: have balcony, 55 sqm in size with large living area, lavish bathroom and bedding.
Duplex Suite: a spacious (55 sqm) exquisitely decorated and furnished room on two levels, ideal for business travellers who prefer to have lots of private space. You can also enjoy a nice city view from the private balcony.
Grand Suite Collection – unique apartment-size rooms on two levels with awesome views of Budapest and other extravagance for the ultimate indulgence.
My favorite is the Spa Suite (86 sqm) that has its own private spa with an extra large square shaped bathtub on the upper level of the two storey apartment.
You'll be rewarded with a complimentary in-room massage or a beauty treatment if you stay in this suite.
Room rates: starts from cc. 286 EUR – look for special offers or deals around holidays.
TIP: They have a romantic package that includes two nights with breakfast (buffet style and warm dishes a la carte), transfer from Budapest Airport to the hotel in a Mercedes car, a dinner for two by candle light in the hotel's restaurant, a welcome cocktail, a 45 minute aromatherapy massage, special bedding and orchid decoration as well as romantic welcome set in the room.
Price of the romantic package: cc. 438 EUR
TIP: There is a very busy road in front of the hotel leading towards Elizabeth bridge, so try to get a room in the northern side where there is less traffic and noise.
Other Great Features of the Hotel
There is a small fitness center with modern TechnoGym machines, weights, and a so-called E-fit electrofitness training.
You can also enjoy some unique wine programs in the lounge organized usually on monthly basis where you can sample exquisite wines from Hungary and other parts of the world.
What Travellers Say About the Hotel?
On the plus side:
very nice and spacious rooms with comfortable bed, and awesome bathrooms,
great historic building with central location, lots of sights and attractions, shops, bars within easy reach,
fine food in the restaurant
nice selection in the buffet breakfast (cold cuts, cereals, bakery, fruits, hot and cold drinks) – you can choose cooked food from a menu
kind, attentive staff
fantastic spa area
On the negative side:
noise from the bar on the first floor drifts up to some rooms on the second level (pick a room in the backside of the hotel that doesn't overlook the busy main road in front of the hotel.)
one traveller mentioned that the atmosphere is too cold and impersonal, a common problem of large hotels
decor