Natural Adventures Under the Ground
Do you want to do something more adventurous than the usual sightseeing? Go caving in Budapest and discover its underground natural beauties.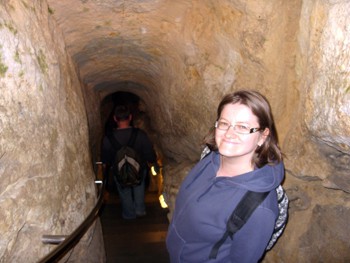 Budapest is the only capital that has natural caves in the middle of the city. The Hungarian capital is not just the city of spas but the city of caves too.
Would you think that it has about 170 smaller and bigger caves? The same thermal springs formed them that supply water for the thermal baths in Budapest.
The air in some of these caves has medicinal qualities.
Ancient Magyars named the place after the caves they found in the area where Budapest is located.
When they conquered the area in the 9th century AD they found a hill full of holes (today's Gellért Hill).
Hungarian language didn't have a word for cave so they borrowed the Slavic word " pest" from the people who lived here. They named the present Gellért Hill Pest Hill.
Most Budapest caves were discovered at the beginning of the 20th century, during major housing and drainage works.
There are 9 strictly protected caves in Budapest, 3 are open to visitors.
Table of Contents
Caves That Can be Visited, Cave Tours
Not all parts of the 30 km long cave system is open for tourist. Here are the ones that can be visited without much exertion.
Castle Cave (Várbarlang)
Guided tours in English and German: from 10.00 to 18.00 Tue-Sun, May-Sep
Entrance: Országház u. 16, District I.
Can you imagine that another world lies under your feet when you stroll on the old cobblestoned streets in Buda Castle District? The Castle Caves stretch several kilometers long.
Only part of it was formed naturally, inhabitants of the Castle District also excavated labyrinths, and cellars in the hill for protection purposes during the many wars.
Labyrinth in Buda Castle – Recommended for Kids
Address/Entrances: Úri utca 9., and Lovas utca 4/a., district I.
Getting there: by castle bus No. 16, 16A or 116 (from Deák Ferenc tér where all three metro lines stop – or from Széll Kálmán tér: M2 metro and trams 4, 6 have a stop there)
Open: every day from 10.00 to 19.00, tours by lantern after 18.00
Tickets: full price: 2 000 HUF, 25 % discount with Budapest Tourist Card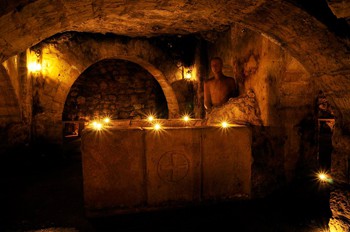 The Labyrinth is part of the cave system of the Castle Hill. It is conveniently located in the centre of the Castle area so you can include it in your sightseeing program there.
The 1 200 m long cave system is around 10-15 m below ground level with spacious corridors and exhibition rooms.
The caverns were already inhabited by Paleolithic men a couple of hundred thousands years ago, then locals used the caves for various purposes in the Middle Ages: shelter, storage room, wine cellar.
Legends are abound from long-ago times: about buried treasures of the Ottoman rulers, lovers walled up by the pasha of Buda, a restless ghost called "Dark Count" etc. The rich hid their valuables here from tax gatherers in medieval times.
It can be easily toured because there are no tight tunnels, or ladders to climb – an exciting program for families with children.
The Labyrinth houses some great exhibits:
stone monuments from Gothic and Renaissance Era, Turkish tomb relics
a photo exhibit about the most stunning caves of the world
Pálvölgyi Cave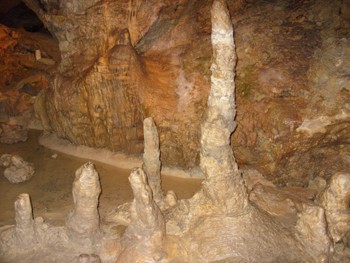 Address: Szépvölgyi út 162., district II.
Getting there: take bus 65 form Kolosy tér in Óbuda, get off at the 5th stop
Tel: +36 1 325 9505
Opening hours: Tue-Sun: 10.00-16.00
Website: Pálvölgyi cave
Admission: full price: 1 200 HUF, students, pensioners: 960 HUF, combined ticket: (valid to the Pálvölgyi cave): full price: 1 650 HUF, discount: 1 170 HUF
The most beautiful and the longest cave in the Buda Hills with its 29 km length (and the second longest in Hungary).
Only 500 m can be explored with a guide, but it's rather demanding because of the great differences of height.
The stunning dripstone formations, like the "Organ Pipes" or "Beehive" will make up you for the effort. Ladders and steep stairs help you to move forward but the tour is not recommended for children and for physically challenged.
Guided Tours: every day except Monday, from 10.00 – 16.15., from June 1st till August 31st: on weekends from 10.00 to 17.00, tours start at every quarter past the hour.
The tour lasts 50 – 60 minutes. Children under 5 years of age cannot visit the cave.
TIP:
Temperature is around 8 – 10 °C (46 – 50 °F) in the cave so put on warm, comfortable clothes and shoes.
Szemlőhegyi Cave – Great program for Older Kids (from age 7 and up)
Address: Pusztaszeri út 35., district II.
Tel: +36 1 325 6001
Opening hours: every day except Tuesday: 10.00-16.00
Admission: full price 1 000 HUF, students, pensioners: 800 HUF
Getting to Szemlőhegyi Cave: By bus 29 from Kolosy tér in Óbuda, get off at 4th stop
If you still have strength after Pálvölgyi cave hurry to catch the hourly tour in the Szemlőhegyi cave. It is only 800 km far.
250 km can be visited out of the 2 200 km fully explored cave that consists of several wide corridors. You can admire the unique mineral formations, the so-called peastones and the aragonite crytals resembling bunches of grapes.
In the entrance hall you can see an exhibition about caves of Budapest. The cave's cool, damp air is beneficial for respiratory diseases.
The temperature is around 12 °C (54 °F) all through the year down there so make sure your dress accordingly. There is a playground and a geological educational trail for children.
The tour is around 40 minutes long and recommended for all ages.
Both the Pálvögyi, and the Szemlőhegyi Caves are under natural protection.