Good, Low-Cost Accommodations In & Outside the Centre
For those who travel on tight budget we compiled a list of quality cheap Budapest hotels.
Even if you could afford to stay at a more luxurious lodging you might want to save on accommodation and spend money on eating out or shopping during your vacation.
According to our knowledge, the inexpensive accommodations included below are clean, reliable establishments ensuring that you'll get good value for your money.
Giving up a bit of the glitz a 5-star accommodation can offer won't take away from a pleasant holiday experience.
Quick Links:
Hotels in Pest City Centre – Other Parts of Pest – Hotels in the Green belt/Buda Hills
Cheap Hotels in the City Centre
There is a wide selection of cheap hotels in Budapest's downtown area (districts V., VI. and VII) which offer good value for your money.
Stay in a hotel located any of these districts and you'll have many top attractions within easy reach; sometimes within walking distance.
Centrally located hotels also have better public transport access than the ones situated in Buda or Pest's outer districts.
Three Corners Hotel Art ***
Address:
Királyi Pál utca 12. district V., M3 blue metro line Kálvin tér station
Tel: (+36 1) 266 2166
Situated in a recently renewed, quiet side street in downtown Budapest, the Three Corners Hotel Art is perfect for weekend breaks since many attractions, bars, restaurants and the Danube embankment are within walking distance.
The historic building was once a meeting place for famous artists. There's a restaurant, a drink bar, a cafe, fitness room and sauna. The hotel si fully air-conditioned. The brand-new 6th floor has recently opened to guests.
Central Green Hotel **
Address:
Szív u. 13., district VI., M1 underground (yellow line), Kodály körönd stop
Website
Situated in an elegant, quiet area, in a side street of Andrássy Avenue, the Central Green Hotel is a basic but good-value 21-room hotel in with excelelnt public transport connections to the inner city (district V.).
It has standard double rooms (18-21 sqm) and triple rooms. WiFi internet
Ideal for those who want to do lots of sightseeing since many attractions are nearby:
Staff is friendly, welcoming and helpful.
Prices: a double room is 48 – 53 EUR in the high season. Breakfast – a simple one, not as wide a choice as in pricier hotels but enough to kick off the day – is included in the price along with VAT (4 % tourist tax is not incl.).
TIP: Drop by Dolce Intervallo in summer, located also in Szív utca close to the hotel, an Italian gelateria with a wide choice of artisan ice cream.
Star Inn Hotel Budapest Centrum***
Address: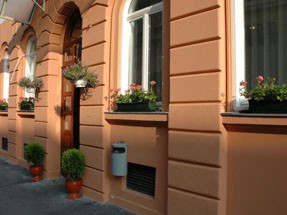 Dessewffy u. 36, district VI.
The Star Inn Hotel not far from the Opera is also a fairly good choice if you look for a cheap hotel.
It has decent sized rooms with free wireless internet access. Some of the rooms overlook the inner courtyard while others face a quiet side-street, ensuring peaceful stay for the guests.
Four types of rooms are available:
standard: has double bed,
twin: two single beds
business: spacious rooms with large double bed, sofa and desk, and
suites: a living room and bedroom
All rooms have large screen TV, fast internet (wired and wireless), bathroom with shower.
The buffet breakfast is generous: cold cuts, cheese, slices of bread, boiled eggs, coffee, tea and juices.
It's a good, inexpensive place from where you can conveniently explore the city on foot. Personnel is kind and ready to help you to make your stay comfortable.
Prices: a standard double room is around 70 – 75 EUR/night.
Mercure Budapest Korona Hotel
Address: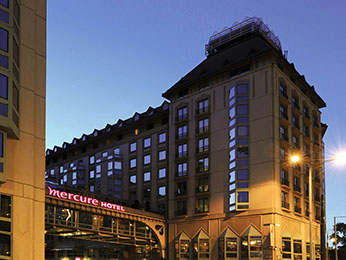 Kecskemeti utca 14., district V., M3 metro (blue line) Kálvin tér stop, Trams 47, 49
Tel: (+36 1) 486 8800
This good-value 4-star hotel (though probably not at a 4-star level) is part of the Accor group and situated in the centre, within easy reach are the Great Market Hall, the Hungarian National Museum on Múzeum krt., Ráday utca restaurant street.
The neighbourhood is full of great restaurants, bistros, cafes and street food bars, as well as places for night entertainment.
Average (some travellers said they are quite small) rooms with a standard breakfast, with free WiFi, polite staff. There's a small swimming pool and sauna.
Room rates for a standard double room start from cc. EUR 60 (no breakfast incl.), EUR 71 with breakfast in main season.
City Hotel Pilvax ***
Address: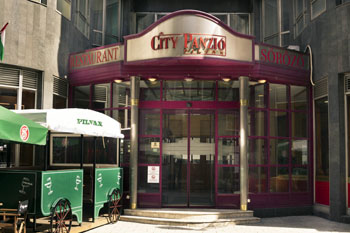 Pilvax köz 1-3., district V., M3 blue metro line, Ferenciek tere station
Hidden in a quiet side street in the very heart of the city, just off the famous pedestrian shopping street, Váci Street.
Many upscale restaurants and cafés flourish in the neighbourhood though the hotel has its own great restaurant with good food and fine Hungarian wines.
Good, centrally located budget lodging: clean rooms, friendly personnel, spacious rooms with large windows.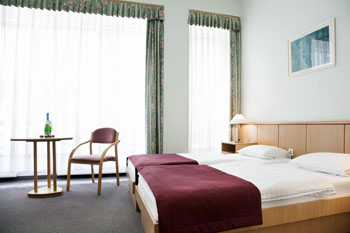 Some say it's a quiet place, other travellers complained on noise by other hotel guests. All in all a superb choice with very good location and affordable room rates (around EUR 83 – 110/night).
The hotel is owned by the same group as the City Hotel Mátyás and City Hotel Ring.
Take a walk on the Danube embankment at night and enjoy the breathtaking view of illuminated Budapest.
City Hotel Mátyás ***
Address:
Március 15. tér 7-8., district V., M3 blue metro line Ferenciek tere station
Tel: (+36 1) 338 471
Website
Excellent location with the major sights of the city within walking distance: Danube, Castle District, Váci Street. Generous buffet breakfast in the famous Mátyás pince restaurant.
Perfect for short breaks due to the proximity of attractions.
Elite Studios & Apartment *
Address:
Wesselényi utca 12. district VII., trams 4-6, Wesselényi utca stop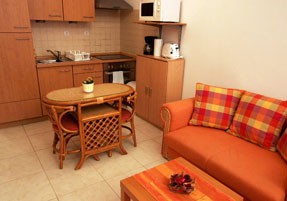 Situated in a newly built building in downtown, Elite Studios offers good-value accommodation.
The 31 – 36 square meter apartment studios have cozy atmosphere. They include a double bed and sofa that can be converted into a 3rd bed.
Kitchen is decorated nicely and equipped with fridge, microwave oven, electric oven, toaster, kettle, coffee maker, glass ware.
There are even tea bags and basic seasonings provided.
The bathroom is well-fitted, too with a bathtub and shower, a washing machine, hair drier and towels. Free Wi-Fi connection is also a plus in the Elite Studios.
Renting an apartment in the Elite Studios allows you to do lots of sightseeing in Budapest, since many landmarks are in the vicinity, including the Jewish Quarter with the Central Synagogue in Dohány utca.
It's also a great affordable accommodation for business travellers since you can rent laptop,mobile phone, buy international phone cards and there's a central safe.
TIP:
Read Reviews of Downtown Budapest Hotels and see also our Guide to Budapest City Centre.
Agape Guesthouse**
Address: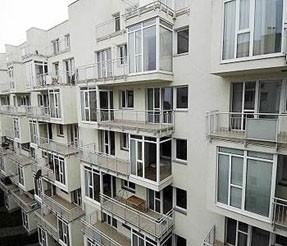 Akácfa u. 12-14., district VII., trams 4-6 or M2 metro, Blaha Lujza tér stop
Agape Guesthouse is a very centrally located apartment house offering cheap quality accommodation.
There are 12 private rooms with bathrooms and nice, brand new apartments housed in the neighbouring street.
It's a good starting point for sightseeing since every major attraction in Budapest is within easy reach either on foot or by using public transport.
The two major tram lines tram 4 and 6 running along Nagykörút (Grand Boulevard) are very close at Blaha Lujza tér stop which also a station on the M2 (red) metro line.
The gorgeous New York Palace on Erzsébet körút is just a short walk from the Agape Guesthouse. Jewish Budapest, with a range of historical and cultural monuments testifying the Hungarian capital's rich Jewish heritage lies behind Nagykörút.
For a lively nightlife scene with lots of restaurants and cafes head for Liszt Ferenc tér just off Andrássy Avenue.
The Agape Apartments are spacious with lovely kitchens equipped with all modern appliances.
The rooms with balcony facing the inner courtyard are especially appealing. The staff at Agape Guesthouse is helpful and friendly. See prices and reservation.
Baross City Hotel**
Address: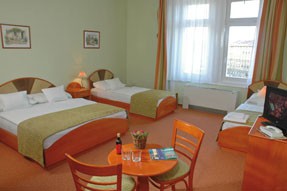 Baross tér 15., district VII., M2 (red) metro, bus 7, Keleti Pályaudvar stop
The Baross Hotel is a budget hotel opposite Keleti Train Station.
The area is not the nicest part of the city (lots of traffic, quite a few neglected buildings) but it's safe and you can get to everywhere by public transport (M2 metro -red line- has a sttaion at Keleti Train Station, as well as several bus lines)
The hotel has around 50 rooms including, double, triple and 4-bed rooms equipped with shower or bathtub, satellite TV, adjustable air-conditioning, free WiFi in the whole building.
The 4 suites consist of two adjoining rooms each with its own bathroom; ideal for larger groups or families.
The hotel has lift, a luggage room, bicycle dock station and its own parking lot. A fairly good hotel if you don't want to splurge on accommodation.
TIP:
Rooms facing the inner courtyard are quieter than those looking over the train station. WiFi is stronger in rooms closer to the reception area.
Star City Hotel Budapest ***
Address:
István utca 14., district VII., M2 (red) metro, bus 7, Keleti Pályaudvar stop
Tel: (+36 1) 479 0420
Website
An inexpensive, functional hotel in the busy city centre, close to Keleti Railway Station (M2 red metro line connection).
Corvin Hotel ***
Address:
Angyal utca 31., district IX.
Website
A small inexpensive hotel and apartments in the upcoming Corvinnegyed part of the city close to major transport connections, lots of shops (the Corvin Plaza is next door), nightlife, cafes and restaurants.
Despite the central location the side street the hotel is located fairly quiet.
Staff is kind and helpful. Breakfast is not much. Rooms are not too large nor too small. Beds are not too comfortable according to travellers.
Rates: there are discounts if you book early and for longer stays: cc. EUR 91 – 135.
Hotel City Inn ***
Address:
Futó utca 55., district VIII., M3 blue metro line Ferenc körút or Klinikák station, trams 4,6 Corvin negyed stop
Tel: (+36 1) 30 743 7892
Website
A modern hotel in downtown Budapest with courtyard and air-conditioned rooms. The staff is friendly and helpful.
City Hotel Ring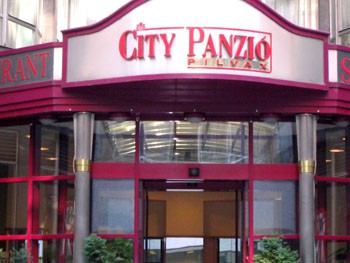 Address:
Szent István körút 22., district XIII.
Tel: (+36 1)
A very good hotel located in one of my favorite neighborhoods in Pest (Lipótváros) on Grand Boulevard (Nagykörút), close to Margit Bridge.
Room rates are only EUR 45-60. Excellent public transport availability: both trams 4 and 6 have stops and there's the M3 (blue) metro line station at Nyugati Train Station.
All major sights can be explored on foot: the Parliament, the lovely Falk Miska Street with its many Antique shops and Galleries, the Danube bank, Margaret Island not to mention the range of cafes, pubs, clubs and bars.
Rooms are basic, clean, breakfast is average. Staff is friendly. There's no lift if you have difficulty climbing up the stairs (no rooms on the ground floor) you should pick a different hotel. Rooms facing the busy körút can be noisy
Ibis Budapest Aero Hotel ***
Address: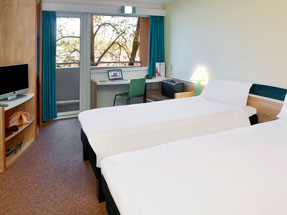 Ferde u. 1-3., district IX.
The Ibis Aero Hotel is halfway between Budapest airport and the city centre.
It's very close to the M3 (blue) metro station, called Határút so you can easily get to the airport or to downtown.
The Europark Shopping Mall is in the neighbourhood if you'd love to do lots of shopping.
Rooms are large enough with en-suite bathrooms, balcony, and Wi-Fi internet for 20 € per day.
The 3 conference rooms are ideal fro business meetings or workshops. They're clean meeting the usual Ibis standard.
3 rooms are available for handicapped travellers. The Ibis Aero Hotel welcomes pets, too.
The hotel has outdoor parking lot which is under video camera surveillance.
There's a restaurant with decent meal offer. The inner garden hosts barbecue parties during summer.
Prices: double rooms start from 39-49 EUR (brekafast and city tax are not included).
Hotel Viktória Superior ***
Address:
Váci út 27-29., district IV., M3 blue metro line
Tel: (+36 1) 370 9873, (+36 1) 370 9874
A fairly new hotel along the busy Váci út in Újpest district.
Rooms with standard furnishings and tasteful, simple decor. Various types of rooms in varying sizes can be booked: standard room, economy room, superior room, family room, business room, deluxe suite for women and a business suite.
Buffet breakfast is available. Moderate room rates (an economy double is from EUR 41).
Nearby attractions include the Duna Plaza Shopping Mall. The hotel has a conference room with modern audio-visual equipment.
Budget Hotels in Buda
Hotel Burg ***Buda Castle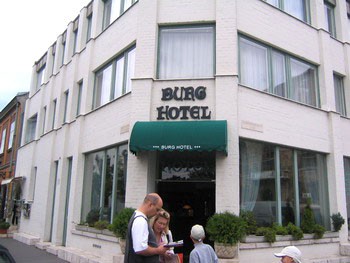 Address:
Szentháromság tér 7-8., Castle district, Várbusz (Castle bus, No. 16) from Széll Kálmán tér (M2 metro)
Tel: (+36 1) 212 0269
A cosy hotel within historic setting and with picturesque views from its rooms.
All rooms are air-conditioned that's is very good during scorching summer days.
If you stay in Budapest's Castle District you have the advantage of exploring the area even after most of the tourists left.
Matthias Church is just a few steps from the hotel on Szentháromság tér.
The district has some nice restaurants, cafés, romantic walkways and some great programs during the summer season.
Hotel Császár
Address: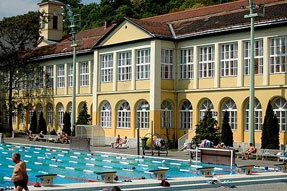 Frankel Leo u. 35., district II., Tram 4-6, Margit híd, Budai hídfő
Website
If you love swimming then the Hotel Császár is perfect choice for a budget hotel.
Hotel Császár is housed in the same building with the Komjádi-Császár Swimming Pool located in Buda, just 5 minutes walk from Margaret Bridge.
Guests can use the 50 meter and 33 meter pools as well as the educational pools and the terrace free of charge.
There are 2- and 4-bed rooms which are simple but clean and air-conditioned. There's a shower and toilette in each room, and soaps and towels are provided.
A basic breakfast is included in room prices which start from around 45 EUR for a single room.
The location is great because you can easily reach some major attractions in including the picturesque Margaret Island (Margitsziget). Take a look at this walk describing the major sights in North Buda.
Cheap Hotels in Budapest's Greenbelt
Budget hotels, apartment rentals in the city's green areas offer you relaxing environment, probably less noise and traffic compared to accommodations in the center.
Since the majority of the following low-cost hotels are in the outer districts of Budapest, you have to walk a bit more to find a bus stop or a metro station, or have to change a couple of times to get to downtown.
The city has an extensive and fairly efficient public transport system so you shouldn't have problems with travelling within the city.
See our page about travel in Budapest. If you do not want to rely on public transport rent a car. All these hotels out of the city center have parking lots that you can use free of charge.
Balassi Guest House **
Address: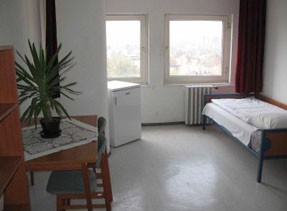 Somlói út 51. district I., Gellért Hill, buses 8 or 112 from the city center
Tel: (+36 1) 381 51 60
The guest house is on Gellert Hill within a beautiful green environment with panoramic view over the Buda Hills and the Castle District.
All rooms have bathroom.
This a nice low-cost hotel within a very fine and quite area with lots of green.
Room prices are around 35 EUR for a double and don't forget that the stunning panorama is included, too.
The comfort and the furnishing of rooms match the price: basic with clean shower and toilet. There's refrigerator in the rooms so you can put some food in it.
The staff at Balassi Guesthouse is very friendly and attentive, they speak very good English.
Hotel Charles ***
Address:
Hegyalja út 23., district I., bus 8, 112 from Ferenciek tere metro station (M3 blue line), get off at the 3rd stop at Mészáros utca, the stop is almost directly outside the hotel
Tel: (+36 1) 212 9169
A good, reliable budget hotel in Buda with big, comfortable rooms. Excellent buffet breakfast. The hotel has a nice restaurant too (János Étterem) serving Hungarian specialties and fine Hungarian wines.
Széll Kálmán tér (formerly called Moszkva tér) is just a short walk and from there you can walk up to Castle district or take the Castle bus. Mammut Shopping Mall is also on Széll Kálmán tér with lots of designer shops, cafés.
Room rates from EUR 55 (without breakfast) to EUR 71.
Gold Hotel Pension ***
Address:
Hegyalja út 12. district I.
Tel: (+36 1) 209 4775
A hotel with relaxing atmosphere near the Buda Castle. If you want real peace and quiet and at the same time good public transport connection to the city center than stay at this hotel.
The Amulett Restaurant is a nice place for eating in the hotel. It has a fairly good wine selection with a wine tasting menu from 3 000 HUF to 12 000 HUF.
A great choice of healthy meals made from local, fresh, vitamin-rich ingredients with Sous Vide technology that preserves the nutrients.
WiFi is quite fast (included in room price). Spacious, well kept rooms with bathroom. It is also a green hotel paying attention on energy saving and maintaining other ways to protect the natural environment.
Rates form cc. EUR 59/night for a double.
Hotel Matgitsziget **
Address: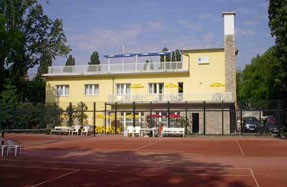 Hajós Alfréd sétány 75., bus No. 26 from Nyugati tér or Árpád híd, get off at Vörösmarty mozi on Margaret Island
Tel: (+36 1) 452 0104
(+36 1) 452 0105
A peaceful, cheap hotel on Margaret Island, within century-old trees.
The hotel has no eatery but the Alfréd Hajós Swimming Pool next door has a restaurant. There are also tennis courts the fee of which is included in the room price.
The hotel guests can also swim in the Alfréd Hajós Swimming Pool complex free of charge.
Villa Korall Pension ***
Address: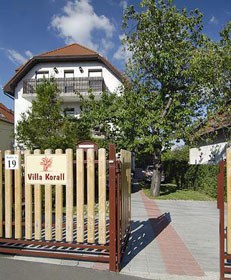 Radóc utca 19. district XI.
Tel: (+36 1)
Pension Korall is a actually a bed & breakfast in a quiet, green part of Buda. Since it's a bit far from the centre is best for those who come to Budapest by car.
Both M1 and M7 motorways are easily accessible. If you need public transport you'll find a bus stop 5 minutes from the hotel that will take you to the centre.
There's a closed parking lot where guests can leave their vehicles.
Each of the 8 rooms have bathroom, balcony, free WiFi internet service. They're also very clean, too.
The Korall Villa is ideal for business travellers who prefer serenity to the vibrating city center.
A range of services are offered:
fax and photocopying,
interpreter services,
laundry service,
organizing sightseeing tours and excursions.
The staff speaks good English and German.
Unikum Panzio
Address: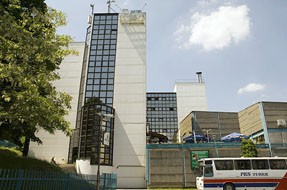 Bod Péter u. 13., district XI.
Hunguest Hotel Rege is a decent cheap hotel at the foot of the Buda Hills.
Bus No. 22 has a bus stop near the hotel which takes you to Széll Kálmán tér traffic hub in about 15 minutes.
From Széll Kálmán tér you can take trams 4 and 6 and M2 (red) metro to get further into the heart of Budapest.
The hotel has 164 double rooms and 8 suites and conference facilities. Rooms are equipped with satellite TV, mini bar
The European Congress Centre can be directly reached from the hotel though a glass bridge.
Double rooms in Hotel Rege are from cc. 50 EUR.
BB Hotel Budapest**
Address: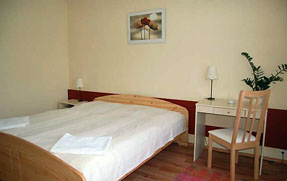 Rozália u. 76-78., district III.
Website
The BB Hotel is located in a green area of Budapest's Óbuda district.
If you plan to discover not only the best known sights of the city then stay at this charming, inexpensive hotel.
The city centre is about 11 km from the hotel but you can take the suburban railway (HÉV).
Óbuda has some nice attractions, too from Roman monuments to charming baroque houses.
It has 18 double rooms and 2 apartments which are perfect for families travelling with children. There's a room with jacuzzi if you'd love to pamper yourself.
A tasty and hearty continental breakfast (cereals, pastries, bread, butter, jam, salami, cheeses, coffee, tea, and fruit juices) is included in the room prices.
In the lounge you can use the computer and connect tot he internet free of charge. Double rooms in BB Hotel Budapest start form 34- 44 EUR.
Szőnyi Garden Hotel Pest***
Address: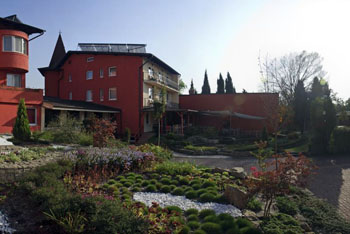 Szőnyi út 38-40., XIV. district, M1 (yellow) metro, get off at Mexikói út station, the hotel is about 10 minutes walk from there
Located in the residential Zugló district of Pest, the Szőnyi Garden Hotel offers very good value accommodation.
The family-owned hotel has 42 rooms and there's a mini wellness center with jacuzzi, saunas and a salt cabin.
Rooms are furnished comfortably and all are equipped with
a fairly silent air-conditioning,
LED TV,
Minibar,
Wifi internet,
anti-allergenic carpet.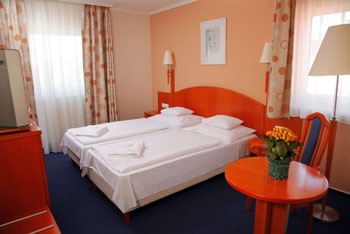 Hotel Szőnyi is a great inexpensive accommodation option and is highly recommended for families with kids since there's a nice playground in the garden.
The restaurant downstairs offers great meals and a generous buffet breakfast (included in the room price).
Nearby attractions include the City park, where you can relax in the Széchenyi Baths, or visit the Zoo and get the kids entertained in the Holnemvolt Park.
Double rooms are available from around 70 EUR.
Budai Hotel
Address: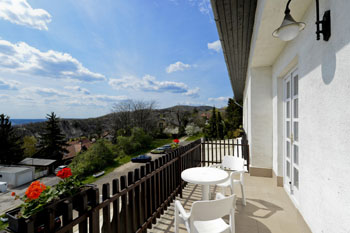 Rácz Aladár út 45., district XII., tram No. 59 from Széll Kálmán tér (M2 metro, trams 4, 6), change for bus No. 53.
This lovely hotel is situated in a hilly green part of Budapest in district XII., offering wonderful view from most of the rooms.
It is ideal for travellers who want to relax and stay away from the hustle and bustle of the city centre.
If you do wish to get to the centre you can easily do it by public transport.
The nearest bus stop is at 400 m in Hó utca (bus No. 53).
At night you can only get there by night service bus No. 908: get off at Márton Áron tér and the you can reach the hotel by walk (cc. 850 m).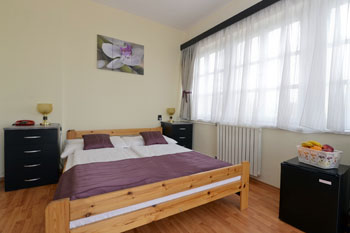 The hotel has 12 rooms each with its own private bathroom: 1 single, 4 double (toilett is separate from room), 2 three-bed and 5 four-bed rooms.
Rooms are well-equipped and the whole hotel was renewed in 2015.
Room tip:
choose a room with a view to enjoy the sight of the green Buda Hills. Room No. 22. has a private terrace.
You can order a simple buffet breakfast ( 6 EUR/adult, 3 EUR for kids between ages 2 and 6 years) with your booking that is served in the restaurant between 7.00 and 10.00.
WiFi – free of charge is available in the whole area.
There's a small cafe (open: 7.00-22.00) where you can get basic refreshments (tea, coffee, soft drinks, mineral water), wine, beer, spirits.
In the entertainment room you can play snooker, table tennis, darts, or table soccer. You can park your car in the parking lot in front of the hotel.
Room rates (without breakfast, all taxes are incl.): around 32 EUR / single room, 35 EUR/double room in low season, cc. 60 EUR/single room 70 EUR/double room in high season.
Prices are higher during special holidays (Christmas, New Year, Easter) and events (20. August/St. Stephen's Day,).
See exact prices on the hotel's website. The hotel is closed between 03. January – 10. March 2016.
Hotel Bobbio ***
Address:
Béla Király út 47., district XII., bus 28 from Széll Kálmán tér (M2 metro), Béla király út stop
Tranquility, fresh air, lots of green, outdoor dining in the hotel's restaurant that's what you can enjoy if you stay at Hotel Bobbio situated high up in the Buda Hills.
Each room has a terrace. There's also sauna, German and English Magazines, free parking, office facilities.
Seni Studium Hotel ***
Address:
Harmat utca 129. district X. , bus 85 from Örs vezér ter (M2 metro termini) or from Kőbánya-Kispest M3 metro termini
Located half-way between Ferenc Liszt Airport and the city center in a quiet, residential area. There's a fishing lake next to the hotel.
Hotel Remete ***
Address:
Remetehegyi út 91. district III.,
Relaxing atmosphere in the green belt in a district called Óbuda, just 5 minutes from the city center by car. Remete has a nice restaurant with a garden, a pub, wine cellar, parking lot.
Hotel Papillon**
Address: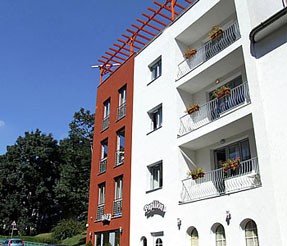 Rózsahegy u.3/B., district II.
Hotel Papillon is situated in an exclusive residential district on Rózsadomb in the Buda Hills. This cozy budget hotel has 30 rooms and 2 apartments.
It's a clean, decently priced hotel where you can rest after a busy business day or all day of sightseeing.
Some rooms have balcony form where you can enjoy the beautiful panorama of the Buda Hills.
Even if you don't get a room with balcony you can still admire the scenery from the rooftop terrace.
The two apartments are on the 1st floor and include a fairly large living room, a small kitchen equipped with microwave oven and refrigerator. a single and double bed, a bedroom with twin beds, bathroom with shower and toilet.
There's parking place for one vehicle for each apartments. In the restaurant you can taste Hungarian dishes. A buffet breakfast is included in the room price.
The garden with a grill and pool is a perfect place for relaxation.
Getting to the city centre takes some time: you either walk to Széll Kálmán tér (takes about 20-25 minutes) from where you can take trams 4-6 and the M2 (red) metro to get to downtown, or you take a tram to get to Széll Kálmán Square.
Buda Castle looms above Széll Kálmán tér so it's the closest historic attraction to Hotel Papillon. If you love shopping pop in the Mammut Shopping Mall on Széll Kálmán tér.
It has a wide range of shops selling clothes by famous brands, book shops, a Multiplex cinema and dozens of cafes and eateries.
For an American style coffee shop try Starbucks where you can have yummy cakes, sandwiches, and select from a variety of coffee drinks.
Price: double rooms at Hotel Papillon start from cc. 54 EUR. Children under the age of 6 can stay free of charge.
Hotel Wien***
Address: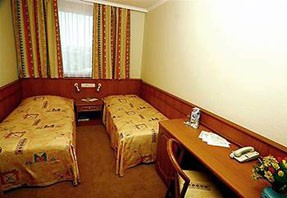 Budaörsi út 88-90., XI. district
Hotel Wien has 92 rooms all of which have bathroom, toilet, hair drier, cable TV.
It's a not the best of all cheap hotels in Budapest but it offers clean, basic rooms with breakfast and it's not a bad choice if you run out of accommodation options.
The heavy traffic on the motorway running nearby can be disturbing.
The hotel is far from the city center but there's a bus stop nearby where you can take bus No. 139 to get to Déli Pályaudvar (Southern Train Station)
Double rooms start from cc. 51 EUR in Hotel Wien.